Every NFL Team's Best Undrafted Free Agent in Camp This Year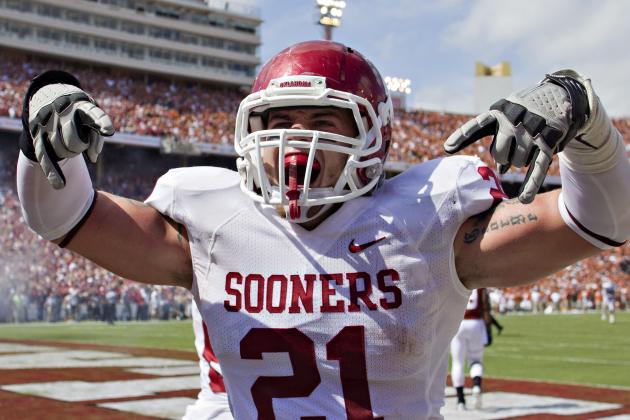 Wesley Hitt/Getty Images

Does your team have an Arian Foster or Victor Cruz in camp? It's possible.
Every year, teams bring in a large number of undrafted free agents in an attempt to find that elusive diamond in the rough.
General managers love these guys because if one explodes, they look smart. If the guy doesn't pan out, he is cut for next to nothing, and nobody bats an eyelash.
It's one of those win-win situations. So click through to discover the best undrafted free agent at your team's training camp.
Begin Slideshow

»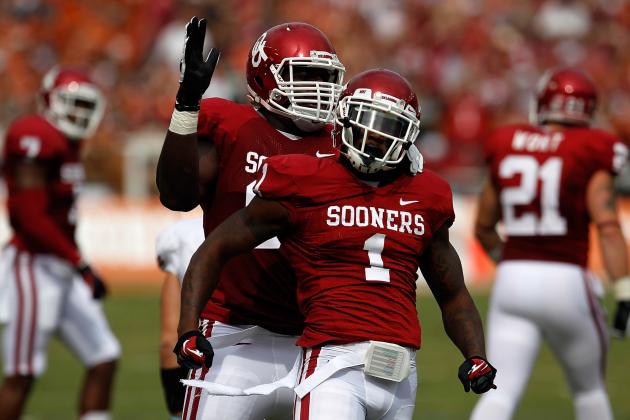 Tom Pennington/Getty Images

There aren't any names that particularly stand out when scanning the Arizona Cardinals' undrafted free agents, except one: Oklahoma safety Tony Jefferson.
Jefferson is a bone-crunching defensive back who led the Sooners with 119 tackles. While he won't blow you away with his physical prowess, he can make plays on the ball in coverage and at the line of scrimmage.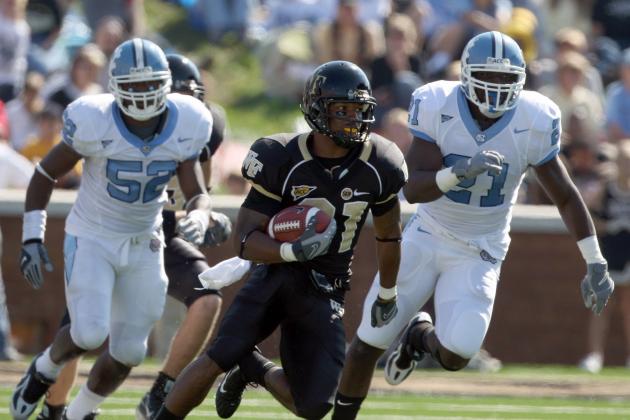 David Cannon/Getty Images

The Atlanta Falcons don't need another wide receiver, but when a football factory like Northern Illinois pumps out another prospect, you have to at least take a look. It's only prudent.
In all seriousness, Martel Moore has a great chance to follow in the footsteps of other successful Huskies like Michael Turner and Garrett Wolfe.
Moore creates separation with his crisp route-running ability and capitalizes on the opportunities he gets. He caught for 13 touchdowns in 2012.
His sure hands and natural instincts give him a decent shot of making the Falcons' final roster.
Rob Carr/Getty Images

The Baltimore Ravens traded away their top pass-catching asset for pennies on the dollar, shipping Anquan Boldin to the San Francisco 49ers.
So what did they do? They signed both of their starting tight ends to short deals in an effort to provide motivation or give themselves an easy way out if Dennis Pitta and Ed Dickson can't get it done.
Since the team has focused on the tight end position, it made sense to bring in Maryland prospect Matt Furstenburg.
Furstenburg has some freakish speed (4.62 40) and possesses a willingness to block. His college numbers are somewhat lackluster, but he can handle every duty of the position, which means he'll get a chance.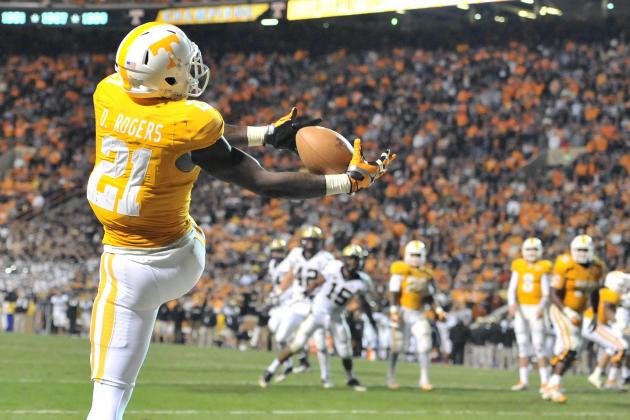 Jim Brown-USA TODAY Sports

Da'Rick Rogers has already become a cautionary tale. If college kids don't focus on football and exercise, they won't get that coveted phone call on draft day.
At least for Rogers, the Buffalo Bills eventually made a call. And they're bringing him into training camp with the hopes he can create something special with fellow rookie EJ Manuel.
Rogers would have been in the mix for an early round selection given his prototypical size (6'3", 217 lbs). Unfortunately for him, they don't give roster spots based on physical prowess.
He'll have to earn it by outmuscling defensive backs for the ball and resisting temptation off the field.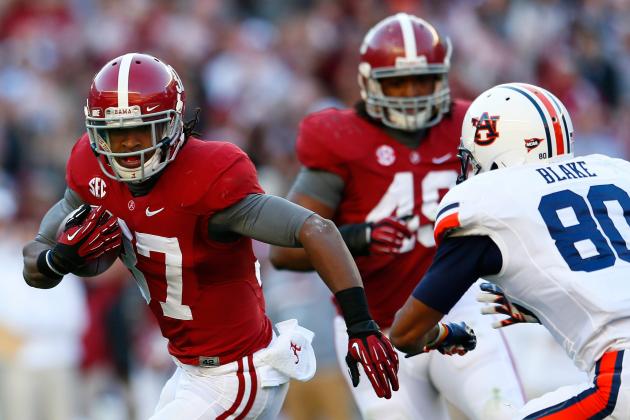 Kevin C. Cox/Getty Images

Speaking of physical prowess, safety Robert Lester would be assured a long career if he could rely solely on his size.
The 6'1", 215-pound safety loves to stick his nose into the running game and is a proven ball hawk with 14 interceptions at Alabama.
However, he'll need to improve his open-field weaknesses (tackling and coverage) before anyone takes him seriously. If he can take a few steps forward, the Carolina Panthers might have unearthed a diamond at a position that sorely needed help.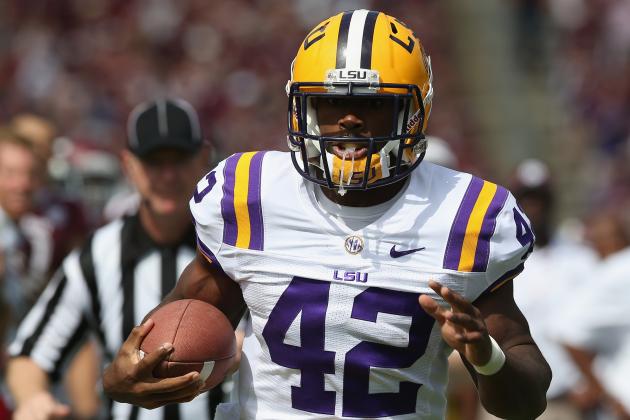 Ronald Martinez/Getty Images

LSU running back Michael Ford isn't going to steal many carries from Matt Forte and Michael Bush. More than likely, he'll finish his rookie season with more special team tackles than carries.
Luckily for Ford, he doesn't have to beat out the above two running backs for a gig, just third-stringer Armando Allen. Ford has a bowling-ball physique (5'10", 216 lbs) that showcases his strength and complements his surprising speed.
Plus, he's more than just a squat, straight-line runner. His 38.5" vertical is a testament to his athletic ability.
Ford has everything needed to make the Chicago Bears roster. He just needs to do it.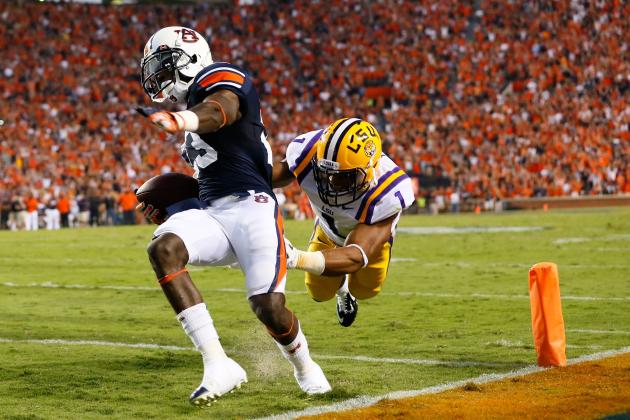 Kevin C. Cox/Getty Images

Sometimes, rookies don't get drafted because they don't project to the NFL at their natural position.
Sometimes, that works out just fine.
Onterio McCalebb is a burner who posted a ridiculous 4.34 40-yard dash at the combine. However, his small size (just 170 pounds) erased any hope of capitalizing on that speed as a running back.
But that combination of speed and undersized stature is a great asset for a return man—especially one who is as elusive and agile as McCalebb.
Jonathan Daniel/Getty Images

Long snappers have an under-the-radar skill that is more valuable than you would think. That's why center Braxston Cave has a niche he can fill for the Cleveland Browns.
Cave anchored an offensive line at Notre Dame that paved the way for an undefeated season. Many pundits thought he'd be a late-round selection, but the draft has a way of mocking our predictions.
However, that supposedly misguided faith is based on his ability to get off the ball quickly and leverage defenders to the places he wants them. Between Cave's solid blocking abilities and "special" skill, he can make a run at the Browns roster.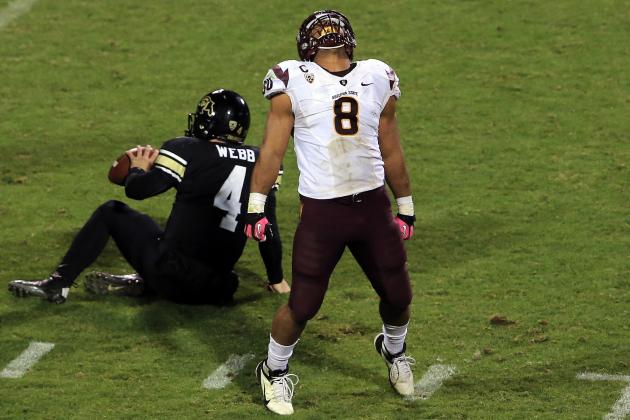 Doug Pensinger/Getty Images

When aren't the Dallas Cowboys hurting for linebackers, especially considering the status of Sean Lee's comeback?
Enter Arizona State linebacker Brandon Magee.
Magee is "burdened" with the label of a smart player. He has a high football IQ, but it overshadows his decent speed (4.74 40-yard dash).
Out of everyone included in this slideshow, Magee is one of the most likely to be on an opening-day roster.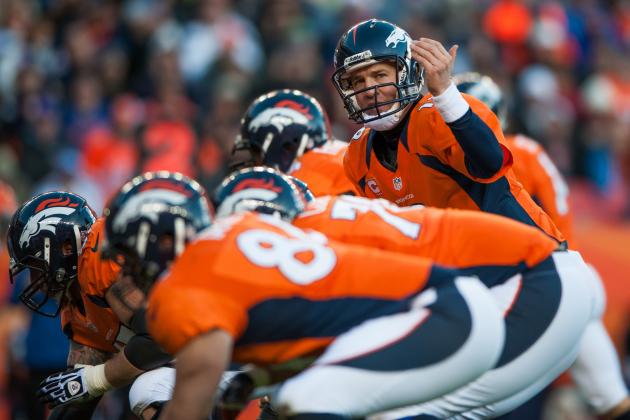 Dustin Bradford/Getty Images

There isn't much room on the Denver Broncos roster for undrafted free agents amidst all the quality veterans. So the fact that guard Manase Foketi has a chance to make it says something.
Foketi held his own at Kansas State thanks to his mean streak and love of getting dirty in the trenches. He's a physical mauler who can blow holes in defensive lines.
The big man (6'5", 318 lbs) ended up transferring to a Division II school and dominated. He won't dominate in the NFL, but he can become a valuable backup.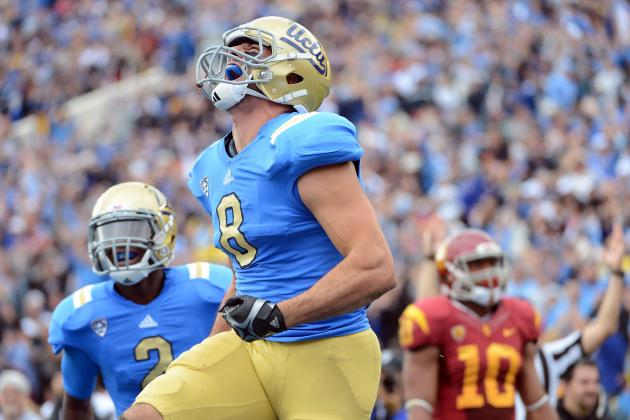 Harry How/Getty Images

There are a couple of interesting options for the Detroit Lions.
On one side, you have running back Steven Miller. The proud owner of a 43" vertical has explosiveness that any team would covet in a return man.
On the other side is tight end Joseph Fauria. The UCLA product was a red-zone dynamo over the last two seasons, hauling in 18 touchdowns.
While Miller is an athletic freak, there's a plausible discussion about Fauria pushing Tony Scheffler for his duties. That puts him on another level in this discussion.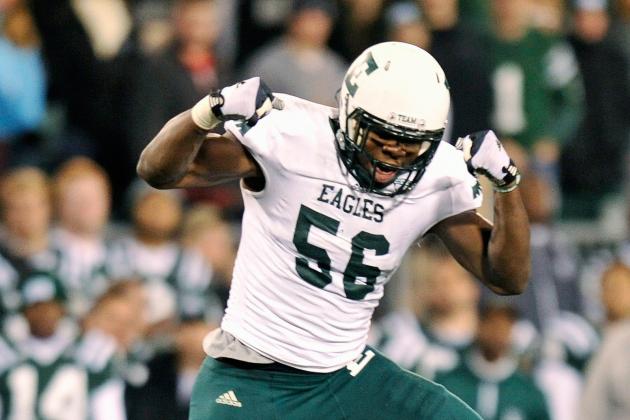 Jamie Sabau/Getty Images

The Green Bay Packers ended their 2012 campaign by watching their outside linebackers get repeatedly abused by the San Francisco 49ers' read-option attack. So far in training camp, there is no cure-all.
Eastern Michigan prospect Andy Mulumba isn't going to fix everything. However, the lack of excellence ahead of him affords him a real opportunity.
Mulumba has the agility and reactionary skills to handle the speed of today's NFL. And once he gets the ball-carrier in his sights, he closes with quickness.
That's something the Packers could have used six months ago.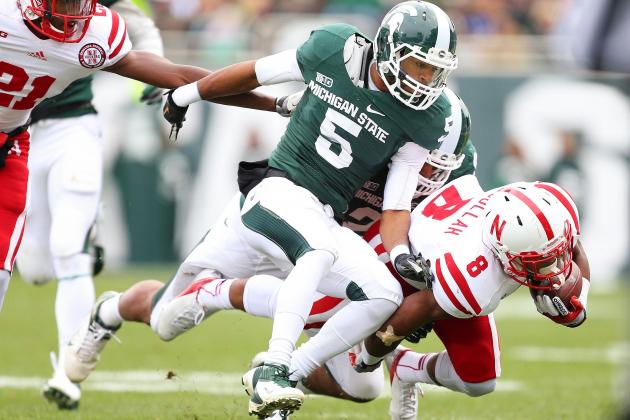 Mike Carter-USA TODAY Sports

There was a stretch of time last season where the New England Patriots, Detroit Lions and Jacksonville Jaguars torched the Texans secondary. There aren't any typos in that sentence.
This offseason brought the loss of Glover Quin, further depleting the defensive backfield.
But Johnny Adams from Michigan State could end up being a steal. The talented cornerback will impress Wade Phillips with his toughness, possibly forcing his way onto the field much quicker than expected.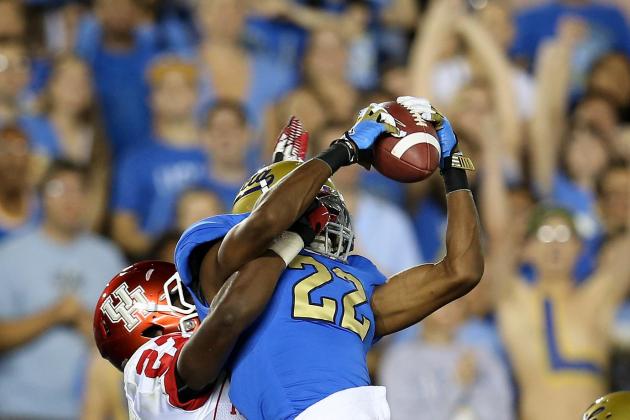 Stephen Dunn/Getty Images

Much like their AFC South rivals, the Indianapolis Colts needed to find more talent for the secondary.
Former UCLA cornerback Sheldon Price has the size to last in the NFL. The 6'2" defensive back can press wide receivers and knock them off their routes.
Price also has the hip agility to move with receivers in and out of their cuts, giving him a solid chance to add depth where it is needed most.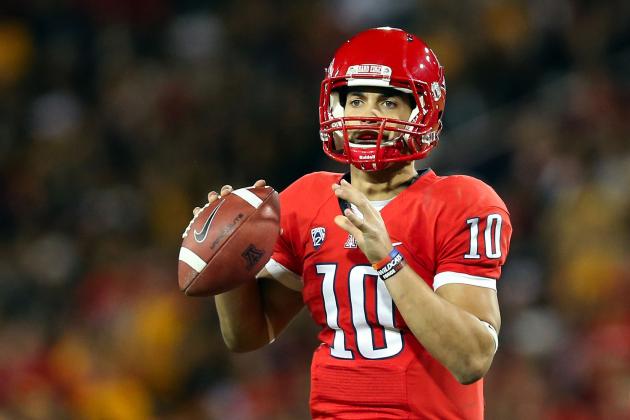 Christian Petersen/Getty Images

How many times has a team gone from a high first-round pick at quarterback to an undrafted free agent and was happy about it?
I'd put the over/under somewhere around zero.
That's exactly the situation that could be developing for the Jacksonville Jaguars.
The front office loved former Arizona Wildcat Matt Scott because he has a huge arm and incredible mobility. He might not be the answer right away, but he'll get every chance to become the quarterback the Jaguars desperately need.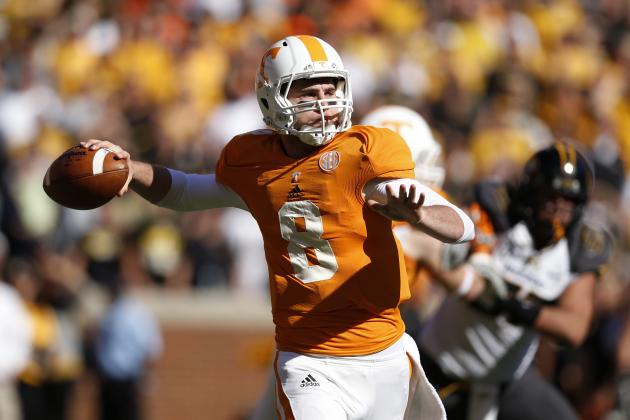 Joe Robbins/Getty Images

The Kansas City Chiefs gave up a second-round pick to secure their quarterback for the present. They might have given up nothing to get their quarterback of the future.
Tyler Bray was looking at a first-round grade early in the 2012 season. Things didn't quite break that way.
His superior arm strength and ideal size couldn't overcome his off-the-field issues, so he slipped right out of the draft. Hopefully, he can put his past behind him and help the Chiefs solve their quarterback issues for the next decade.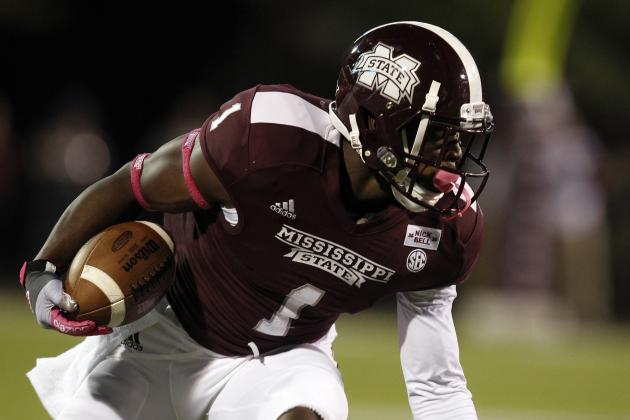 Butch Dill/Getty Images

The Miami Dolphins aren't hurting for wide receivers anymore—not with Mike Wallace, Brian Hartline and Brandon Gibson filling the depth chart.
That doesn't mean that general manager Jeff Ireland is done adding talent to the position.
Obviously, there is no guarantee that Chad Bumphis makes the roster. There is a guarantee that he gets a legitimate shot to make an impression, though.
Bumphis is tough enough to grab passes over the middle and shifty enough to add extra yards after the catch. He won't out-sprint defenders, but he won't be caught from behind either.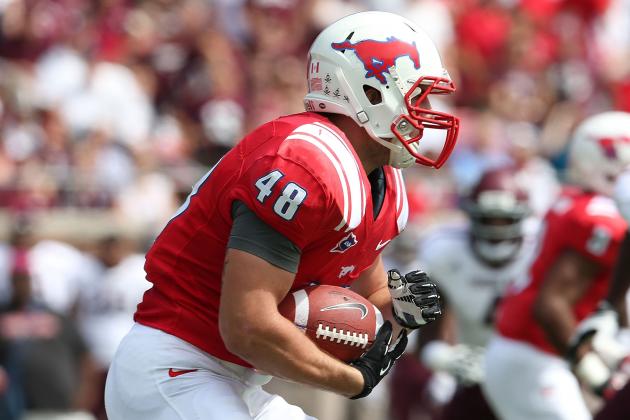 Ronald Martinez/Getty Images

You should always show love to the fullback. That's just the way I was brought up.
So take heart, pops. I listened.
Former Southern Methodist fullback Zach Line is the best of the bunch for the Minnesota Vikings. While it's probable that the Vikings won't be using him for short-yardage situations (even though he's capable), he still has a great shot at making it.
Line will provide value in the passing game both as a blocker and a receiver.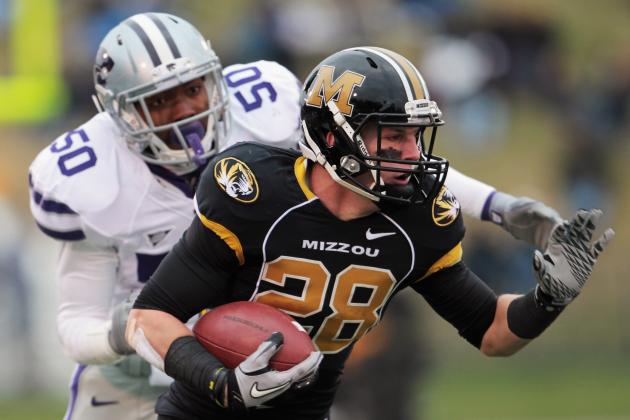 Jamie Squire/Getty Images

T.J. Moe won't get his shot this year for the receiver-needy New England Patriots due to an Achilles injury. This misfortune has turned out to be a golden opportunity for Kenbrell Thompkins.
His rough path to the NFL gives him the perspective necessary to keep his focus on the field. Everybody loves a comeback story, so rest assured that even those who hate the Patriots will be rooting for this kid.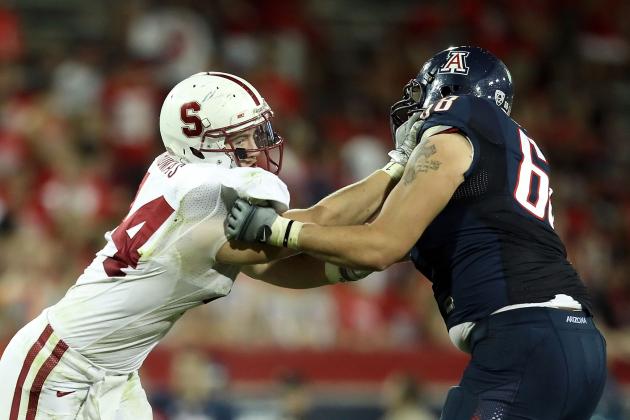 Christian Petersen/Getty Images

Another slide, another player who somehow slipped all the way out of the draft.
And this time, the haul for the New Orleans Saints may be the best player who went undrafted.
Outside linebacker Chase Thomas isn't just a player will do more than make the roster. He has a chance to start, or at least have an immediate impact.
Thomas is a complete linebacker. He can stuff the run as well as rush the passer, although his coverage abilities could be hindered by his so-so athleticism.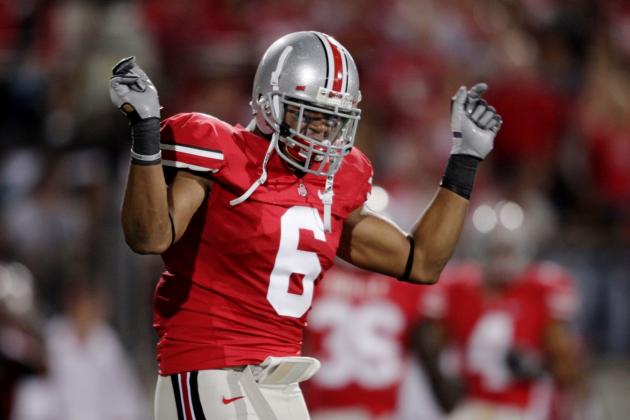 Andy Lyons/Getty Images

The New York Giants know a thing or two about undrafted free agents (see Cruz, Victor), but it would take another unforeseen shot in the dark for history to repeat itself.
The most enticing player is former Ohio State linebacker Etienne Sabino. And it certainly doesn't hurt his case that he can play both inside and outside.
Sabino is at his best when he can diagnose plays and motor to the point of attack. He isn't an elite athlete, but the physical ability he does have, coupled with his intelligence and maturity, makes him an excellent prospect at such a low price.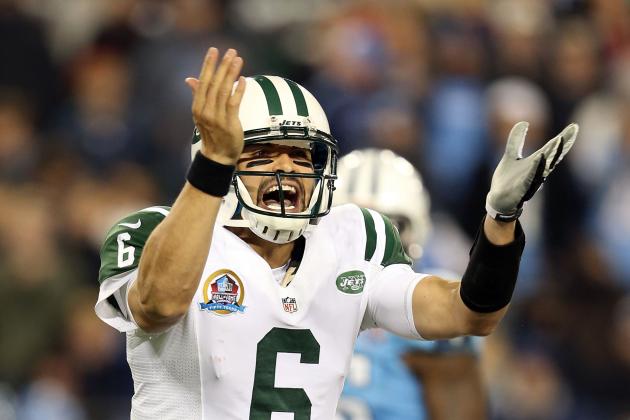 Andy Lyons/Getty Images

Not much has gone right for the New York Jets lately. Therefore, when a chance to celebrate arises, regardless of how small, Jets fans should grab the opportunity.
Well, one such opportunity is the signing of tight end Mike Shanahan. He's the cream of the crop for New York and a big target for whoever is quarterbacking the team.
Last year alone, he grabbed 62 passes for 983 yards and six touchdowns. Since he played wideout in college, he'll probably be split out more than tucked inside.
And that's fine—so long as he can catch the ball for a team in dire need of pass-catchers.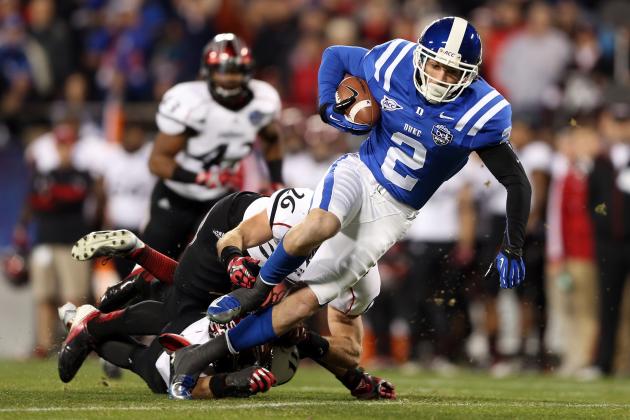 Streeter Lecka/Getty Images

I spent months pounding the metaphorical table for teams to draft wide receiver Conner Vernon. It seems that nobody listened.
At least general manager Reggie McKenzie made him an Oakland Raider as soon as the draft was completed.
Vernon is a solid route-runner who catches everything that is thrown at him. He first caught my eye at the Senior Bowl, and he left Duke as the all-time leading receiver for the ACC.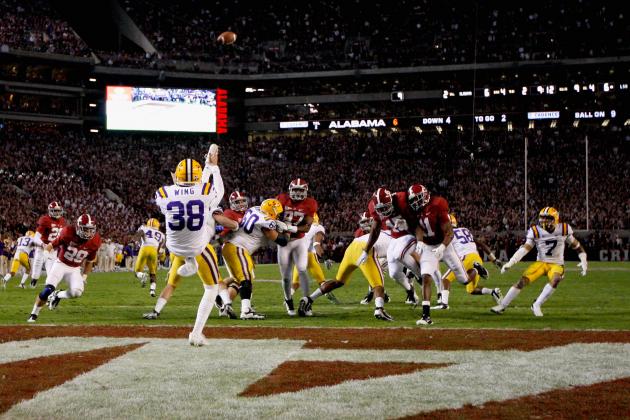 Streeter Lecka/Getty Images

If you went down a checklist of the positions the Philadelphia Eagles need to improve, you probably wouldn't think of punter. Honestly, how often does your conversation center around punting?
Regardless, the best undrafted free agent for the Philadelphia Eagles is LSU product Brad Wing.
While he is more famous for a nullified touchdown, he did post an impressive 44.6-yard average at LSU. The kid has the foot to make it in the league, giving him a distinct advantage over his peers.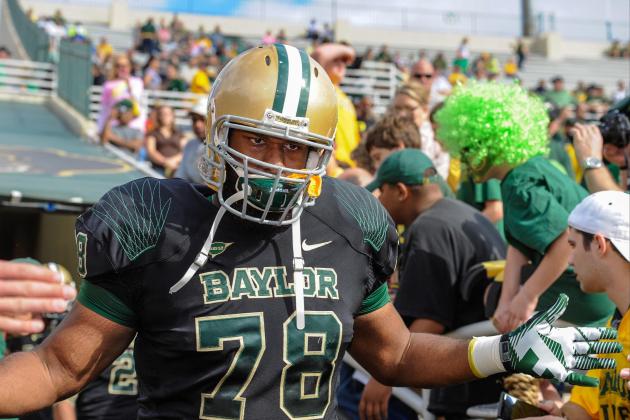 USA TODAY Sports

Offensive line is a top priority for the Pittsburgh Steelers, so adding Baylor product Ivory Wade was an ingenious move.
Wade has plenty of experience playing all along the line. He started as a freshman at guard, moved over to tackle for two seasons and finished his 46 consecutive game-starting streak at center.
The second-team All-Big-12 selection could be a valuable find for the Steelers, who have no real depth at any position.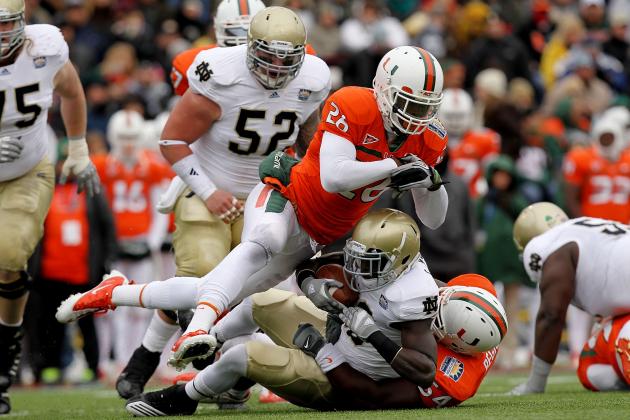 Ronald Martinez/Getty Images

The signing of cornerback Cortland Finnegan last year signaled a change to a more physical secondary. Undrafted free agent safety Ray-Ray Armstrong fits that scheme perfectly.
Armstrong was hoping to put together a decent career at Miami, but was a part of the latest scandal to rock the university. As a result, he hasn't played ball in over a year.
Despite that absence, the Rams took a chance on his hard-hitting ability. It was a gamble well worth taking.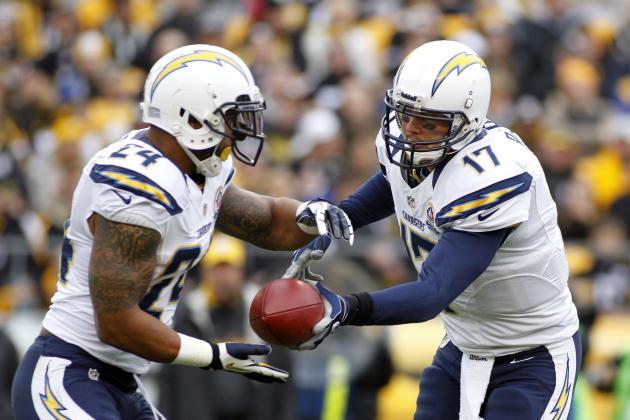 Justin K. Aller/Getty Images

The San Diego Chargers have been looking for an heir to LaDainian Tomlinson's throne since he left. Ryan Mathews isn't cutting it.
Missouri Western State's Michael Hill might.
Hill is a smart running blocker who allows plays to develop before making his move. Once the hole is there, he uses his tremendous quickness to get to the next level.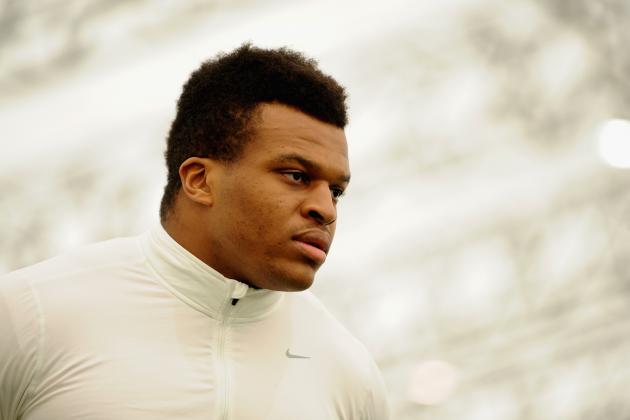 Tom Dulat/Getty Images

There aren't many odder routes to the NFL than British Olympian, but that's exactly the path Lawrence Okoye took. And San Francisco 49ers fans should be excited about it.
Okoye is an absolute freak on the level of J.J. Watt, according to the measurables. Heck, the only difference between the two is that Okoye has never played football. Somehow, that seems relevant.
But the 49ers understand how talented Okoye is. That's why they handed him a three-year contract to learn the game and develop.
Watch out for Okoye in coming years. Quarterbacks certainly will be.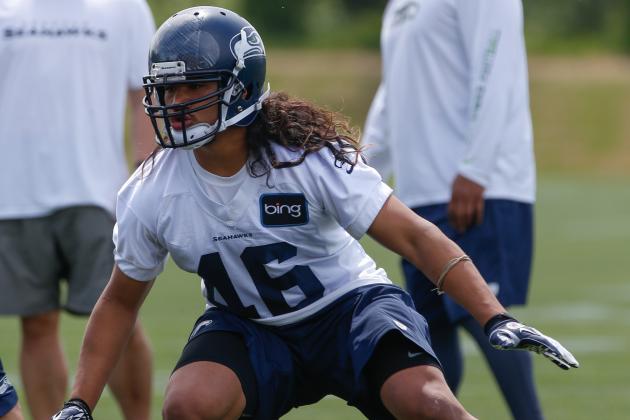 Otto Greule Jr/Getty Images

Don't judge a book by its cover.
Don't judge a linebacker by his measurables. OK, it doesn't have quite the same ring, but you get the point.
The Seattle Seahawks signed John Lotulelei, and the move could pay dividends in the future. What he lacks in size and 40 times, he makes up for with football intellect and quickness.
Lotulelei will enjoy a long career as a special teamer, with the ability to step in as a run-stuffer when needed. That's exactly the type of value teams look for when inking undrafted free agents.
Matt Kartozian-USA TODAY Sports

Remember when we all spent last season bagging on the Tampa Bay Buccaneers secondary?
Apparently, someone within the organization heard us. Not only did the Buccaneers trade and sign big names, they went after undrafted free agents to improve the defensive backfield.
And they went after Deveron Carr hard, giving him a tidy signing bonus and even guaranteeing some of his base salary.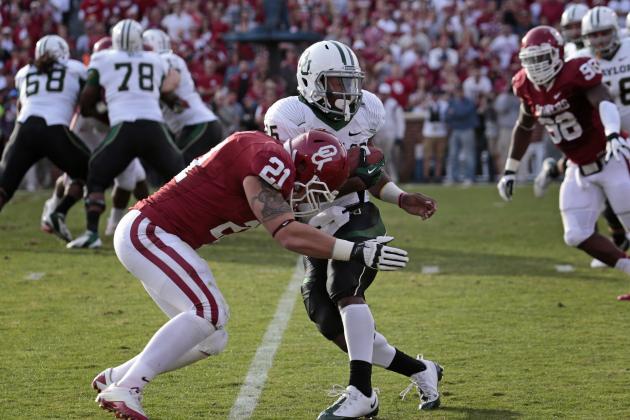 Brett Deering/Getty Images

It might be surprising to see two British football players in this slideshow, but former Oklahoma linebacker Tom Wort is another quality NFL prospect.
Wort proved he could handle coverage responsibilities during his sophomore year with two interceptions. Injuries took a toll on his junior season, but there is some nice potential to work with.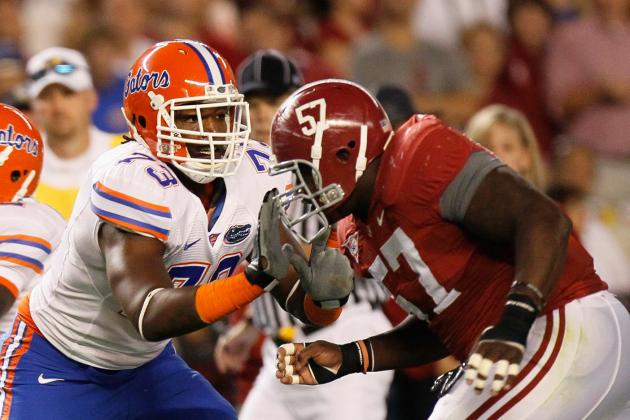 Kevin C. Cox/Getty Images

The Washington Redskins couldn't make many traditional free-agent moves due to cap restrictions, but they made up for it with their undrafted acquisitions—most notable of which is offensive tackle Xavier Nixon.
Nixon has flashed the skills necessary to be a professional starting tackle. He just didn't do so consistently enough to warrant a draft selection.
Nixon has size (6'6", 321 lbs) and surprising athleticism. Additionally, his long arms will help keep defensive ends from getting into his body.