WWE Raw Results: Top OMG and WTF Moments from July 29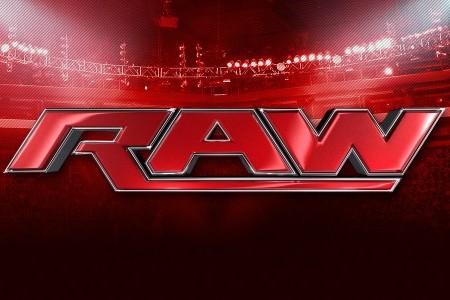 Photo courtesy of WWE.com
This week's episode of Monday Night Raw was pretaped, which would make you think WWE had the time to work out all the kinks, although that wasn't necessarily the case.
While some moments were certainly good, an overwhelming sense of mediocre filler plagued the show and really took away from what could have been a much better product.
What exactly worked and what didn't? It's time to look at the OMG and WTF moments of the latest edition of Raw.
Begin Slideshow

»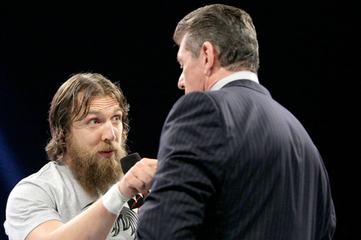 Photo courtesy of WWE.com
This week's episode kicked off with Brad Maddox and Vince McMahon addressing the Daniel Bryan title-shot situation, which prompted Bryan to come out himself.
After that, we were treated to an interesting promo between the two that continued to put Bryan over as not only a huge star but also possibly the next face of the company.
The entire segment was built around getting the crowd to get behind Bryan and endorse him as the man to dethrone John Cena—and it did its job rather well.
Never before has Bryan looked as ready to become the top man on the roster, and his fans should be eagerly anticipating SummerSlam.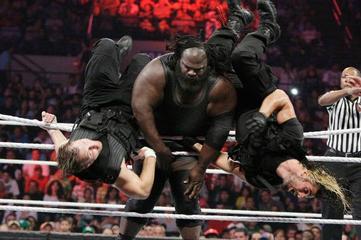 Photo courtesy of WWE.com
Although the match was certainly not awful, the problem with this segment is that it put a dent in the SummerSlam card.
Sometimes, WWE has the tendency to book matches on the episodes of Raw leading up to a pay-per-view that are essentially supposed to be on the event itself, killing a lot of the point in buying the pay-per-view.
In this case, the more interaction that Mark Henry has with The Shield, the less interesting it will be when WWE announces that he will face them in some sort of match at SummerSlam.
On top of this, the inclusion of The Usos means either we will see a complete repeat of this match—wherein, why would anyone want to pay to see something they've already seen?—or Jimmy and Jey will not be on the card.
All of that work was put into building The Usos up just for one pay-per-view title match and subsequent jobbing to The Shield, despite the increase in pops the duo has been receiving?
A singles match between two out of the six men here could have included everyone in the segment and not blown it all in one shot.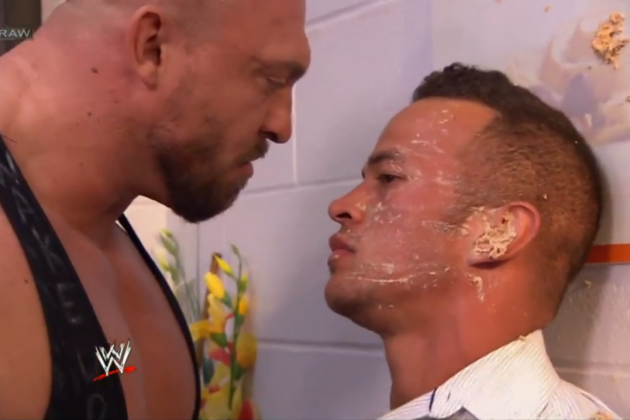 Photo courtesy of WWE.com
Ryback, formerly known as Big Hungry, had a backstage segment involving an incident that supposedly took place earlier in the catering department.
To further the bully concept, Ryback picks on one of the random sacrificial lambs. Not only does he slap the poor guy, but he also smears tuna all over his face (which clearly became lodged in his ear as the picture above showcases) to add insult to injury.
Ryback then takes things one step further and, in an effort to illustrate his future dominance in his tables match against John Cena later on in the evening, picks the man up and throws him through the table, food and all still on it.
Your mileage may vary, but I personally found this to be the most entertaining aspect of Monday night's episode. It may have been a bit ridiculous, but it was so odd that I found it too funny not to enjoy.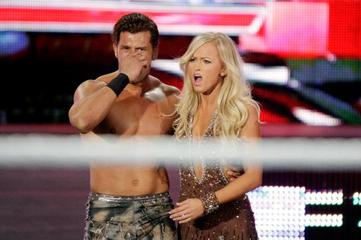 Photo courtesy of WWE.com
Once again, Fandango found himself on the losing end of a match by choosing to get counted out rather than continue to face his opponent.
Although some are going to argue that this is just standard heel booking and a way to make Fandango lose to RVD without actually being pinned, it seems to me as though this match ending is being repeated too often.
Fandango's 15 minutes of fame has passed, but his career is not over, and WWE should not make the mistake of turning him into someone that has zero credibility.
Doing this too often would completely negate the point behind his victory over Chris Jericho at WrestleMania as well as his inclusion in the Money in the Bank ladder match.
There are only so many times where you can lose by walking out of a match just to avoid being pinned before you find yourself so low on the totem pole that nobody is willing to give you another shot.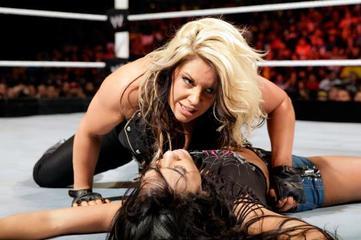 Photo courtesy of WWE.com
Kaitlyn and AJ Lee had easily the best Divas match of the year at Payback, but the two have yet to match that quality since then.
Instead, things have been closer to the normal scale of Divas matches, which are at best decent and usually quite awful.
This was by no means a series of botches or something that made the audience gauge their eyes, but it just wasn't impressive.
The commentators continually hyping the match too much and putting it over as important draws this to your attention even more.
When Michael Cole is speaking of Kaitlyn as "obviously one of the most powerful Divas of all time" and other typical zeitgeist amazement chatter is being spat at you, it's difficult not to look past the nonsense and see it for what it really is.
This is yet another filler Raw match to continue a feud that doesn't have as strong a footing as it once did.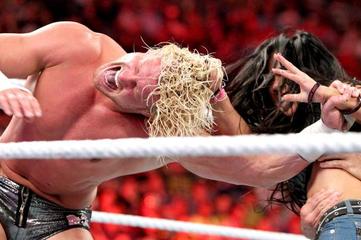 Photo courtesy of WWE.com
Another instance where this week's episode of Raw included something that we may be seeing at SummerSlam was the match between Dolph Ziggler and Big E Langston.
Now that we've seen the two face each other, it drains any excitement of that "first encounter" aura out of a potential match between the two at the pay-per-view.
Yes, there was a messed up ending, but even that in itself did nothing to up the ante for this feud. It followed the trend of Monday night being a lot of filler to bridge the gap and waste a week until the event.
For everyone who doubted my concerns about WWE placing the title on Alberto Del Rio and thought I was foolish in thinking that Ziggler would find himself having to fight to get his main event spot back, I point you to segments like this.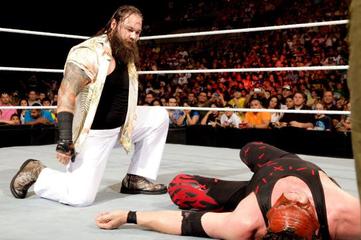 Photo courtesy of WWE.com
Earlier in the evening, a promo recapping The Wyatt Family was shown, making me worry that we were once again not going to have an actual appearance by the stable on the episode itself.
My fears were removed when the trio showed up to attack Kane after his match with Daniel Bryan.
Bray Wyatt, Luke Harper and Erick Rowan stuck it to the Big Red Machine and elaborated a little more on their feud, with Wyatt stating that Kane should watch what he says, for you never know who may be listening.
Wyatt has come a long way since his Husky Harris days, and the character is proving to be particularly interesting.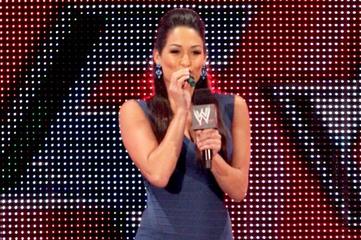 Photo courtesy of WWE.com
Following the recent trend of the Total Divas promotional segment being by far the worst part of an episode of Raw, Monday night was no different.
For our second Divas match of the night, Brie Bella took on Natalya and defeated her with some help from her twin sister, Nikki.
The WTF moment comes into play with how Brie won the match, as Nikki distracted Natalya by playing a kazoo instrument of some sort and referencing an earlier comment they had made about Natalya being the "ugly duckling" of Total Divas.
To make things worse, Nikki's incredibly dronish repetition of "quack quack Nattie quack quack...quack quack Nattie quack quack...quack quack Nattie quack quack" betwixt her duck squeaks was just grating to my ears as well as my brain.
What do you think were the good and bad moments of Monday night's Raw? Is there any particular high or low point that you felt is more memorable than the rest?
Let us know your thoughts in the comments below!
Anthony Mango is the owner-operator of the wrestling website Smark Out Moment as well as the host of its YouTube podcast show, Smack Talk. You can follow him on Facebook and elsewhere for more.