Early Predictions for Toronto Raptors' Starting 5 Next Season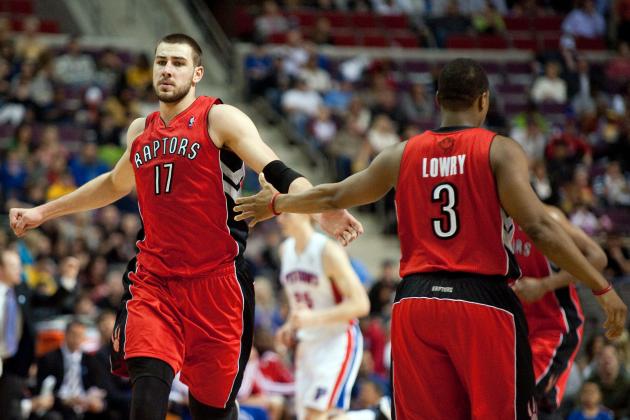 Tim Fuller-USA TODAY Sports

Even with five key additions to the roster in D.J. Augustin, Dwight Buycks, Austin Daye, Tyler Hansbrough and Steve Novak, one thing remains certain—the Toronto Raptors' starting lineup will remain unchanged heading into next season.
There will be opportunities to tweak the rotation here and there, but for the most part, the Raptors' five starters from the end of the 2012-13 regular season will be returning to their designated roles.
It appears that new general manager Masai Ujiri may be done making adjustments to the roster this offseason. It's now easier to get a sense for where certain players are going to fall in the grand scheme of things.
As is the case with any basketball team, the strength and talent level of the starting unit is usually a good indicator for future success.
Based on their starters alone, there is definitely a chance the Raptors can make some noise in the Eastern Conference next season.
The talent is there and management is in place. The end game is the postseason, and the following players can take the Raptors there.
Statistics, data and salary information courtesy of ESPN, Yahoo! Sports, Basketball Reference and HoopsHype.
Begin Slideshow

»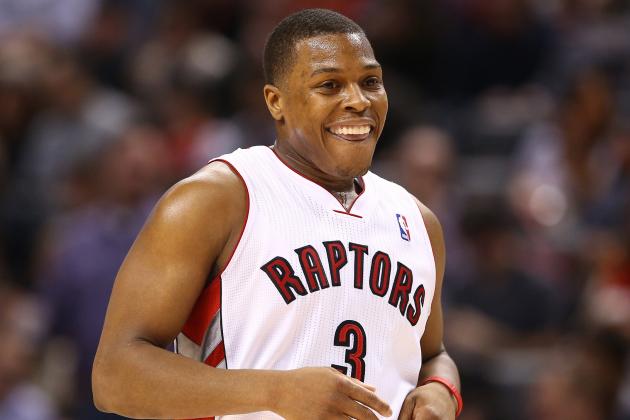 Tom Szczerbowski-USA TODAY Sports

2012-13 statistics: 68 games, 29.7 minutes, 11.6 points, 40.1 percent from the field, 4.7 rebounds, 6.4 assists, 1.4 steals, 0.4 blocks, 2.3 turnovers, 17.51 PER
2013-14 salary: $6,210,000
Primary backup: D.J. Augustin
It must be a breath of fresh air for this franchise to be entering a new season without suffering through a point guard controversy
Even with the offseason signings of both D.J. Augustin and Dwight Buycks, point guard Kyle Lowry is in absolutely no danger of losing his spot as the starter and floor general of this basketball team.
The 2012-13 season is better left forgotten. Lowry was never quite able to get his game on track in his first year as a Raptor, but there were a number of factors that attributed to that.
He wasn't healthy during training camp, he found himself hurt again during the winter months and upon his return, Jose Calderon had replaced him in the starting lineup.
It was apples and oranges with the two point guards. Calderon was better equipped at getting his teammates the basketball with pinpoint accuracy while Lowry was more adept at scoring, although his decision-making on offense wasn't always what it could have been.
Lowry and head coach Dwane Casey will need to forge more of a trusting relationship, as the point guard is essentially the eyes and ears of any coach on the court. There was never the sense that both Casey and Lowry were ever on the same page. That needs to change.
His No. 1 priority should be to get healthy. There is a great deal more depth at point guard than there was during the second half of last season, but losing Lowry for any length of time, or if he's not 100 percent healthy, would be considered a major setback.
Lowry's versatility as a scorer, rebounder, distributer and defender makes him comparable to a Swiss Army knife at the position. If he can rebound from last season and find a way to mesh with his teammates and coach, the Toronto Raptors will be better off because of it.
2013-14 projected statistics: 12.1 points, 41.6 percent from the field, 4.3 rebounds, 6.9 assists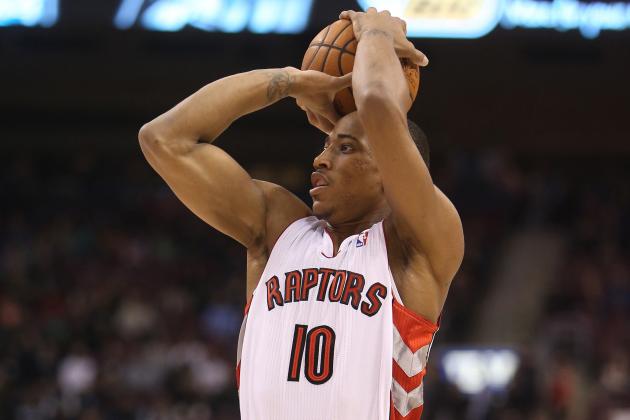 Tom Szczerbowski-USA TODAY Sports

2012-13 statistics: 82 games, 36.7 minutes, 18.1 points, 44.5 percent from the field, 3.9 rebounds, 2.5 assists, 0.9 steals, 0.3 blocks, 1.8 turnovers, 14.81 PER
2013-14 salary: $9,500,000
Primary backup: Terrence Ross
Even after four years in the NBA, it's hard to tell what the Raptors really have in DeMar DeRozan.
His four-year, $38 million deal isn't helping matters. It was a rather premature move under the old regime, but that's neither here nor there. What's done is done.
DeRozan did take some considerable strides towards becoming one of the more reliable scoring options at shooting guard in the NBA, finishing fifth among his peers at the position by averaging 18.1 points.
What's most troubling about his game is his lack of a three-point shot, as he hit just 28.3 percent from behind the arc. Not everyone can muster up the range to be successful from that part of the court on a regular basis, but if you're going to attempt 120 shots, you'd better learn to find some sort of consistency.
Rumors have begun to swirl over the possibility of DeRozan being dealt in the near future, but there are no signs from management that will be the case.
The jury is still out on whether DeRozan and teammate Rudy Gay can coexist on the court together with similar skill sets. There were signs during last season that they could play off of each other, but not enough indications to have total assurance of that.
As one of the longest-tenured players on the team, it would be nice to see DeRozan become more vocal with his teammates and emerge as a leader. However, that may be difficult with his relatively quiet persona.
Scoring won't be an issue, as DeRozan can put up points in a hurry. There's certainly a lot of room to grow in other areas of his game, but that's just nitpicking. He always seems to enter every training camp with a new trick up his sleeve. This upcoming camp should be no different.
2013-14 projected statistics: 17.7 points, 45.5 percent from the field, 3.8 rebounds, 2.9 assists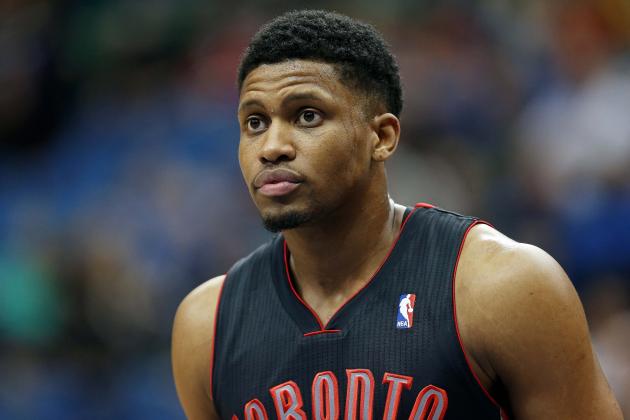 USA TODAY Sports

2012-13 statistics: 75 games, 35.8 minutes, 18.2 points, 41.6 percent from the field, 6.1 rebounds, 2.7 assists, 1.5 steals, 0.7 blocks, 2.6 turnovers, 15.66 PER
2013-14 salary: $17,888,932
Primary backup(s): Steve Novak/Landry Fields
Toronto Raptors' fans got a small taste of what a Rudy Gay-led team could accomplish last season.
Now with a full training camp and a complete slate of games, it's time to put up or shut up. The spotlight has dimmed and the hype has calmed down, if only just a bit.
In 33 games following the blockbuster three-team trade with the Memphis Grizzlies and Detroit Pistons, the Raptors went 17-16 with Gay as their prime offensive weapon.
There were moments of brilliance (six wins in first eight games, two game-winning shots), and then there were times where he appeared to be completely disengaged, displaying poor body language and taking highly questionable shots.
Despite his inconsistencies towards the end of the season and the outrageous sum of money he's still owed ($17,888,932 next season and $19,317,326 in 2014-15), Gay remains the closest thing the Raptors have to a franchise player.

His role isn't going to change. He's still the no. 1 option on offense, and will yet again take the most shots—some of which will make you cringe—on the team.
Gay will need to tighten up his control-dribbling and distributing the basketball. There has to be some signs of improvement before the idea of a contract extension for him is even introduced.
Some of the pressure will fall to the wayside in the form of his teammates elevating their games, but in the end, this Raptors team will only go as far as Gay can take them.
2013-14 projected statistics: 19.3 points, 41.9 percent from the field, 6.1 rebounds, 2.3 assists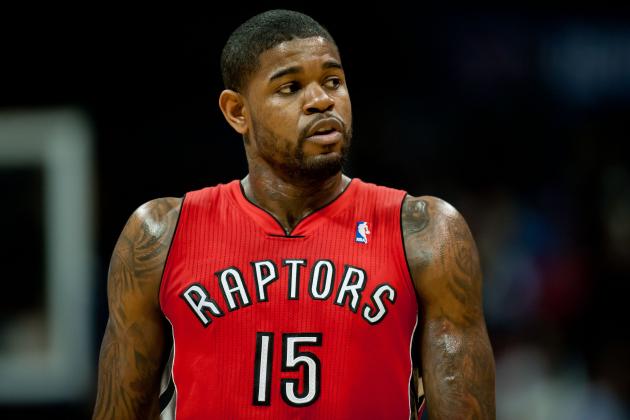 Kevin Liles-USA TODAY Sports

2012-13 statistics: 81 games, 28.7 minutes, 10.0 points, 55.4 percent from the field, 7.5 rebounds, 1.5 assists, 1.0 steals, 1.4 blocks, 1.4 turnovers, 17.33 PER
2013-14 salary: $6,500,000
Primary backup: Tyler Hansbrough
From start to finish, Amir Johnson was arguably the most valuable player on the Toronto Raptors last season.
He played hurt, improved his defense (both his steals and block averages rose from his previous year) and even added a mid-range jumper to his repertoire. Johnson led the team in rebounds (7.5) and double-doubles (15), and finished second in shooting percentage (55.4).
While he's slotted in as the starting power forward for next season, that can easily change. In all fairness, an energy guy off the bench who can play 25-30 minutes a night is a role better suited for him.
With the Raptors' recent acquisition of former Indiana Pacers power forward Tyler Hansbrough, that adjustment in the rotation could soon become a reality.
If that change does take place, it shouldn't be considered a demotion. He's proven his worth so the minutes will be there for him.
Regardless of whether he's a starter or a key component to the second unit, Johnson will continue to be one of the more consistent players on the Toronto roster and a valuable commodity on the court.
Lest we forget, Johnson is only 26. He holds the distinction of being the last NBA player to be drafted straight out of high school (Westchester High School, Los Angeles, 2005).
What once was considered an asinine contract of five years for $34 million has now been completely validated.
2013-14 projected statistics: 9.6 points, 55.1 percent from the field, 6.9 rebounds, 1.5 blocks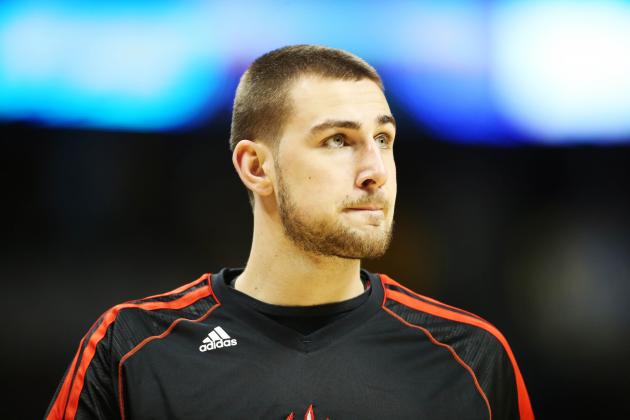 USA TODAY Sports

2012-13 statistics: 62 games played, 23.9 minutes, 8.9 points, 55.7 percent from the field, 6.0 rebounds, 0.7 assists, 0.3 steals, 1.3 blocks, 1.5 turnovers, 15.62 PER
2013-14 salary: $3,526,440
Primary backup: Aaron Gray
All aboard the Jonas Valanciunas bandwagon.
Toronto Raptors fans were already well aware of the potential Valanciunas had to be great after he put forward a strong showing in his 2012-13 rookie season.
Valanciunas' dominating stint in the summer league brought the rest of the league up to speed on him.
Valanciunas was named the 2013 Las Vegas Summer League MVP after averaging 18.8 points, 10.0 rebounds, 56.1 percent shooting from the field and 87.9 percent from the free-throw line over four games.
Even at the young age of 21, Valanciunas played like a man among boys. With a larger, more muscular build and a newfound sense of confidence, the 7'0" Lithuanian overpowered the opposition with his control of the paint on both offense and defense.
Sure, the quality of opponent wasn't nearly up to par with what he will be facing on a nightly basis next season, but that shouldn't diminish what he was able to accomplish.
Dominance over inferior competition is still dominance and progress is still progress.
Valanciunas saw his shots per game increase from 3.8 in December of last season to 7.4 in April. Expect those numbers to continue to rise in 2013-14, as head coach Dwane Casey puts more faith in his young center to deliver.
As is the case with most young big men in the NBA, growing pains are inevitable. Valanciunas isn't going to explode and become an all-star overnight. Expectations should be tempered and kept realistic.
Fortunately, there is no real threat on the roster that can take away his minutes at the five spot. Valanciunas should have plenty of opportunities to play, evolve his game and reach his full potential as a basketball player. It's just going to take some time.
2013-14 projected statistics: 12.8 points, 54.9 percent from the field, 8.0 rebounds, 1.4 blocks