MLB Trade Deadline 2013: Recap and Grades for Every Deal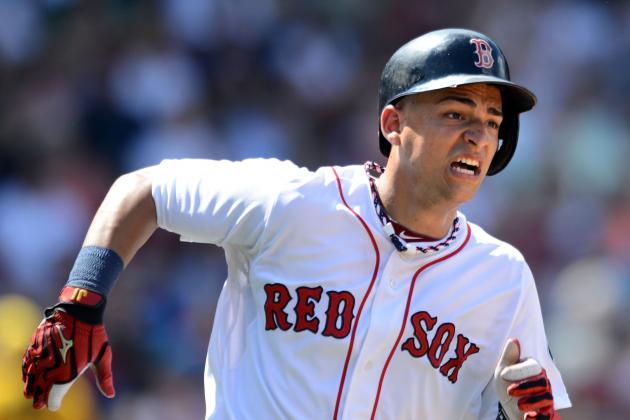 Darren McCollester/Getty Images
Newly-acquired Jose Iglesias can be Detroit's long-term shortstop.
The 2013 MLB non-waiver trade deadline was among the quietest we've ever seen, but every deal completed prior to Wednesday afternoon still has the potential to influence the present and future playoff races.
It's evaluation time, as we'll grade the late-July trades from both the buyers' and sellers' perspectives.
For teams like the Baltimore Orioles, Boston Red Sox and Texas Rangers, the objective was obvious: to improve this year's roster without sacrificing significant young players. The grades for them and other contenders reflect how well they satisfied both parts of that statement.
Overpaying for veteran talent was understandable in some situations, this being a particularly thin market at most positions.
Those supplying the notable individuals, meanwhile, tried to do so in ways that returned low-risk/high-ceiling talent and didn't demoralize their fanbases.
Note that the transactions centered around Ricky Nolasco, Carlos Marmol, Scott Feldman and Matt Thornton were excluded from this article. They all took place prior to the All-Star break, so the teams involved didn't really operate under the pressure of the July 31 deadline.
Now, we recap and analyze the meaningful movement from the past couple weeks.
Begin Slideshow

»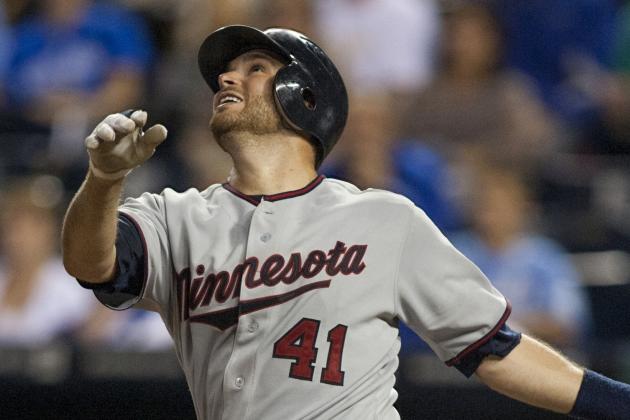 Tim Umphrey/Getty Images

Full trade: Minnesota Twins trade C Drew Butera to the Los Angeles Dodgers for a player to be named later.
A tip of the hat goes out to Eric Stephen of True Blue LA for noticing that this is the eighth straight year that Dodgers general manager Ned Colletti has completed a trade on July 31.
With that said, this may have been the least significant of those eight.
Butera, who turns 30 on Aug. 9, is an abysmal offensive player. His lifetime MLB batting line of .182/.230/.263 isn't all that much better than what he has posted in parts of seven minor league seasons.
At least you can trust him with the catcher's gear on. Butera has consistently gunned down would-be base-stealers at a high percentage, and he called Francisco Liriano's no-hitter two years ago.
Barring an injury, he'll remain at Triple-A until rosters expand in September.
From Minnesota's perspective, this move was primarily about shedding payroll.
Butera's initial call-up in April 2010 and presence on the active roster throughout the seasons that followed qualified him for super-two status. Being eligible for arbitration entering 2013 earned him a $700,000 settlement rather than the league minimum.
Rookie Chris Herrmann, meanwhile, has more potential and a lower price tag.
Grades
Dodgers: C+
Twins: A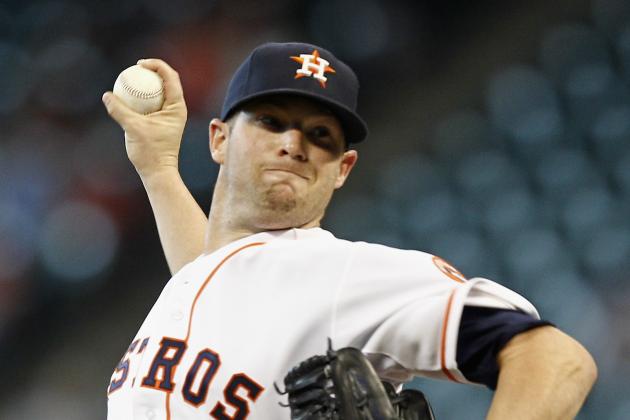 Bob Levey/Getty Images

Full trade: Houston Astros trade RHP Bud Norris and an international signing bonus slot to the Baltimore Orioles for OF L.J. Hoes, LHP Josh Hader and a 2014 competitive balance pick.
Bud Norris is a hard-throwing fastball-slider guy who should've been shifted to the bullpen years ago.
Still, he has some redeeming qualities as a starter.
The 28-year-old guarantees durability and seldom implodes on the mound. He has lasted five-plus innings in 27 of 28 starts dating back to August 2012.
The timing off this acquisition is convenient for Baltimore, as Jason Hammel just suffered a right flexor strain. Norris will temporarily replace him in the rotation.
Although ready to play in the majors, Hoes isn't poised to make a meaningful impact. ESPN Insider Keith Law (subscription required) notes his defensive limitations and lack of power.
Not many high-ceiling prospects moved at the trade deadline, but Hader definitely has top-of-the-rotation potential. He's 19 years old and starting at High-A. Hader's estimated time of arrival to the big leagues is late 2015/2016, and his effectiveness will hinge on refining his secondary pitches.
The O's were among 14 teams entered into the Competitive Balance lottery, as MLB.com's Jonathan Mayo explains, which took place in July. They lucked out and won the second pick of next year's Comp Round A, which is sandwiched between the first and second rounds of the amateur draft. In 2013, that pick was worth $1.588 million, and it should carry similar value for the Astros in 2014.
Houston decided to surrender international signing bonus slot No. 91, which is $213,000 in 2013-2014 international spending, according to Ben Badler of Baseball America.
Grades
Orioles: B
Astros: C+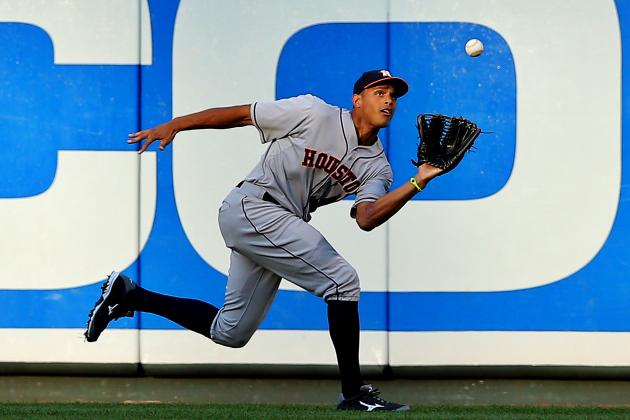 Patrick Smith/Getty Images

Full trade: Houston Astros trade OF Justin Maxwell to the Kansas City Royals for RHP Kyle Smith, per Brian McTaggart of MLB.com.
Maxwell emerged as a notable player last summer with 18 home runs in only 352 plate appearances. He also began the 2013 campaign with a couple of hot weeks.
However, on a contending team, the 29-year-old is no more than your typical 12th or 13th position player. A lifetime .669 OPS against right-handed pitching relegates him to platooning, and even southpaws tempt him to swing and miss frequently.
Maxwell is cheap and will continue to be in 2014, his first arbitration-eligible year. He just doesn't seem like a meaningful addition to a Royals team that can legitimately fight for a playoff spot down the stretch.
Two of Houston's best prospects, Jonathan Singleton and George Springer, can probably solidify the middle of the lineup for years to come. Springer, in particular, has posted absolutely prolific offensive numbers the past two seasons, and his call-up from Triple-A could come at any moment.
Smith's ceiling is probably as a mid-rotation starter, but even that makes him way too promising to include in this kind of trade. He owns a 2.85 ERA and 9.9 K/9 through two minor league seasons. The right-hander demonstrates great command for a soon-to-be 21-year-old.
Grades
Royals: C-
Astros: A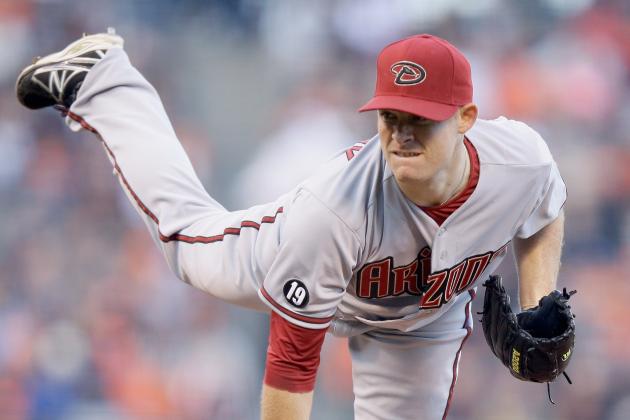 Ezra Shaw/Getty Images

Full trade: San Diego Padres trade LHP Joe Thatcher, RHP Matt Stites and 2014 competitive balance pick to the Arizona Diamondbacks for RHP Ian Kennedy, as reported by Corey Brock of MLB.com.
Kennedy's most prominent feat the past two years is throwing at Zack Greinke and inciting a bench-clearing brawl against the Los Angeles Dodgers. That makes this deal look like a steal for the D-backs.
In reality, San Diego should be not ripped for going after the right-hander. He enjoyed an outstanding campaign in 2011—2.88 ERA, 3.22 FIP in 222.0 IP—and his stuff hasn't regressed since then.
The pitcher-friendly confines of Petco Park could give Kennedy the confidence to throw his fastball for strikes more often. His salary is a bit bloated (projected close to $6 million for 2014), but the Padres rotation was in terrible shape before his arrival.
You can never have too much starting pitching...except when you're the Diamondbacks. With Trevor Cahill and Brandon McCarthy mending from shoulder injuries and Randall Delgado thriving in their absence, Kennedy didn't belong in their present or future plans. We didn't even mention stud prospect Archie Bradley, who could be incorporated into the starting mix as soon as next summer.
Thatcher fills a need in the desert as a lefty specialist, while Stites, 23, has skyrocketed through the minors. We could be seeing him at the highest level within the next couple months. At Double-A, the right-hander has 51 strikeouts in 52 innings versus only seven unintentional walks.
Grades
Diamondbacks: A-
Padres: B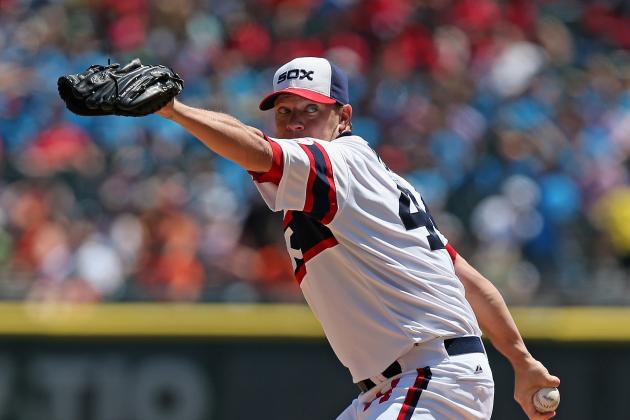 Jonathan Daniel/Getty Images

Full trade: Chicago White Sox trade RHP Jake Peavy to the Boston Red Sox; Red Sox trade 2B/SS Cleuluis Rondon, RHP Francellis Montas and RHP Jeffrey Wendelken to the White Sox, and SS Jose Iglesias to the Detroit Tigers; Tigers trade RHP Brayan Villarreal to the Red Sox and OF Avisail Garcia to the White Sox.
Boston has a handful of promising pitching prospects in the high minors, including Matt Barnes, Anthony Ranaudo and Allen Webster.
For whatever reason, the White Sox didn't demand any of them. They instead turned to Detroit for the biggest piece of compensation.
The 22-year-old Garcia is perhaps unfairly compared to Miguel Cabrera, although he's doing a convincing impression of the reigning American League MVP this summer at Triple-A (.374/.410/.537 in 156 PA). His 30-homer power potential hasn't shown up yet, but bet on him having a long career in the everyday lineup.
The other three minor league players coming to the Windy City still have years separating them from MLB debuts. Montas might be the most intriguing one given his ability to reach 100 mph with his four-seamer (albeit with subpar command).
The Red Sox sorely needed another established starter to keep them afloat. Even general manager Ben Cherington admits that he doesn't know when Clay Buchholz will rejoin the rotation, per Ryan Hannable of Metro.
A relatively high home run rate is the only concern with Peavy, who has totaled 270 strikeouts in 299 innings pitched during the past two seasons. If nothing else, the former Cy Young Award winner will provide lengthy outings to spell a bullpen that has lost Andrew Bailey, Joel Hanrahan and Andrew Miller to season-ending injuries.
Villarreal, 26, comes to Beantown as somewhat of an afterthought. He hasn't been able to throw strikes in 2013, but just last year, he provided the Tigers with a 2.63 earned run average in 50 relief appearances.
Cherington did well to sell high on Iglesias, who's looking like a strong candidate for AL Rookie of the Year. The Tigers desired a shortstop as insurance in case Jhonny Peralta gets suspended for his Biogenesis involvement, but giving up Garcia in the process wasn't wise.
Grades
Red Sox: A-
Tigers: C+
White Sox: A-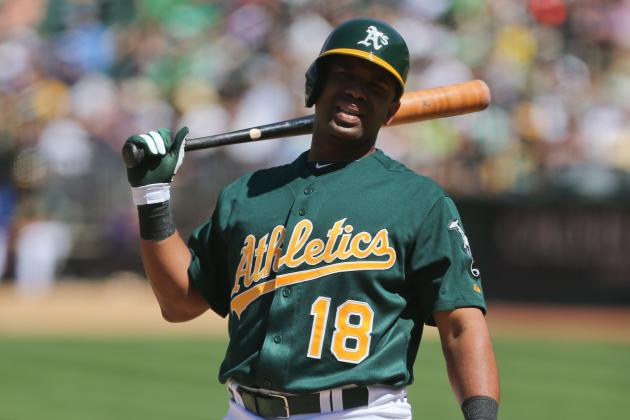 Kelley L Cox-USA TODAY Sports

Full trade: Los Angeles Angels trade 3B/2B Alberto Callaspo to the Oakland Athletics for 2B Grant Green.
This trade undoubtedly improves Oakland's likelihood of staying atop the AL West in 2013.
Green looked completely over-matched in his first 16 MLB plate appearances last month. He has played the same defensive positions as Callaspo, but he serves as a liability, lacking the instincts and feel to take advantage of great athleticism.
If used regularly at second base, Callaspo will exceed 130 games played for the fifth straight season. The A's would be more than pleased to take responsibility for the $4.875 million on his contract for 2014 so long as his durability and contact ability don't vanish in his early 30s.
Los Angeles had Callaspo playing third base for the past three years. It's unclear who will fill the void.
Closing in on age 26, there's a legitimate risk that Green never gets any better than he is right now. Although highly touted prior to this season, switch-hitting Kaleb Cowart has seriously scuffled this summer at Double-A, particularly when swinging from the left side.
Grades
Athletics: B
Angels: C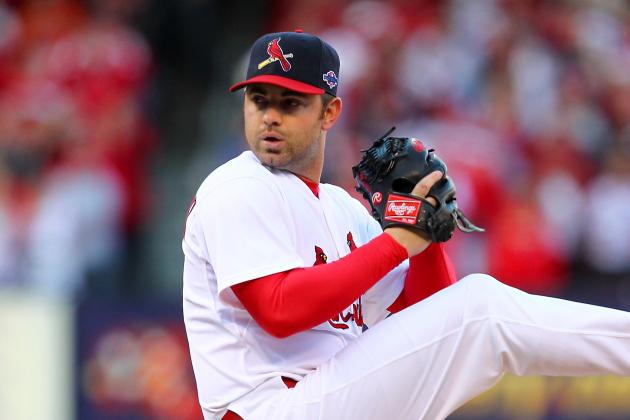 Dilip Vishwanat/Getty Images

Full trade: St. Louis Cardinals trade LHP Marc Rzepczynski to the Cleveland Indians for SS Juan Herrera
This was a relatively weak attempt by the Tribe to pull even with the Detroit Tigers again, who acquired Jose Veras the previous day.
Rzepczynski showed promise in 2011 with a 3.33 earned run average and only 50 hits allowed in 62 innings. Left-handed batters had an anemic .478 OPS against him.
His velocity hasn't dropped off at all since then, but his swinging strike percentage isn't close to what it used to be, per FanGraphs. The southpaw better known as "Scrabble" has spent most of 2013 at Triple-A trying to get his career back on track.
At least he's under team control through 2015 and is a slight improvement over Rich Hill.
The Cards, quite frankly, had no need for Rzepczynski. Excluding the very beginning of the season and the past couple of series, their bullpen has pitched beautifully.
Randy Choate is freakishly consistent against left-handed batters from season to season, and St. Louis signed him to a three-year deal last winter.
The organization hasn't identified its shortstop of the future, so why not take a flier on Herrera? He just turned 20 and shows excellent hand-eye coordination at Low-A ball.
Grades
Indians: C+
Cardinals: A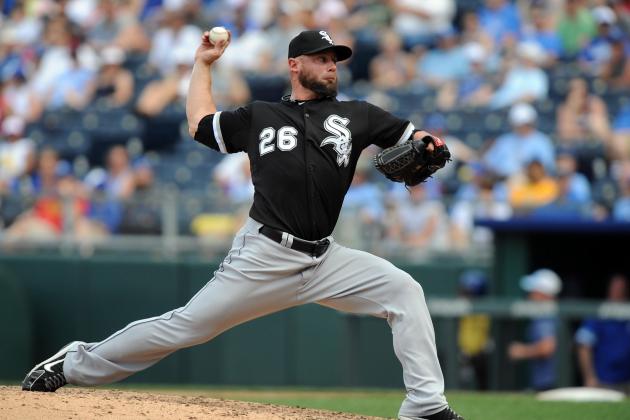 USA TODAY Sports

Full trade: Chicago White Sox trade RHP Jesse Crain to the Tampa Bay Rays for future considerations.
We aren't going to waste your time by attempting to grade a trade where the known player isn't yet cleared to pitch and the compensation for his services hasn't been determined.
According to MLB.com's Scott Merkin, the White Sox have a "pool of players" to choose from. We may not learn whom they're getting until winter.
Crain, an impending free agent, pitched remarkably well through the end of June (0.74 ERA, 2.0 fWAR), and his career production suggests that he will continue to bolster a bullpen when activated from the disabled list. Unfortunately, the Rays haven't set a timetable for his return.
Grades
Rays: TBD
White Sox: TBD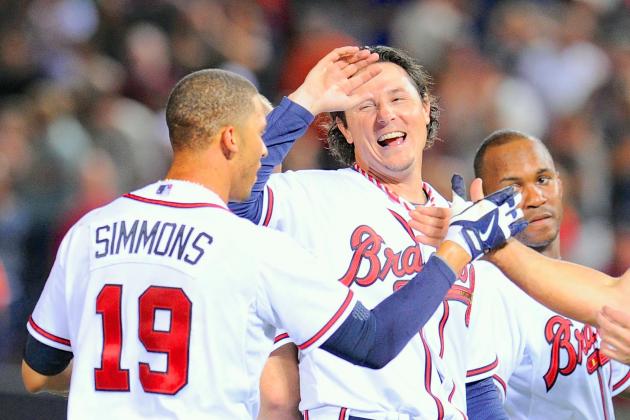 Dale Zanine-USA TODAY Sports

Full trade: Los Angeles Angels trade LHP Scott Downs to the Atlanta Braves for RHP Cory Rasmus.
The NL East leaders felt they needed a veteran left-hander in their bullpen, and Downs is an extremely safe bet.
Seven major league seasons as a full-time reliever and not once has he posted an earned run average above 3.15. The 37-year-old is vulnerable against right-handed batters, but the Braves have great alternatives to use for those situations.
His lack of swing-and-miss stuff won't be a major detriment considering the high quality of fielding behind him.
Moving what remained of Downs' $5 million salary made sense considering that L.A. is in a selling situation.
However, the Angels should have received somebody worthwhile in exchange for two months of an elite reliever. Rasmus can dial up his fastball into the mid-90s and generate a lot of strikeouts, but at age 25, he's still failing to stick at the major league level.
Grades
Braves: B+
Angels: C
Gregory Shamus/Getty Images

Full trade: Houston Astros trade Jose Veras to the Detroit Tigers for Danry Vasquez and a player to be named later.
Considering how dominant Joaquin Benoit and Drew Smyly have been, the Tigers didn't feel pressured to overpay for a premium reliever.
The best half-season of Veras' career is probably behind him, but he clearly deepens their bullpen. Plus, Detroit has the option of retaining him next year for $3.25 million or paying a $150,000 buyout. Including his first post-trade outing, the right-hander now boasts a sub-1.00 WHIP in 2013.
In hindsight, sending away Vasquez seems potentially problematic. Moving the promising 19-year-old to Houston and Avisail Garcia in the Jake Peavy blockbuster leaves the farm system dry in the outfield. The Tigers must have a ton of confidence in Nick Castellanos.
Closers are recognizable, so this deal probably didn't sit well with Astros fans. Still, the fact that the club is getting two players for a historically mediocre reliever must be emphasized.
Grades
Tigers: B-
Astros: B+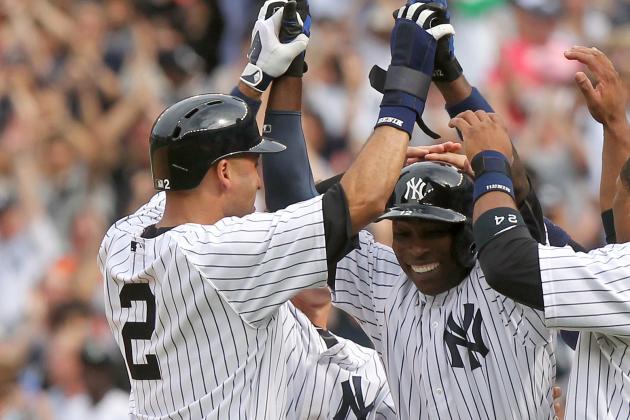 Brad Penner-USA TODAY Sports

Full trade: Chicago Cubs trade OF Alfonso Soriano and cash to the New York Yankees for LHP Corey Black.
Soriano has already enjoyed one huge day for the Bombers, but the other four games in his second stint with the franchise haven't been memorable.
New York knew what it was getting: poor plate discipline, great power, smart baserunning and occasionally awkward defense in left. The front office is on the hook for $5 million of his 2014 salary and a pro-rated version of that this summer, which seems appropriate for a player who's slightly above replacement level.
According to Joel Sherman of the New York Post, general manager Brian Cashman was overruled by ownership when trying to back out of the trade. Because there always has to be some drama in the Bronx, right? He didn't want to relinquish a talented pitcher like Black.
The 5'11" right-hander has struggled with his command in 2013 while still striking out better than a batter per inning. There's a very strong likelihood that he ends up in Chicago's bullpen someday.
The Cubs valued Soriano's experience and clubhouse presence, but they needed to continue building toward a competitive future.
Grades
Yankees: B
Cubs: A-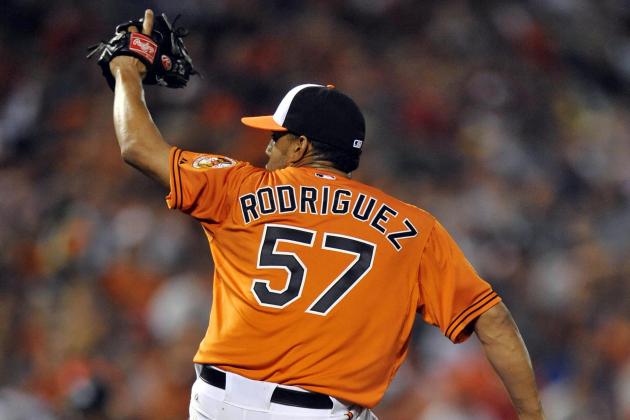 Joy R. Absalon-USA TODAY Sports

Full trade: Milwaukee Brewers trade RHP Francisco Rodriguez to the Baltimore Orioles for 3B/1B Nick Delmonico.
K-Rod's 1.63 earned run average in 2013 represents a career best. That's saying a lot for a 12-year veteran who has been a top-five finisher in Cy Young Award voting on three separate occasions.
Of course, we have other metrics to gauge pitching performance, and most of them indicate that the right-hander isn't a top-tier reliever anymore.
His FIP is more than double his ERA, which tells us that the Milwaukee Brewers defense bailed him out of some uncomfortable situations. Exhibit A: Carlos Gomez, courtesy of MLB.com.
Rodriguez has also lost several miles per hour on his fastball the past few years, and his changeup isn't nearly as devastating. Those trends contribute to a reduced strikeout rate.
It's extremely likely that K-Rod will regress down the stretch, but at least his salary won't be burdensome. Even by reaching all of his performance bonuses, the 31-year-old can only earn about $2 million this season.
Delmonico, 21, comes with glaring defensive questions. He has been error-prone at first, second and third base in his two professional seasons. There is, however, tremendous upside with his bat. The Tennessee native has amassed double-digit home runs for the second straight year, and his plate discipline is impressive for any prospect at the High-A level.
Best-case scenario, he'll take over at the hot corner early in 2015 and grow old and wealthy with the Brewers alongside Jean Segura. It's just as likely that he'll serve as a journeyman pinch-hitter/platoon guy. Regardless, this was a great gamble for a team that had no use for K-Rod going forward.
Grades
Orioles: C+
Brewers: A
Layne Murdoch/Getty Images

Full trade: Chicago Cubs trade RHP Matt Garza to the Texas Rangers for RHP C.J. Edwards, RHP Justin Grimm, 3B Mike Olt and player(s) to be named later.
The Rangers overpaid for Garza, but there frankly wasn't another desirable rental available to plug into the rotation. Their rotation is already well set for the future; they just couldn't wait any longer for Matt Harrison (back surgery) to return to full strength.
His streak of quality starts has continued with performances against the New York Yankees and Los Angeles Angels that lasted at least seven innings each (1.88 ERA, 11 K in 14.1 IP). Smart move by Texas to get someone with ample experience navigating American League lineups.
Edwards, a former 48th-round draft pick, might blossom into the best player involved in this trade. The right-hander has otherworldly numbers as a pro—1.63 ERA, 0.94 WHIP, 215/60 K/BB in 165.1 IP—and he surrendered only one hit in his debut with the Cubs organization.
Olt, on the other hand, is continuing to grind through a lost season. The 24-year-old probably expected significant MLB playing time in 2013, but he has instead battled vision problems. Should he ever resolve them, scouts agree he's a surefire everyday third baseman with plus power.
Grimm could make sporadic spot starts during the next few years while the big-shot Cubs prospects rise through the system.
Last month, Chicago's front office expressed an interest in extending Garza, but the two sides never really got on the same page. The threat of free agency and only receiving one future draft pick as compensation made this deal necessary.
Grades
Rangers: B
Cubs: A-