MLB Trade Deadline 2013: Who Should Be Buyers, Who Should Be Sellers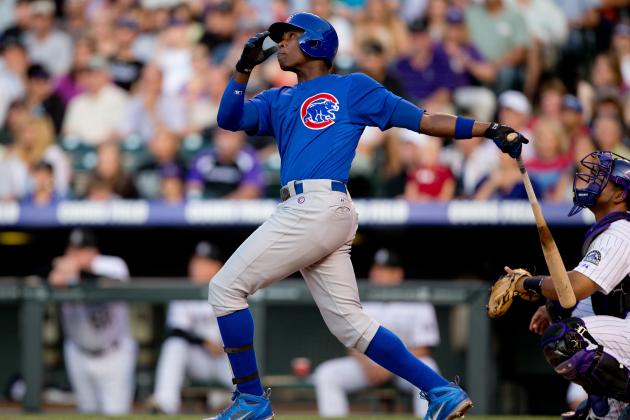 Justin Edmonds/Getty Images
Alfonso Soriano was traded by the Chicago Cubs to the New York Yankees
The MLB non-waiver trade deadline is July 31 at 4 p.m. and a flurry of activity has already occurred. In fact, this morning, the New York Yankees finalized a deal with the Chicago Cubs to acquire outfielder Alfonso Soriano (above) in exchange for a minor-league pitcher.
One always expects the New York Yankees to be buyers come the trade deadline, but there are plenty of other teams joining in on the conversation.
On the side where the grass isn't so green, some teams are shifting their focus to the future and preparing to move some key players.
Here we'll touch on five of the bigger buyers and sellers for this year's MLB trade deadline as well as some of the players who could be packing their bags.
Begin Slideshow

»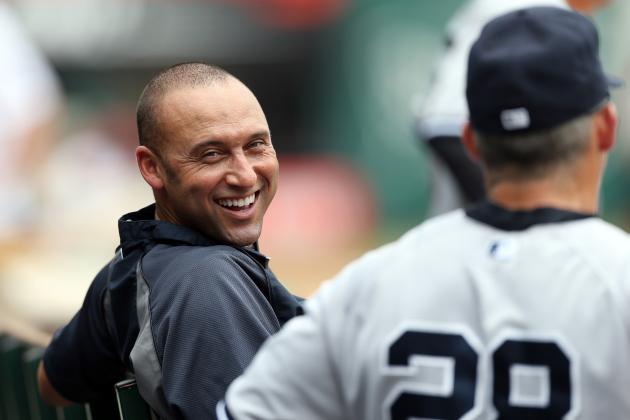 Layne Murdoch/Getty Images
Derek Jeter has been hurt most of 2013 and the Yankees may seek some insurance.
ESPN reported at 9:22 a.m. on Friday that the Yankees have acquired Chicago Cubs outfielder Alfonso Soriano.
The deal appeared imminent over the last few days, but Soriano finally waived his no-trade clause this morning.
The Yankees don't expect to be finished, though. They spent almost all of 2013 without the likes of Alex Rodriguez, Derek Jeter, Mark Teixeira and Curtis Granderson, leaving them in fourth place in the AL East.
A deal for Soriano could clear up the outfield inconsistency, especially with Granderson starting his rehab assignment on Thursday and Brett Gardner finally healthy.
The Bronx Bombers could look into adding some insurance for Jeter and A-Rod as their setbacks could prove disastrous in the long term.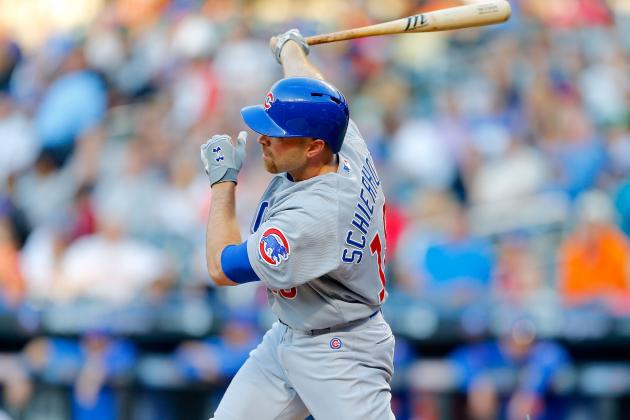 Jim McIsaac/Getty Images
Nate Schierholtz could provide a spark and good depth for a contender.
Of course the Cubs are sellers. One of these days Theo Epstein is going to have this team as a buyer come the deadline, but we're not there yet.
After dealing Matt Garza to Texas last week and Soriano to the Yankees Friday morning, the Cubs appear to have emptied the big-league cupboard. Or have they?
Nate Schierholtz and David DeJesus are two outfielders who could provide solid defense and great depth for contenders looking to solidify their lineup. They are also shopping current closer Kevin Gregg.
The 29-year-old Schierholtz has a favorable contract that extends through next season, allowing a team to maintain his services should he perform admirably. He is also a left-handed bat hitting .280 with a good balance of speed (five stolen bases) and power (13 home runs).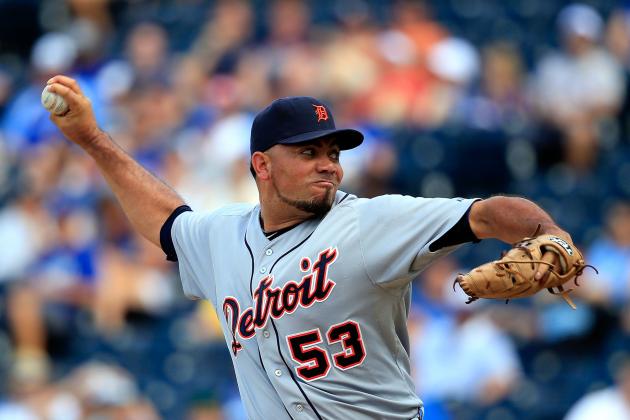 Jamie Squire/Getty Images
Joaquin Benoit has pitched well, but Detroit hopes to acquire a closer at the deadline
The Detroit Tigers have been some big spenders in recent years, last year acquiring Omar Infante and Anibal Sanchez near the deadline.
This year they appear to be in a little trouble as the deadline approaches. Miguel Cabrera is nursing a hip flexor injury and Torii Hunter left Thursday's game with an apparent Achilles injury; however neither are being treated as serious.
Omar Infante has suffered a setback in his recovery from an injury suffered attempting to turn a double-play.
The Tigers hold a three-game lead over the Cleveland Indians in the AL Central but their glaring need is a closer. They have inquired about San Diego's Huston Street and Luke Gregerson as tweeted by Jon Paul Morosi of FOXSports.com.
#Tigers have made initial inquiries on #Padres relievers, sources say. Street and Gregerson among the possibilities. @FOXSportsLive
Detroit would prefer to move Joaquin Benoit back to his set-up position where he's flourished the last few seasons. A definitive closer would provide Detroit a reliable back-stopper in close games as well as solidify roles for the remainder of the arms in their bullpen.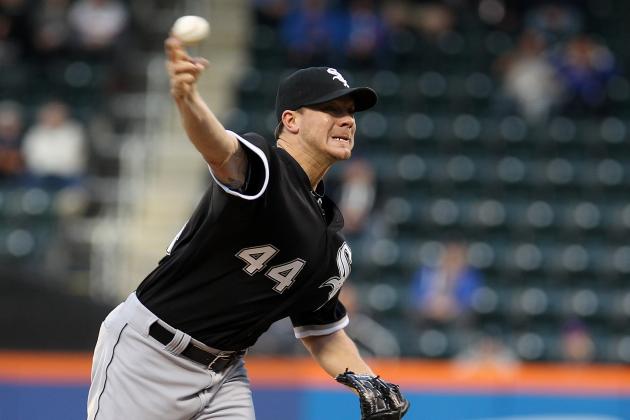 Mike Stobe/Getty Images
Jake Peavy is sure to be traded before next Wednesday's trade deadline.
We return to the Windy City, this time with the White Sox.
Former NL Cy Young winner Jake Peavy is a known commodity who still has a lot left in the tank and could garner a hefty return.
In two starts since returning from the disabled list, Peavy is 2-0 with a 4.15 ERA and 10/2 strikeout-to-walk ratio. On the year, he is 8-4 with a 4.28 ERA.
The Sox have also been shopping outfielder Alex Rios, according to Mark Gonzales of the Chicago Tribune. Rios provides some power, a .276 average and speed on the base paths and appears to have fallen out of favor on the South side. While he hasn't produced the quality numbers he put up last season, he's still a good piece for a team in the wild-card hunt, perhaps the Pittsburgh Pirates.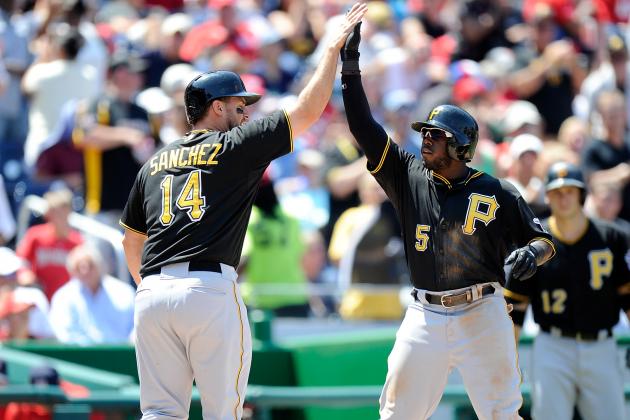 Greg Fiume/Getty Images
The Pittsburgh Pirates are sitting pretty with the Wild Card but are aiming for the division.
How long has it been since we could say this?!
The Pirates are a solid 20 games over .500 but still trail the St. Louis Cardinals for the division lead. While they chase the division leaders, the Pirates should look for some insurance to secure a wild-card spot, even if they can not catch the Cards.
Some pieces that could fit include the Cub's Nate Schierholtz or Miami's Juan Pierre for outfield security, but another big help could be Seattle's Kendrys Morales.
Though Morales is listed as a designated hitter, he has played first base and right field in his career. He's hitting .279 on the year with 15 home runs and 57 RBI for the Mariners and could boost a Pittsburgh offense that has the fifth-lowest run total in baseball (389).
The Pirates have also expressed interest in the White Sox' Alex Rios according to Tom Gatto of Sporting News. While they intend to improve in right field, Rios may prove to cost more than the small-market club can afford.
Their pitching doesn't appear to need much work and there's still hope Wandy Rodriguez can return to the rotation from elbow and forearm tightness.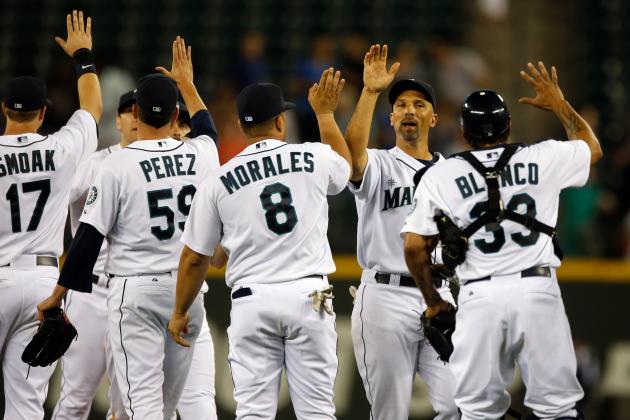 Otto Greule Jr/Getty Images
The Mariners are the hottest team in baseball but selling may still be an option.
Seattle has been on this side of the tracks for a while now and they possess a few good pieces they can turn into prospects.
Kendrys Morales is the most notable. The Texas Rangers appear to be players for Morales' services according to Jeff Wilson of the Fort Worth Star-Telegram.
With 57 RBI for the last-place Mariners, Morales would be a good left-handed bat to stabilize a primarily right-handed Rangers lineup.
Seattle has Raul Ibanez, Joe Saunders and Oliver Perez in the final year of their contracts, but Jon Heyman of CBSSports.com tweeted that the team may not be selling at this point in time.
teams that have checked with #mariners lately say they're not selling at all right now. cant really blame 'em.
After winning nine of their last 10, they're just 7.5 games out of the final wild-card spot. Could they make a run? It's possible. Will they? I wouldn't hold my breath, but this may not be another year of mediocre baseball in the Emerald City.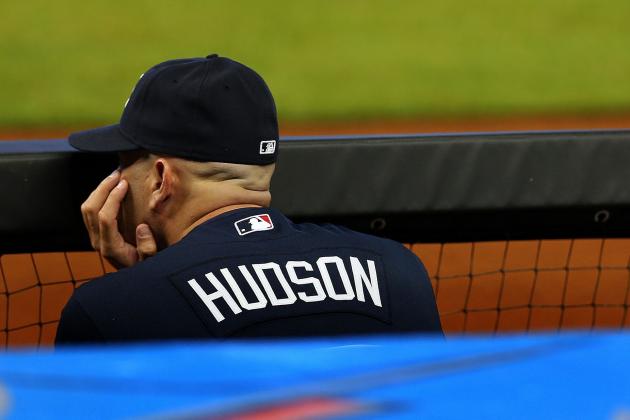 Mike Ehrmann/Getty Images
Tim Hudson will miss the rest of the season with a fractured right ankle.
Unfortunately for the Braves they may have been forced into buying at the deadline.
After an unfortunate and ugly ankle injury, Tim Hudson is expected to miss the remainder of the season.
Although the Braves are hoping for Brandon Beachy's return from Tommy John surgery, you can't be sure what to expect with his recovery.
Kris Medlen has held his own with a 3.78 ERA but his 6-10 record leaves a lot to be desired and he could be destined for the bullpen. They've also recently placed Paul Maholm on the 15-day DL with a sprained wrist.
Jake Peavy is a viable option and could be the "missing link" according to Ryan Tolmich of Bleacher Report. Other names could include Milwaukee's Yovani Gallardo, Kansas City's Ervin Santana and Houston's Bud Norris; none of which are "officially" on the trade block.
The Braves are the only NL East team above .500 for the season. In fact, they hold an eight-game lead over our next seller.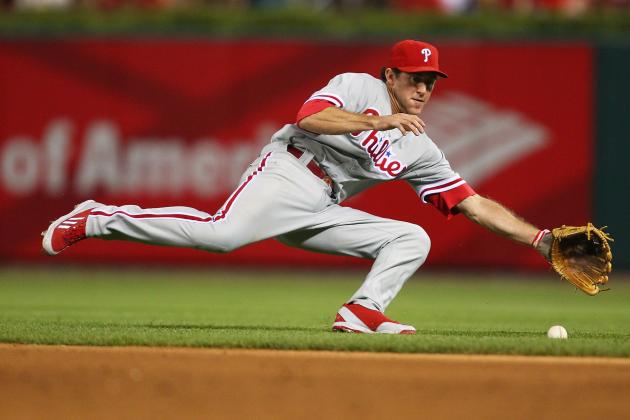 Dilip Vishwanat/Getty Images
Chase Utley could be on his way out of Philadelphia.
The Philadelphia Phillies are more than disappointed by the result of their 2013 campaign.
Cliff Lee has made it clear he "wants to win", according to Jon Heyman of CBSSports.com, while GM Ruben Amaro Jr. has no intention of dealing him. Chase Utley, on the other hand, is 34 years old, has dealt with knee issues for years and is in the last year of his contract.
He's still slick in the field and provides good power from the left side of the plate and could be a huge piece for a wild-card team. He's been connected to the Kansas City Royals, Baltimore Orioles and Oakland A's. More can be found on Chase Utley in Patrick Clarke's article on Bleacher Report.
Although Todd Zolecki of MLB.com tweeted Thursday that the Phillies may keep Utley after all.
Amaro also said he expects Chase Utley to be with the Phillies past next Wednesday's 4 p.m. trade deadline.
While they may be hoping for one more push with Lee, Hamels, Utley, Howard and a healthy Roy Halladay, the Phillies may be better off selling now while their pieces are still desired commodities.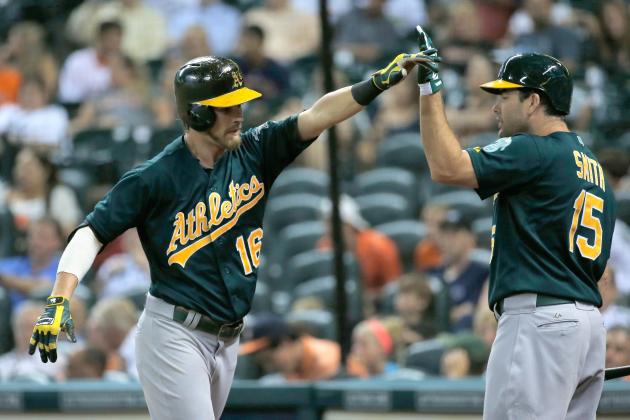 Scott Halleran/Getty Images
The Oakland Athletics look to improve upon their 2012 postseason berth.
The Oakland Athletics have been one of the more consistent teams in baseball all season. They've led the division almost wire-to-wire and don't appear ready to relinquish their spot.
The A's have been connected to some of the higher-profile players on the market, which is unconventional for manager Billy Beane.
Alexei Ramirez has been on their radar, as has teammate Jake Peavy. They nearly snagged Matt Garza right out from under the Texas Rangers, as tweeted by Jeff Passan of Yahoo! Sports.
Sources: A's late involvement in Garza sweepstakes pushed Rangers to up ante. General sense is Cubs got great return for 2 months of Garza.
We know that Beane won't overpay to acquire a quality piece to the puzzle, but he's sure to find a way.
With Brett Anderson hoping to return for the stretch run in September, the A's may not make a major splash. However, as a first-place team approaching August, they may have to make a move to "keep up with the Jones."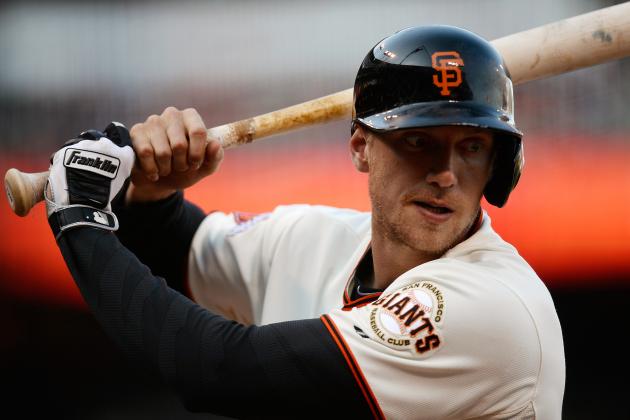 Thearon W. Henderson/Getty Images
Hunter Pence may not be available...yet.
The defending World Series champions are weird.
I don't mean that disrespectfully, but they return with almost an identical roster from their championship season and find themselves just one game out of last in the NL West.
Injuries to Angel Pagan and Ryan Vogelsong certainly hurt, but Matt Cain has an ERA of 5.00 and aside from his no-hitter, Tim Lincecum has been subpar.
The Tigers expressed interest in Lincecum according to Brian Manzullo of The Detroit Free Press, but the Giants only seem to be entertaining offers.
Of course another name that would come up is Hunter Pence. He's been a deadline headliner for the last few seasons going from Houston to Philadelphia, then Philadelphia to San Francisco.
It's going to be interesting to see where he lands next. As Jayson Stark of ESPN.com tweeted, the Giants aren't interested in moving Pence.
Giants showing no interest in trading him RT @Nvlonghorn5820: @TexasForever10@jaysonst what about hunter pence?
There is a good amount of noise surrounding Pence's availability, which leads you to believe they're more than just listening to offers. Of course, the Giants would have to decide they are out of contention before they move anyone.