Brooklyn Nets: Predicting the Stats of the Starting Lineup in 2013-14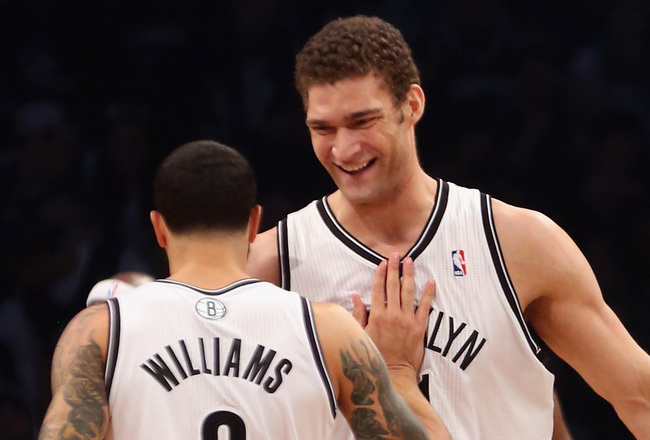 Bruce Bennett/Getty Images
The Brooklyn Nets have the center of attention this offseason and the recent signing of Alan Anderson proves that they're still not done adding to their powerhouse of a team (via Sam Amick of USA Today).
Although they have yet to announce the starting lineup they would use for next season, we can assume that it will be Deron Williams, Joe Johnson, Paul Pierce, Kevin Garnett and Brook Lopez. I'm still questioning if this is the best five-man unit for the team, but it's likely that these five players will be playing together for the bulk of the minutes.
How will each player's numbers differ from their career averages next season? With a lineup filled with All-Stars and superstars, every one of them cannot expect to average the same numbers as last season. In this article, I will break down and predict the major statistics of each member of the presumed starting five.
Deron Williams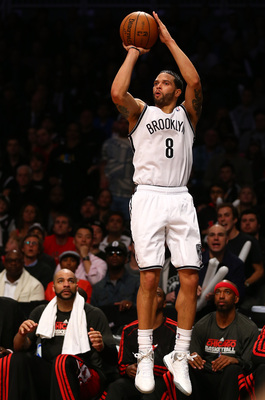 Elsa/Getty Images
Projected 2013-14 stats: 17.1 PPG, 3.5 RPG, 9.8 APG, .485 field goal percentage, .371 three-point field goal percentage, 1.1 steals per game, 36.5 minutes per game
Deron Williams hasn't been playing at his usual standards in the past few years, but this will be the perfect opportunity for him to redefine himself as a superstar-caliber point guard.
With more options surrounding him, Williams should see his assist numbers increase to a similar level as his Utah Jazz days.
In the past three seasons, he has only registered a 42.9 percent field goal percentage (per Basketball Reference), but he should be able to pick his spots and score much more efficiently in 2013-14. He won't have to be the first or second scoring option anymore with Pierce and Garnett by his side, so he should see a slight decrease in his scoring average as well.
Shaun Livingston and Tyshawn Taylor will be competing for minutes at the backup point guard spot, but neither of them can match Williams' level of play for an extended period of time. He should get around the same amount of playing time as last season.
Joe Johnson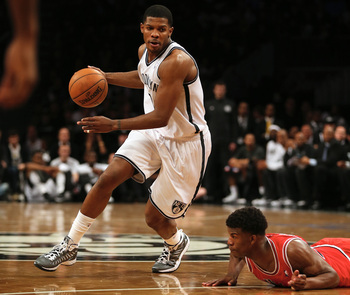 Elsa/Getty Images
Projected 2013-14 stats: 14.9 PPG, 4.1 RPG, 3.4 APG, .457 field goal percentage, .376 three-point field goal percentage, 0.9 steals per game, 33.5 minutes per game
Johnson had one of the worst seasons of his career last year and a lot of it had to do with playing out of his comfort zone. He's a great isolation player, but sometimes he turned into just a spot-up shooter when the offense ran through Williams and Lopez.
That probably wouldn't change, as Williams and Lopez are still the best players on the team, but the addition of Pierce means that Johnson would have to share the floor with someone who has a similar playing style.
Naturally, Johnson's scoring average will decline. His playing time will also be a bit less than last year's because the Nets have more options off the bench and he's starting to show signs of age.
Paul Pierce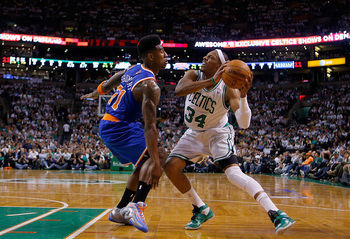 Jim Rogash/Getty Images
Projected 2013-14 stats: 15.9 PPG, 5.8 RPG, 3.9 APG, .461 percent field goal percentage, .395 three-point field goal percentage, 1.0 steals per game, 31.2 minutes per game
Last season, Pierce quietly had one of the most productive seasons of his career at the age of 35. He averaged a career-high in assists per 36 minutes and filled in for Rajon Rondo as well as he could after Rondo went down with an ACL injury.
As a member of the Nets now, Pierce is still going to play the same way he did as a Celtic. He won't have as many opportunities to score, but he will still score efficiently when the opposing team's defense doesn't focus on him.
Pierce's minutes will also go down because the Nets have other players who could play small forward effectively and give him a breather. Andrei Kirilenko will most likely eat up a portion of Pierce's playing time, but that would be a good idea if the team wants to keep Pierce fresh for the playoffs.
Kevin Garnett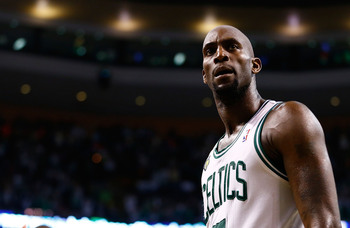 Jared Wickerham/Getty Images
Projected 2013-14 stats: 12.7 PPG, 8.2 RPG, 2.1 APG, .503 field goal percentage, 1.0 steals per game, 1.1 blocks per game, 30.1 minutes per game
Since joining the Boston Celtics, scoring was no longer Garnett's primary concern on offense. Instead, he focused on different areas of the game in which his team needed help—interior defense, rebounding and doing all of the little things to win a game.
His role on the Nets will be similar to his role on the Celtics' championship-contending teams. He will defend and patrol the paint and bring a new sense of toughness that the team has been missing since Kenyon Martin left town.
Furthermore, Garnett has never been a player to force the issue. The scoring opportunities will come to him, but stats and spotlight have never fueled his competitive drive. He will do anything necessary to help his team win.
Brook Lopez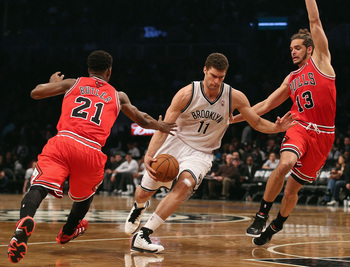 Bruce Bennett/Getty Images
Projected 2013-14 stats: 20.1 PPG, 8.5 RPG, 1.1 APG, 0.517 field goal percentage, 0.5 steals per game, 2.4 blocks per game, 35.4 minutes per game
Lopez has already made a name for himself as one of the best offensive centers in the game. He can post up, finish at the rim and shoot the midrange jumper.
Last season, he was working his way back from a foot injury and didn't play as many minutes as he should have. Keep in mind, this was the player that registered the fifth-highest PER in the entire league (per Hollinger's Player Stats).
With another year of experience under his belt, Lopez will continue to improve and steadily become the primary option on offense. As a 7-foot, 260 pound center, he has all the physical tools to develop into a more dominant player in the paint.
Keep Reading

Brooklyn Nets: Like this team?