5 Minnesota Vikings No One Is Talking About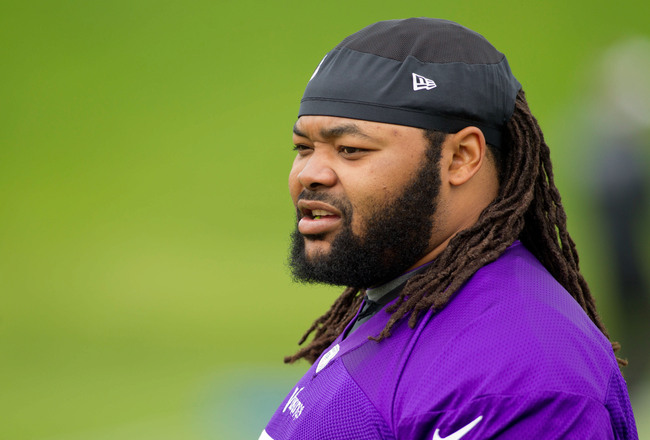 Bruce Kluckhohn-USA TODAY Sports
During the offseason the Minnesota Vikings made several bold moves, seeking to continue building on their success in 2012. While the addition of some big-name players is exciting, the team's success may ultimately depend on players no one is talking about.
The buzz around training camp seems to be the loudest around the team's newcomers as well as their best player.
Adrian Peterson is ready to back up his goal of rushing for 2,500 yards. Not only would it surpass Eric Dickerson's record by almost 400 yards, but he would become the first player in NFL history to rush for 2,000 yards twice in his career.
There's plenty of interest in Percy Harvin's replacement, wide receiver Greg Jennings. It's almost matched by the excitement over the Vikings' first three draft picks—Sharrif Floyd, Xavier Rhodes and Cordarrelle Patterson, who signed just in time to start training camp.
Even some new faces who are a long shot to make the roster are getting a lot of attention, like former Penn State linebacker Michael Mauti.
As a make-or-break season for quarterback Christian Ponder, fans can find plenty of fodder to feed their purple fever.
For the following players, 2013 holds plenty of intrigue as they try to define their careers and help the Vikings make a return trip to the playoffs.
Defensive End Everson Griffen
There's been plenty of talk about the Minnesota Vikings' situation at defensive end with starters Jared Allen and Brian Robison set to become free agents following the 2013 season.
Their main backup, Everson Griffen, is also playing for a new contract. Last season, he finished third on the team with eight sacks—just one and a half sack behind Robison. He also had two fumble recoveries and an interception return for a touchdown. As a backup, he finished with 26 tackles. Compare that to Robison who stared 15 games and finished with 37 tackles, and Allen, who made 16 starts and had 45 tackles.
Since being taken in the fourth round of the 2010 draft, Griffen has only one start to his credit, but has been one of the most efficient defenders for the Vikings.
The Vikings are very high on Griffen and desperately want to find a way to get him on the field more. Last year during training camp they even tried to move the USC product to linebacker in order to play him more.
The youngest of the three top defensive ends at 25-years-old, Griffen has the best shot of being re-signed by the Vikings.
Right Tackle Phil Loadholt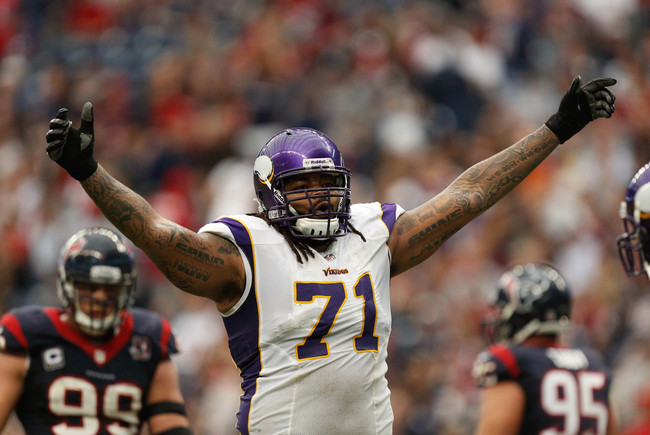 Thomas Campbell-USA TODAY Sports
Following the 2012 season, there was plenty of talk surrounding what the Vikings were going to do with right tackle Phil Loadholt. Though he was a candidate to have the franchise tag applied to him, the Vikings and Loadholt agreed to a four-year, $25-million contract in March, and most of the attention paid to Loadholt dried up.
A member of an offensive line that started all 16 games together as a unit, he was integral in helping Adrian Peterson rush for 2,097 yards last season, as the team ran to Loadholt's side more often than to rookie Matt Kalil's side.
Adrian Peterson's Yardage by Direction
| | | |
| --- | --- | --- |
| Direction | Attempts | Yards |
| Right | 120 | 922 |
| Middle | 129 | 540 |
| Left | 99 | 635 |
A durable player, Loadholt has started 63 of 64 games since being drafted in the second round of 2009. About the only concern might be the number of penalties he commits. Last year, he was tied for third in the NFL with 11—five for a false start.
Fullback Jerome Felton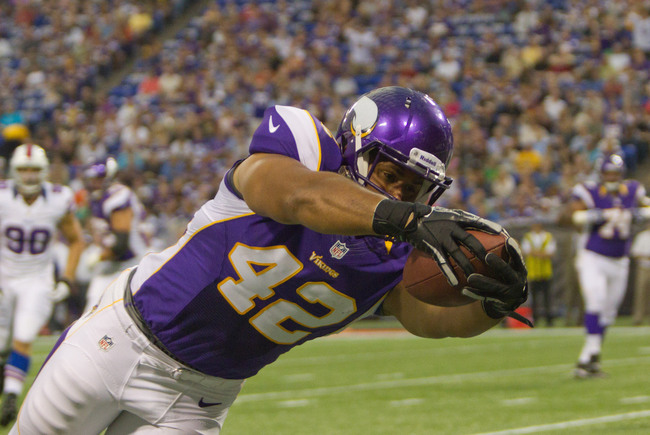 Brad Rempel-USA TODAY Sports
A fifth-round draft pick of Detroit in 2008, Jerome Felton played three seasons with the Lions before bouncing around between the Panthers and Colts in 2011. Even though he had the fewest touches in his five-year career, there's little question that 2012 was his most successful season.
As important as Phil Loadholt was to the success of Adrian Peterson and the Vikings' running game, fullback Jerome Felton was even more so. Peterson gained 1,366 of his 2,097 yards running out of the I-formation behind Felton.
The reward for Felton was to accompany Peterson to the NFL Pro Bowl last February.
Signed to a three-year deal worth $7.5 million, Felton is now the fourth-highest paid fullback in the NFL, but there's very little buzz surrounding him. Perhaps it's because the Vikings have been very successful finding capable fullbacks, such as Tony Richardson, who blocked for Peterson in 2007, or perhaps because there's little concern over the fullback position and Felton's ability to block for the best running back in the NFL.
Safety Harrison Smith
When the Minnesota Vikings drafted safety Harrison Smith with the 29th pick in the first round last year, it plugged a hole at safety that had existed since the departure of Darren Sharper following the 2008 season.
As a rookie, he started all 16 games, finished second on the team with 104 tackles and led the team with three interceptions—returning two of them for touchdowns.
Not much has been written about Smith since last season ended, but if the Vikings are to make the playoffs again, they'll need another huge season from him.
Tight End Kyle Rudolph
A lot has been written about how this is a big season for third-year quarterback Christian Ponder. For tight end Kyle Rudolph, who came into the league the same year as Ponder, it's just as big a year for him.
A second-round draft pick out of Notre Dame in 2011, Rudolph has 12 touchdown receptions—the most of any Vikings' receiver the last two seasons, including Percy Harvin. His nine touchdown receptions last season were the most since tight end Visanthe Shiancoe had Brett Favre toss 11 his way in 2009.
After being named as a replacement to the NFC squad for the Pro Bowl, Rudolph earned MVP honors in the game with five receptions for 122 yards and a touchdown. The fact that not much has been made about Rudolph and his MVP honor reinforces that no one cares about the Pro Bowl. Still, there should have been a bit more coverage for the Vikings tight end this offseason.
When talking about the top tight ends in the NFL, Rudolph is not usually mentioned—but that could change in 2013. In a report from John Holler on Scout.com, Rudolph was the top tight end in the NFL with 14 red-zone receptions and 95 red-zone receiving yards.
Holler also points out that Rudolph also has the highest percentage of receptions when targeted in the red zone over the last two seasons—catching 20 of 23 balls thrown to him.
With a healthy Jerome Simpson and the additions of two-time Pro Bowl player Greg Jennings and rookie Cordarrelle Patterson, the field should open up for Rudolph. As one of Ponder's favorite targets, this should be a big season for Rudolph.
Keep Reading

Minnesota Vikings: Like this team?