Bernhard Langer and Mark Wiebe are handling Royal Birkdale golf course just fine through two days of play. Langer built on his two-under 68 from Thursday and shot a three-under 67 on Friday. Wiebe used a late charge on Friday to shoot the day's best round, a five-under 65.
The two men share a one-shot lead in Southport, Merseyside, England, at the 2013 Senior British Open.
David Frost is just one shot back after back-to-back 68s in the first two rounds. Here's a look at the leaderboard:
2013 Senior British Open Leaderboard After 2 Rounds

| | | | |
| --- | --- | --- | --- |
| Position | Player | Second Round Score | Overall |
| T1 | Bernhard Langer | 67 | -5 |
| T1 | Mark Wiebe | 65 | -5 |
| 3 | David Frost | 68 | -4 |
| T4 | Gene Sauers | 70 | -3 |
| T4 | Peter Fowler | 68 | -3 |
| T4 | Mark McNulty | 67 | -3 |
| T7 | Jeff Hart | 69 | -2 |
| T7 | Rocco Mediate | 68 | -2 |
| T7 | Sandy Lyle | 68 | -2 |
| T10 | Kohki Idoki | 68 | -1 |
| T10 | Peter Senior | 71 | -1 |
| T10 | Greg Turner | 69 | -1 |
http://www.europeantour.com/
Click here to see the entire leaderboard
Langer Shakes off Early Stumbles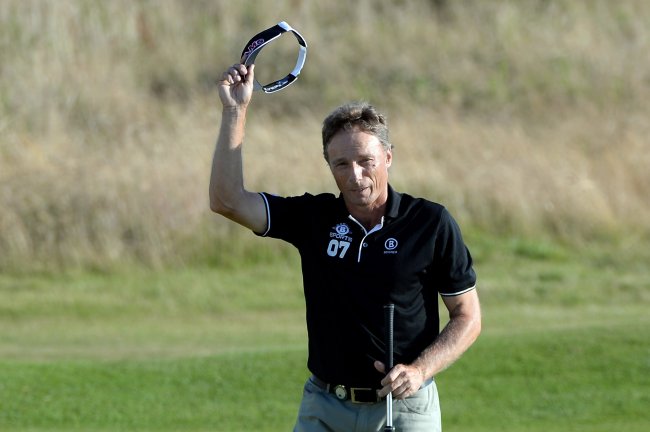 Ross Kinnaird/Getty Images
For the second straight day, Langer overcame a misstep on the front nine. A double bogey on the sixth hole had him at plus-one for the day. However, he was able to birdie eight, 13, 15 and 17 to put up another solid performance.
Coming off a 14th-place finish at the U.S. Senior Open earlier in the month, Langer will be looking to create some distance on Saturday.
Just three shots separate nine men, so there is little room for error. The European Senior Tour captures a cool quote from Langer after his solid round.
"I played like the weather," Langer tells ET News... "pretty fine." Amen Bernhard, amen. #SeniorOpen pic.twitter.com/vhhHU59jO7

— European Senior Tour (@EuroSeniorTour) July 26, 2013
Wiebe Scorching Hot to Close out the Second Round
How long will Wiebe be a factor?
The 55-year-old from Seaside, Ore., birdied four of his last six holes to charge into a share of the lead.
On Thursday, he had only managed an even-par 70, but when faced with the possibility of repeating that good-but-not-great performance at the turn, Wiebe kicked it into high gear to close out play at Royal Birkdale.
He's a long shot to stay in contention, as his last notable showing was a sixth-place finish at the 2012 Senior U.S. Open, but he has set himself up for relevancy through the weekend.
Others in Contention at the Halfway Point
David Frost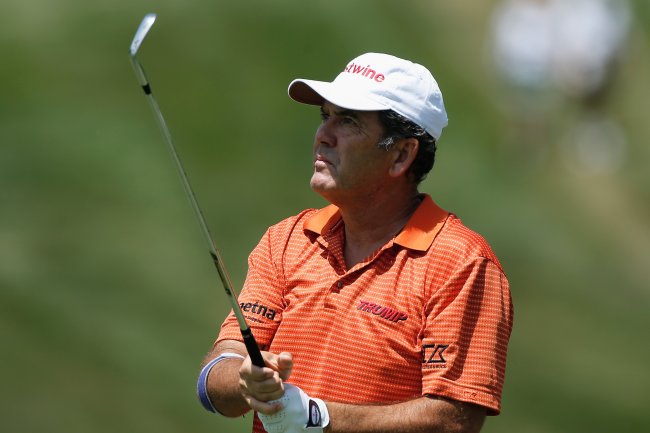 Scott Halleran/Getty Images
Bogeys on 12 and 14 kept the 53-year-old South African from overtaking Langer and capturing the lead. Consecutive 68s have kept him in second place heading into the weekend.
Friday was a bit of a scramble for him as he only hit four of 14 fairways. On Thursday he hit 10 of 14, but ultimately the round score is what counts.
It is hard to imagine Frost falling short if he can continue his current pace.
Gene Sauers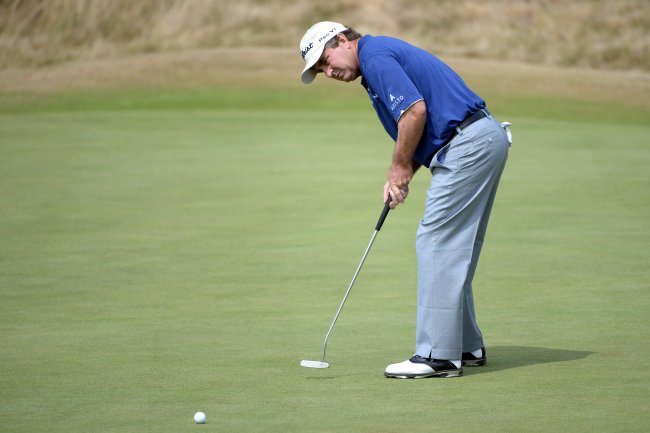 Ross Kinnaird/Getty Images
After holding a one-shot lead at the conclusion of the first round of play, Sauers' even-par 70 dropped him into a tie for third place, but he's still just two shots behind Langer.
Despite the fact that he appeared to improve his ball striking from Thursday and avoided the sand, Sauers still didn't find as many fairways per round (eight to six) or greens in regulation (16 to 14) as he did in the first round.
The leaderboard is so tight that the weekend should be interesting, and Sauers figures to remain in the thick of things.
Rocco Mediate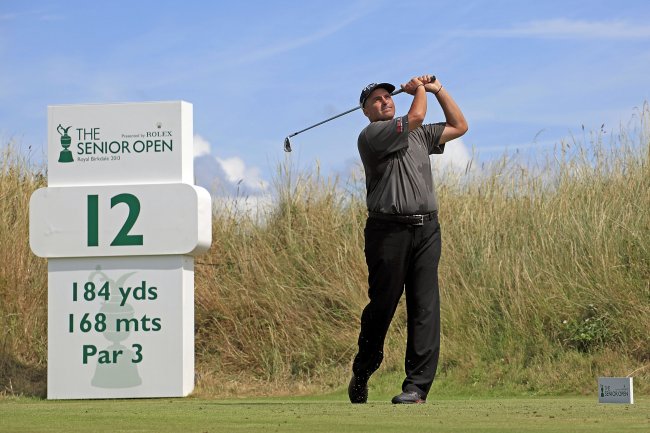 Phil Inglis/Getty Images
After a luggage debacle hampered him heading into the first round of play, a less distracted Rocco Mediate shot a two-under 68 on Friday to stay within three shots of the leader.
On Thursday, Mediate was none too happy about the loss and damage of personal baggage that included his golf clubs.
Thanks to Delta, I may or may not play this week. Zero clubs or bags. #brutal #seniorbritishopen

— Rocco Mediate (@RoccoMediate) July 22, 2013
This is what I got. Everything is soaked. Grips and all. Carry bag is busted. Important stuff is perfect. pic.twitter.com/8vjJPdncGO

— Rocco Mediate (@RoccoMediate) July 22, 2013
There is something compelling about professional athletes experiencing nonathlete problems. At any rate, Mediate has shaken off the issues and could be a major factor on the weekend.
Imagine the jokes that we'll hear if Mediate rallies to win the tournament. His peers will be trying to lose their luggage before every tournament.
Follow me for sports news, rumors and spirited opinions.