10 Random Questions WWE Doesn't Want You to Ask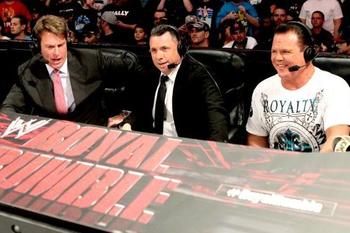 photo via wrestlingnewsworld.com
There are countless mysteries in the world of professional wrestling.
Who was going to be the original anonymous Raw general manager? What if TNT hadn't canceled WCW Nitro? Why does the Great Khali still have a job?
Perhaps we will never know those answers. Maybe that's for the best.
Then there are some questions that shouldn't even be asked. Or at least, WWE would rather have us not ask. These are the oddities of professional wrestling that we're not supposed to think too hard about. We just need to sit back, relax and suspend our disbelief.
Still though, one has to wonder what the answers would be.
Here are 10 questions in the world of professional wrestling without good answers.
Why Is David Otunga in the Then, Now, Forever Video?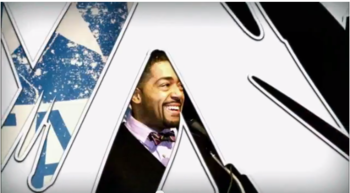 screencap from youtube.com
Before every show, WWE runs a short video which pays homage to its past and present stars.
Andre the Giant, Gorilla Monsoon, John Cena, HHH and more are given a brief moment to help introduce us to the world of wrestling.
During that clip, though, someone is shown for a split-second that feels a bit out of place.
Yes, that man is David Otunga.
Seriously, David Otunga.
Why?
Why Did Nailz Wear His Prison Suit If He Claimed He Was Innocent?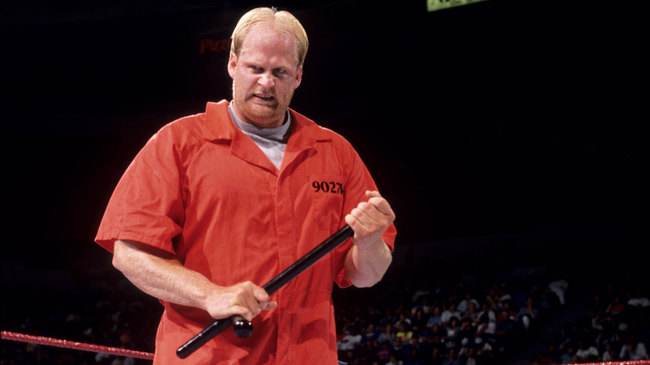 photo via guresturkiye.org

If you've committed a crime, and are released from prison, the last thing you should wear out in public is an orange jumpsuit.
Nailz didn't follow this logic, though, while wrestling in the WWF. You'd think he would would have been making enough money to buy some tights, but perhaps not.
To make this even stranger, Nailz always maintained that he was innocent of the unspecified crime he was incarcerated for.
Perhaps he was making a statement about wrongful imprisonment. Maybe he was performing high-brow performance art. But we'll probably never know why Nailz didn't just change his clothes.
Who Is in Charge of WWE?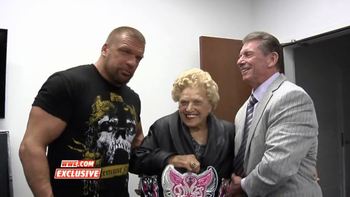 Is Mae Young secretly in charge? (photo via 24wrestling.com)
Not long ago, Vince McMahon was removed from power in WWE. The mysterious board of directors ousted him and instated HHH as the COO.
This didn't last very long. McMahon returned to claim his rightful throne at the top of WWE.
Well, kind of.
It's not explained which McMahon, if any, is really in charge. Until this past edition of Raw, we saw Vince, Stephanie McMahon and HHH bicker over the general managers and who to book in matches.
We saw Stephanie fire Vickie as Raw GM. This upset Vince. So he subsequently fired Booker T as GM of SmackDown and instated Vickie. So can Stephanie just fire her again? If she can, why hasn't she?
Also, what purpose do the GMs serve anyway? Why do the McMahons constantly berate them about the matches they book, if they have the power to overrule them? Or do they not have that power because the board of directors do?
Why Did Nobody Tell Roddy Piper That Wearing Blackface Was a Bad Idea?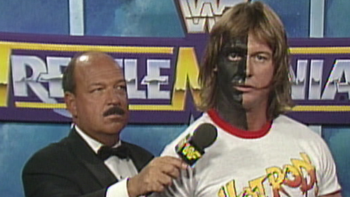 rasslinmania.blogspot.com
This wasn't Al Jolson in 1927's The Jazz Singer—this was WrestleMania VI. This meant it was a good 60 years past the point where wearing blackface could be socially acceptable in the world of entertainment.
Roddy Piper didn't care. He broke every rule of good taste and political correctness for his match against African American wrestler Bad News Brown. He wanted to make a statement...or something.
As Piper was backstage, why didn't someone, anyone, approach Hot Rod and tell him that his decision to wear blackface in front of millions watching worldwide was not only wildly inappropriate but downright offensive?
Why Doesn't Kane Use His Fire Power in Matches?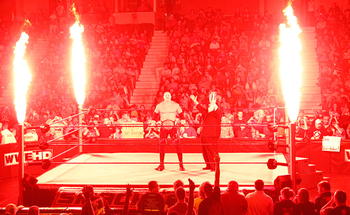 photo via prowrestling.wikia.com
Kane has the ability to make flames come out of the ring posts.
He's also used this ability to set William Regal's office on fire. Most impressively, he can shoot lightening out of his hands.
So why doesn't he use his superpower during a match? That's a guaranteed victory every night out.
Not even John Cena himself would be able to kick out after a bolt of lightening to the face.
Who Plays The Shield's Music?
photo via whatculture.com
When The Shield appears in WWE, it's a surprise to everyone.
Except for one man.
For a second, let's imagine that WWE hires someone to play the music of whoever walks through the entrance stage. This would make sense for why theme music plays when a wrestler comes down to the ring or performs a run-in. That's somewhat believable.
But with The Shield that still wouldn't make any sense.
Somebody in the arena knows the exact moment that the faction is going to emerge from the crowd. Does Dean Ambrose text someone right before the trio emerge to play their song? Is this person an actual employee? Do they just put in a CD or cassette tape to get the song playing?
The Shield may know who this mystery person is, but the group is definitely not telling.
How Did WWE Get a Camera Inside of Stephanie McMahon's Dream?
Vince McMahon was in a coma.
He had been viciously attacked by The Nexus. For some reason, he never got his revenge on the group. But that's not the real question.
We need to know how WWE got a camera inside of Stephanie McMahon's dream.
When Vince awoke from the coma, it was broadcast into our homes. Freddie Prinze Jr. was also there as Vince's doctor. It was surreal.
Apparently, it was all in Stephanie's mind.
Stephanie woke up and told an off-screen HHH all about what had just happened. First of all, why was there a camera crew filming the couple sleeping in the first place? And most importantly, what kind of futuristic technology does the WWE possess that allows them to film inside people's heads?
Why Does a Superplex Not Hurt More Than an Attitude Adjustment?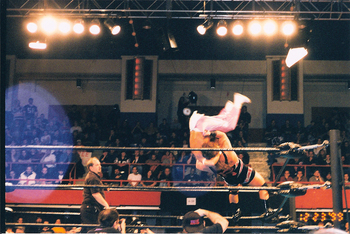 photo via commons.wikimedia.org
A superplex is a maneuver that consists of taking your opponent up to the top turnbuckle, then lifting him straight up in the air and throwing him down to the mat along with yourself.
It's basically a suplex, but super!
It's also an impressive-looking, dangerous move. But it never pins anyone these days.
Contrast this to John Cena's Attitude Adjustment. This move relies on him holding his opponent on his shoulders and tossing them over his head, a height of about six feet.
Now, it's doubtful that the move feels good, but it's not like a regular Death Valley Driver. This is where the victim is not only tossed over his opponent's shoulder but also takes the full weight of his body falling on him.
Yet somehow, Cena's shoulder toss has become the most devastating move in WWE. The superplex, meanwhile, barely registers a two-count.
It's not just Cena's finisher, either. You can imagine a superplex hurting more than The Zig Zag, the Tadpole Splash and The Cobra. Yet somehow, it just isn't that effective.
How Do Announcers Know That a Match Won't End During a Commercial Break?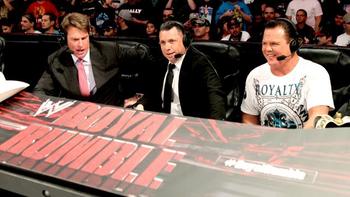 photo via wrestlingnewsworld.com
You see it happen on every single edition of Raw and SmackDown.
The fight in the ring spills out to ringside. Bot men hit the ground. The announcers then tell us they'll be right back with the fight continuing.
But how do they know it won't end within the next two minutes? Michael Cole just states that the match will continue when they return as a fact.
Most matches on TV last less than 10 minutes, so two minutes is a pretty significant amount of time. But a match never ends during those two off-camera minutes.
As many faults as WCW had, lead announcer Tony Schiavone would tell us that if the match were to end over the break, "the tape machines are rolling" to show us what happened.
WWE doesn't even bother with a line like that. We're just supposed to believe that, amazingly, every single match in the company's history won't end during a well-timed two-minute strech.
Why Does 3MB Have a Job?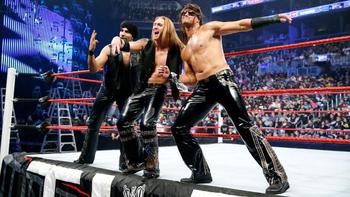 photo via wwe.com
If you were a baseball player and batted .000, you'd be fired.
If you were in the NFL and could never catch a pass, you'd be canned.
But if you're a professional wrestler who never wins, you can be gainfully employed.
In all of 2013, Drew McIntyre has won two televised matches. He's also taken 31 losses. Jinder Mahal is the same with just two wins to his name as well.
No UFC fighter in history has had a record anywhere near that. WWE must have lower standards.
There's never any pressure on the 3MB to win a match. They show up, lose and come back the next week. One-on-one matches, tag team matches, even handicap matches...they're completely futile.
Maybe being a WWE Superstar isn't such a bad gig after all.
What are some of your random questions that WWE has no answer for? Sound off below, and thanks for reading.
Keep Reading