Seattle Seahawks wide receiver Percy Harvin is dealing with a hip injury. He's awaiting a second opinion about the extent of the ailment, according to Jason La Canfora of CBS Sports, but it could cost him the entire season.
Percy Harvin yet to finalize 2nd opinion on hip, with that process ongoing. If surgery required as 1st Dr. recommended likely season ending

— Jason La Canfora (@JasonLaCanfora) July 26, 2013
If Harvin is forced to miss the entire campaign, or a large portion of it, the Seahawks offense is going to suffer a major setback. The electric playmaker gave the unit a chance to put up some monster numbers in Russell Wilson's second season.
It's also a situation fantasy football owners must monitor very closely in the midst draft season. Not only was Harvin likely to come off the board among the top 10 receivers, his potential absence will have a trickle-down effect on his teammates' value.
Where would you rank Wilson among QBs without Harvin?
As for Harvin himself, the only way he'd be worth drafting now is if the second opinion results in the doctor saying he could return to full strength before Week 1. Even if he could play through the pain, the lingering week-to-week availability question marks represent too much risk.
The other player most directly impacted by Harvin's possible time on the sidelines is Wilson. The Wisconsin product had a tremendous rookie season. He racked up 3,600 yards of total offense and accounted for 30 touchdowns.
He posted those numbers despite a lackluster group of wideouts and a heavy emphasis on the rushing attack, led by Marshawn Lynch. Adding Harvin to the mix meant he had a realistic chance to make the jump into the top group of fantasy quarterbacks.
The former Minnesota Vikings star would have helped the Seahawks stretch the field, giving Wilson an opportunity to connect on more long touchdowns while also opening up the underneath throws.
Without him, the Seahawks offense reverts back to last season's standard. Even though that still leaves Wilson within the fantasy starter range, the chances of him reaching an elite level decrease considerably without a true No. 1 target.
So while Harvin's value is very much in question and Wilson's upside could be limited, there are also players who would benefit from the receiver's injury, at least in a fantasy sense.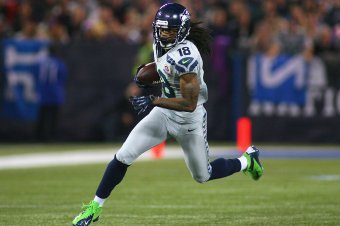 Rick Stewart/Getty Images
Sidney Rice is the most notable. He tallied 50 catches for nearly 750 yards and seven touchdowns while serving as the team's top target last season. Those would be the baseline expectations in a Harvin-less offense, with improvement likely as Wilson's development continues.
Golden Tate is the other main beneficiary. He's made steady progress over his first three years in the league and should maintain that trend if given enough snaps. They would certainly be available without the team's expected top receiver.
The other players who would receive small boosts would be Lynch and Doug Baldwin.
If Harvin isn't ready for Week 1, it wouldn't be a surprise to see the Seahawks revert to more of a conservative offensive approach, leading to more touches for Lynch.
Baldwin would enter sleeper territory as the third receiver. He was praised after some standout performances during the offseason and could force his way into a larger role.
The Seahawks will eagerly await the final diagnosis on Harvin and hope for the best. Once the testing results are known, fantasy owners should adjust accordingly, if necessary.