Breaking Down the Best and Worst of the WWE for Week of Jul 22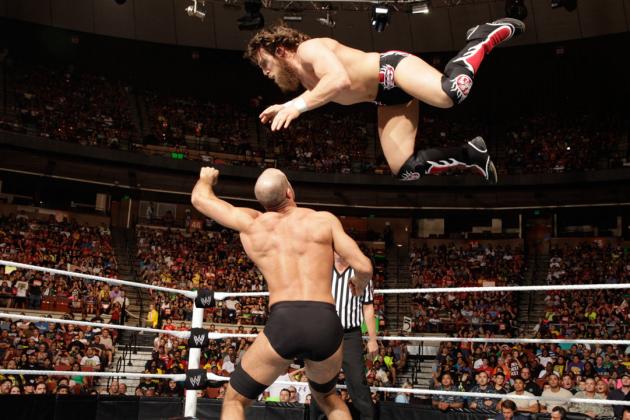 Photo from WWE.com
In a week thrown out of whack by the touring schedule, WWE gave fans plenty to cheer about as well as a few gripe-inducing items.
A goat-faced Superstar earned all the praise that came his way, a Swiss strongman impressed and a former ECW stud kept extending his resume. As for the week's low points, WWE's forceful promotion of Total Divas continued. The rest is nothing egregious.
WWE has been on a roll as of late, having many more successes than failures, and this week was further proof of that.
From flying vegans to the difficulty in shutting out spoilers, here is the best and worst of the week from the world of WWE.
Begin Slideshow

»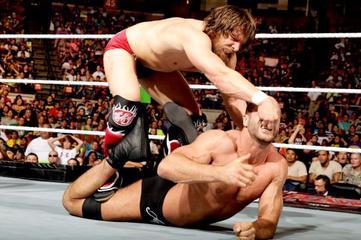 Daniel Bryan with a William Regal-like hold (Photo from WWE.com)
En route to his WWE Championship match against John Cena at SummerSlam, Daniel Bryan had over half an hour to kick butt and wow the crowd.
His passion, intensity, vicious kicks and grappling expertise were the highlight of Monday's WWE Raw as he took on three consecutive opponents in a gauntlet match. His work against Jack Swagger was good, his battle with Ryback was better and his match opposite Antonio Cesaro was one of the best TV bouts of the year.
Giving your best all-around wrestler a big chunk of time to perform is a good formula to follow.
Expect a few more great Bryan performances before SummerSlam, where he'll get his title shot riding a tidal wave of popularity.
Self promotion is not a new endeavor for WWE, but when it's as heavy-handed as it was on Monday's Miz TV segment, it's tiresome.
WWE fans have seen the Total Divas previews several times now.
They've heard the announcers discuss the show and mention its premiere date. All of that is fine, but this reality show promotional segment took up too much time and fell flat.
If it had been funny or if Natalya put on a wrestling clinic, it would have been a welcome addition to the show. Instead, fans saw a stilted, lifeless segment which featured everyone mispronouncing Eva Marie's name and Brie Bella revealing too much to the audience.
WWE continually overestimates how big of an overlap there is between reality show fans and WWE fans. The show could be successful in introducing reality fans to WWE, but how many WWE fans are going to be enticed to follow the Bellas and Marie's personal life on this new show?
Rob Van Dam has seen plenty of action since returning at Money in the Bank.
While fans can't count on seeing Brock Lesnar on any given WWE Raw, Van Dam has fully integrated himself back into the product. This week alone, Van Dam went up against Wade Barrett on Monday's Raw, was in action for the taped Raw to air next Monday as well as both Wednesday and Thursday's SmackDown tapings.
The response for his return has been passionate and he's responded with memorable performances.
More Van Dam is a welcome sight and his time back has been a fun ride so far.
Damien Sandow drops a disdainful elbow on Justin Gabriel. (Photo from WWE.com)
Wednesday's WWE Main Event didn't give fans much to talk about.
Main Event has quickly developed a reputation for being a reliable source for quality matches. Having less of a focus on story, offering fresh matches and letting at least one go for a good amount of time has been the show's successful formula.
Nothing from Wednesday's show is going to go on Main Event's greatest hits collection. The matches weren't bad, just not spectacular.
Damien Sandow took on Justin Gabriel. Sheamus battled Jack Swagger. Sin Cara defeated Drew McIntyre.
None of those bouts compared to Main Event's best and fans will have to wait until next week to see if the show can deliver more the next time around.
Daniel Bryan received the bulk of the buzz after Monday and deservedly so, but that gauntlet match on Monday wouldn't have been quite as awesome had Antonio Cesaro not nailed his portion.
Forearm flurries, power, smooth counters and typical Cesaro aggression highlighted the second leg of the match.
The match was designed to prove that Bryan belongs in the SummerSlam WWE title match, but an unintended side effect was showing the world that Cesaro belongs at the top of the WWE hierarchy as well.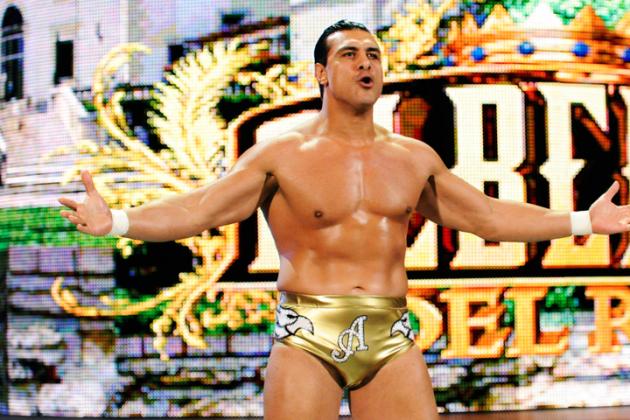 Alberto Del Rio (Photo from WWE.com)
Due to WWE's international travels over the next week, the company had to adopt a strange schedule.
The company had to tape next week's Raw on Tuesday and had two straight nights of SmackDown tapings in Texas. That meant that WWE fans didn't just have to plug their ears to avoid hearing about the SmackDown happenings, but two additional nights of potential spoilers to evade.
Fans like myself attending the Thursday SmackDown tapings saw the Jumbotron break down what happened on Friday's yet-to-air Smackdown, ruining the surprise for those not yet in the know.
It will still be entertaining to see next week's action, but the element of surprise suddenly became a more precious commodity.