Fireside Chat: 10 Questions for Eli Manning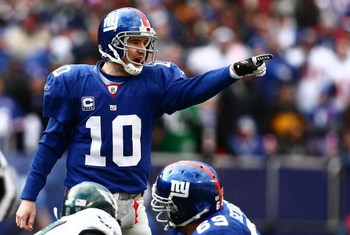 Eli Manning [E-lie Man-ing]
- noun
1. New York Giants Quarterback often criticized by both fans and media despite catapulting to fourth on the Giants all-time passing list and winning the Super Bowl XLII Most Valuable Player award.
Synonyms:
1. Easy-E is also a term to describe the former No. 1 (overall) draft pick.
Usage Note:
See - Aw Shucks, Deer in Headlights and Super Bowl XLII Most Valuable Player
What would you ask a player from favorite team? And more importantly, what would you ask a man who has been in the spotlight of the New York media for over five years and has likely been asked every question at least twice?
If the opportunity to interview a member of the New York Giants ever arose, I'd be hard-pressed not to sit down with Eli Manning. After all, the man's mentality and resolve is fascinating.
This slide show is a mock-up of 10 questions I'd ask Easy-E if I were given the chance to sit down with him.
After five years in New York, do you have any regrets about refusing to sign with the San Diego Chargers (ultimately forcing a trade with New York) in 2004? After all, the media hasn't exactly been your best friend in the Big Apple.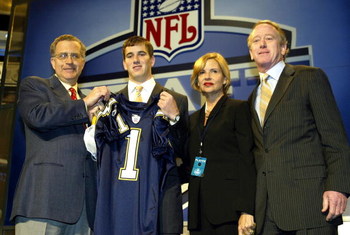 In his five years with New York, Manning has been heavily criticized by both the local and national media, at one point being called a bust. Even after leading the Giants to their first Super Bowl victory since the 1990-'91 season, Easy-E has faced a constant onslaught.
Looking back to 2007 and Super Bowl XLII, do you feel you were deserving of the MVP award after the game Justin Tuck had and the two near interceptions on the final drive?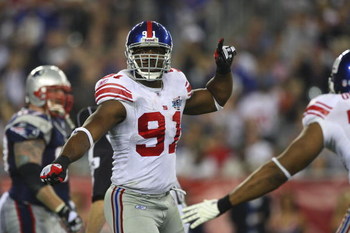 Tuck collected six tackles (five solo), two sacks, and an ever-important forced fumble in the Super Bowl. And despite Manning's impressive numbers, he did lob up two near-interceptions during the final drive of the game.
Although you were in the midst of an incredible game and time was ticking down, did you realize the significance of your sack escape and David Tyree's catch on 3rd-and-5? Did you have any idea that it may be looked at as the greatest play in NFL history?
E-to-Tyree has been widely considered one of the greatest plays in NFL history and may very well be the reason the Giants won Super Bowl XLII.
One of your frequent criticisms is your lackadaisical, "aw shucks" demeanor on the field. Some people interpret that as a weakness. What would you say to those people?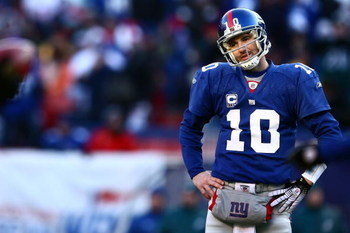 Manning is often referred to as looking like a "deer in headlight." It's ironic since the five-year veteran has become a master of bringing his team back in the fourth quarter.
A lot has been made of Plaxico Burress' off-the-field issues, but many teammates have stood by and continue to stand by his side even though he's no longer a member of the organization. Can you attest to his positive attitude in the locker-room or are the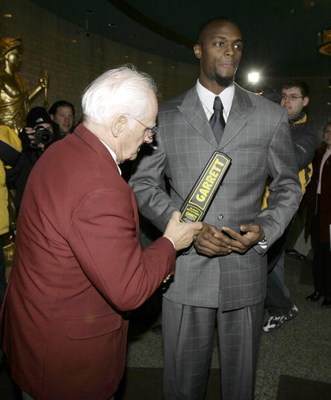 Leading up to his release from the Giants, a wave of reports about Burress' off-field character hit the news. From arrests to domestic violence, a very poor picture was painted of the Super Bowl XLII hero.
Speaking of Burress, the two of you actually shared a relatively interesting relationship. What did it mean to you when he named his son, Elijah, after you?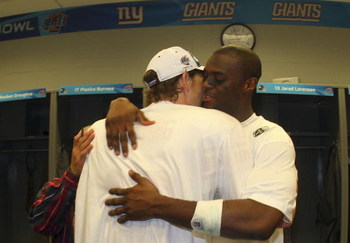 Whether or not Burress really named his son after Manning remains up for debate, although it was widely reported following the birth of the now two-year-old.
Many people claimed Burress was actually your security blanket, citing his ability to go up and haul in balls as the reason. With him no longer in the picture, who do you envision as your go-to guy through the air?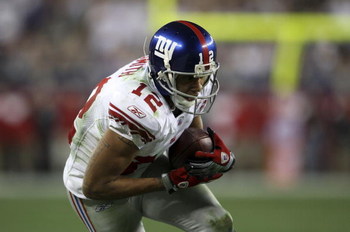 Following the 2007 season, the combination of Manning & Burress was widely considered one of the best tandems in sports. It was even drafting reviews similar to that of Peyton Manning and Marvin Harrison.
Which of the two wide receivers drafted, Hakeem Nicks and Ramses Barden, are you more excited to see on the field?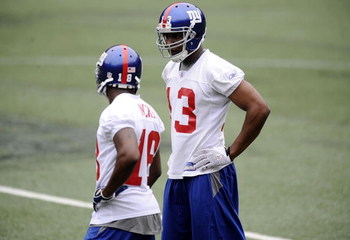 Both rookie wide receivers stand to earn some solid playing time if they have a solid offseason. To this point, Sinorice Moss has disappointed and Mario Manningham has failed to pick up the playbook, so the door is wide open.
It's no secret that you have a very close relationship with your brother Peyton, so how much of a thrill would it be to face he and the Indianapolis Colts in Super Bowl XLIV?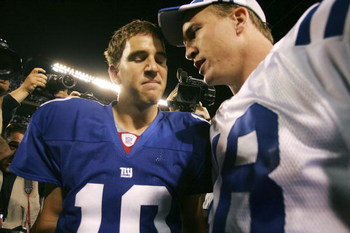 Ever competitive during their childhood, Peyton and Eli have only faced off only once in the NFL. In Week One of the 2006 season, Peyton and the Colts handed Eli and the Giants a 26-21 loss.
We all know you've also become a two-sport athlete, joining your brother Peyton and the Williams sisters in the Double Stuff Racing League (DSRL). What's your offseason conditioning program like for that in comparison to the NFL season?
As part of an Oreo promotion, Eli Manning joined the Double Stuff Racing League (DSRL) that has slowly developed a cult following. Aw shucks!
Keep Reading

New York Giants: Like this team?