5 MMA Game Plans That Failed Miserably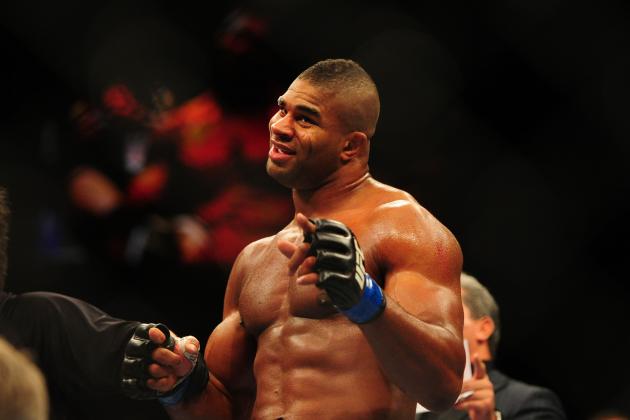 Mark J. Rebilas-USA TODAY Sports

Every fighter comes into a fight with a game plan to take advantage of their opponent's weakness. Well, almost everyone.
There are a few times when guys go into a fight and, to quote a popular phrase, "wet the bed." These game plans are absolutely terrible from start to finish and usually result in something unpleasant for the unfortunate ones.
Most recently Alistair Overeem's strategy against Antonio Silva and Anderson Silva's "act" at UFC 162 are fresh in everyone's minds.. These are just a few examples of some MMA game plans that either failed in hilarious fashion (or miserable depending on your stance) for the fighters involved.
I'll try to keep these examples as recent as possible so everyone can joggle their short-term memory and envision how badly these game plans went.
Coaches are supposed to have their fighters prepared with a plan A, plan B, and a plan C. But what happens when all three either don't work or completely backfire? Well you get to make a list like this of course!
Begin Slideshow

»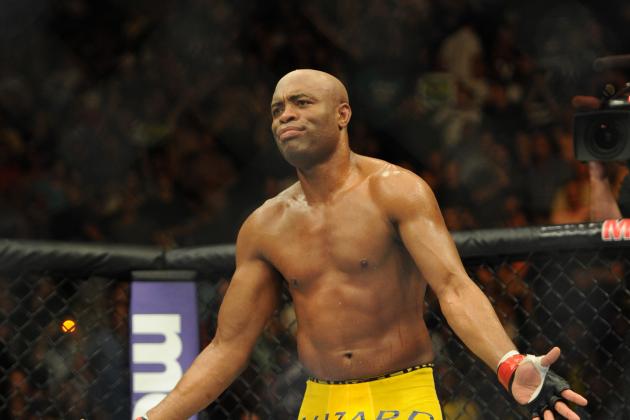 Jayne Kamin-Oncea-USA TODAY Spor

Was it clowning around or was it some sort of master plan for Anderson Silva? Whatever you want to call it, the bottom line is that it backfired completely at UFC 162.
Everyone has either heard about or seen Silva's antics from UFC 162 as he faced Chris Weidman. Silva began to lower his hands, looking to entice Weidman into trading punches with him (or clowning around depending on your viewpoint).
The plan worked to an extent.
Weidman abandoned his grappling game which many thought would be the key to victory for him. Instead he shocked the MMA world by dropping Silva with a thunderous hook. A few shots as Silva's unconscious body laid on the canvas ended Silva's time on top of the division that he's ruled since coming into the UFC.
"The Spider" may get a pass from some people due to this being typical behavior during his fights but it still doesn't change the fact—the plan completely backfired for Silva.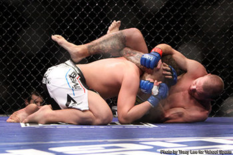 Tracy Lee of Yahoo! Sports
Chris Horodecki had won two straight coming into WEC 53 while Donald Cerrone had been alternating wins and losses recently. The two fighters were known for their striking skills and in desperate need of a win as this would mark the last WEC event prior to the fighters joining the UFC's ranks.
After the first round Horodecki's corner gave him perhaps the worst advice possible. The fact that Horodecki's coach was the esteemed Shawn Tompkins makes this move even more puzzling.
Instead of telling Horodecki how to properly utilize his striking against the aggressive Cerrone, Tompkins told his fighter to take this fight to the mat. Normally taking a striker down is a pretty sound strategy but in this case it was a terrible idea. Cerrone is a dangerous submission artist who, despite praise for his striking, has actually won the majority of his bouts via tapout.
The results were expected as Horodecki got the takedown but was quickly caught in a triangle choke. A tapout forced Horodecki to lose not only the fight but also his chance to compete inside the Octagon.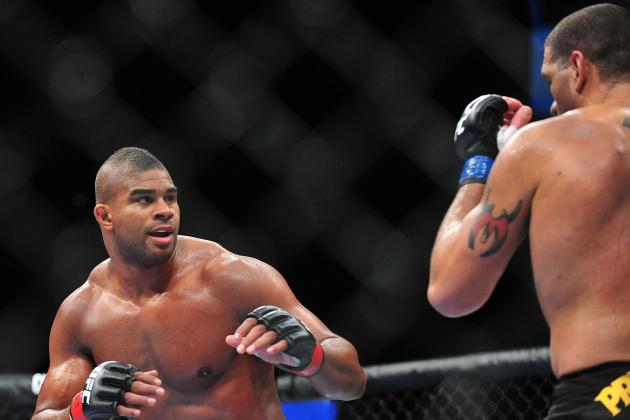 Gary A. Vasquez-USA TODAY Sports

To be fair Alistair Overeem was actually well on his way to a unanimous decision victory had he just been able to hold out for five more minutes. The former Strikeforce champion entered the arena in a scene that plays out every Saturday night at your local club. He of course had to wait for the perfect part in the song before bringing the "Uber-Rave" to the Octagon, and Overeem didn't bother to check his ego at the cage door.
Throughout the first two rounds Overeem seemingly toyed with Antonio Silva and looked to be in control for much of the fight. Then in between the second and third round, Silva finally remembered all the trash talk and realized Overeem's hands were at his waist.
In the third round Overeem continued to keep his hands low but this time the Brazilian made him pay for it. In one of the most dramatic comebacks in UFC history, Silva dropped Overeem with a furious attack.
Given Overeem's overconfidence and general disdain by many MMA fans, Silva became a fan favorite overnight by sending the kickboxing veteran tumbling down the rankings.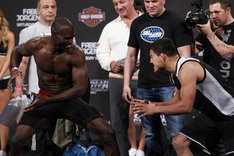 mmafighting.com
Urijah Hall certainly developed quite a reputation while appearing on The Ultimate Fighter. To a degree that reputation was well-earned as Hall looked to be a world beater during his time on the show. The spinning back-kick KO he landed will go down as one of the show's greatest highlights which is saying a lot considering some of the people who've competed on the show.
Unfortunately for Hall it looks like that reputation may have inflated his ego a bit coming into the finale against Kelvin Gastelum. Being hyped as "the next Anderson Silva", Hall tried to emulate what "The Spider" had done at UFC 153 by standing against the cage and letting his opponent attack.
Silva is one of the few fighters who can do these kind of antics and still pull off a victory, Hall is nowhere near that level. Still, that didn't stop him from trying to prove the hype was real.
The hype train would end up going off the rails as Gastelum took home a split decision and the TUF crown. Not only did Hall possibly lose the fight due to his antics he also lost the TUF crown to a guy who's now fighting at 170 pounds.
Not a good look.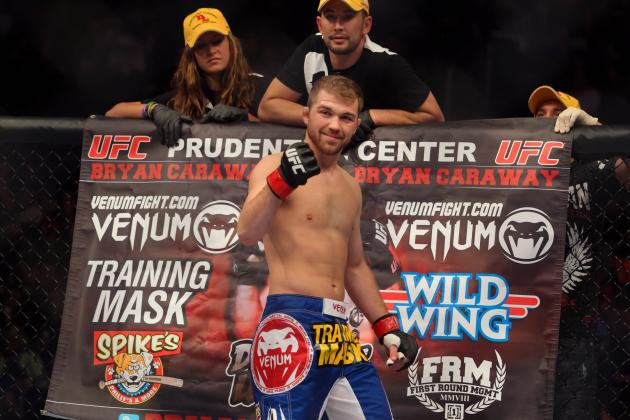 Brad Penner-USA TODAY Sports

For many fans this couldn't have happened to a better person. Bryan Caraway's game plan for the third round in his contest with Takeya Mizugaki will forever go down in MMA lore due to his corner's advice.
"Just Coast."
Those were the words given to Caraway as the third round was set to commence. Caraway and his corner believed he had won the first two rounds and rather than squander the chance for a victory by going for a finish, looked instead to avoid losing in the final minutes.
The plan of course backfired in a moment of ultimate karma as Caraway would go on to lose a split decision. Had this happened to someone who fans actually seemed to care about there might have been a bit of an uproar through the MMA message boards.
Instead it was filled with laughter and no shortage of jokes at Caraway and Miesha Tate's expense.