Cerezo Osaka vs. Manchester United: 5 Things We Learned from Preseason Friendly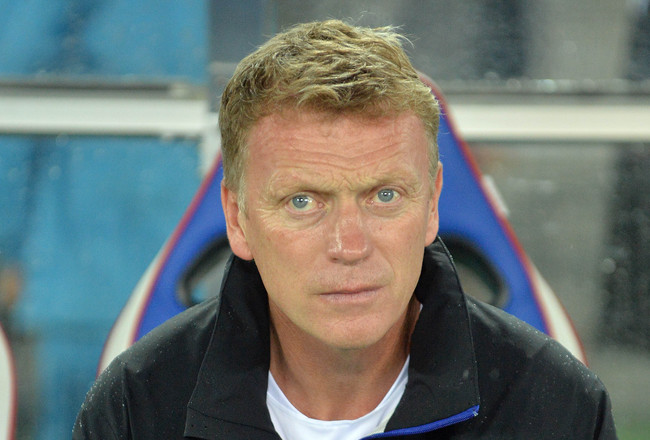 Atsushi Tomura/Getty Images
In what was his first draw as Manchester United manager, David Moyes' side twice fought back from a one-goal deficit to steal a 2-2 result from Cerezo Osaka on Friday.
The Red Devils are still evidently shaking off the rust from their postseason break, and will leave the Japanese leg of their tour without a victory to their name.
We don't know whether preseason games actually bear any impact on the regular season, or if results are simply down to the luck of the draw while experimenting with different lineups.
Regardless, the most recent result at the Osaka Nagai Stadium left more than a few lessons for Moyes to take away as the Scotsman continues to adapt in his new role.
Rooney's Loss Is Kagawa's Gain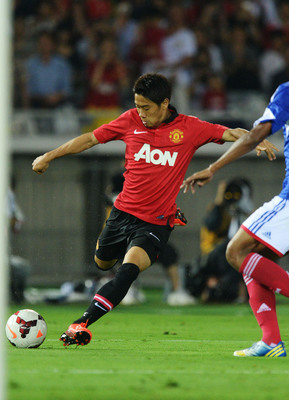 Atsushi Tomura/Getty Images
Last season, Sir Alex Ferguson actually had a conundrum on his hands that most managers would envy. The array of attacking talent at his disposal meant he couldn't please everyone at the club.
One of those the Scot was hoping to appease was Wayne Rooney, the player whom David Woods of the Daily Star says Chelsea are certain they will sign this summer.
Having picked up what was reported as a hamstring injury earlier in July, Rooney is no longer a part of United's preseason tour of Asia, giving some insight into what life may be like without the 27-year-old.
Last term saw the attacker drop mostly into the hole—that vacuum of space behind Robin van Persie. This simultaneously meant Shinji Kagawa was pushed into either a wider or more central role.
Rooney's wages, high value within the squad and ability made him a higher priority to keep happy in terms of playing time and position.
However, against Cerezo Osaka, the Japanese playmaker made a rare appearance in his preferred trequartista role—the same one which made him such a hit with Borussia Dortmund.
Although he missed his second-half penalty, Kagawa's predatory instincts were perfectly displayed in his poached goal, giving David Moyes a glimpse of why Rooney's departure may serve one particular member of his squad quite well.
Defence Remains Chink in Manchester United Armour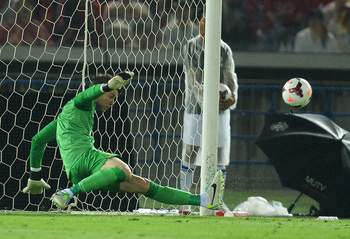 Atsushi Tomura/Getty Images
Last season saw United finish as Premier League champions. Perhaps unsurprisingly, the team was also the finest attacking side in the country.
However, the Red Devils' defence was far from the standard required of them on a European-wide scale, evidenced by their comparatively early exit from the Champions League.
In fact, five other sides in the top half of the Premier League either equaled or conceded fewer goals than United last term.
Stoke City allowed just two more than the Red Devils.
This preseason, Moyes' men have so far scored nine goals (five of which came against the A-League All-Stars). However, they have also conceded seven, failing to keep even one clean sheet in four fixtures.
Experimental setups or not, a club of Manchester United's quality should be able to overcome their preseason tests with perhaps more confidence than has been displayed thus far.
At one point, against Cerezo Osaka, all 11 Manchester United players were in their own area to defend a corner. The club's swagger, which has been prevalent for much of their success over the last 20 years, appeared to be missing.
In any case, Chris Smalling and a few other players stuck out as those stuck with more of the blame in Friday's preseason meeting, highlighting defence as the area still in most need of reinforcement
Ashley Looking Like Young of Old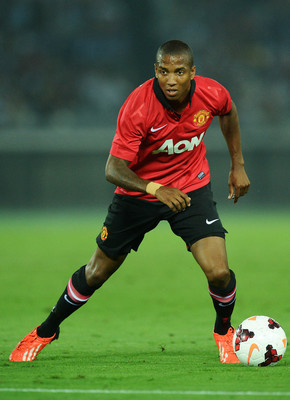 Atsushi Tomura/Getty Images
The 2012-13 campaign was far from Ashley Young's best in the Premier League—something the player himself would probably be the first to acknowledge in the pursuit of self-improvement.
In 23 matches across all competitions for the Red Devils, the 28-year-old managed just five assists and no goals, struggling with several niggling injuries across the season.
Despite this, Young made his first start of preseason and put on a display closer to that of the Young who first arrived at Old Trafford in 2011, more eager than ever to make his impact.
Perhaps the arrival of Wilfried Zaha has had a positive effect on the 28-year-old Young, who will undoubtedly feel even more pressure breathing down his neck in the pursuit of a starting place under Moyes.
Whatever the reason, Young's ability to dribble both into the central channels as well as beat his man down the wing were on fine display during Friday's appearance, evidenced most when the midfielder won his side a penalty in the second period.
Zaha Slotting Well into Moyes' Mould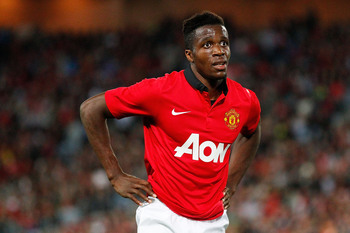 Brendon Thorne/Getty Images
From one winger to another, Wilfried Zaha's latest minutes in Manchester United red came as a cameo against Cerezo Osaka, where the former Crystal Palace superstar was given just over 30 minutes to shine.
Just as it was at Selhurst Park, Zaha's greatest strength lies in his ability to beat the defender, combining massive acceleration with a weighty bag of tricks to deliver time and again.
At this stage, the youngster's end product will need to improve. He currently rushes decisions rather than taking the time to see if something better is on the table.
That being said, David Moyes can be very pleased with the talent which he's inherited from Sir Alex Ferguson.
Against Cerezo Osaka, Zaha's biggest contribution came in the form of a last-minute goal.
The Englishman did well to find himself in the right place at the right time, pushing the ball into an open goal after Anderson and Adnan Januzaj combined well through the middle.
Buying the right players is one thing, but fitting those players into a system and making the most of their unique abilities as a unit is something entirely more difficult.
Jones Can Phil the Midfield Void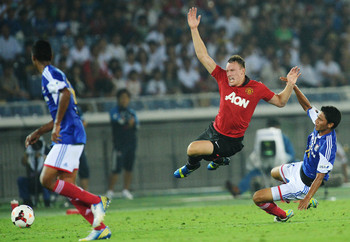 Atsushi Tomura/Getty Images
A topic of debate around not just Manchester United but also the England national team for some time now has surrounded whether Phil Jones is most effective in central defence or in a more advanced midfield position.
Of course, this is a wonderful dilemma to have for David Moyes. He has a player on his hands capable of playing numerous positions across the pitch. Not only that, but he does a very good job just about wherever he does play.
It was in that defensive midfield role that Jones lined up against Cerezo Osaka—and, for the most part, did well in his responsibilities.
In fact, the 21-year-old posed quite an attacking threat to the Japanese side, far from settling as an anchorman and actually imposing himself when his side moved forward.
Aside from preseason, though, there's a big chance that Moyes will need one of the best up-and-coming centre-backs in European football to play his more natural role in defence while any midfield duties are kept as a possibility.
That is, unless United choose to invest in another superstar centre-back in the coming weeks. In which case, Jones may sneak his way into that advanced position on a more regular basis.
Keep Reading

Manchester United: Like this team?