Picking Each MLB Contender's Pennant-Race X-Factor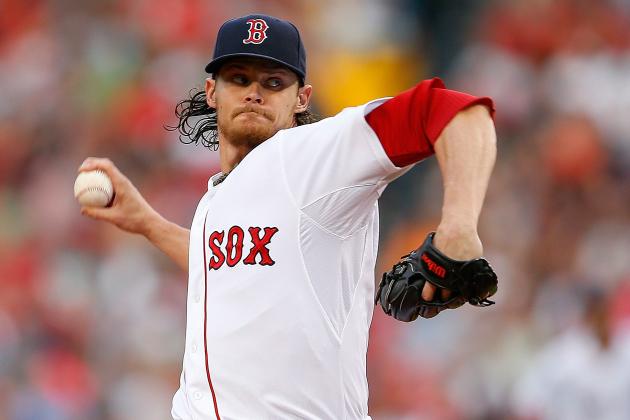 Jim Rogash/Getty Images

We have reached the point in the MLB season were we know who the contenders are. With August right around the corner, all 30 franchises are making plans for the rest of 2013 based on where they stand.
For some, that will mean trading some valuable assets heading into free agency in order to get back in the postseason race as soon as 2014. Others have a long-term rebuild in mind and want to add pieces that will play an integral role in their success over the next five-to-seven years.
The remaining teams are making plans for October this season, but only 10 teams are going to make it that far. There are, by our calculations, 14 teams that can be classified as legitimate contenders as of right now.
Instead of making trade proposals that probably won't amount to anything, we want to look at an X-factor on each contender who must step up to give his team a chance to play deep into the postseason.
Note: All stats courtesy of FanGraphs and Baseball Reference unless otherwise noted.
Begin Slideshow

»
Before he went down with a shoulder injury on June 8, Clay Buchholz was having the best season of his career and looked like one of the best pitchers in baseball. He had a 1.71 ERA, 1.02 WHIP and 81 strikeouts in 84.1 innings pitched.
The Red Sox have had a terrific bounce-back season following the disaster that was the "Bobby Valentine era" in 2012. But they are finding life difficult the deeper into the season we go. They have lost relievers Andrew Bailey, Joel Hanrahan and Andrew Miller for the rest of 2013. Jon Lester has given up 66 hits, 35 runs and 12 home runs in 53 innings since the start of June.
Meanwhile, John Lackey is having a tremendous season, with a 3.19 ERA and 102 strikeouts in 113 innings. But he is 34 and didn't pitch at all in 2012. Who knows how much the grind of pitching 180-200 innings will have on his performance down the stretch.
Buchholz stabilizes a pitching rotation, bullpen included, that is in need of some good news. He is expected to be out for another month after visiting Dr. James Andrews, per Peter Abraham of The Boston Globe, putting him on track to return in September. Hopefully for Boston's sake, the 28-year-old can return and pitch at the level he was at before getting hurt.
The Red Sox are a playoff team, but how far they go depends on whether or not they have Buchholz pitching.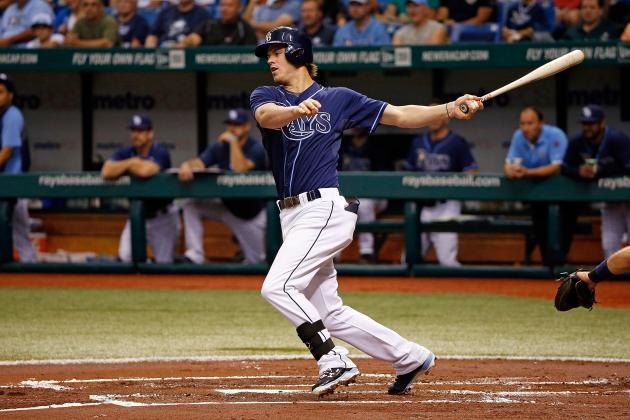 J. Meric/Getty Images

Everyone knows that the Rays can pitch with anyone. Their starting rotation, led by a healthy David Price and breakout star Matt Moore, will make them very dangerous in a short playoff series. And 24-year-old Chris Archer has looked like the real deal in 67.2 innings this year, posting a 2.39 ERA and 47 strikeouts.
But the questions that we always have about this team revolve around the offense. This year, however, things seem to be on the upswing. The Rays currently rank sixth in baseball with 475 runs scored, and the lineup has more depth than ever before, with Desmond Jennings settling into the leadoff spot and posting a .407 on-base percentage in July, followed by Evan Longoria, Ben Zobrist and Wil Myers.
Zobrist isn't hitting for the kind of power we have grown accustomed to, though, which is why Myers' call-up and emergence in the No. 4 spot has been so critical for the Rays. Aside from Longoria, there was not one player in the lineup teams were concerned about beating them with power.
Myers gives the Rays that punch, even as a rookie. He is slugging .496 with 11 extra-base hits in 121 at-bats. The strikeouts are still an issue (31), but as long as Myers is able to drive the ball, he will provide the Rays with everything they hoped for.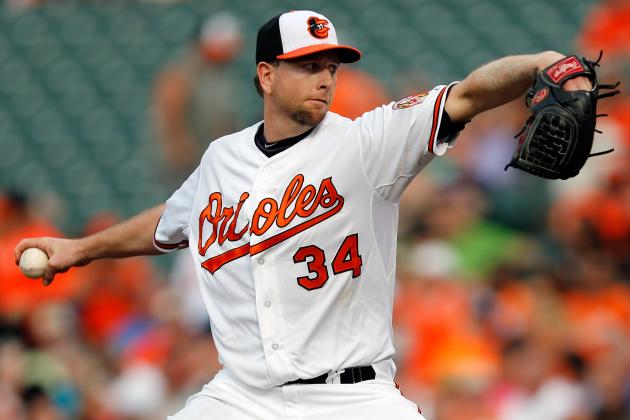 Rob Carr/Getty Images

When the Orioles made their surprise run to the postseason in 2012, it was largely on the strength of an incredible bullpen that allowed them to win seemingly every one-run and extra-inning game they played.
This year, the bullpen has regressed. Still, the Orioles find themselves squarely in the mix in the American League East thanks to a much-improved offense that ranks first in slugging percentage and home runs and fourth in average.
But the starting rotation remains, as it was last year, a huge problem. The team ranks 18th in innings pitched (596.0) and 24th in starters ERA (4.68). Chris Tillman and Miguel Gonzalez have been the best starters, but they haven't been consistent from month to month. Wei-Yin Chen has a very good ERA (2.78), but given his lack of stuff, you wonder how long that will last.
Scott Feldman has been able to log innings in four starts with the Orioles after being acquired from Chicago, which is what the team was hoping for. But 14 runs in 26.2 innings is not exactly inspiring.
Meanwhile, Kevin Gausman is their best starter in the minors. He has the stuff to pitch in the big leagues right now, but he never showed enough confidence in his changeup or command to succeed this season. And Dylan Bundy is out until late 2014 after undergoing Tommy John surgery.
There are solid starters in Baltimore right now, but this team needs one guy who can step up to give the Orioles quality innings and take pressure off the bullpen.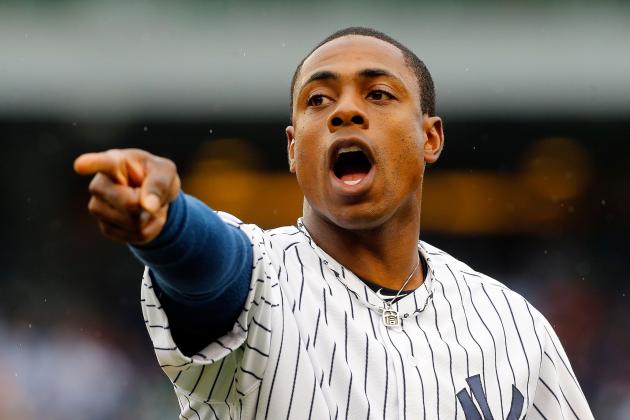 Jim McIsaac/Getty Images

Whether we believe the Yankees are contenders or not, they are still just 2.5 games back in the wild-card race. They have already taken steps to upgrade their offense by acquiring Alfonso Soriano from the Cubs.
But they are going to need a lot more firepower than that if they want to stay in this race until September. Mark Teixeira is out for the year, and the Yankees don't want Alex Rodriguez to return. Derek Jeter is back, but he doesn't offer much power.
The one big bullet they have left in the chamber is Curtis Granderson, who is playing in rehab games with the Tampa Yankees.
He is a limited offensive player because he can't hit left-handed pitching (.225/.293/.406 in his career), but he still crushes righties (.525 slugging percentage) and can be provide a necessary spark in the middle of the Yankees lineup behind Robinson Cano.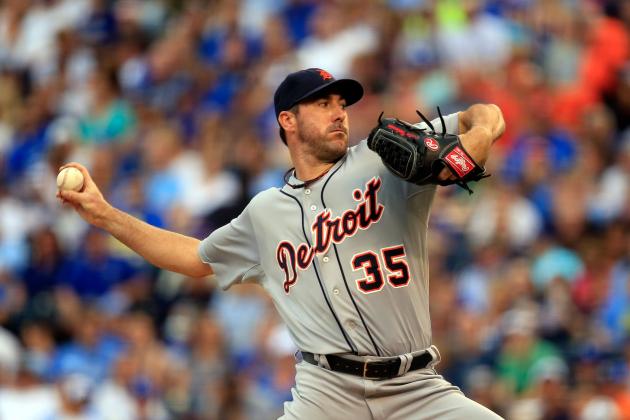 Jamie Squire/Getty Images

With the Tigers, the big question is always going to be about their bullpen. Yet we saw them get to the World Series last year with a makeshift group, so that doesn't really concern me.
I could have said Victor Martinez, who adds more length to their lineup now that he is starting to get his timing back. But ultimately, when I think of a player whose performance isn't what we have come to expect and who matters more than anyone else, Justin Verlander is the easy choice.
This has been a very alarming season for Verlander and the Tigers, who just invested big money (seven years, $180 million) in the 2011 AL MVP hoping he would be the best pitcher in baseball for at least a few more years.
Instead, following Thursday's outing against the White Sox, in which he gave up seven runs on 11 hits in six innings, Verlander's numbers look mediocre by his standards. His ERA is 3.99, his WHIP is 1.41 and his batting average against is .266. Meanwhile, Verlander's strikeout rate of 8.63 per nine innings and walk rate of 3.33 are his highest since 2008.
The Tigers are fortunate that they have Max Scherzer and Anibal Sanchez to fall back on, but Verlander is the key to how far they will go if/when they make it to the playoffs.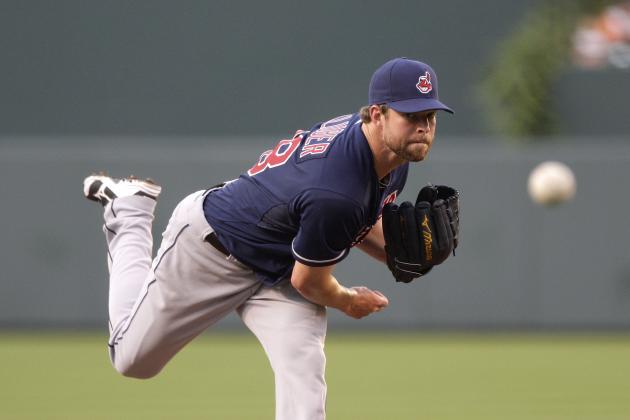 Jonathan Ernst/Getty Images

The Indians don't have a great starting pitcher on their roster, but they have a few quality arms who can help them close the gap on Detroit in the AL Central. Justin Masterson still walks too many hitters, but he's done a much better job neutralizing left-handed hitters this season to be an effective starter.
Behind Masterson, though, are a lot of question marks. Ubaldo Jimenez has figured out how to strike hitters out, but he is still too wild and has no idea where the ball is going when it leaves his hand. Scott Kazmir has been a pleasant surprise, but given his history, you are sitting back and waiting for the inevitable injury.
Corey Kluber is the one guy who has been in the rotation all year who you don't notice, even though he has had a solid season. He is striking out more than a hitter per inning with a very good walk rate and a solid ERA (3.96).
If the Indians want to be real contenders, they are going to need someone else in the rotation to step up behind Masterson. Kluber is their best bet given his stuff and results this season.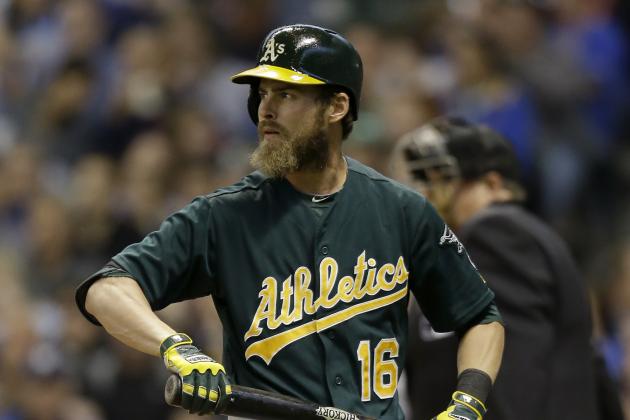 Mike McGinnis/Getty Images

If I had told you that Josh Reddick would be hitting .212/.292/.343 and Yoenis Cespedes would put up a .225/.296/.419 line heading into August, you would naturally assume that a lot had gone wrong for the Athletics.
Instead, the A's are 59-43 and leading the American League West once again. They are ninth in baseball with 451 runs scored.
Josh Donaldson has been fantastic, with an .880 OPS and 16 home runs. Brandon Moss doesn't hit or get on base much, but he is slugging .461 with 17 homers.
The pitching staff remains the most underrated group in baseball, posting the fifth-best ERA at 3.60. The A's do benefit from playing in a big ballpark and a bunch of games against Houston, but you can only beat the teams on your schedule.
Imagine how much better the Athletics would be if either Reddick or Cespedes performed up to their talent levels down the stretch. Reddick is just 26 and has shown the ability to produce big power last season when he hit 32 home runs, so there is time for him to figure it out.
The A's could end up being the favorites to make the World Series out of the AL—or, at least, right behind Tampa Bay—when all is said and done.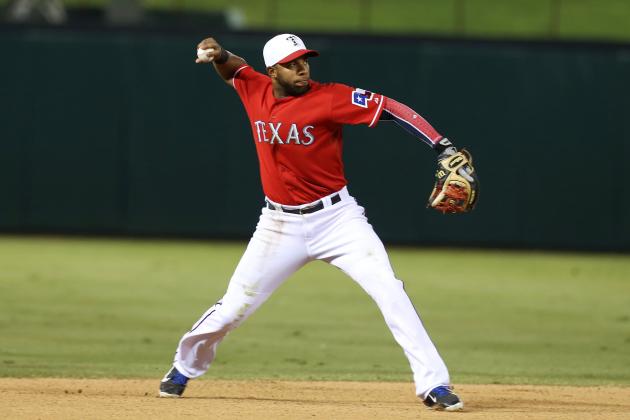 Layne Murdoch Jr./Getty Images

It's been a long time since we had to worry about the Rangers offense, but that is the spot they find themselves in now after losing Lance Berkman for the rest of the season and having injuries/underwhelming performers.
Chief among them is Elvis Andrus, who established himself as one of the better leadoff hitters in baseball as his offensive game evolved the previous two years.
This season has been an entirely different story, though, as the All-Star shortstop has career lows in average (.249), on-base percentage (.309) and slugging percentage (.288). Andrus is still stealing bases, but losing 40 points of OBP from last season has done damage to the run production for the Rangers.
Andrus' defense remains tremendous, which makes him incredibly valuable, even if he isn't hitting the way he used to. But if the Rangers want to maintain their standing in the AL West, or possibly improve it, they need him to be the table-setter at the top of the order for Adrian Beltre and Nelson Cruz.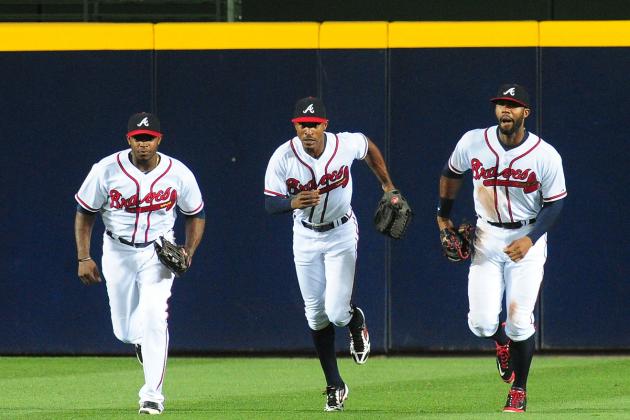 Scott Cunningham/Getty Images

Remember in the offseason when we were touting the Braves outfield as one of the best in baseball after they acquired B.J. and Justin Upton to put alongside Jason Heyward?
Their outfield has combined to hit .228/.318/.375 with 35 home runs. After looking like a sure-fire MVP candidate in April, Justin Upton has hit just four home runs in three months, and his season totals have fallen to .249/.342/.439.
The less said about B.J. Upton's season the better. He is a player who has always had tremendous talent, occasionally showing the tools at the same time, but more often than not will sell out average for power. He can't even do that this season, though, hitting a paltry .177/.266/.300.
Meanwhile, Heyward has had injury problems all year, first with his appendix and most recently a hamstring issue that contributed to his dismal .222/.326/.360 line. You hope he can stay healthy one of these years to show the incredible talent he has to the world.
Despite all these outfield issues, the Braves do lead a mediocre NL East by eight games and should cruise to a division title. But they are a flawed team with even more desperation following Tim Hudson's gruesome ankle injury.
In order for the Braves to be a threat in the playoffs, at least one of the trio of Upton-Upton-Heyward has to play up to his potential to add some depth to the lineup behind Freddie Freeman and Brian McCann.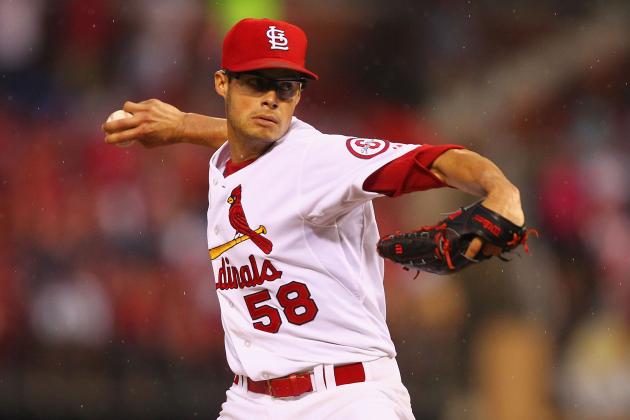 Dilip Vishwanat/Getty Images

I'm not going to lie, there really aren't a lot of things the Cardinals are doing wrong. They are the best franchise, top to bottom, in baseball right now. The one area of weakness they have is in the bullpen, though it doesn't appear to have hurt them that much since they own the best record in baseball (62-37).
St. Louis leads the National League in runs scored and is third in team ERA (only trailing division rivals Pittsburgh and Cincinnati). Joe Kelly was a solid starter for the Cardinals in 2012, but his stuff and skills profile better in a relief role.
He hasn't really taken off out of the bullpen quite yet, posting a 3.88 ERA and 1.36 WHIP. His fastball averages almost 95 mph, and his slider has ticked up a few miles per hour. If he can command them more consistently, the Cardinals will have another quality setup man on their hands.
Marc Rzepczynski is another reliever to keep an eye on. He had a dismal start to the season but has returned from the DL and is an effective weapon against left-handed hitters.
Of course, if Kelly doesn't work out, the Cardinals can just dip into their system and bring Carlos Martinez and his electric fastball-curveball combination back up.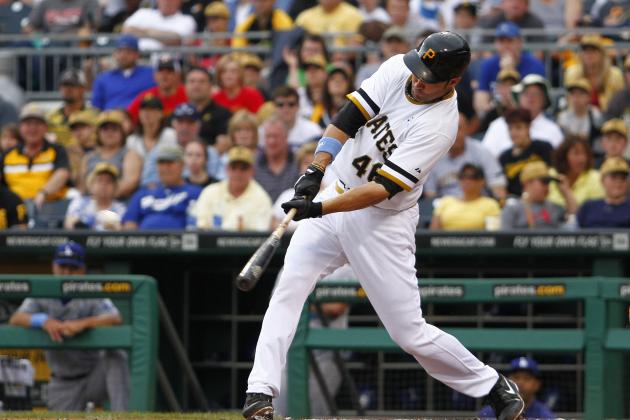 Justin K. Aller/Getty Images

The Pirates are as reliant on one player to make their offense go as anyone in baseball. Andrew McCutchen is a superstar, an MVP candidate and is capable of doing many things, but it is impossible for one player to make an offense effective.
Pedro Alvarez can mash, but his .305 on-base percentage doesn't work. Starling Marte's lack of plate discipline and approach are catching up to him. Neil Walker and Russell Martin are effective at getting on base.
Garrett Jones is the one player who is struggling to play like his old self. Like Alvarez, Jones has never been an on-base machine. He has proven to be an effective power hitter, yet his slugging percentage has dropped almost 80 points this season, and he is on pace for just 16 homers after hitting 27 last year.
If the Pirates are going to stay in the mix for the NL Central and wild card, they need someone else to step up in the lineup. McCutchen will lead the charge and Alvarez can at least hit homers, but who will give them a third weapon that opposing teams have to pay attention to?
Jones has the best track record, especially when it comes to hitting for power. They need his bat desperately down the stretch to avoid another collapse.
Jamie Sabau/Getty Images

The Reds have always been better suited for the regular season than the playoffs because their starting rotation is geared more for the grind of 162 games than a short season. They don't have that one starter who will shut down a lineup with 10 strikeouts over eight innings.
That sounds like a knock, but it really isn't, especially when you consider that there are very few teams in baseball with that kind of No. 1 starter.
The emergence of Homer Bailey, to go along with Mat Latos and, if he ever returns/stays healthy, Johnny Cueto, could help mitigate some of the problems for the Reds in the playoffs.
But looking strictly at what this team needs down the stretch, Tony Cingrani is perfect because of his versatility. He is a left-handed pitcher who can make an occasional spot start with stuff better suited for a relief role.
Cingrani relies on a lot of deception in his delivery, which helps his above-average fastball play better than it is. He does rely on it too much, throwing it more than 80 percent of the time, and will leave it up in the zone where hitters can drive it out.
If Dusty Baker uses Cingrani's talents out of the bullpen, where the Reds do need a little help bridging the gap from the starters to Sean Marshall and Aroldis Chapman, he can be a huge asset down the stretch.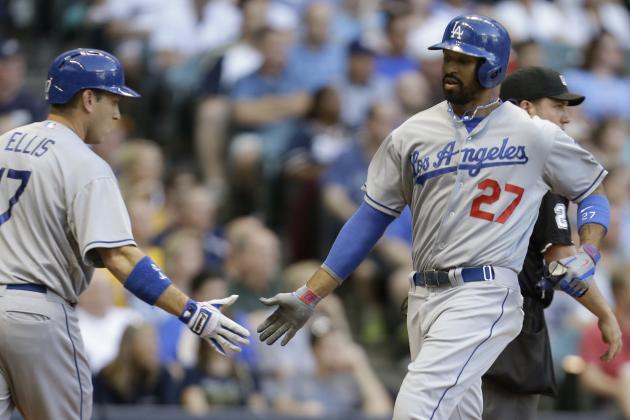 Mike McGinnis/Getty Images

In the midst of this charge back to the top of the National League West, the Los Angeles Dodgers have posted the second-best ERA in the NL for July (2.92). But lost in the shuffle of their pitching has been the offense, which leads the NL with 115 runs scored this month.
Obviously, in a small sample size, anything can happen. The Seattle Mariners lead all of baseball in runs scored this month, so that should tell you how fluid these things can be.
Overall, though, the Dodgers are still looking for more offensive firepower. Hanley Ramirez is healthy and, for the first time in years, actually trying. Adrian Gonzalez has been the most consistent player for this team all season. Yasiel Puig is, as expected, coming back down to earth.
That leaves the one big star in the middle of the lineup who needs to stay healthy: Matt Kemp.
At his peak, Kemp is a game-changing talent with 30-30 potential. But he hasn't been at that level for over a year due to various injuries.
The ankle injury that led to Kemp's most recent stint on the DL was just a fluke thing, so it may not be time to say that he will be injury-prone the rest of his career. If the Dodgers get back the real Matt Kemp to go along with that pitching staff, they could overtake Atlanta and Cincinnati as the No. 2 team in the NL.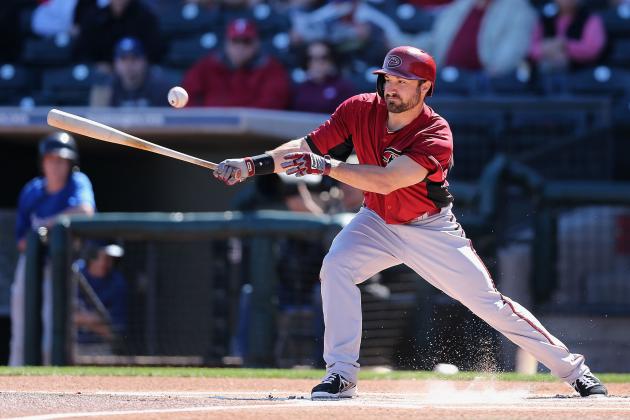 Christian Petersen/Getty Images

On paper and in execution, there is nothing that stands out about the Diamondbacks. They are a middle-of-the-road team in every sense of the term. They rank 14th in runs scored and 16th in starters ERA (10th overall).
Yet, somehow, thanks in large part to the mediocrity of the NL West, Arizona finds itself battling it out with Los Angeles for first place in the division. We mocked the Diamondbacks for being a "scrappy" group, but the fact that they aren't a big strikeout lineup helps them.
Adam Eaton, in many ways, represents the new direction Arizona wanted to take this year. It took him longer to get on the field than expected due to injuries, but he's finally back and ready to take control of the leadoff spot.
While not a dynamic talent, Eaton has very good baseball skills and knows how to use them. He has excellent speed, giving him range in center field and the ability to steal or take an extra base. His power is more doubles than homers, but he knows how to make contact and has a good approach at the plate.
Through 13 games, it is hard to say how long it will take Eaton to adjust to the big leagues. But if the rookie is able to handle it quickly, giving the Diamondbacks an added dimension at the top of the lineup for Paul Goldschmidt and Aaron Hill to drive in, they could take back control of the division from the Dodgers.
If you want to talk baseball, feel free to hit me up on Twitter with questions or comments.