Ohio State Basketball: How Buckeyes Will Defend Each Opposing B1G Star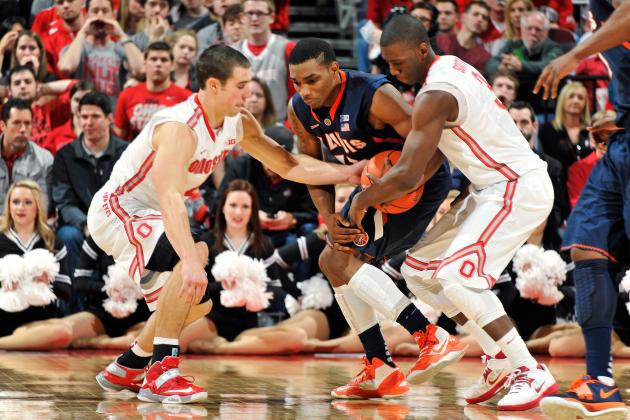 Jamie Sabau/Getty Images

Under Thad Matta's watch Ohio State has transformed from a football school with a solid but not spectacular basketball team to a two-sport powerhouse that regularly competes on the national stage with the best squads in the country.
The backbone behind Matta's success has been the Buckeye defense. Whether it is Greg Oden swatting shots away, Jared Sullinger swallowing defensive rebounds like a Hungry Hungry Hippo or Aaron Craft pestering ball-handlers for 40 minutes at a time, the Scarlet and Gray always play tenacious defense under Matta.
The 2013-14 squad will be no different. Read on to see how it will defend some of the Big Ten stars it will face off against.
Begin Slideshow

»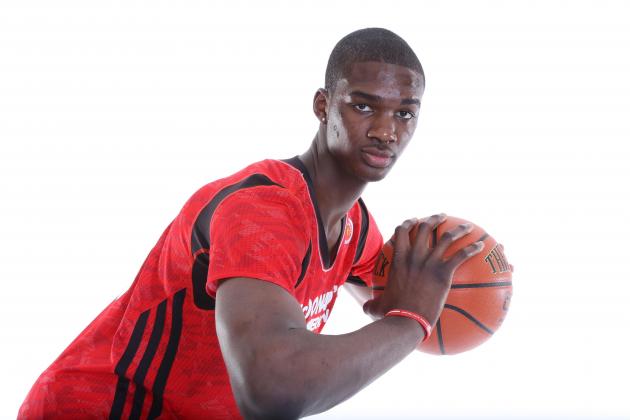 Brian Spurlock-USA TODAY Sports

Aaron Craft and Shannon Scott receive the lion's share of the headlines when it comes to Ohio State's stout defense, but Sam Thompson will be a critical defender (as you will see in these slides) for the Buckeyes in 2013-14.
Ohio State will primarily utilize a lineup that features four players accustomed to playing on the perimeter surrounding Amir Williams, Marc Loving or Trey McDonald. That means Thompson and LaQuinton Ross are going to have to play big sometimes on defense.
Thompson is the better defender of the two, so when the Buckeyes face off against a talented power forward type like Indiana's Noah Vonleh he is going to get the call. Thompson will need to utilize his quickness and impressive leaping ability to contest Vonleh's mid-range game.
If Vonleh attempts to post Thompson up, the defender guarding the weakest shooter on the floor will likely have to sag into the paint to help out.
Andy Lyons/Getty Images

Purdue's A.J. Hammons had a solid freshman campaign, but many expect him to make a significant leap heading into his sophomore season a la LaQuinton Ross for the Buckeyes as a junior.
Hammons can score and block shots effectively, but he was only a solid rebounder. The best way to defend Hammons is to get physical with him on both sides of the ball. He occasionally gets in foul trouble and had some issues with physical defenders last season.
The problem Hammons poses for the Buckeyes is that he is a big man and that means Amir Williams will need to hold his own on the defensive end. Williams has struggled on the boards and is less than reliable on offense, but he is a capable shot blocker and is difficult to shoot over at times.
If Ohio State, and Williams in particular, gets physical with Hammons it can force him into foul trouble or tire him out for later in the game.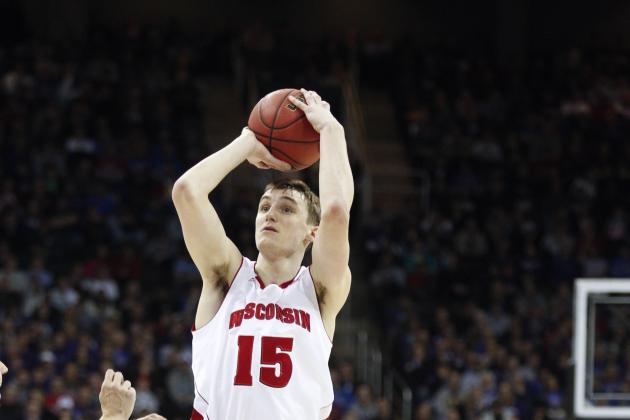 Ed Zurga/Getty Images

As mentioned in the Noah Vonleh slide, Sam Thompson is going to have his hands full with a number of different small and power forwards in the Big Ten.
When Ohio State matches up against Wisconsin in 2013-14 (a team that has given the Buckeyes troubles in Madison throughout Thad Matta's entire career), Thompson will draw the assignment of guarding Sam Dekker.
The difference for Thompson in guarding Dekker as opposed to Vonleh is Dekker won't have quite the physicality advantage that Vonleh will. Dekker doesn't pose nearly as much of a threat on the low block against Thompson and relies more on his mid-range game, ability to put the ball on the floor and the occasional three-point shot.
This plays right into Thompson's hands. He is more athletic than Dekker so he can press up on the Badger forward without worrying about getting beat consistently off the dribble. That will make it much more difficult for Dekker to find the basket with his jump shot and should impact Wisconsin's already slow-paced offense.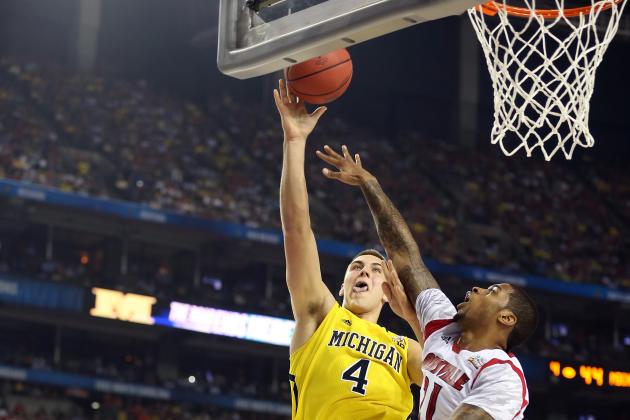 Andy Lyons/Getty Images

Anytime Ohio State faces off against an elite big man it could cause problems in 2013-14.
The Buckeyes will play small-ball with their lineup more often than not, which opens them up for mismatches against traditional post players such as Michigan's Mitch McGary. McGary saw his stock astronomically rise during the NCAA tournament, and by forgoing the NBA draft to return to school he immediately created a defensive issue for the Scarlet and Gray.
Thad Matta's best chance against McGary is to flash doubles at him if Amir Williams cannot handle him on the block. Williams will be given every chance to do so, and his defense is much better than his offense at this point, but McGary is difficult to handle one-on-one.
Look for the Buckeyes to flash double teams at McGary from different directions and from different players to force the young big guy to make a number of quick decisions. This could lead to turnovers and easy opportunities on the other side.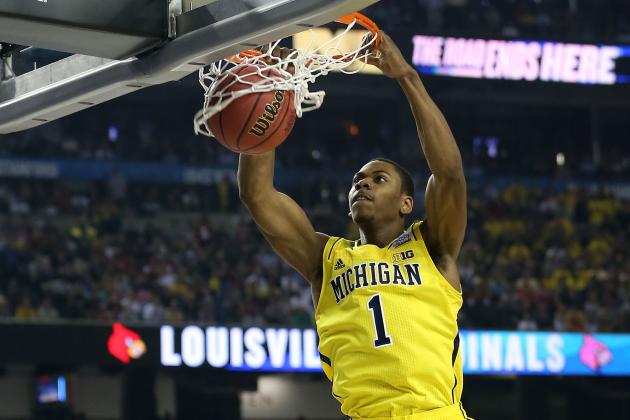 Streeter Lecka/Getty Images

Sam Thompson you are up again.
Ohio State almost solely used man-to-man defense in 2012-13 and will likely do the same this season, so Thompson will have to hold his own against the litany of talented forwards in the Big Ten. Michigan's Glenn Robinson III certainly makes the cut when listing the best forwards in the conference.
While the Buckeyes will likely be flashing the occasional double team at Mitch McGary, it will be important for Thompson to stay home on Robinson because he is the Wolverines' best pure scoring option. Given Robinson's talent level, it is necessary for Thompson to ensure that someone besides Robinson beats Ohio State on the offensive end.
Thompson and Robinson are similar players. Each relies on outstanding athleticism and an improving jump shot to hurt the opposition, which makes this matchup so intriguing. Given Michigan's roster turnover, as long as Thompson can contain Robinson, the Buckeyes will have a realistic chance to win these games against their archrivals.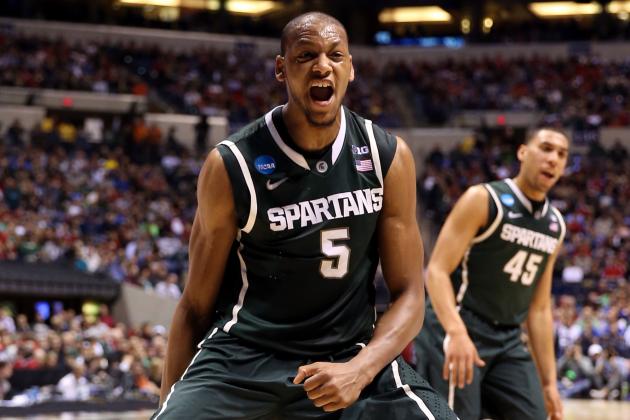 Andy Lyons/Getty Images

Can hold on and pray be a defensive option?
Adreian Payne represents a serious issue for Ohio State because he is not only a talented big man but a versatile one as well. Amir Williams may be able to hold his own down low against a stationary center or power forward that rarely ventures outside the paint, but Payne can do just about everything with the ball in his hands.
He can hit the three, drive around slower defenders (like Williams) or bang around in the post. Realistically, the Buckeyes' best chance at defending Payne is having Williams sag off of him and hope that Payne misses perimeter shots. If Williams presses up on Payne when Michigan State's big man has the ball outside, Payne will slash right past him.
This is a case of pick your poison, and the best bet is that Payne has an off day from the outside.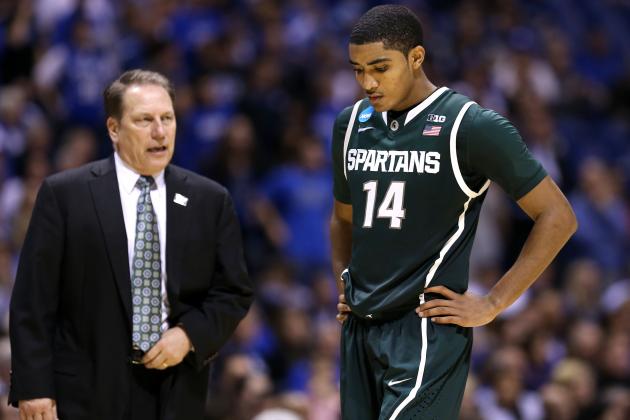 Streeter Lecka/Getty Images

Aaron Craft dominated Keith Appling in the final two meetings last year between Ohio State and Michigan State, so it is a safe assumption that he will once again be guarding the Spartans' point guard.
That means that Shannon Scott and Lenzelle Smith Jr. will have the responsibility of guarding uber-talented shooting guard Gary Harris. Smith is a very capable defender, but Scott quickly turned into one of the best defensive guards in the country during the second half of the 2012-13 campaign.
While Craft garnered many of the headlines, it was really the defensive combination of Craft and Scott that helped the Buckeyes win the Big Ten tournament and reach the Elite Eight. Harris is incredibly talented and will find the basket with ease this year, but Scott will make him work for everything he gets when these squads match up.
Adreian Payne is going to do plenty of damage against Ohio State, so Thad Matta is going to need Scott and Smith to contain Harris if the Buckeyes hope to knock off the Spartans multiple times again this season.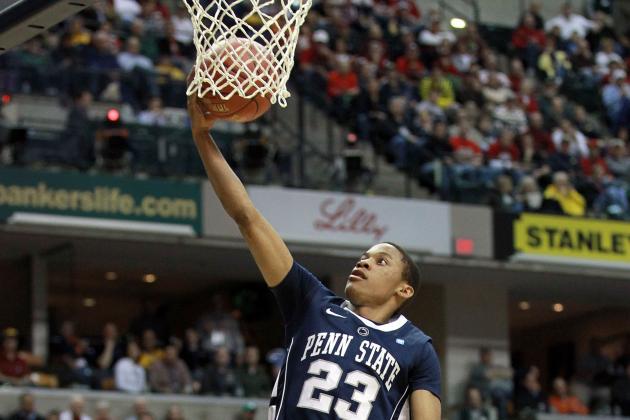 Andy Lyons/Getty Images

It almost feels wrong that Aaron Craft hasn't been singled out yet as a defensive option in this article considering he is arguably the best defender in the entire country.
Penn State's Tim Frazier returns from injury this season, which will give Craft another opportunity to face off with possibly the best offensive guard in the Big Ten. The last time Craft matched up with Frazier he drove the Nittany Lions' leader crazy in typical Craft fashion.
Frazier did score 16 points, but he shot a lowly 6-for-17 from the field and turned it over four times. The time before that, Frazier finished with five points on 2-of-8 shooting, and Craft was merely a freshman for that showdown.
Frazier is a scoring threat every time he has the ball, but no defender in the country is better equipped to slow his shooting down better than Craft. Look for him to do so in 2013-14.
Follow and interact with Ohio State basketball writer Scott Polacek on Twitter @ScottPolacek.