Ranking the 10 Most Talented Big 3's in College Basketball for 2013-14 Season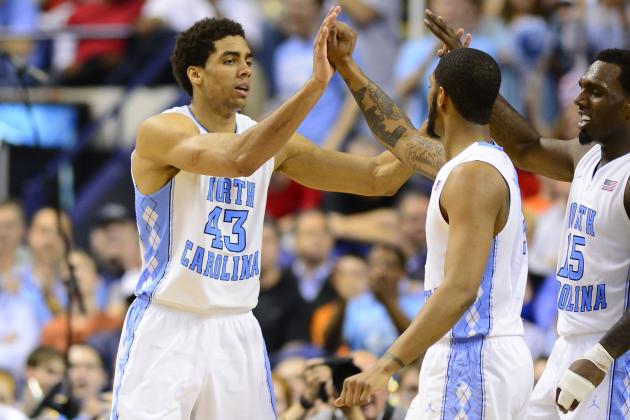 Bob Donnan-USA TODAY Sports

According to that noted bastion of knowledge Wikipedia, the "rule of three" is a principle of writing that suggests things grouped in threes are funnier or more effective in film, in speeches or on the page.
The NBA's obsession with the rule of three captured widespread attention when LeBron James and Chris Bosh joined Dwyane Wade in Miami. Three years and two championships later, other organizations are still fighting to achieve similar results.
In college basketball, a strong leading trio can be every bit as important as in the pros. However, in the one-game pressure cooker of the NCAA tournament, even the best alignment of stars can get bounced prematurely if two or all three have a bad night.
As we head into the 2013-14 season, these programs look like they have talented threesomes that can carry them deep into March, or even April. How the trios will actually produce is anyone's guess, as is whether it will even be these particular groups of players who get the job done for their teams.
These teams, however, should be expected to achieve great things this season behind their leading men, whoever those leading men may be.
Begin Slideshow

»
Brad Penner-USA TODAY Sports

F Kadeem Batts, 6'9", Sr. (14.8 PPG, 7.2 RPG)
G Bryce Cotton, 6'1", Sr. (19.7 PPG, 3.6 RPG, 2.9 APG, .364 3P%)
F LaDontae Henton, 6'6", Jr. (13.0 PPG, 8.3 RPG)
It sounds odd to say of a program that has been to only two NCAA tournaments in the last 16 years, but Providence has a nucleus that could surprise in the new-look Big East.
Cotton's gaudy scoring average led the old, bloated Big East and he had the efficiency to back up the volume. StatSheet.com listed Cotton 11th in the league in effective field goal percentage (eFG%) and fifth in true shooting percentage (TS%).
Henton and Batts combined for 15.5 rebounds per game, the second-most prolific duo in the Big East behind Louisville's Gorgui Dieng and Chane Behanan. Henton's 18.8 defensive rebounding percentage is third among Big East returnees, trailing only Butler's Kameron Woods and Creighton's Doug McDermott, neither of whom competed in last season's Big East.
Batts was one of the most improved players in the league last season, more than doubling his scoring average and improving his field goal percentage by eight points.
The two forwards can each contend for All-Big East honors with one improvement. Batts must stay out of foul trouble after ranking third in the nation with 122 personals. Henton slid from 39 percent three-point shooting as a freshman to less than 26 percent last season. His looks may get better with a full season of former McDonald's All-American point guard Kris Dunn in the lineup.
The Friars won four games over NCAA tournament teams last season, including a sweep over Villanova. In a league with frequent underachievers like Villanova and St. John's and teams in flux like Butler, ignoring the Friars might not be wise.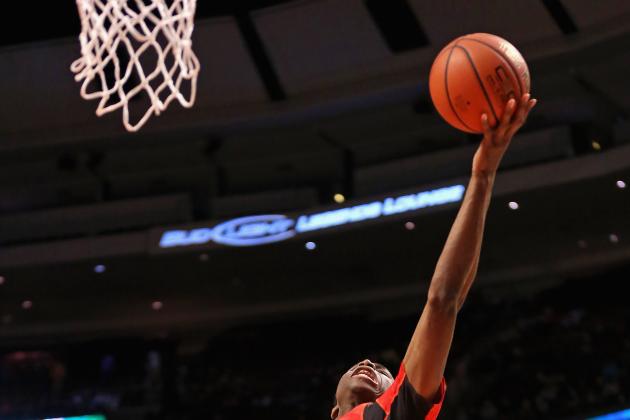 Jonathan Daniel/Getty Images

F Perry Ellis, 6'8", Soph. (5.8 PPG, 3.9 RPG)
F/G Wayne Selden, 6'5", Fr.
F Andrew Wiggins, 6'8", Fr.
Before he even plays a game, Wiggins' reputation has reached the point where he could probably make this list with any two writers from this website.
If he's not an All-American at season's end, there will be a lot of reputable analysts left scratching their heads. Wiggins' athletic ability is among the best in America, but he'll need to perform every night, or else the questions will be deafening. Expect a ton of SportsCenter dunks and the occasional great pass or pure jumper will be gravy.
Selden is the next best all-around prospect in coach Bill Self's touted recruiting class and like Wiggins, he'll get his points at the rim. He may be even more equipped to handle the contact with his 6'5", 220-pound frame. Both McDonald's All-Americans are also very willing passers, which will make teammates like Ellis happy.
With the recruiting class, outside of center Joel Embiid, largely consisting of wings and guards, Ellis will be counted on to lead as one of the Jayhawks' few frontcourt veterans. If he's not prepared to play with more passion this season, Ellis could lose a lot of minutes to Memphis transfer Tarik Black.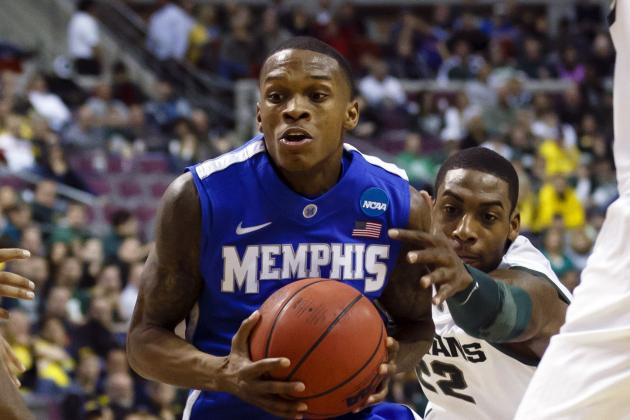 Rick Osentoski-USA TODAY Sports

G Chris Crawford, 6'4", Sr. (10.4 PPG, 3.8 RPG, 3.2 APG, 1.5 SPG, .399 3P%)
G Joe Jackson, 6'1", Sr. (13.6 PPG, 3.3 RPG, 4.8 APG, 1.7 SPG, .519 FG%)
G Geron Johnson, 6'3", Sr. (10.4 PPG, 4.6 RPG, 3.5 APG, 1.8 SPG)
The Memphis backcourt may be the best in America and it's certainly the most versatile.
Sports-Reference.com ranked Jackson eighth in Conference USA in offensive rating, while Johnson and Crawford placed fifth and sixth in defensive rating. The latter two were flanked by teammates Shaq Goodwin and Tarik Black (now at Kansas) by the way, so Memphis was able to guard some people in C-USA.
In the new American Athletic Conference, however, can the Tigers adapt to facing Louisville and UConn instead of Tulsa and Southern Miss? The veterans will have as much adjusting to do as the touted freshman class.
Jackson's superb efficiency from last season may be difficult to sustain unless the young frontcourt steps up in place of the departed Black and D.J. Stephens. He carded a 61.3 TS% in 2012-13, placing second in C-USA.
Coach Josh Pastner told the Memphis Daily News that Jackson's focus is as strong as it's ever been: "In the past, and I think he'll admit this, there were 900 voices in his ear and I think it played games and tricks with his mental approach, which is just normal. The maturation process has allowed him to filter some of that stuff."
One more thing: If Missouri transfer Michael Dixon is cleared to play this season, we plug him into this list in place of Johnson or Crawford and kick the Tigers up a couple of spots. And we DVR a few more Memphis games to watch this sensational group.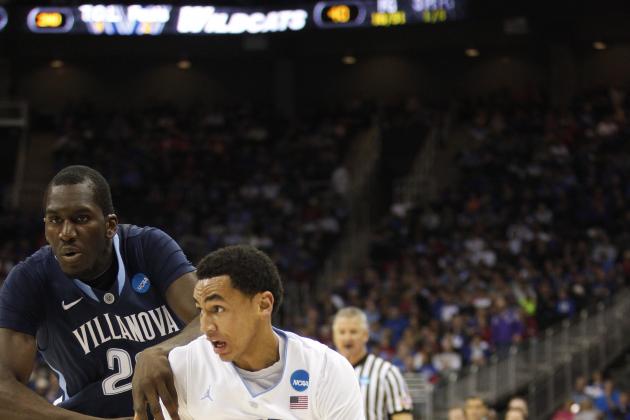 Ed Zurga/Getty Images

G P.J. Hairston, 6'6", Jr. (14.6 PPG, 4.3 RPG, .396 3P%)
F James Michael McAdoo, 6'9", Jr. (14.4 PPG, 7.3 RPG, 1.5 SPG)
G Marcus Paige, 6'1", Soph. (8.2 PPG, 4.6 APG, .836 FT%)
The Tar Heels' entire season may not quite hinge on Hairston's availability following his offseason issues with rental cars and marijuana, but it feels that way. There's not a ton of perimeter shooting on the UNC roster and that's where Hairston is most dangerous.
Hairston finished Top 10 in the ACC last season in both three-point and free throw shooting. If he misses time, Carolina will miss his offensive prowess.
McAdoo was a solid starter as a sophomore, but not quite the potential lottery pick that he was projected to be after his sheltered freshman season. He'll need to make great improvements offensively to return his draft stock to its previous level. A player who took 70 percent of his shots at the rim, according to Hoop-Math.com, should have shot a lot better than 44.5 percent from the floor.
Paige struggled even more mightily with his shot last season, making less than 36 percent. There is hope for improvement though, as bad shooters don't make 83 percent from the line. His assist-to-turnover ratio came in at 1.9, a shaky figure easily ascribed to his status as a freshman learning a complex offense.
North Carolina's influx of big men mean they could be a physical nightmare for anyone. Still, the Heels will need a full, productive season from Hairston to open the floor for McAdoo to score and Paige to create.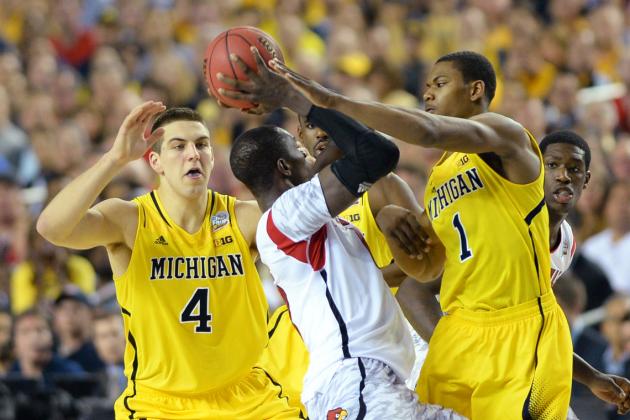 Robert Deutsch-USA TODAY Sports

F/C Mitch McGary, 6'10", Soph. (7.5 PPG, 6.3 RPG, .598 FG%)
F/G Glenn Robinson III, 6'6", Soph. (11.0 PPG, 5.4 RPG, .572 FG%)
F/G Nik Stauskas, 6'6", Soph. (11.0 PPG, 3.0 RPG, .440 3P%, .851 FT%)
The Michigan Wolverines have two potential lottery picks returning, even after losing two first-rounders from last season's national runner-up.
A burden of proof still lingers over McGary after he averaged 14.3 points, 10.7 rebounds and two steals per game in the NCAA tournament. Now that his body is right heading into the season—he lost almost 25 pounds over the course of the campaign—coach John Beilein should be much less reluctant to turn him loose on a Big Ten that's lost quality bigs like Derrick Nix, Cody Zeller and Trevor Mbakwe.
Robinson's athleticism and finishing ability rank near the top of the national charts and if he develops a reliable outside shot, he'll be hard to keep off the scoreboard. His offensive efficiency (128.3 according to StatSheet) led the Big Ten, but more than 80 percent of his baskets were either assisted or putbacks.
Stauskas' early-season gunning was written off as a function of weak competition until he dropped all six of his threes in the regional final against Florida. The Canadian sniper shot only 37 percent from deep in Big Ten play after making nearly 60 percent before New Year's Day. His offensive game is more than just a jump shot, but he'll need to keep his defensive focus when the threes aren't falling.
Giving John Beilein pro-caliber talent is like giving a professional gamer a cheat code and it's likely that he'll find a way to maximize each of his players. This trio benefited from working with Trey Burke last season and they need to show that they can create for themselves instead of needing classmate Spike Albrecht or freshman Derrick Walton to open them up from the point.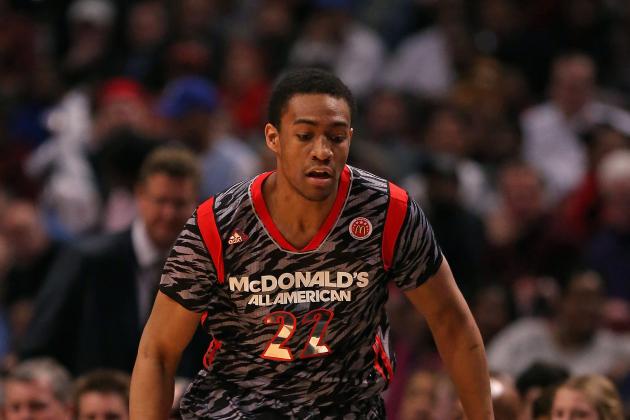 Jonathan Daniel/Getty Images

G Quinn Cook, 6'1", Jr. (11.7 PPG, 3.8 RPG, 5.3 APG, .393 3P%)
F Jabari Parker, 6'8", Fr.
G Rasheed Sulaimon, 6'4", Soph. (11.6 PPG, 3.4 RPG, .802 FT%)
Much like Andrew Wiggins at Kansas, Jabari Parker is the major news story for a Duke team that has lost some strong veteran contributors. The gifted freshman should be the primary offensive option from day one, as he doesn't have many weaknesses on that end of the floor. His athletic ability will add a little verticality to a team that will miss the height of Mason Plumlee and Ryan Kelly.
It may not surprise many observers if Cook increases his assist average with Parker and Mississippi State transfer Rodney Hood up front. The Blue Devil offense should keep humming as long as Cook continues to be safe with the ball. His 2.4 assist-to-turnover ratio ranked in the nation's top 50.
If Sulaimon could play Maryland every game, he'd be an All-American. He averaged 19 points in the three meetings between the Devils and Terps, shooting better than 50 percent from the floor. A 21-point game against Creighton in the NCAA tournament offered hope that he would excel when the spotlight was brightest, but he joined most of his teammates in laying an egg (1-for-10) against Louisville.
Coach Mike Krzyzewski has several more options, like Hood and sophomore forward Amile Jefferson. Look for the Devils to outrun opponents, relying on shooters like Hood and Sulaimon to open the floor for Parker.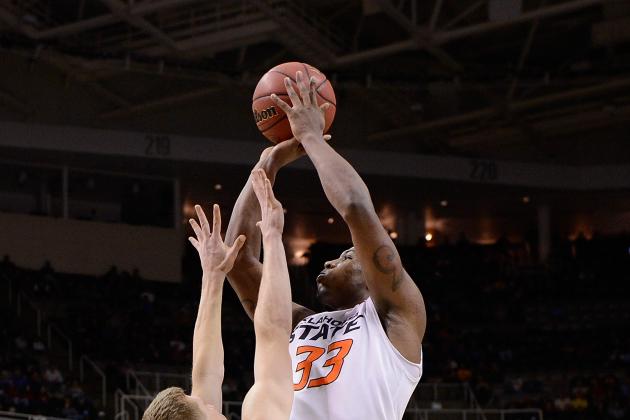 Thearon W. Henderson/Getty Images

G Markel Brown, 6'3", Sr. (15.3 PPG, 4.4 RPG)
F/G Le'Bryan Nash, 6'7", Jr. (14.0 PPG, 4.1 RPG)
G Marcus Smart, 6'4", Soph. (15.4 PPG, 5.8 RPG, 4.2 APG, 3.0 SPG)
Returning a 30-PPG backcourt made Oklahoma State the sexy pick to end Kansas' streak of Big 12 championships. That is, until Andrew Wiggins decided to take his talents to Lawrence.
Smart will enter the season as the likely All-American choice at point guard, figuring in every short list of player of the year candidates. If he improves his shooting accuracy (.455 eFG% as a freshman), he may be hard to bet against for such awards.
Never mind Smart's contributions at the helm of the offense, though, his defense is what makes him most dangerous. After finishing second in the nation in steals per game, he kept on stifling ballhandlers in the FIBA U-19 World Championship with 22 steals in 141 minutes. That computes to about six per 40 minutes.
Nash was supposed to be gone by now, having come in as a hotshot freshman two years ago. He increased his shooting efficiency from his first season and tightened up a bit defensively, but his rebounding percentages dipped from sickly to downright emaciated. His seven 20-point games last season offer notice that he can still turn it on when needed.
Brown greatly improved his ball security from his first two seasons, thanks to Smart allowing him to play off the ball. His eFG% nudged over 50 for the first time and his TS% neared 55 for the first time. If he can approach 40 percent from behind the arc, a Big 12 scoring title isn't out of the question.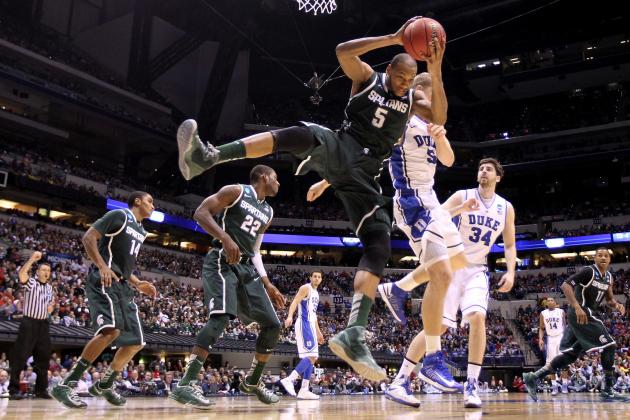 Andy Lyons/Getty Images

G Keith Appling, 6'1", Sr. (13.4 PPG, 3.4 RPG, 3.3 APG)
G Gary Harris, 6'4", Soph. (12.9 PPG, 2.5 RPG, .456 FG%)
F/C Adreian Payne, 6'10", Sr. (10.5 PPG, 7.6 RPG, 1.3 BPG, .546 FG%)
Michigan State coach Tom Izzo is hoping to see more out of Gary Harris in his sophomore campaign. Sparty fans could stand to see a little less out of senior point guard Keith Appling.
A shooting guard when he arrived in East Lansing, Appling hasn't been able to completely shake that mindset. He attempted 47 more shots than Harris last season and no other Spartan was within 110 attempts of him.
A shoot-first point guard is all well and good when the shots are falling, but Appling has had little such success. His freshman shooting numbers are still his career highs, with his field goal and free throw marks steadily declining each year.
Harris and Payne should both surpass Appling's usage rate this season and if they're still efficient (.565 combined eFG% last season), both can become All-Big Ten first team performers. Expect the 6'4", 205-pound Harris, a former high school wide receiver, to put the ball on the deck and take more contact with his nagging shoulder issues behind him.
Payne was a monster on the defensive glass last season, with his DR% ranking second in the conference behind only Minnesota wrecking ball Trevor Mbakwe. If he can keep a similar rate without Derrick Nix occupying opponents, MSU's defense should be one of the more reliable in the Big Ten.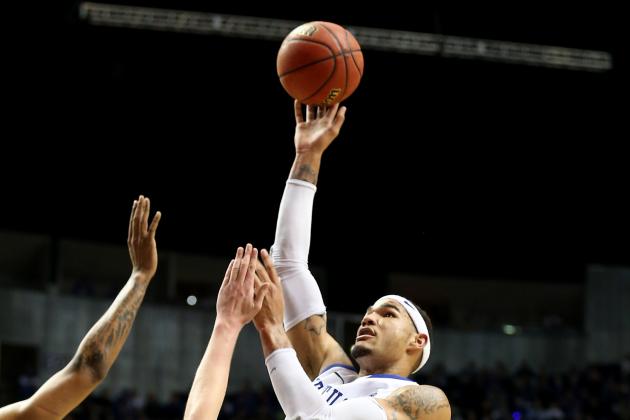 Andy Lyons/Getty Images

C Willie Cauley-Stein, 7'0", Soph. (8.3 PPG, 6.2 RPG, 2.1 BPG, .621 FG%)
G Andrew Harrison, 6'5", Fr.
F Julius Randle, 6'9", Fr.
Andrew Harrison walks into a unique situation at Kentucky. A projected one-and-done point guard, he needs to show the scouts enough proof that he can get points for himself and still keep a squad full of McDonald's All-Americans happy with their usage as well.
The involving of others has often been a sore spot in his game, as he and twin brother Aaron have often been far and away the most dominant players on their teams. While the sheer volume of talent on the floor should mean UK won't repeat last season's NIT-bound debacle, balancing the chemistry of all these marquee players' egos will constitute one of John Calipari's most difficult coaching jobs.
Another member of Kentucky's epic freshman class, power forward Julius Randle can be the most dominant interior player in the SEC if he wants to. Another task ahead of Calipari will be to limit Randle's roaming the perimeter. A skilled high-post passer with a decent mid-range shot, Randle can still be most dominant when he muscles opponents down low. At 6'9" and 240 pounds, he's more equipped to do so than most incoming frosh.
Sophomore Willie Cauley-Stein passes for an elder statesman on this team. When Nerlens Noel went down with a torn ACL, Cauley-Stein was pressed into service as UK's sole rim protector. He responded with a run of more than 3.5 blocks per game over his next seven.
Despite his blend of experience and athleticism, Cauley-Stein's not even assured of a starting spot with burly freshman Dakari Johnson breathing down his neck. The Wildcats will still need him to take some sort of leadership role, similar to Terrence Jones on the 2012 national title team.
Nothing short of a national title will live up to the "greatest recruiting class in history" hype.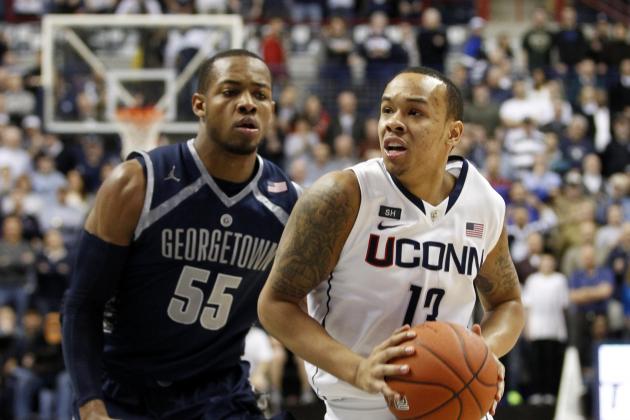 USA TODAY Sports

G Ryan Boatright, 6'0", Jr. (15.4 PPG, 2.9 RPG, 4.4 APG, 1.5 SPG)
F DeAndre Daniels, 6'8", Jr. (12.1 PPG, 5.5 RPG, 1.5 BPG, .468 FG%)
G Shabazz Napier, 6'1", Sr. (17.1 PPG, 4.4 RPG, 4.6 APG, 2.0 SPG, .398 3P%)
Any discussion of the best backcourts in America doesn't get very far without bringing up the UConn pair of Napier and Boatright. Nike's Point Guard Skills Academy only invited 12 floor generals in June and the two Huskies were the only teammates there. That point alone emphasizes how versatile and interchangeable the two are.
The pair of point guards both recorded assist percentages greater than 27, while Napier nearly became a 60-percent true shooter last season. The pair's willingness to distribute helped Daniels and freshman guard Omar Calhoun become double-digit scorers, but the Huskies lacked other options.
Daniels made the leap from seldom-used reserve to reliable starter, increasing his scoring by more than nine points per game and upping his eFG% by 10 points. Daniels also led the Huskies in rebounding, which proved UConn's undoing in some games.
Coach Kevin Ollie will need to find some support for Daniels on the glass for the Huskies to get back to the NCAA tournament after serving last year's ban. UConn ranked next to last in the Big East in both offensive and defensive rebounding percentage.
These three should be one of America's most productive trios once again. If they're not, it either means someone got injured and UConn's firmly on the bubble or there's some additional support at hand and UConn could win the new AAC.
Listen to Scott on Music Row Sports, airing at 1 p.m. Central Time Saturdays on 104.5 The Zone in Nashville, Tenn. Like the show on Facebook and follow on Twitter.