Myles Garrett vs. Solomon Thomas: Which 5-Star DE Is Better?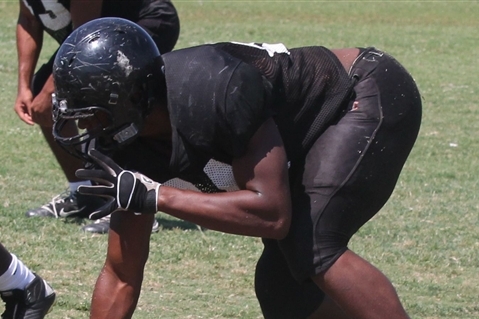 247Sports
Texas is one of the best hotbeds for talent on the college football recruiting trail. Programs usually have multiple coaches monitoring the state for recruits, as it is a fertile ground for prospects.
Texas is also home to two of the best defensive ends in the 2014 class, as Myles Garrett of James Martin High School in Arlington and Solomon Thomas of Coppell High School are elite players at their position.
Each recruit has a great skill set, and they project to both be good players at the next level. As our 5-star scouting battle series continues, the two Texans will square off in the evaluation ring.
Player evaluations are based on review of tape at Scout.com, Rivals, 247Sports and ESPNU.

Begin Slideshow

»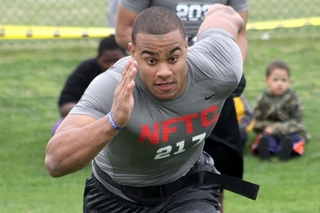 247Sports
Garrett:
Garrett is a 6'4", 240-pound prospect with perhaps the most impressive-looking frame of any recruit in the country. He has a chiseled body and looks like a Greek statue. He has outstanding length and appears to still possess significant growth potential. Garrett could easily weigh more than 260 pounds before he leaves college.
Thomas:
Thomas has a thick build at 6'3" and 256 pounds. He has great definition in his body, appears to be a tapered athlete for a defensive end and could still easily add more bulk in college. Weighing more than 280 pounds in college is not out of the question.
Advantage: Thomas, but Garrett has a better-looking frame.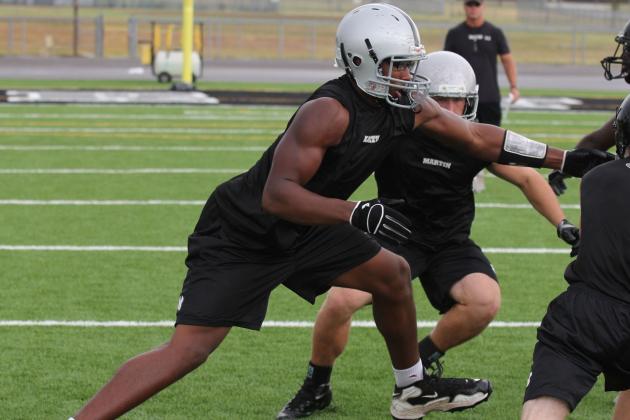 247Sports
Garrett:
This is an area where Garrett stands out versus the average defensive end recruit. He is a great athlete with impressive movement skills. Garrett has a sharp burst off the ball, and he can launch upfield and jump on top of blockers at the snap. His athleticism allows him to play with good range on the edges.
Thomas:
Thomas has good, but not great quickness at the snap. He is not going to impress people in this category, but he's not necessarily slow off the ball. Thomas is a solid athlete but has limited range in pursuit. He makes more plays based off of effort than pure athleticism and quickness.
Advantage: Garrett
Garrett:
Anyone who thinks Garrett looks like Tarzan and plays like Jane is mistaken. This is a tough defensive end who can generate some force at the snap. Garrett has good power at the point of attack, and he flashes the ability to anchor versus running plays. He must work on his ability to shed and escape blocks.
Thomas:
Thomas is a powerful player who can use his strength to win battles in phone booths. He has no issues stacking a block, anchoring down, shedding and making a tackle versus plays on his side. He knows how to use his hands to press blockers off of him and flashes solid ball-location skills. Thomas should be a good run defender in college, if anything.
Advantage: Thomas
Garrett:
Converting speed to power is not an issue for Garrett as a pass-rusher. His explosiveness at the snap allows him to be a nightmare for heavy-footed offensive tackles.
Garrett can also use his length to stay clean and fight pressure with his hands and has the athleticism to execute several moves. He flashes bull-rush ability, and he also has a great burst to finish on the passer. Garrett must improve his ability to use his mitts, but he has a high ceiling as a pass-rusher.
Thomas:
Although he possesses a limited arsenal, Thomas can be a solid pass-rusher due to his strength. He has the ability to get under a blocker's pads and walk him deep into the pocket.
Thomas needs to add more moves to his pass-rushing plan and only shows an average burst to close on the quarterback. He's not going to be dynamic in this category in college, but Thomas' strength should allow him to register a few quarterback hurries.
Advantage: Garrett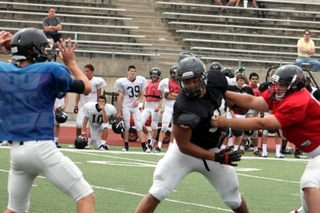 247Sports
Garrett:
Garrett has solid versatility, as he can play with his hand down on either side of the defensive line. He also has the athleticism to stand up and play as an outside linebacker/rush end in a 3-4 defense. At this point, Garrett does not project to be able to kick inside on third downs as a sub-package defensive tackle.
Thomas:
Thomas' versatility comes in the form of his ability to play in a 40 or 30 alignment. He can play defensive tackle or strong-side end in 4-3 defenses, while also possessing the skills of an end in a 3-4 scheme. Having Thomas stand up would be a mistake.
Advantage: Push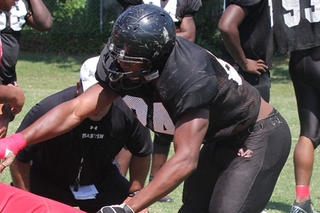 247Sports
Garrett is the winner of this 5-star scouting battle due to his superior athleticism, quickness, equal strength and higher ceiling as a pass-rusher.
Thomas has great strength, as he is the better run defender at this point.
However, Garrett is the superior prospect due to being better in several other categories. Thomas projects to be a solid player in college if he reaches his potential, while Garrett could be a difference-maker.
Edwin Weathersby is the College Football Recruiting Analyst for Bleacher Report. He has worked in scouting/player personnel departments for three professional football teams, including the New York Giants and Cleveland Browns.