Predicting 7 NBA Teams Likeliest to Surprise Fans During 2013-14 Season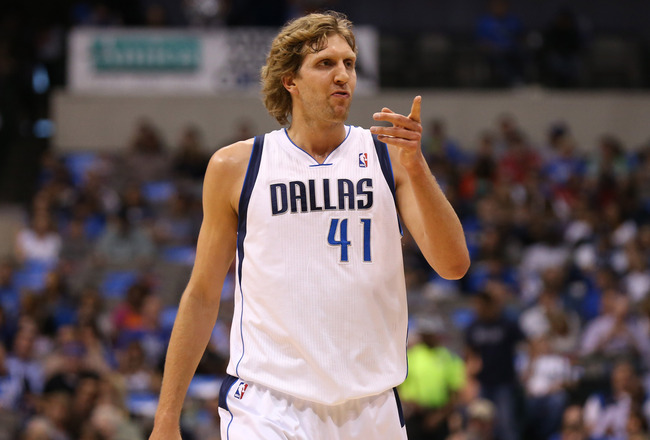 USA TODAY Sports
Surprise! The Dallas Mavericks, much maligned for their inability to land a marquee free agent, might actually be a playoff team in 2013-14.
They're not alone in their capacity to exceed the expectations of their fans next year, either. Both the Portland Trail Blazers and the Boston Celtics might actually be halfway decent as well.
On the other end of the spectrum, there are a couple of NBA squads that are going to be stunningly bad. The Philadelphia 76ers, for example, are going to shock their supporters with a performance so wholly inept, it'll make Sixers fans long for the relative glory days of Doug Collins and Jrue Holiday.
And the Los Angeles Lakers, eternally supported by a fanbase that has been historically conditioned to believe the playoffs are possible no matter what, are primed to disappoint more than they did a year ago.
There are sure to be plenty of unforeseen twists next year, but the following teams are most likely to surprise—for better or for worse.
Atlanta Hawks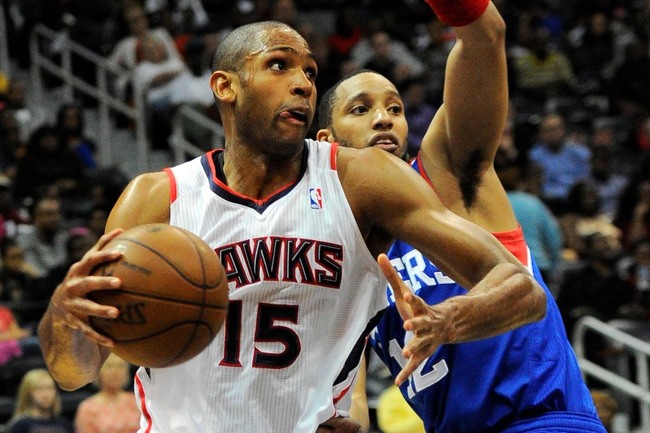 Dale Zanine-USA TODAY Sports
Surprise Classification: Better Than You Think
The Atlanta Hawks lost their most iconic star when Josh Smith signed with the Detroit Pistons, but a number of intelligent moves by the front office might result in a surprisingly good on-court product.
Paul Millsap, signed for two years and just $19 million, was the best bargain of the offseason. He'll slide into Smith's hybrid 3-4 role adequately, providing toughness, rebounding and underrated versatility. It's not ideal for Millsap to be taking long two-pointers, but at least the assembled Atlanta crowd won't collectively groan when he starts eyeing a jumper.
Plus, Jeff Teague is back and primed to improve. If he can make the jump into the very-good-but-not-great point guard tier occupied by guys like Ty Lawson and Jrue Holiday, he'll be almost as good a bargain as Millsap.
Kyle Korver provides elite shooting at a reasonable price, Al Horford is still a borderline All-Star and Elton Brand brings veteran experience to the front line. If John Jenkins takes the next step and rookie Dennis Schroeder proves to be a useful spark plug in the rotation, this is a team that can compete with anyone.
Keep that enthusiasm somewhat tempered; the Hawks are nowhere near the upper echelon of Eastern Conference contenders. But they might just be good enough to win more than the 44 games last year's edition won.
Los Angeles Lakers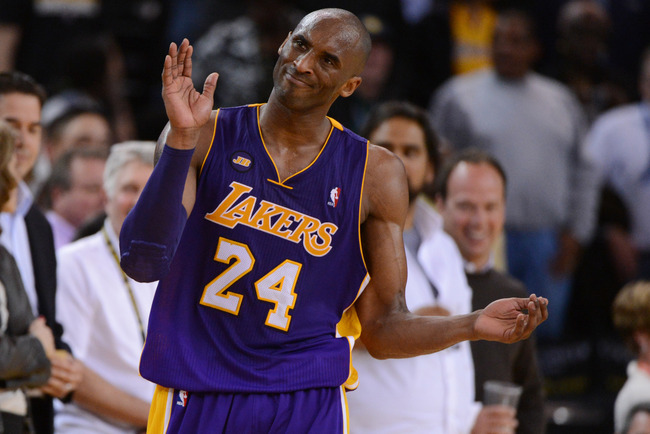 Kyle Terada-USA TODAY Sports
Surprise Classification: Playoff Pretenders
Sorry, Lakers fans. This team just isn't any better than the one that narrowly sneaked into the playoffs last year. L.A. is in for the bad kind of surprise in 2013-14.
Mike D'Antoni's team didn't do much to address the defensive issues that were the real problem last season. The Lakers tied for 18th in the NBA in defensive efficiency last year with a rating of 103.6 points allowed per 100 possessions (per ESPN). And say what you want about Dwight Howard's effort level, but his mere presence in the lane was an asset.
Now, D12 is gone. Plus, a healthier Steve Nash figures to see more minutes this year—never a good sign for a defense.
Basically, the Lakers' key pieces are a year older and probably not in line for any sort of defensive renaissance. A bit of youth on the wing in the form of Nick Young and Wesley Johnson is nice in theory, but neither is even an average defender.
Maybe Kobe Bryant somehow makes it back in time to start the season. But it's not like he's capable of improving on his statistically incredible 2012-13 season.
The Lakers made a remarkable run to get into the postseason a year ago. This time around, the bottom of the Western Conference is even tougher, so they're not going to be within shouting distance of the No. 8 seed.
Boston Celtics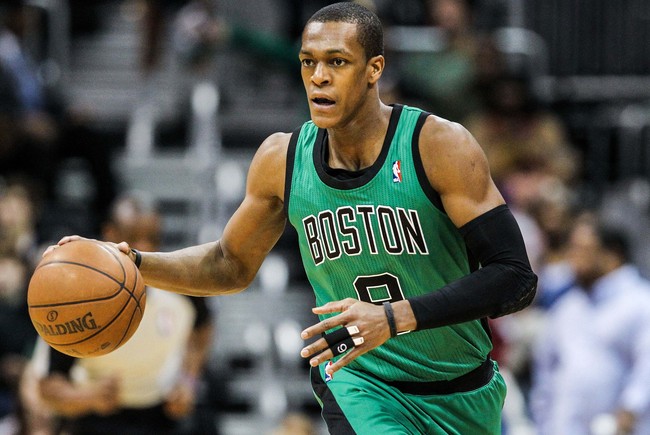 USA TODAY Sports
Surprise Classification: Not Horrible (Maybe)
If the Boston Celtics want to be a respectable team in 2013-14, they probably can be.
Rajon Rondo will get a chance to have total control over the offense and might even finally be forced to look for his own shot now that Kevin Garnett and Paul Pierce are gone. In addition, Avery Bradley has another year under his belt and new coach Brad Stevens might be just the guy to inject a little life into what was a typically ho-hum Doc Rivers offense.
If some of the young bigs like Jared Sullinger and Kelly Olynyk show some growth, it's possible that the Celtics could complement a stellar defense with a better-than-expected scoring output.
The bottom of the East is a total mess, and we know from the past few years that sub-.500 records are sometimes enough to scratch out a playoff berth. If Boston really wants to make a push for the playoffs, it might have enough to make things interesting.
The problem is that there's really no incentive for the Celtics to win games this season. If things start going too well, some of the team's useful veterans (sorry, Jeff Green) might wind up as trade bait. After all, a bottom-five finish and a high lottery pick is more valuable to the rebuilding Celtics than a first-round playoff trouncing.
Still, it's nice to know that Boston has the ability to surprise if it wants to.
Philadelphia 76ers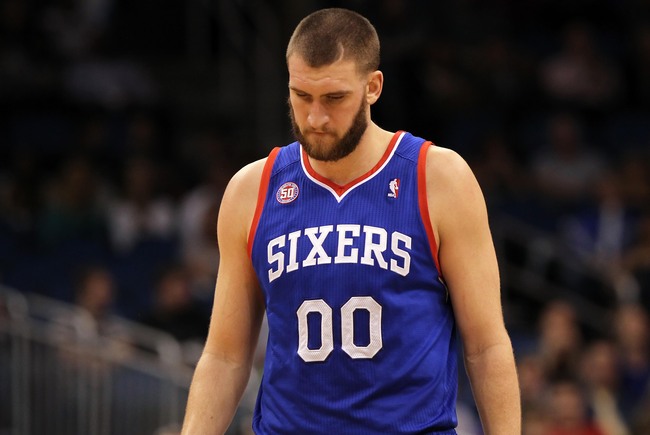 Kim Klement-USA TODAY Sports
Surprise Classification: Worse Than You Think
The Philadelphia 76ers are starting over. Any doubt about that disappeared when the team traded Holiday, its lone star, to the New Orleans Pelicans for Nerlens Noel, Pierre Jackson and a 2014 first-round pick.
It's no revelation to say that the Sixers are going to stink. But I don't think everyone has fully come to grips with the potential for some three-week-old-egg-salad-on-a-100-degree-day horribleness.
Michael Carter-Williams showed during summer league that he has promise but is miles away from being NBA-ready. Basically, the Sixers are relying on Jason Richardson and Spencer Hawes to anchor the rotation, which would be funny if it wasn't so sad.
The Sixers are doing this to themselves on purpose, though, so this is hardly a tragedy. But full-on tanking is never pretty. Just keep in mind that this team could find itself struggling to get its win total up to the teens by season's end.
Orlando Magic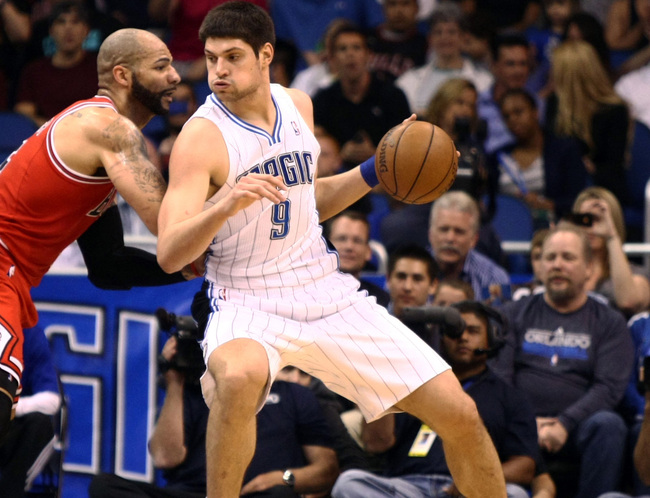 Douglas Jones-USA TODAY Sports
Surprise Classification: Cellar Dwellers No More
Everybody seems to think the Orlando Magic are destined for another laughably awful year and a second straight high lottery pick, but this is a team that has the capacity to exceed expectations.
What's not to like about Nikola Vucevic, double-double machine and gem of the Dwight Howard mega-trade?
In addition to their promising man in the middle, the Magic have a handful of intriguing rotation pieces. Andrew Nicholson seems like the perfect complement to Vucevic in the frontcourt; his smooth mid-range jumper and impressive offensive polish make him an ideal tag-team option.
Plus, the wing combo of Arron Afflalo, Tobias Harris and Maurice Harkless provide plenty of options.
If Victor Oladipo absorbs the nuances of the point guard position more quickly than expected, Orlando could have a very interesting mixture of athleticism and size in its starting lineup. And if the rookie struggles, veteran Jameer Nelson is an adequate placeholder.
Defensively, the Magic are almost certainly going to be a mess. Too many young players will be on the floor at the same time to produce a cohesive team approach. So the easy buckets—results of miscommunications and missed assignments—will come fast and furious.
Orlando will be a fun team to watch because of all of its young promise, but it might also be capable of notching more than 30 wins. I'd call that a surprise. Wouldn't you?
Portland Trail Blazers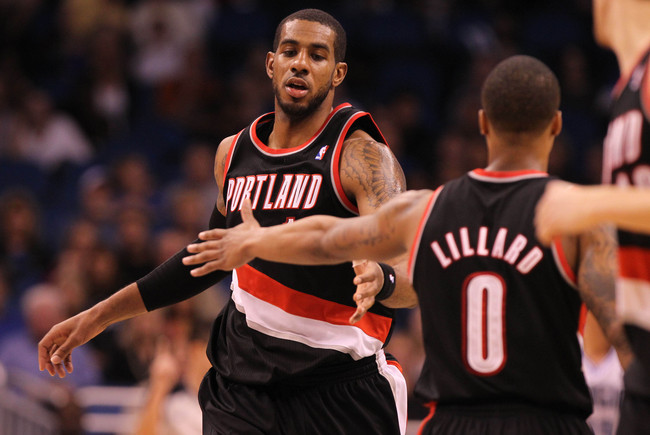 Kim Klement-USA TODAY Sports
Surprise Classification: .500, Here We Come
The starting lineup wasn't the problem for the Portland Trail Blazers last season; it was the bench that sunk Rip City.
By almost any measure, Portland's reserves were the worst in the NBA in 2012-13. Overall, the Blazer backups managed just 18.5 points per game, a mark 5.6 points below the Indiana Pacers' figure of 24.1, which was second-worst in the league (per Hoopsstats.com).
This year, the mighty Luke Babbitt will be replaced by more capable bench players. C.J. McCollum, Dorell Wright and Thomas Robinson aren't aces by any stretch, but Portland had jack off the bench last year, so they're a huge improvement.
Assuming Damian Lillard takes the next step in his development toward stardom, there's a real chance that the Blazers could jump right into the playoff mix.
The starting lineup—Lillard, Nicolas Batum, Wesley Matthews, LaMarcus Aldridge and Robin Lopez—has nice balance and clearly defined roles.
After dropping 13 consecutive games to finish out the regular season, it might be tough to believe in this Blazers team. But this feels like a team ready to turn things around.
Dallas Mavericks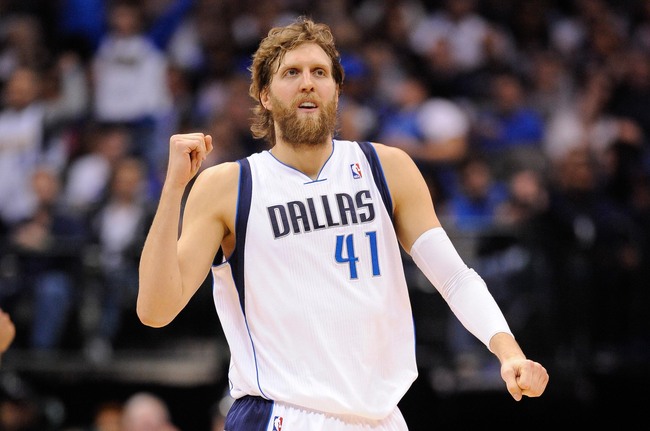 USA TODAY Sports
Surprise Classification: Playoffs? Playoffs.
It was almost certainly a mistake for the Dallas Mavericks to hand out multi-year deals to Monta Ellis and Jose Calderon this summer. Long-term agreements for non-stars, especially when they cut into the salary cap in a way that could make it more difficult to splurge on max players down the road, aren't generally good ideas.
But as far as the upcoming season is concerned, Ellis and Calderon will probably help the Mavs be a better team than they were last year. Monta most definitely doesn't have it all, but as a No. 2 option behind Dirk Nowitzki, he might be a more efficient scorer. And Calderon will provide the steady shooting and pick-and-roll work that Darren Collison never could.
Nowitzki is healthy, and even in his 16th season, he'll be one of the NBA's most effective offensive players. Skills like his have always aged particularly well. So with a legitimate star and a couple of capable (but overpaid) guards, the Mavs won't struggle to put the ball in the hole.
And remember, vets Shawn Marion and Vince Carter are still around to do old-man things, and Samuel Dalembert is in town to patrol the paint at a discount. This team could be quietly impressive.
The Mavericks missed the playoffs by just four games in 2012-13, and with the short-term improvements they've made, there's an excellent chance that they return to the postseason dance after failing to make it for the first time in more than a decade last season.
Keep Reading