Breaking Down Denver Broncos' Two-Deep Depth Chart at Start of Training Camp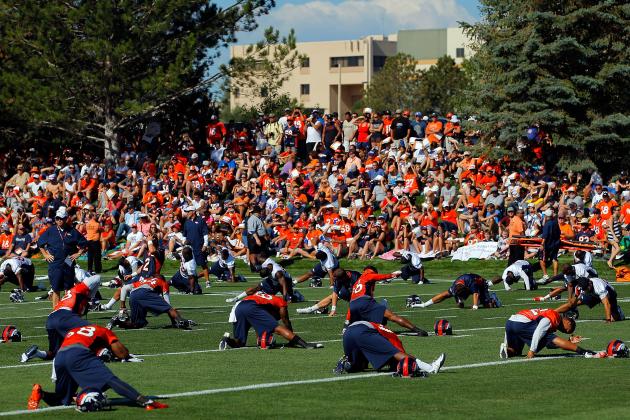 Doug Pensinger/Getty Images

The Denver Broncos opened training camp on Wednesday in Englewood, Colorado as the team officially starts on its trek towards a Super Bowl title.
Many interesting positional battles will be determined in camp and preseason games such as running back, linebacker and safety. The coaching staff will be charged with finding the best combination of players to take the field in September.
Here, we take a look at how the team's two-deep depth chart looks upon camp opening up. Position-by-position, the projected starter and his primary backup was determined.
Though much can change over the course of the next six weeks, things like a player's experience, career achievements and importance to the team were factored into this early depth chart.
Begin Slideshow

»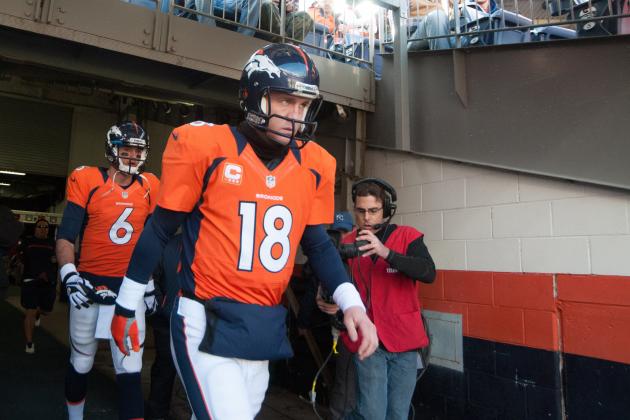 Dustin Bradford/Getty Images

Starter: Peyton Manning
Peyton Manning will be the starting quarterback for the Denver Broncos for as long as he wants to be.
Coming off one of his best statistical seasons in 2012 in which he threw for 4,659 yards and 37 touchdowns, it was the last pass Manning threw last year that sticks out most—one he threw across his body that was intercepted and led to a divisional round playoff defeat.
Manning has a lot of weapons around him this season, but he will have to do more than put up impressive stats in order to make people forget about his postseason failures.
Backup: Brock Osweiler
Last season, Brock Osweiler didn't see the field unless it was to take a knee in an already-decided outcome. This season, he probably won't be asked to do much more.
Still, he is the future of the team at the quarterback position and he has had a year to soak up the system which is being run by one of the greatest signal callers in league history.
It will be very interesting to see what kind of improvements Osweiler has made since last season, specifically his grasp of the offense and how well he interprets the defensive looks he sees.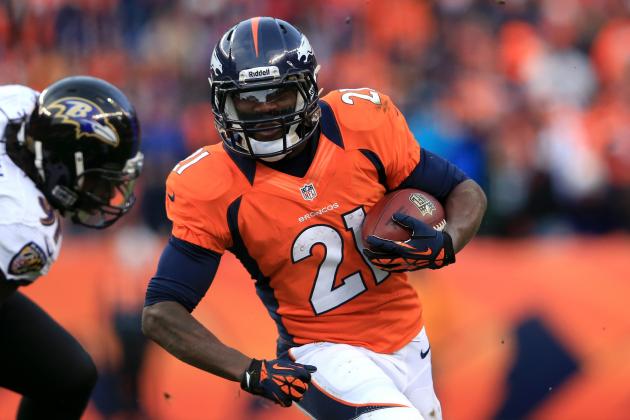 Doug Pensinger/Getty Images

Starter: Ronnie Hillman
As reported by the Denver Post, Ronnie Hillman has opened camp as the starting running back. He was also the last running back to carry the ball for the team last season after Willis McGahee and Knowshon Moreno went down with injuries.
Regardless of who is named starter, the Broncos will use a steady rotation of running backs in the their system. However, if Hillman is able to show that he has gotten better in the pass-blocking department, there is no reason why he can't be the starter.
Backup: Montee Ball
The team's second-round draft pick in April, Montee Ball will be a star in the NFL if he can run the ball like he did in college at Wisconsin.
His numbers there will have you check twice to make sure you saw it—3,753 rushing yards and 55 touchdowns in his junior and senior seasons alone.
Ball will have to make a quick transition to the NFL as the Broncos have plenty of experience on their roster with Moreno and Jacob Hester. Still, he should be a very exciting player to watch this season, one who could easily be the best running back on the team.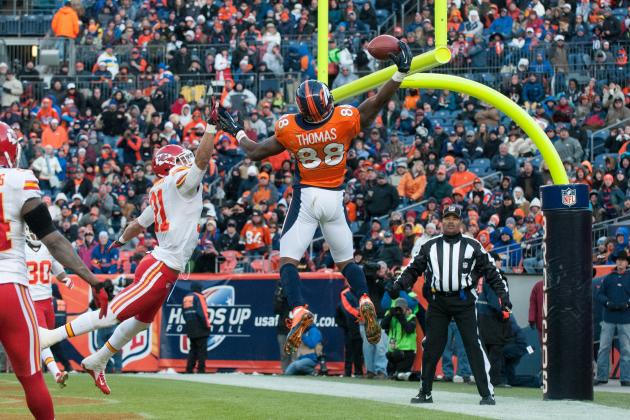 Dustin Bradford/Getty Images

Starters: Demaryius Thomas and Wes Welker
The Broncos have arguably the best trio of receivers in the NFL and they will often line up in three-receiver sets.
Demaryius Thomas had a breakout season with Manning throwing him the ball in 2012, catching 94 passes for 1,434 yards and 10 touchdowns, giving the two plenty to build on this season.
Manning liked to look to Brandon Stokley as a slot receiver last year, but now he has perhaps the best slot receiver in NFL history.
Wes Welker is going to give teams fits and make it very hard to account for everyone from a defensive perspective.
Welker caught 672 passes while he was a member of the New England Patriots. Manning can definitely make use of his ability to get open.
Backups: Eric Decker and Gerell Robinson
Eric Decker won't really be a backup because of the amount of time he'll see on the field, though he may see his production come down a notch after catching 85 passes last year. There's only so many balls to go around.
But with all the attention that Thomas and Welker will be given, he could be a huge beneficiary. '
If he isn't given the kind of respect Welker and Thomas receive, Decker can make a defense pay.
Robinson is one of the players to keep an eye on in camp. He'll have to be very impressive to get this high on the depth chart, but he has all the physical tools. He is a big target who is extremely effective with the ball in his hands.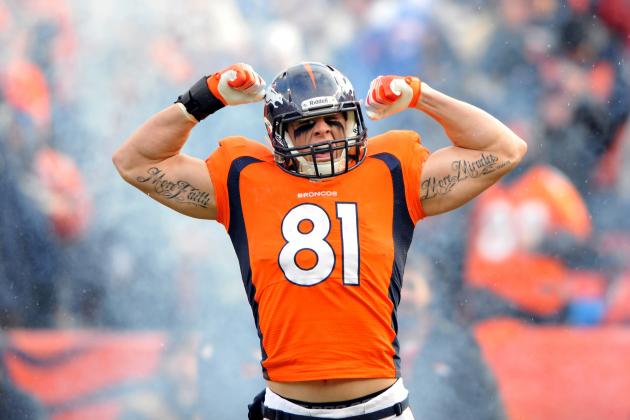 Dustin Bradford/Getty Images

Starter: Joel Dreessen
The Broncos had a solid one-two punch at tight end last year with Joel Dreessen and Jacob Tamme. Dreessen is a better blocker, so he should be the No. 1 tight end in camp right now.
After catching a career high 41 passes last year, Dreessen could see even more targets this coming season.
Backup: Jacob Tamme
Though Julius Thomas and Virgil Green will give both Tamme and Dreessen all they can handle in this camp battle, Tamme is an experienced veteran who is quite comfortable playing with Peyton Manning.
That showed last year as the two connected 52 times over the course of the regular season. Tamme finished the season third on the team in receptions.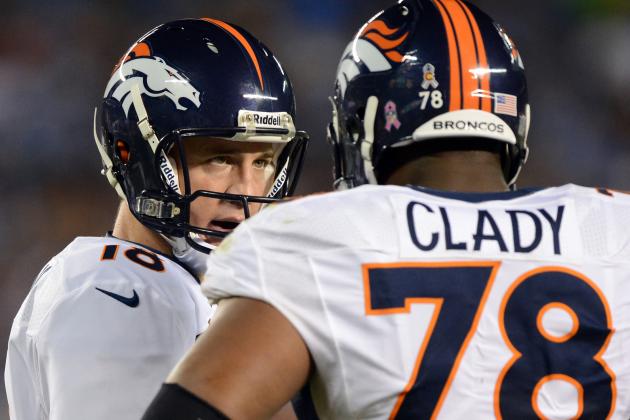 Harry How/Getty Images

Starter: Ryan Clady
After agreeing to a 5-year, $52 million contract, Ryan Clady will be staying around for a while. No one was likely happier about that news than Peyton Manning, as the 3-time Pro Bowl selection Clady protects his blind side.
Clady is the clear starter at this position and one of the very best left tackles in all of football.
Backup: Chris Clark
Chris Clark has spent five seasons in the NFL as an undrafted free agent out of Southern Mississippi, starting six games and playing in a total of 40.
He may see a lot of action in training camp and preseason games as the Broncos will take it easy on Clady, allowing him to recover from surgery on his right shoulder, according to Mike Klis of the Denver Post.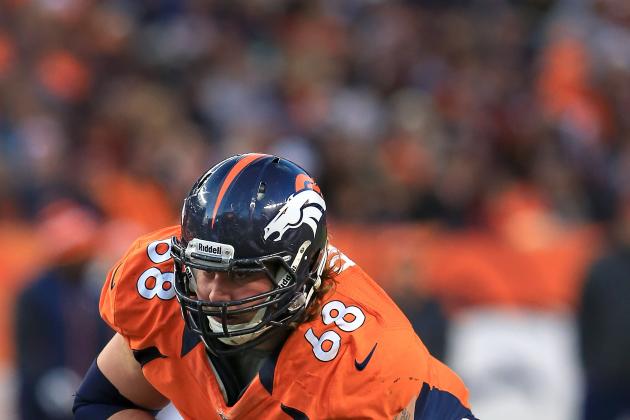 Doug Pensinger/Getty Images

Starter: Zane Beadles
Zane Beadles is another guy who is becoming one of the best at his position in the NFL.
He showed tremendous improvement last season with Peyton Manning in the mix, both as a run blocker and in pass protection. This led to him being selected to the Pro Bowl.
Beadles has gotten better each year since he was drafted and he could break out in 2013.
Backup: Manny Ramirez
Manny Ramirez will be penciled in as the backup at this position, but only for now.
Ramirez was asked to play extensively last season due to the fact that Chris Kuper missed so much time and, though the Broncos had a strong offensive line, Ramirez was clearly the weak link.
This year, he will have to fend off Manese Foketi, who will be competing for a backup spot on the interior line. Foketi played tackle in college but is a versatile player who will give a guy like Ramirez plenty of competition.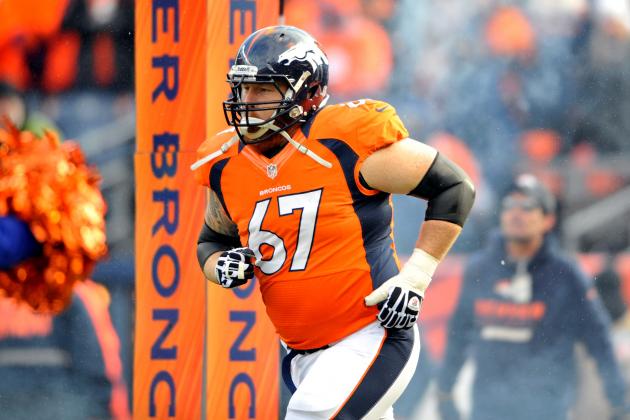 Dustin Bradford/Getty Images

Starter: Dan Koppen
When it was revealed that J.D. Walton will be out until November—and possibly the entire season, the Broncos opted to bring veteran Dan Koppen back. Good choice.
Koppen played quite well in Walton's absence last season and seemed to create some good chemistry with Peyton Manning. That is likely a strong part of the reason the Broncos chose to bring him back rather than try a guy like Chris Kuper out at the position.
Koppen should have been with the team all along, but now that he's back, he and the rest of the offensive line will have the chance to gel together over the course of camp.
Backup: Philip Blake
The Broncos could move a guy like Manny Ramirez or Kuper into the center position if something were to happen to Koppen, but Philip Blake, their fourth-round draft choice a year ago, is eager to show what he can do.
Blake is a very good run blocker who has quick feet. During his college career at Baylor, he was probably the best offensive lineman for Robert Griffin III.
Despite the lingering injury to Walton, the Broncos have options at the center position.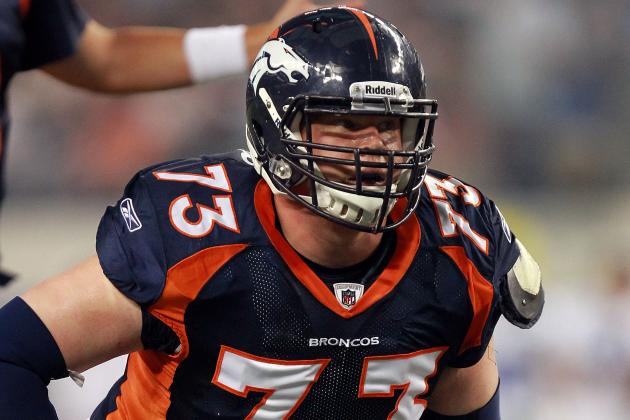 Ronald Martinez/Getty Images

Starter: Louis Vasquez
Look for the Broncos to run the ball to the right often this coming season. That is because the 6'5", 335-pound Louis Vasquez will be over there.
The Broncos signed Vasquez via free agency after he played the last four seasons for San Diego, starting in 54 games for them.
If not for health concerns surrounding Chris Kuper, the signing of Vasquez likely would have never happened. However, the Broncos were able to bring in a talented, powerful young guard who should bolster the strength of the line.
Backup: Chris Kuper
At one time, Kuper was one of the best guards in the NFL. That was, until he suffered a severe ankle injury in the season finale versus Kansas City in 2011.
Since then, Kuper hasn't been anywhere near the same player and he was limited to just seven games in 2012.
If the Broncos get enough out of their young linemen in camp this summer, don't be surprised to see Kuper shopped around as trade bait.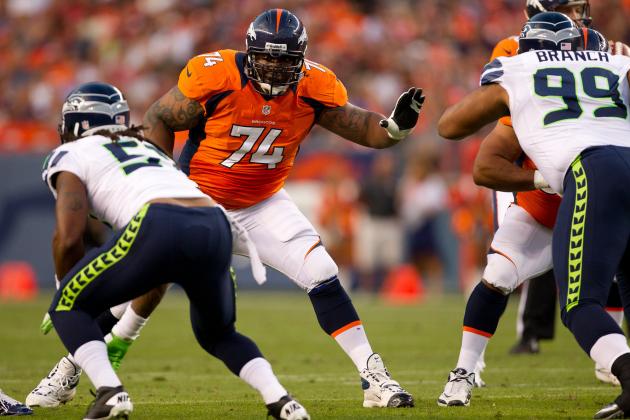 Justin Edmonds/Getty Images

Starter: Orlando Franklin
Orlando Franklin rounds out one of the NFL's best offensive lines at right tackle. The former second-round pick out of Miami is blossoming into a talented player.
He has started all 32 games in his career and seems to get better every time he is on the field. His pass blocking skills are very good and his run blocking will be better with Vasquez on that side of the line.
Backup: Vinston Painter
Vinston Painter is a versatile offensive lineman who can play several positions if necessary.
The Broncos selected him in the sixth round of this year's draft based largely on his athletic ability for a man his size (6'4", 306 pounds). He started his college career at Virginia Tech as a defensive lineman.
After switching to the offensive line, Painter demonstrated good pass-blocking ability. He will need to be refined as he will see several different pass-rush moves at the pro level.
With enough development, Painter could be a good long-term player for the team.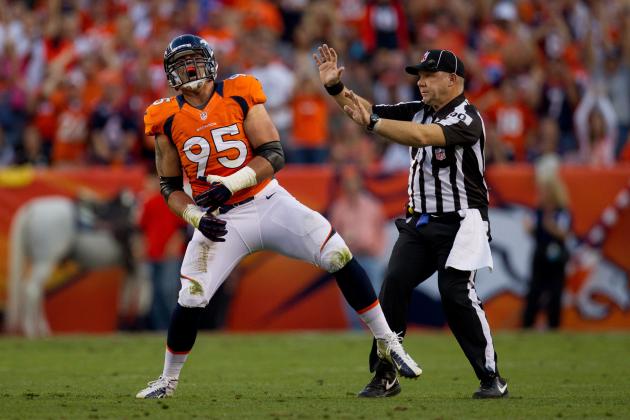 Justin Edmonds/Getty Images

Starter: Derek Wolfe
Derek Wolfe became everything the Broncos hoped for when they selected him early in the second round of the 2012 NFL draft.
Wolfe finished the year with six sacks and was a very nice complement to Elvis Dumervil coming off the other side. This year, more will be expected out of Wolfe.
Wolfe was another member of the Broncos who seemed to get better each week and now that he has put his rookie season behind him, he could become one of the leaders on defense.
Backup: Malik Jackson
Malik Jackson only registered five tackles as a rookie but with Dumervil now in Baltimore, the Broncos need to build depth at the defensive end position.
Jackson will have to watch out for Jeremy Beal, who definitely has the chance to displace him at this position.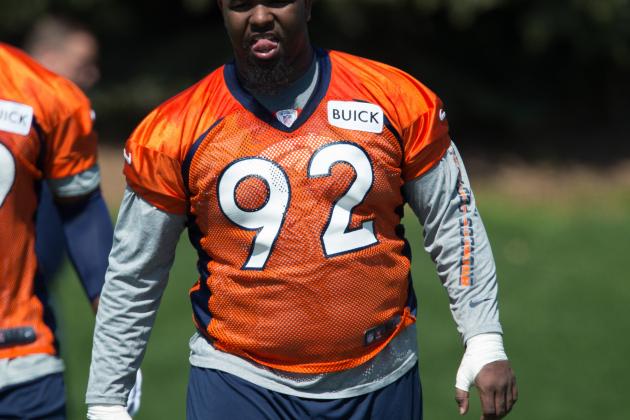 Justin Edmonds/Getty Images

Starters: Sylvester Williams and Terrance Knighton
The Broncos definitely plan to try to collapse the pocket this season, making their outside pass rushers even more effective.
That was made clear when they selected Sylvester Williams out of North Carolina in the first round of the draft.
Williams is a strong player who uses his hands well. He plays the run very well and can even get after the quarterback. He can be a disruptive player on defense who is hard to stop when he gets going.
Terrance Knighton should be a perfect pairing with him in the middle.
Knighton brings many of the same abilities to the table and with both players being coached by defensive coordinator Jack Del Rio, they could be extremely good together.
The Broncos definitely upgraded this position over last season.
Backups: Kevin Vickerson and Mitch Unrein
Having served as a member of the Denver defense for the past three seasons, Vickerson will be a quality player that Denver can rotate into games.
Vickerson has 64 tackles, four sacks and an interception during his time with the Broncos.
Mitch Unrein emerged as a solid backup player last season as well, stepping up when the Broncos were thin at the position.
He also came into games in short-yardage and goal line situations.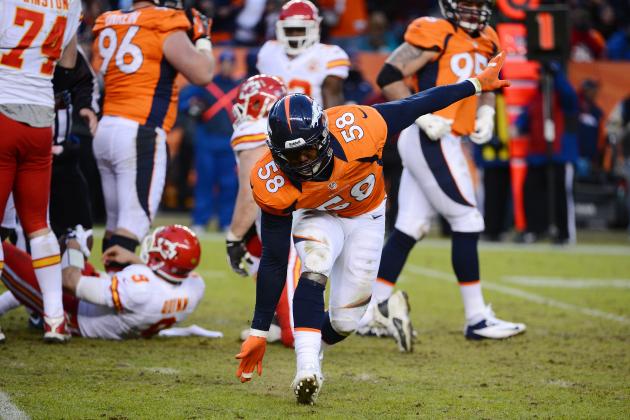 Garrett Ellwood/Getty Images

Starter: Von Miller
Though he plans to appeal the ruling, Von Miller is facing a four-game suspension for violating the league's substance abuse policy.
Though this would be a significant loss as Miller is the best defensive player on the team and one of the best in the league, the Broncos have the players to overcome it.
For Miller, he will have to bounce back quickly if a suspension is imposed, hopefully after a costly lesson has been learned.
With that said, Miller will be a starting linebacker for the Broncos for many years to come.
Backup: Shaun Phillips
Perhaps the most overlooked free agent signing of the entire offseason is that of the Broncos bringing in Shaun Phillips, a long time member of the San Diego Chargers.
If Miller is suspended for four games, Phillips suddenly becomes an even more important piece.
With 69.5 career sacks, Phillips can definitely rush the passer. But he is also a solid defender against the run and he can also drop back into coverage.
The signing of Phillips was a very good one indeed.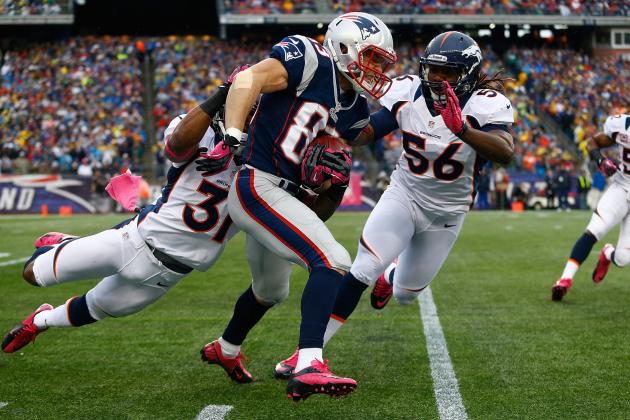 Jared Wickerham/Getty Images

Starter: Nate Irving
Shortly after the news of Von Miller's possible suspension broke, the Broncos chose to part ways with middle linebacker Joe Mays (NFL.com).
This eliminated one more player contending for the middle linebacker spot, the one position on the team that seems completely up in the air.
Nate Irving will probably get the first chance to claim the job. A former third-round selection in 2011, Irving has just 17 career tackles.
The Broncos were consistently hurt by opposing tight ends last season. The player who earns the starting middle linebacker spot may just be the guy who helps defend that pass the best.
Backup: Steven Johnson
Steven Johnson made the team last season after being an undrafted rookie out of Kansas. He then went on to excel on special teams.
Now, Johnson is in the mix for a starting position on the team and he should be able to give Irving plenty of competition.
Johnson is a very good tackler but he does lack speed, which could hinder his efforts.
Veteran linebacker Stewart Bradley should also figure into this competition, and realistically any of the three players could win the spot.
This will be one of the key training camp battles this year.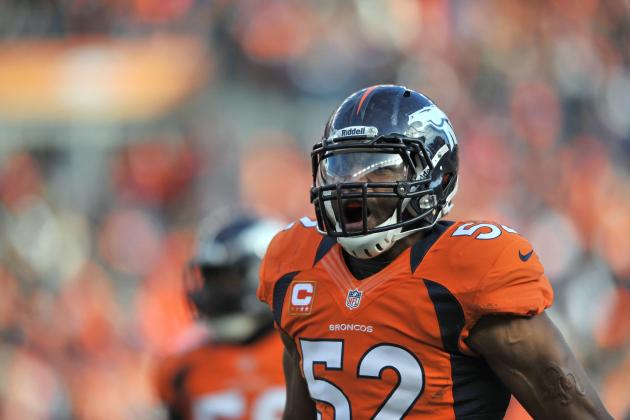 Dustin Bradford/Getty Images

Starter: Wesley Woodyard
How good was Wesley Woodyard last season? He was phenomenal in the absence of the suspended D.J. Williams and when Williams returned, the team didn't really need him anymore.
Woodyard led the Broncos with 117 tackles last season. He added 5.5 sacks and three interceptions.
At one time, it seemed like Woodyard was a player who could be on the roster bubble in training camp. Now, he's a guaranteed starter.
Backup: Danny Trevathan
A rookie last year after the Broncos selected him in the sixth round out of Kentucky, Danny Trevathan is a player with a promising upside.
Trevathan saw action in all 16 games as a rookie, tallying 33 tackles. He had six tackles and his first career sack in a 31-23 victory over Cincinnati.
Trevathan will be a good rotational player to spell Woodward off the bench this season.
Harry How/Getty Images

Starters: Champ Bailey and Dominique Rodgers-Cromartie
The Broncos' secondary was severely exploited in their divisional round playoff loss to Baltimore last season, leading to the team bringing in Dominique Rodgers-Cromartie in the offseason.
Pairing him with 12-time Pro Bowl selection Champ Bailey seems like an upgrade, but Rodgers-Cromartie will have to be a lot better than he was in Philadelphia.
There, he had just three interceptions in two seasons with the Eagles.
Bailey is still the No. 1 cornerback on the team, despite recently turning 35 years old.
Hopefully for the Broncos, he has put that ugly game against the Ravens behind him and fans will see the Bailey of old in 2013.
Backups: Chris Harris and Kayvon Webster
Because he excels as a nickel cornerback, Chris Harris may draw that assignment more than Rodgers-Cromartie. That doesn't mean that Harris isn't the better player.
Harris has become excellent in coverage and he is terrific at coming up and making tackles in the running game. His game is very much like that of Bailey's.
Third-round draft choice Kayvon Webster is a player that could surprise some people in camp this year.
Webster is a big defensive back who, much like Bailey and Harris, is not afraid to step up and make a tackle on a running back.
As long as he acclimates well to the defense, Webster has a bright future.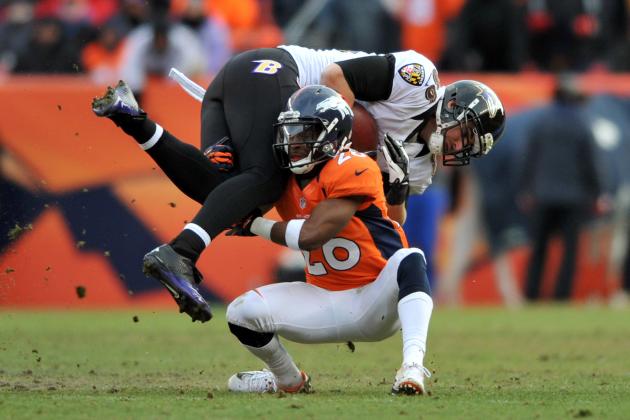 Dustin Bradford/Getty Images

Starter: Rahim Moore
If Rahim Moore wasn't the player who made an incredibly bad play on a deep ball in the playoffs that Joe Flacco completed to Jacoby Jones, many would have said he had a great season.
Even with that play, Moore showed a huge improvement over his rookie season in all phases of the game.
Moore was impressive in racking up 72 tackles for the year. As long as he can put that one play behind him, he'll be fine.
Backup: Quentin Jammer
Quentin Jammer played his entire 11-year career in San Diego at the cornerback position. In Denver, he will be tried out as a safety.
Jammer has good ball skills and has 21 career interceptions. At 34 years old, he has probably lost a step, so placing him at safety makes sense.
He should be able to lend some great advice to the young crop of defensive backs on the team and that, more than anything, will be the best part of having him around.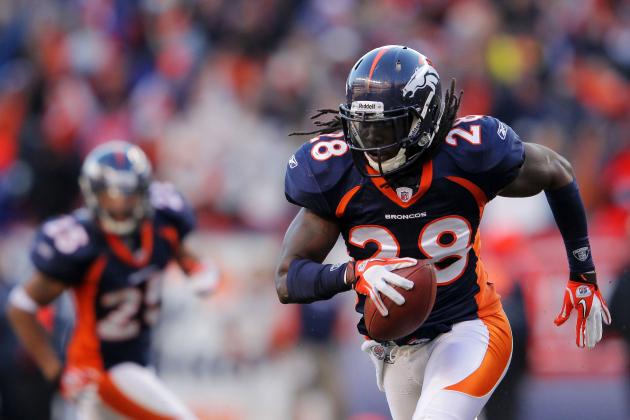 Doug Pensinger/Getty Images

Starter: Quinton Carter
After having an interception in both of the Broncos' postseason games in 2011, it looked like Quinton Carter would emerge as one of the best players on defense.
But that was followed up by a very disappointing season in which Carter managed to appear in just three games before an injury sidelined him for the year.
Carter should be able to step right in and reclaim his starting role.
Backup: Mike Adams
Mike Adams was second on the team last season with 77 tackles after being forced into a starting role following the injury to Carter.
Adams played well in certain situations but he was often a liability in pass coverage. For that reason, he could easily be a camp casualty this season.
Don't rule out David Bruton stepping up and taking this position from Adams.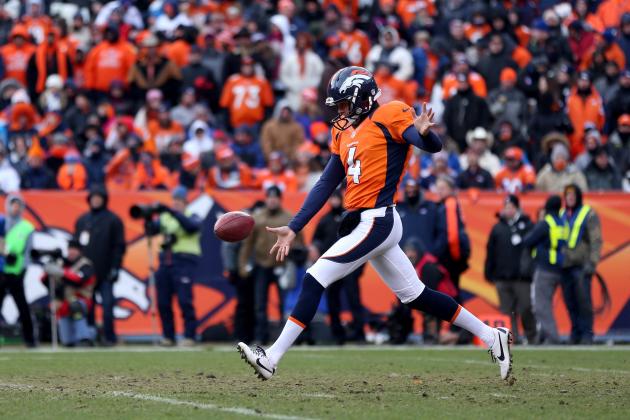 Jeff Gross/Getty Images

Starter: Britton Colquitt
Britton Colquitt seems to enjoy kicking in the thin air of Denver. Last season, his 42.1-yard net average was good for third in the league. That was also the best in franchise history.
Colquitt signed his restricted free agent tender in April to remain in Denver and it seems it would take a lot for him to be replaced.
Backup: Ryan Doerr
Ryan Doerr put together a good career at Kansas State in college, averaging 41 yards on his 203 career punts.
The Broncos brought him in to take some of the load off of Colquitt and perhaps let him audition for other teams around the league.
Stranger things have happened, but it seems unlikely that Doerr will take the job from Colquitt.