Arizona Cardinals' All-Time Roster: Defense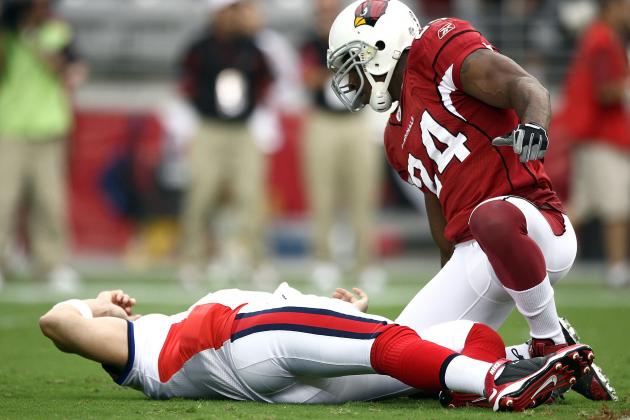 Donald Miralle/Getty Images
Adrian Wilson is one of the best defensive players in Cardinals history.
The Arizona Cardinals organization has a not-so-storied history that spans over 100 years. They have one championship season despite being a part of the NFL since its inception in 1920.
Regardless, many good players have passed through the various locations the team has called home, and this is the second and final look at the all-time roster. The offense was covered earlier, which you can read here.
It is time to name the best defensive players in franchise history.
Begin Slideshow

»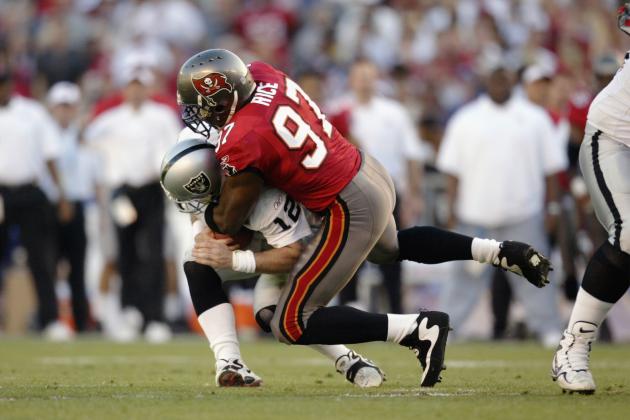 Brian Bahr/Getty Images

Freddie Joe Nunn, Simeon Rice, Bertrand Berry
Analysis: The NFL is all about passing, and for defenses, the best way to stop an opposing quarterback is to get to him before he has a chance to get rid of the ball.
That's where these men come in. Freddie Joe Nunn (1985-1993) is the franchise's all-time leader in sacks, with 66.5 over nine seasons. He is also fifth in games started (122) on defense and 10th in total games played (131).
Though Simeon Rice (1996-2000) was with the team just five years, he is No. 2 in sacks, averaging just over 10.0 per season and racking up 51.5. He is tied for 13th on the all-time sacks leaderboard with 122.0 over a 12-year NFL career. Imagine how much all those sacks could have helped the defense had he stuck around past the 2000 season.
Bertrand Berry (2004-2009) began his career with the Denver Broncos and signed with the Indianapolis Colts before finishing out his career in Arizona. He was mediocre in his first two cities, but it was in Cardinal Red he made a name for himself, getting to the quarterback 40 times in his six seasons in the desert.
B-Train is forever a fan favorite in the Valley, and though his personable nature when chatting with fans on various social media outlets and through his local radio show are part of that, he is loved because of his on-field play.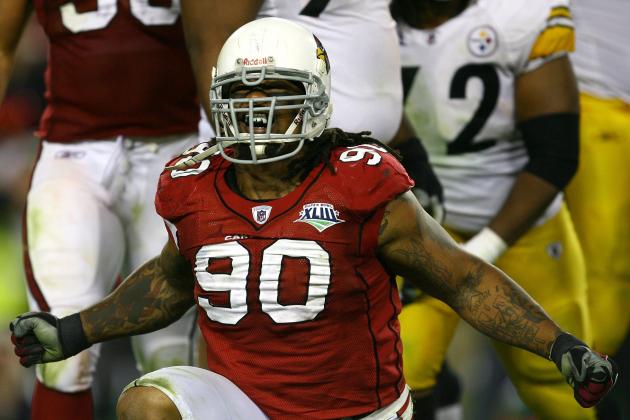 Jamie Squire/Getty Images

Eric Swann, Darnell Dockett
Analysis: Big Eric Swann (1991-1999) was a mainstay in the Cardinals defense throughout the 1990s no matter who roamed the sidelines as head coach. The Cards' all-time sacks leader by a defensive tackle racked up 45.5 over his nine years in Arizona while suffering through two head coaching changes—the team went from Joe Bugel to Buddy Ryan to Vince Tobin before Swann left for Carolina.
The all-time defense would not be complete without Nine-Oh on it. Darnell Dockett (2004-present) is the biggest character the organization has seen this side of the Mississippi, and that is a big part of why fans love him.
His fearless attitude on the field is also important, and though he struggled at getting to the quarterback under coordinator Ray Horton's tutelage, he could flourish once again now that Todd Bowles is running the defense.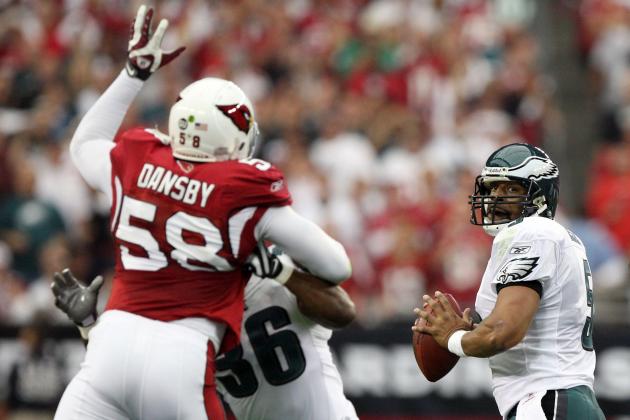 Jed Jacobsohn/Getty Images

Ken Harvey, E.J. Junior, Karlos Dansby
Analysis: Ken Harvey (1988-1993) was perhaps the most productive pass-rushing outside linebacker the franchise ever had. His six seasons playing games at Sun Devil Stadium in Tempe were spent wreaking havoc in offensive backfields, as he totaled 47.5 sacks and 437 tackles (unofficial number; tackles were not consistently recorded until 1994).
Harvey's predecessor at right outside linebacker, E.J. Junior (1981-1988), was more of a complete linebacker in the respect that he was much better in coverage than Harvey was. In eight seasons, Junior had 24.5 sacks and 12 interceptions.
Back with the team for a second time, Karlos Dansby (2004-2009, present) is the best all-around OLB the franchise ever had. He moved inside in 2009, his final season with the team during the first go-round, but from 2004 through the 2008 season, no defender had quite the impact Dansby did. He recorded 24.5 sacks in those five seasons and picked off nine passes, taking two for touchdowns.
Dansby's biggest play came in the 2009 playoffs against the Green Bay Packers when he scored the game-winning touchdown in overtime on a fumble recovery that was forced by cornerback Michael Adams. It is one of only two times in NFL history a playoff game ended with a walk-off defensive score—the other, an NFC Wild Card Game in 2004, finished on a 52-yard pick-six by Packers cornerback Al Harris of Matt Hasselbeck.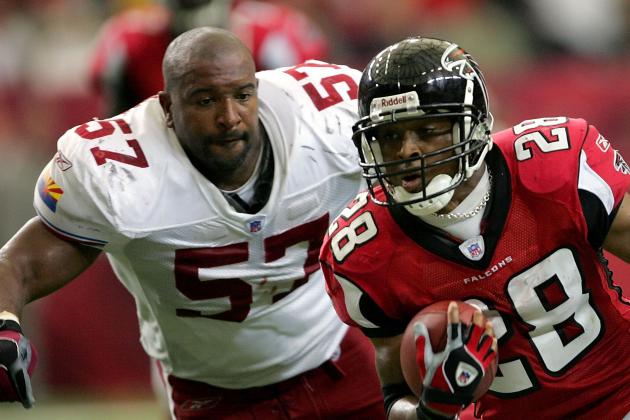 Jamie Squire/Getty Images
Ronald McKinnon (No. 57) chases Warrick Dunn.
Ronald McKinnon, Eric Hill, Daryl Washington
Analysis: In nine seasons, Ronald McKinnon (1996-2004) recorded the most total tackles in team history. His 930 are 38 more than one of the three safeties on this roster, whose career will be covered shortly.
If tackles were uniformly recorded before 1994 and considered official, Eric Hill (1989-1997) would be No. 1 in Cardinals history, not McKinnon. He totaled 932 tackles, but because of the inconsistencies in stat keeping back then, tackle totals before '94 are to be taken with a grain of salt.
Despite Daryl Washington (2010-present) playing only three seasons in Cardinal red, he already is among the best inside linebackers ever to play for the organization.
In one of the best individual seasons in NFL history for an ILB (again, since '94), Washington totaled nine sacks and 134 total tackles while making his first career Pro Bowl.
Derick E. Hingle-USA TODAY Sports
Aeneas Williams gives a speech at the NFL Prep Sports Career Expo at Super Bowl XLVII.
Dick "Night Train" Lane, Aeneas Williams, Roger Wehrli
Analysis: When this is redone in another 10 years, Patrick Peterson will surely be added. But for now, he has some time and room to get better, so we'll let him do that.
Night Train Lane (1954-1959) played the defensive halfback position his entire career. What's that, you ask? It's just a different name for what is now called the nickel cornerback. In 1952, as a rookie with the St. Louis Rams, Lane picked off an NFL record 14 passes. Back then, teams played only 12 regular-season games, so that would be like Peterson going out in 2011 and intercepting 19 passes as a rookie.
Lane's single-season record still stands today and, despite how often teams throw, it is among the most unbreakable in professional sports.
Lane was versatile with the Chicago Cardinals. Not only did he record 30 interceptions in six seasons for them while being known as one of the most feared tacklers in NFL history, he played a bit of offense as well, catching eight passes for a staggering 253 yards (31.6 yards per catch) and a touchdown.
He and quarterback Ogden Compton hooked up for a 98-yard touchdown pass on Nov. 13, 1955, which is still the franchise's longest offensive touchdown (quick history lesson: Hall of Fame broadcaster Pat Summerall kicked the point-after following the score).
Aeneas Williams (1991-2000) intercepted 46 passes with the Cardinals. That total is good for No. 2 on the franchise list. Williams was voted to six consecutive Pro Bowls from 1994 to 1999, and in that span he picked off 30 passes, scored on five of them and recorded 369 total tackles while leading the team to its first playoff appearance since moving to Arizona following the 1998 season.
He will join Lane in the Hall of Fame at some point, you'd think.
Roger Wehrli (1969-1982) was inducted into the Hall of Fame in 2007 for his time with the Cardinals. He picked off 40 passes, returning two for touchdowns.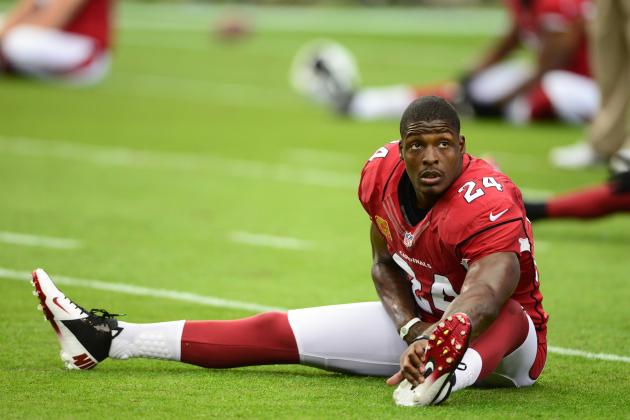 Mark J. Rebilas-USA TODAY Sports

Adrian Wilson, Larry Wilson, Kwamie Lassiter
Analysis: Much like Dockett, this roster would not be complete without A-Dub. Adrian Wilson (2001-2012) might be worthy of a Hall of Fame vote when the time comes, but he is still playing football. Unfortunately, that is no longer with the Cardinals. The franchise's No. 3 tackler (892) is one of six players with 25 career interceptions and 25 career sacks. Of the other five, three—Ronde Barber, Brian Dawkins, Ray Lewis—are surefire Hall of Famers when their time comes.
Larry Wilson (1960-1972) picked off 52 passes as a member of Big Red, more than any other player in franchise history. He was inducted into the Hall of Fame in 1978 after eight Pro Bowls and five All-Pro selections—both tops within the organization.
Kwamie Lassiter (1995-2002) nearly single-handedly sent the Cardinals to the playoffs in 1998. It was his NFL record-tying fourth pick of the day off San Diego Chargers quarterback Craig Whelihan that saved the game for his team. The pass, deep to a wide-open Ryan Thelwell, bounced off the receiver's hands and into the hands of the trailing Lassiter.
Had Thelwell caught it, he would have scored and put the game out of reach for Jake Plummer and the offense.