Matt Ryan and Falcons Officially Agree to 5-Year Contract Extension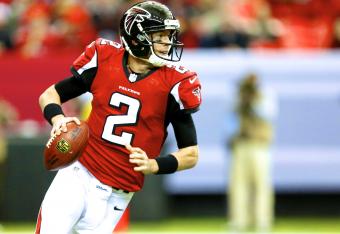 By the numbers, Matt Ryan has been one of the NFL's top quarterbacks since taking over as the face of the Atlanta Falcons during his rookie season.
On Thursday, the franchise rewarded him in the form of a hefty contract extension.
UPDATE: Friday, July 26, by Sam Westmoreland
Matt Ryan tweeted out a celebratory message to Falcons fans.
Thanks to everyone for their tweets yesterday. Excited to be a Falcon for a long time! #RiseUp

— Matt Ryan (@M_Ryan02) July 26, 2013
UPDATE: Thursday, July 25, by Ian Hanford
The Falcons made things official on the team's website Thursday evening, stating "The Atlanta Falcons today announced that they have agreed to terms with quarterback Matt Ryan on a five-year contract extension."
Original Text
ESPN's Chris Mortensen first reported that the Falcons and Ryan were working on the new deal. His colleague, Adam Schefter, later confirmed that report:
As expected, #Falcons and QB Matt Ryan are finalizing 5-year contract extension that will exceed $100 million when done

— Chris Mortensen (@mortreport) July 25, 2013
As @mortreport reports, Falcons are finalizing a contract extension for Matt Ryan that should be completed imminently.

— Adam Schefter (@AdamSchefter) July 25, 2013
Pro Football Talk added these tweets to confirm the process was moving forward:
PFT confirms that the deal between the Falcons and QB Matt Ryan is, per source, "done."

— ProFootballTalk (@ProFootballTalk) July 25, 2013
Matt Ryan gets five-year extension, $20.75M per year in new money.

— ProFootballTalk (@ProFootballTalk) July 25, 2013
Mortensen expanded on PFT's initial tweet concerning contract figures:
Ryan deal is done with 5 year ext at $103,750 million, $59 million guaranteed, $63 mill in first 3 years, $20.75 mill average per

— Chris Mortensen (@mortreport) July 25, 2013
Ryan has been one of the top signal-callers in the NFL since being taken third overall by the Falcons in the 2008 NFL draft. In five seasons in Atlanta, Ryan has compiled a career 56-22 record, thrown for 18,957 yards and has a touchdown-to-interception ratio (127-60) of over 2-to-1.
He also led the NFL in completion percentage (68.6), game-winning drives (7) and comebacks (5) during the 2012 season.
The Falcons are currently preparing for the upcoming 2013 season at their Flowery Branch training camp site. Fox Sports' Jay Glazer was in attendance, and he apparently rubbed shoulders with the new 100-million-dollar man:
Just bumped into Matt Ryan smiling ear to ear and said "I'm pumped!" about new 6 year deal. He was hoping it would get done b4 practice

— Jay Glazer (@JayGlazer) July 25, 2013
It's been quite the offseason for locking up your QB on a long-term basis.
Ryan joins fellow QBs Joe Flacco, Aaron Rodgers and Tony Romo in earning a contract that exceeds $100 million this offseason. Flacco, who runs the offense for the defending Super Bowl champion Baltimore Ravens, received $52 million in guaranteed money.
Rodgers signed a lengthy extension with the Green Bay Packers in April that included a $35 million signing bonus and $54 million in guaranteed money. If fulfills all the incentives of the deal through 2019, Rodgers' contract will be worth over $130 million.
Romo, the Dallas Cowboys QB who has just one playoff win, signed a contract extension that will net him over $55 million in guaranteed money over the next six seasons.
Ryan, who also has just one career playoff win, will trump both of those figures with his reported $59 million guaranteed. As you can see in this tweet from ESPN's Jason Romano, the measurement of a top-flight NFL QB isn't always with his contract figure:
Matt Ryan and Tony Romo. Combined 114 million in guaranteed money. Combined 2 playoff wins.

— Jason Romano (@JasonRomano) July 25, 2013
Only NFC South rival QB Drew Brees of the New Orleans Saints has a contract with more guaranteed money than the one agreed
This article is
What is the duplicate article?
Why is this article offensive?
Where is this article plagiarized from?
Why is this article poorly edited?