Fred Couples notched a huge win in last year's Senior Open and entered this year's tournament the favorite to lock up another major senior title.
But instead of a repeat performance, Couples struggled in the opening round at Royal Birkdale en route to a four-over 74 and a tie for 59th place following Day 1 of action.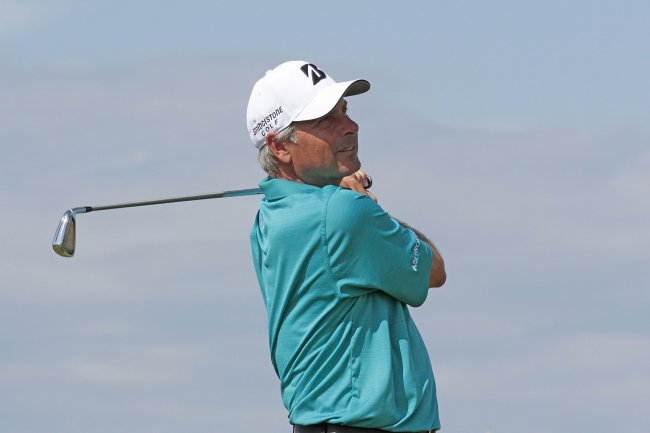 Phil Inglis/Getty Images
Then again, that might not be such a bad thing given his Day 1 struggles last year, via ESPN Stats & Info:
Defending Senior Open Champ Fred Couples trails by 7 shots after 1st round; trailed by 8 shots following 1st round last year before winning

— ESPN Stats & Info (@ESPNStatsInfo) July 25, 2013
Like Couples, fellow tour legend Tom Watson failed to get much going in the opening round, posting a three-over 73 with a birdie-free card. Watson didn't find himself in too much trouble throughout his round, but he did miss several terrific scoring opportunities and finished the day tied for 48th place.
Adam Sixsmith tweeted a photo of the 63-year-old Hall of Famer on the green during the opening round:
Everyone's favourite senior Tom Watson today pic.twitter.com/fWgnxniaLp

— Adam Sixsmith (@adam_sixsmith) July 25, 2013
Watson is just six strokes off the lead, but that lead is held by a man who played some fantastic golf on Thursday.
Position
Player
Score
To Par
1
Gene

Sauers

67
-3
T2
David Frost
68
-2
T2
Bernhard

Langer

68
-2
T2
Frankie

Minoza

68
-2
T2
Peter Senior
68
-2
T6
John Cook
69
-1
T6
Peter Fowler
69
-1
T6
Gary

Hallberg

69
-1
T6
Jeff Hart
69
-1
T6
Corey

Pavin

69
-1
*Full leaderboard can be found at GolfChannel.com.
Gene Sauers carded a three-under 67 in his opening round to take sole possession of the lead heading into Friday's action. The 50-year-old played a blemish-free front nine before finally recording a bogey on the par-four 11th, but he paired that bogey with four birdies on the back nine to build considerable momentum on Day 1.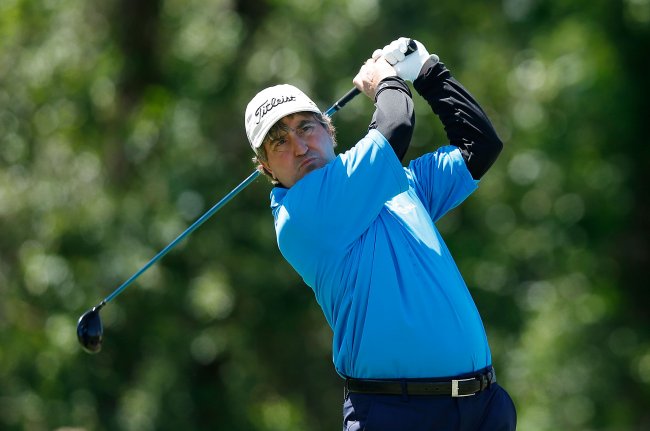 Scott Halleran/Getty Images
The 2013 Senior Open is Sauers' 12th tournament on the senior circuit, and it has to mean a lot to him after battling through a potentially fatal skin disease that nearly ended his golfing career, per European Senior Tour.
Gene Sauers, who suffered a potentially fatal illness 3yrs ago, leads by 1 after an intriguing 1st day @ #SeniorOpen. http://t.co/nCx6etWk3h

— European Senior Tour (@EuroSeniorTour) July 25, 2013
As quoted by EuropeanTour.com, Sauers was just happy to be back out on the course after his battle with Stevens-Johnson Syndrome:
It's a second chance. Both arms, both legs were burned up. After Duke University diagnosed me, I spent seven weeks in hospital, had seven lots of skin grafts and it was torture. I tell you, I don't want anybody to go through that. I'm blessed and I'm glad to be here.
Sauers has put himself in good position to make a weekend run at the major tournament title, but he's not without some stiff competition.
Four players closed the day one shot back of Sauers at two under, including two-time Masters winner Bernhard Langer.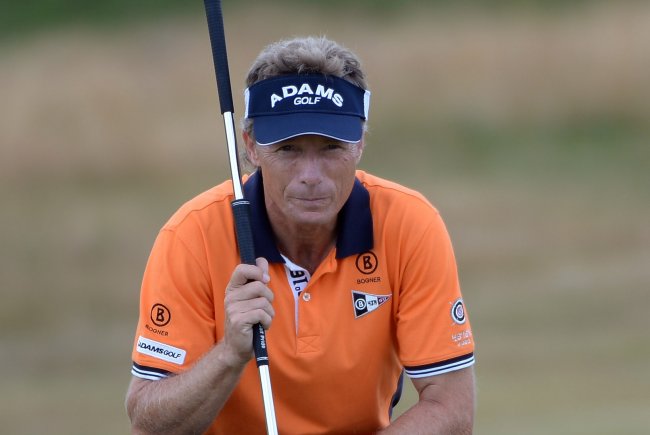 Ross Kinnaird/Getty Images
Langer took the lead to the clubhouse with a 68 before Sauers took the lead later in the day. But the 55-year-old can't be disappointed in his performance, especially after closing out his round with three birdies in his last four holes.
Langer is joined in second place by David Frost, Frankie Minoza and Peter Senior.
Minoza may have put together the most intriguing card of any player in the tournament on Thursday. Despite starting the day four-over through three holes, the 53-year-old roared back with seven birdies in his final 15 holes to gain six strokes for a first-round 68.
As noted by European Senior Tour, Minoza also carded birdies in four of his last five holes:
Frankie Minoza leads in clubhouse on -2, tho, after incredible back-9 31, inc. 4 birdies in last 5 holes. Well played that man! #SeniorOpen

— European Senior Tour (@EuroSeniorTour) July 25, 2013
One of the best aspects of the senior circuit is the opportunity it provides PGA Tour vets to relive some of the most memorable moments of their careers. For Mark O'Meara, the 2013 Senior Open is a chance to play the same course on which he triumphed for a British Open victory in 1998, as noted by Golf World:
Mark O'Meara made some noise last week at The Open. Now he's back at Royal Birkdale, the site of his 1998 major win: http://t.co/ps0q6nMeBG

— Golf World (@GolfWorldUS) July 25, 2013
O'Meara didn't have the same luck at Royal Birkdale on Thursday, however, carding a four-over 74 round that yielded just one birdie (No. 17) and five bogeys. As well as he was playing leading up to the event, it wouldn't be a surprise to see O'Meara turn things around heading into the weekend.
As quoted in an Associated Press report via Yahoo! Sports, O'Meara felt his British Open performance last weekend would have been enough to win the Senior Open this weekend.
Said O'Meara, "I honestly think if the Senior Open had been last week and I shot 9 over I would have won. I played well last week at Muirfield. It was as unique as any golf I've ever played. The ball was going so far. Not so much uncontrollable just difficult to get it close."
Confidence goes a long way, but he'll need to pick up steam to have a shot at the Senior Open title this year.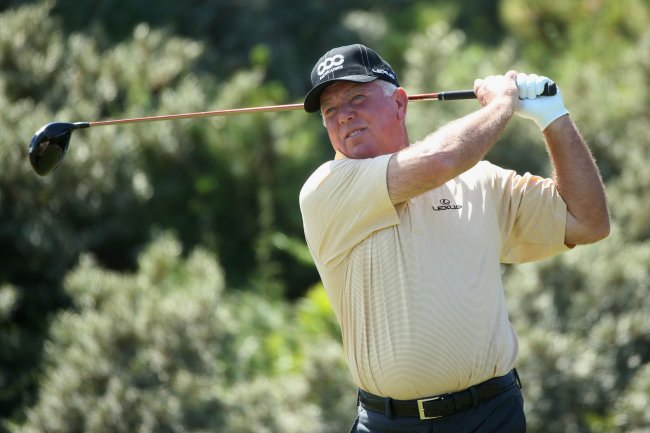 Andrew Redington/Getty Images
Five players enter Round 2 at one under and two strokes off the lead, but a much larger contingent of even-par golfers appear poised to make a move on Friday—a group that includes the likes of Tom Kite and Rocco Mediate.
Mediate almost didn't play in the Senior Open after a travel mishap. As his tweets from earlier in the week show, Mediate's trip to England started out on a good note and ended without a set of clubs:
Royal Birkdale here we come @ChampionsTour @Qthefairway @roccogolf pic.twitter.com/6mXOv8Sgzg

— Rocco Mediate (@RoccoMediate) July 21, 2013
Thanks to Delta, I may or may not play this week. Zero clubs or bags. #brutal #seniorbritishopen

— Rocco Mediate (@RoccoMediate) July 22, 2013
This is what I got. Everything is soaked. Grips and all. Carry bag is busted. Important stuff is perfect. pic.twitter.com/8vjJPdncGO

— Rocco Mediate (@RoccoMediate) July 22, 2013
If losing a set of clubs is what it takes to shoot even par at Royal Birkdale, I may have to throw mine out.
Action resumes Friday at 7 a.m. local time (2 a.m. ET) with Steve Cipa (four over), Jim Rutledge (10 over) and Ken Tarling (eight over) leading the charge in Group 1.