7 Fighters Poised to Make a Run in the UFC's Featherweight Division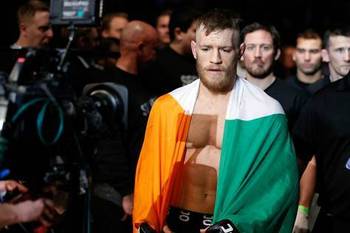 Courtesy of Independent.ie
The featherweight division is something of a Wild West in the UFC. There is a stand-tall sheriff in Jose Aldo who is beginning to show signs of slowing down. Chan Sung Jung is the new man from out of state who wants his badge (or in this case, the belt). Behind him are a pack of blood-thirsty outlaws and hired guns who are hellbent on taking what is theirs.
While well-known gunslingers like Cub Swanson, Frankie Edgar, Ricardo Lamas and Nick Lentz have their sights set on a short-term title shot, a brood of young guns are hoping to build momentum for their respective run toward the title.
Each contender has the desire to make it to a top-contender bout. Each holds an array of fundamental tools to succeed. The question is, who can string together the right kind of victories and survive the murderers' row that is the featherweight division?
Dustin Kimura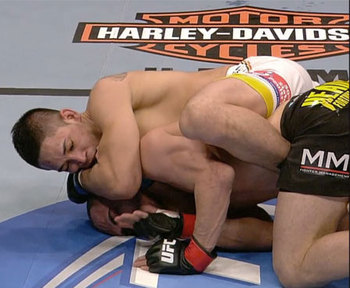 Courtesy Cagewall.com
While "The Diamond" has only one UFC fight under his belt, he dazzled in his debut. He was so impressive that he had to be added to the list.
Kimura looked slick on the ground against Chico Camus at UFC 156. Not just good, but on another level altogether. He won't always be able to bank on his quality ground game alone. That said, it is not a bad thing to have in his back pocket.
Backing his quality UFC start are the nine victories and zero defeats he held prior. Even more impressive are his perfect finishing rate and 90 percent choke-finish rate.
The young man may be coddled by the UFC at first to build his talent, but make no mistake: He is on a run for the belt until defeated.
Erik Koch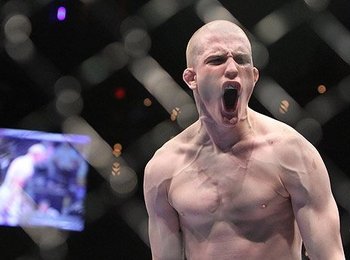 Courtesy MMAWeekly.com
After a 16-month layoff and four consecutively canceled bouts, "New Breed" lost in his return to Top-10 contender Ricardo Lamas. The loss dropped Koch completely off the featherweight grid. The penalty seems harsh for a 13-2 fighter, but a mixture of too much time off and a bad loss can do that.
If his injuries have not permanently hampered him, Koch has a good chance to work his way back to a title shot. He has a giant first step in front of him as he faces Dustin Poirier. If Koch wins, he'll be back on his way to what is likely a three- or four-fight win streak necessary to grab a title shot.
"New Breed" is a long shot overall, but his resume doesn't exactly deserve a thumbed nose, either.
Cole Miller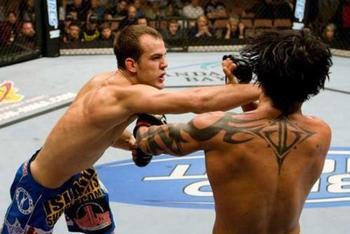 Courtesy of Heavy.com
In 2012, Cole Miller dropped two bouts at 145 pounds and seemed unable to push the pace effectively. It appeared the weight cut may simply be too much for him. However, in 2013, he has found the right way to cut when he submitted Bart Palaszewski at The Ultimate Fighter Finale 17.
With his first 145-pound win out of the way, Miller only has Manvel Gamburyan at UFC Fight Night 27 standing between him and an official run toward the featherweight belt.
Gamburyan is a beatable opponent for Miller, but hat does not mean Miller can take the Armenian lightly. Another loss would mean practical gatekeeper standing for the UFC veteran, but a victory will demonstrate he is back on the map and ready for more established talent in the division.
Winner of Holloway vs. McGregor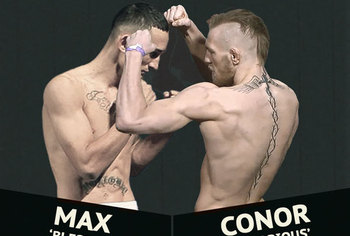 Courtesy of CageWall.com
Conor McGregor made waves in his first bout in the UFC when he stopped Marcus Brimage in the first round of on UFC on Fuel TV 9. There are still plenty of valid questions regarding the Irishman's scope of talent, but his next bout is sure to supply most of the answers.
"Notorious" is now set to face Max Holloway, one of the best young strikers in the game. The bout is sure to produce a dark-horse contender for the 145-pound belt.
Holloway has been on the fans' radar longer than his opponent. Unfortunately for him, he was one of the latest victims of inconsistent judging as he lost a split decision to Dennis Bermudez at UFC 160. Despite the setback, the 21-year-old fighter is poised to make a solid run for the belt if can can work past the hyped McGregor.
Both fighters are young enough that a loss won't derail a run for the belt. Instead, a defeat will set the loser to stall for the time being. On the other hand, the winner is essentially on a run. Holloway has a four-of-six record since the start of 2012, and McGregor has loads of hype and two straight wins.
Dennis Bermudez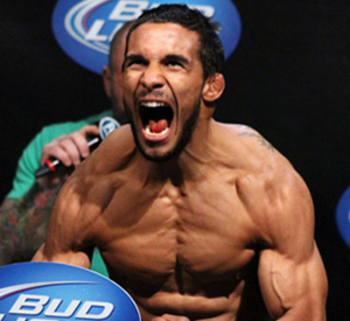 Courtesy of MMAJunkie.com
After suffering a loss in the co-main event of The Ultimate Fighter 17 Finale, Dennis Bermudez apparently decided he had enough losing. Since the Diego Brandao loss, the runner-up has rattled off four straight victories. The streak places him in a position to make a run at the 145-pound title.
The only problem is that he seems to eke by with wins. He has decisioned three-of-four recent wins, two of which came by split decision. Both split-decision bouts were entertaining, but each saw Bermudez hurt at least once and exposed glaring holes in his game.
Still, wins are wins. All he needs is one stoppage victory to be considered prepared for marquee fights to prove his worth. Even two or three more decisions would make him a worthwhile opponent for a top-contender bout or a fill-in title shot.
Dustin Poirier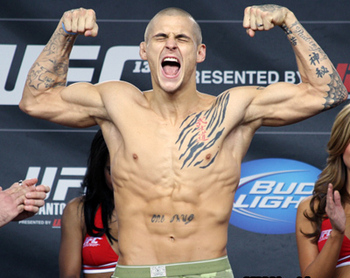 Courtesy MMAJunkie.com
"The Diamond" started his UFC career the right way, winning his first four bouts against Josh Grispi, Jason Young, Pablo Garza and Max Holloway.
Unfortunately, he ran into Chan Sun Jung and Cub Swanson in two of his next three bouts. There is no shame in losing to either fighter, but Poirier has to up his game to ascend from hyped prospect to true contender.
Anyone who has seen the young gun knows he still has time to make a run for the belt. A win over his next opponent, Erik Koch, will be a positive first step. Both he and Koch won't be dismissed from the UFC with a loss, but the road to a title would become tougher to navigate.
Diego Brandao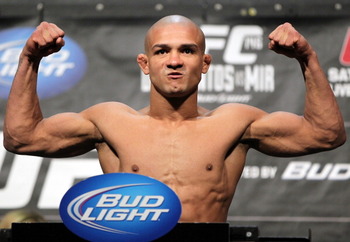 Courtesy of MMAJunkie.com
Diego Brandao has the straightest line toward a title shot when it comes to the contenders outside the Top 10.
After his amazing submission win over Dennis Bermudez in The Ultimate Fighter 17 Finale, the sky was the limit for Brandao. Unfortunately for the young upstart, he was upset by Darren Elkins in his second UFC bout. The loss essentially set him back to the starting point, and most of the initial hype around him faded.
Brandao was able to stem the tide of hype decline by winning his next two UFC bids. The victories have placed him back on track to become a second-tier contender in the featherweight race.
Next for Brandao is Daniel Pineda at UFC Fight Night 26. If Brandao can claim victory in his third straight match, he will be pushed toward contender fights. With explosive power and aggressive submission skills, he may be on his way to his first legitimate title run.
Keep Reading