Re-Ranking the NBA's Top 20 Players, Mid-2013 Offseason Edition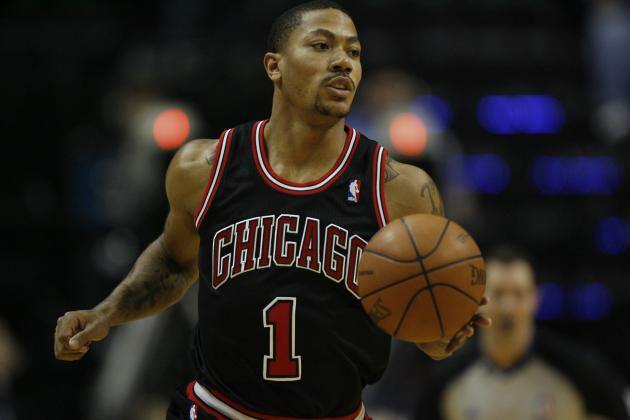 Brian Spurlock-USA TODAY Sports

Now that we're focusing on the 2013-14 season, the injured stars are allowed to rise back into the rankings of the NBA's best players.
Say hello to Derrick Rose, Rajon Rondo and Kevin Love. Did you miss them?
You certainly did if you were a fan of the Chicago Bulls, Boston Celtics or Minnesota Timberwolves, but the rest of the NBA could breathe a little easier in their absence.
Of course, that trio of superstars is joined by the Association's 17 other top-20 players. We have plenty of young guns and a few aging studs mixed into the rankings.
The 2012-13 campaign was heavily factored into the analysis, but so too was the expected change that will occur for each player in the 2013-14 season. That's why you can find an "on the rise," "on the decline" or similarly predictive tag at the bottom of every player's slide.
Did your favorite player make it into the Top 20? Who would be in yours?
Leave your responses in the comment section, but, as is always the case in these sure-to-be-heated debates, make sure to keep it civil.
Note: All stats, unless otherwise indicated, come from Basketball-Reference.
Begin Slideshow

»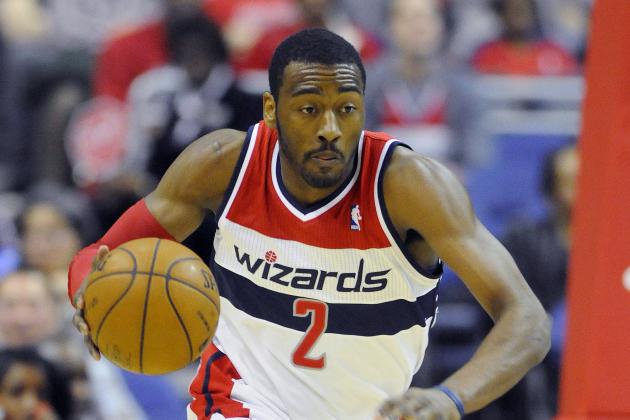 Brad Mills-USA TODAY Sports

LaMarcus Aldridge
The disgruntled power forward will be able to focus on his offense more than ever now that Robin Lopez is lining up next to him in the Portland Trail Blazers' frontcourt.
After averaging at least 21 points per game during each of the past three seasons, Aldridge's scoring average may rise even higher in 2013-14.
Roy Hibbert
A shot-blocking menace, Hibbert turned his season around after the All-Star break and was an undeniably dominant force during the postseason.
If his jump-shooting abilities weren't just the product of a mirage, the sky is the limit for this uniquely talented 7-footer.
Al Horford
While Horford still hasn't become a household name, that will change after his first season in charge of the post-Josh Smith Atlanta Hawks. He'll become more of a dominant scorer while maintaining his versatility and defensive presence.
That is, unless the Hawks somehow decide to try for the tanking strategy.
Brook Lopez
The better of the Lopez twins, Brook is an incredible offensive force who consistently finds ways to score right around the basket. His range is expanding, but he still thrives closer to the basket.
Both Lopez' defense and rebounding improved in 2012-13, and now he won't have to focus on those elements as much now that Kevin Garnett is joining the Brooklyn Nets.
The lone point guard in the honorable mentions, John Wall checks in as the No. 9 floor general in the NBA.
If he can stay healthy and lead the Washington Wizards to a playoff berth, he has the potential and dynamic offensive game necessary to experience a rise up the rankings.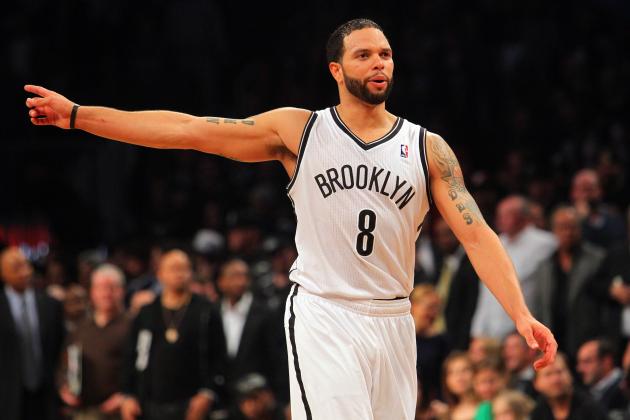 Brad Penner-USA TODAY Sports

Team: Brooklyn Nets
Position: PG
Age: 29
2012-13 Per-Game Stats: 18.9 points, 3.0 rebounds, 7.7 assists, 1.0 steals, 0.4 blocks, 20.3 PER
The Deron Williams we saw during the second half was a completely different player than the one who struggled during his first half-season wearing a Brooklyn uniform.
Before the All-Star break, D-Will averaged 16.7 points, 3.3 rebounds and 7.6 assists per contest on 41.3 percent shooting from the field. After using the time off to let his body heal, he put up 22.9 points, 2.5 rebounds and 8.0 assists per contest with a 48.1 field-goal percentage.
Williams simply wasn't the same player.
With the ability to move around free of pain, he played much more confidently, attacking with pick-and-roll sets and drilling jumpers with reckless abandon. Once the three-ball started falling, everything opened up for him.
The big point guard's numbers might decline now that he's surrounded by four All-Star-caliber players in the Brooklyn starting five, but his efficiency should only continue to rise.
Status: On the Rise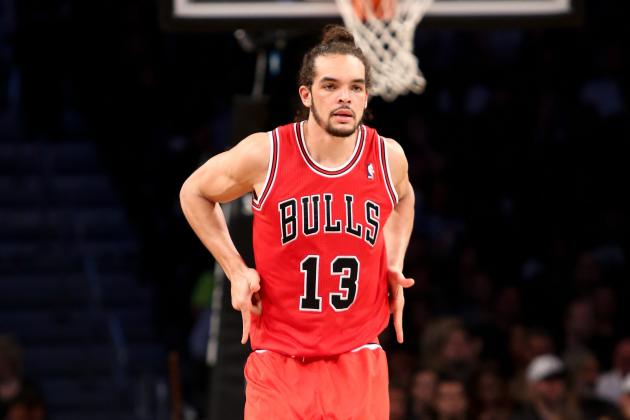 USA TODAY Sports

Team: Chicago Bulls
Position: C
Age: 28
2012-13 Per-Game Stats: 11.9 points, 11.1 rebounds, 4.0 assists, 1.2 steals, 2.1 blocks, 18.1 PER
Was Joakim Noah's impressive offensive output a fluke created by Derrick Rose's absence from the lineup, or has he really taken strides forward on that end of the court?
I tend to believe the latter, as Noah has consistently improved his game ever since entering the league. His jumper looks increasingly solid, and he runs the floor while dribbling with supreme confidence. Rose's return and dominance over the rock should lower Noah's assist totals, but it will also afford him even easier scoring looks.
Then again, Noah is all about defense anyway.
While constantly playing with the motor turned all the way up, Noah thrives on protecting the rim and helping out his teammates whenever they suffer defensive lapses.
A season after the Bulls allowed 5.1 fewer points per 100 possessions when he was on the court, the Florida product should be right up there in the Defensive Player of the Year conversation once more.
Status: Holding Steady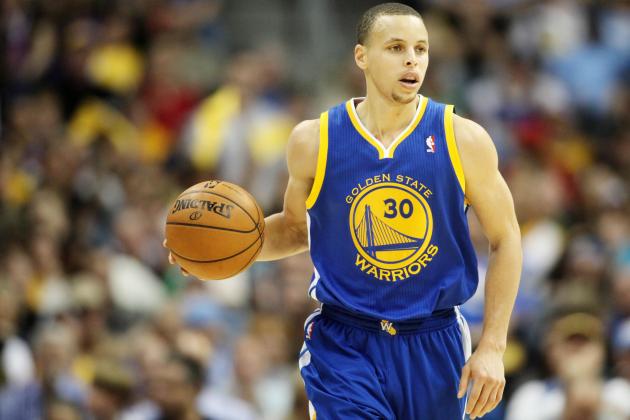 Chris Humphreys-USA TODAY Sports

Team: Golden State Warriors
Position: PG
Age: 25
2012-13 Per-Game Stats: 22.9 points, 4.0 rebounds, 6.9 assists, 1.6 steals, 0.2 blocks, 21.3 PER
Though it will forever remain unclear what old-school sharpshooters like Jerry West could have done with a three-point arc, Stephen Curry just submitted the greatest season from downtown in basketball history. And I'm not just saying that because he set the single-season record for makes.
Any guess how many players in NBA history have shot at least seven three-pointers per game and made over 45 percent of those looks?
If you guess just one, you're correct. Curry is the only shooter to ever meet those marks.
Let's lower the threshold to six attempts per contest. Still just Curry.
Five? Ah, now we get some company for the former Davidson standout. Dana Barros, Glen Rice, Kyle Korver, Ray Allen and Steve Novak join him in the 6/45 club.
But there's a major difference between Curry and those other five players. While they thrived as spot-up shooters who required assists on almost everything, Curry consistently created his own looks and did so as the unquestioned featured player in the Golden State Warriors offense.
Status: On the Rise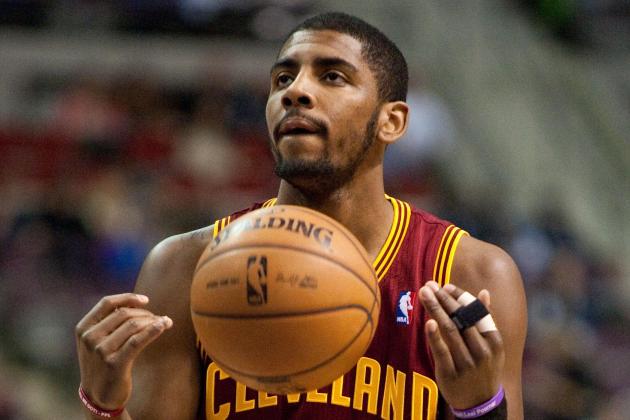 Tim Fuller-USA TODAY Sports

Team: Cleveland Cavaliers
Position: PG
Age: 21
2012-13 Per-Game Stats: 22.5 points, 3.7 rebounds, 5.9 assists, 1.5 steals, 0.4 blocks, 21.4 PER
Here's hoping that we finally get a fully healthy season out of Kyrie Irving, NBA Live's newest coverboy.
After a toe injury forced him to miss most of his one year at Duke, Irving played 51 of 66 games during his rookie season and then 59 of 82 in the follow-up campaign. These constant blows to his health are one of two things holding him back from becoming an unquestioned superstar.
The other is defense, which Irving must remember is half the battle.
According to Synergy Sports (subscription required), the former Blue Devil allowed 0.85 points per possession in 2012-13, ranking him 195th in the NBA. While he excelled following his man around off-ball screens, he struggled immensely navigating pick-and-rolls and guarding point guards in isolation.
Improving his focus on that end of the court needs to be priority No. 1 for Irving. His offense is already quite far along for a player who just turned 21.
Status: Majorly On the Rise
Kim Klement-USA TODAY Sports

Team: Indiana Pacers
Position: SF
Age: 23
2012-13 Per-Game Stats: 17.4 points, 7.6 rebounds, 4.1 assists, 1.8 steals, 0.6 blocks, 16.8 PER
Paul George's ascent up the rankings in 2012-13 can only be described as meteoric, but let's pause before we get too far ahead of ourselves with the hype.
The small forward became an otherworldly defender with the fearlessness to lock up even the NBA's top stars, and his offensive contributions came in a variety of ways. However, that doesn't mean he was without weaknesses, as some of the coverage would lead you to believe.
George certainly has the talent to rise into the top 10—maybe even the top half of the top 10—but he has to start shooting the ball more efficiently and display better care for the rock. 2.9 turnovers per game were far too many for a player who didn't always play on the ball.
This 23-year-old star has all the tools necessary to be great, and it's scary to think that he's just tapping into his lofty potential.
Status: On the Rise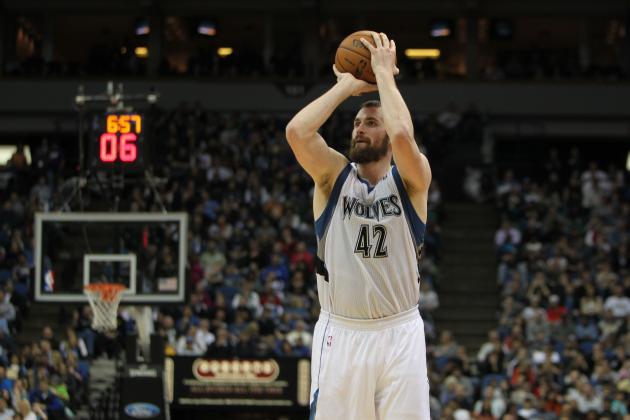 Brace Hemmelgarn-USA TODAY Sport

Team: Minnesota Timberwolves
Position: PF
Age: 24
2012-13 Per-Game Stats: 18.3 points, 14.0 rebounds, 2.3 assists, 0.7 steals, 0.5 blocks, 17.9 PER
Kevin Love is our first enigma in the Top 20.
Is he the dominant player that the Minnesota Timberwolves remember him as? If that's the case, expect plenty more games filled with 20 points and 20 rebounds as he steers their talented roster into the postseason.
Is he forever doomed to suffer one injury after another and have his effectiveness limited by the amount of time he can spend on a court?
The uncertainty is what makes him nearly impossible to rank, hence his placement in between two tiers of players. There's a wide gap between Paul George (No. 16) and the No. 14 player in these rankings, so Love fits in perfectly.
During the 2013-14 campaign, he'll have the potential to skyrocket back into the top 10, but he could also succumb to injuries once more and fall well back.
We just don't know yet.
Status: Your Guess is as Good as Mine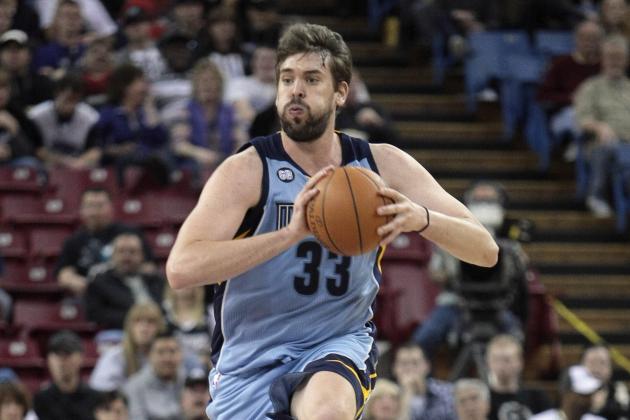 Kelley L Cox-USA TODAY Sports

Team: Memphis Grizzlies
Position: C
Age: 28
2012-13 Per-Game Stats: 14.1 points, 7.8 rebounds, 4.0 assists, 1.0 steals, 1.7 blocks, 19.5 PER
If you're looking for a living, breathing basketball textbook, then you should start watching Marc Gasol and the Memphis Grizzlies.
The younger Gasol brother will never blow you away with his athleticism, nor does he do too many things that leave your jaw on the floor in admiration of his fanciness. He just plays basketball.
Gasol is always in the right place at the right time on defense, and his versatile contributions on offense often allow the show to run through him either on the elbow or the low block. He's a phenomenal passer and a very cerebral player who lives to make his team better.
In 2012-13, the Grizzlies scored four more points and allowed 6.9 fewer per 100 possessions when the Spaniard was on the floor. That's a two-way combination virtually unmatched by any player in this league.
Status: Holding Steady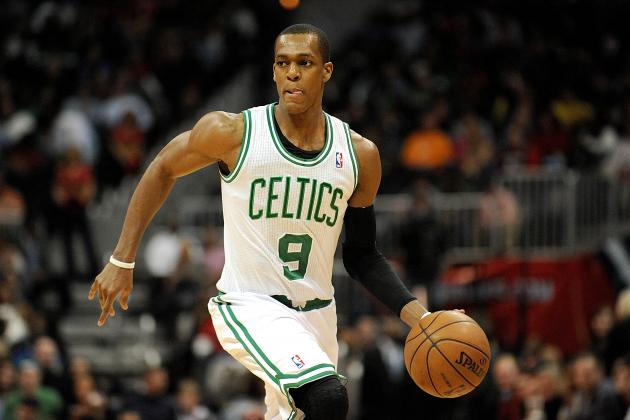 Kevin Liles-USA TODAY Sports

Team: Boston Celtics
Position: PG
Age: 27
2012-13 Per-Game Stats: 13.7 points, 5.6 rebounds, 11.1 assists, 1.8 steals, 0.2 blocks, 18.1 PER
Rajon Rondo missed most of his final opportunity to play with Kevin Garnett and Paul Pierce, but he still finished the season averaging more assists per game than any other player.
Now we venture into the great unknown as he attempts to come back from a torn ACL.
I'm not just talking about the healing process and ability to play at full strength, but rather his ability to function without two stars alongside him.
Throughout Rondo's career there have been two camps: those who think he's the best point guard in the NBA and those who believe that his greatness was due in large part to Pierce and KG.
Not many people fall into the middle, even if that's where I sit right now.
Rondo is going to be the clear-cut No. 1 player in Boston during the rebuilding project, and his stats are inevitably going to change. He won't be as effective passing the ball, partially due to the lesser options surrounding him and in part because he'll need to score more.
This point guard's season is going to be one of the must-follow storylines.
Status: Holding Steady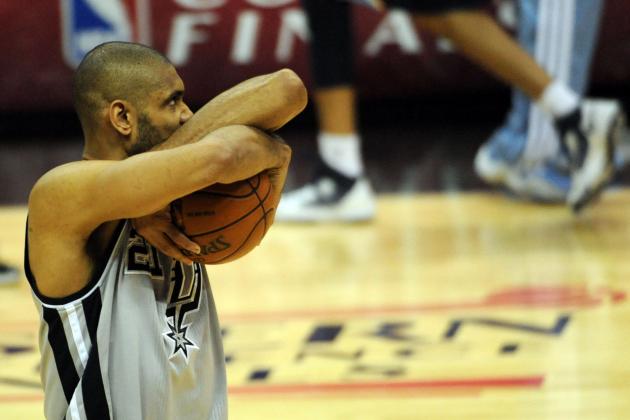 Brendan Maloney-USA TODAY Sports

Team: San Antonio Spurs
Position: PF/C
Age: 37
2012-13 Per-Game Stats: 17.8 points, 9.9 rebounds, 2.7 assists, 0.7 steals, 2.7 blocks, 24.4 PER
Tim Duncan slowed down a bit during the postseason before he picked up the pace and dominated the center-less Miami Heat in the NBA Finals. His San Antonio Spurs might not have emerged victorious—thanks in part to a missed layup by this power forward—but his 18.9 points and 12.1 rebounds per game were undeniably effective.
Still, if Duncan was starting to sputter in the playoffs, that doesn't bode quite as well for his next full season. His minutes should be even more limited by Gregg Popovich, whose savvy management skills will allow his star players to maintain their effectiveness late in the season.
On a per-minute basis, Duncan will inevitably be just as dominant as always. Those figures are remarkably consistent over the course of his career, after all.
However, this top-10 player of all time isn't going to play enough to keep his spot in the current top 10.
Status: On the Decline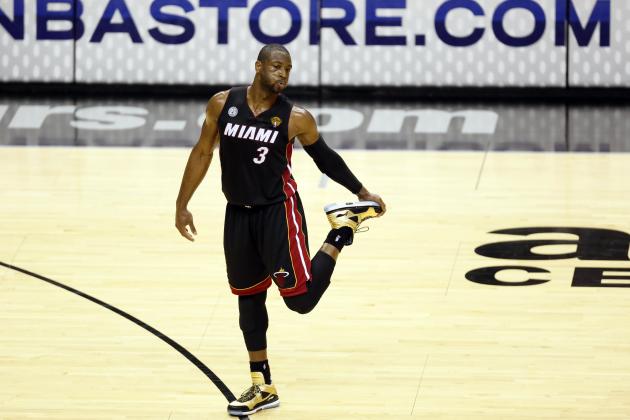 Soobum Im-USA TODAY Sports

Team: Miami Heat
Position: SG
Age: 31
2012-13 Per-Game Stats: 21.2 points, 5.0 rebounds, 5.1 assists, 1.9 steals, 0.8 blocks, 24.0 PER
A full offseason of rest should allow Dwyane Wade to let his knees recover.
Lost in the postseason storylines that Flash had lost some of his luster was the fact that Wade had the most efficient shooting season of his career in 2012-13. He drilled 52.8 percent of his shots from the field, the second time in his career he'd made more than half his attempts.
Credit can go to his three-point shooting, or lack thereof.
Wade has never been a great perimeter shooter, and he cut that shot out of his game almost entirely. Over the course of 69 games, the shooting guard only let fly 66 times from behind the three-point arc.
It's tough to see the 31-year-old staying healthy and fresh for an entire season, but whenever he's at the top of his game, he can still look like one of the five best players in basketball.
Status: On the Decline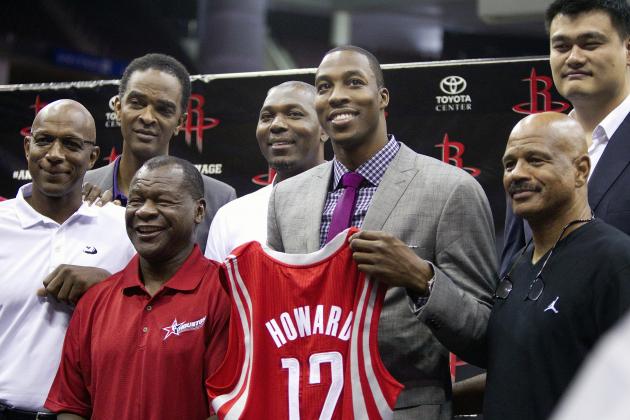 Bob Levey/Getty Images

Team: Houston Rockets
Position: C
Age: 27
2012-13 Per-Game Stats: 17.1 points, 12.4 rebounds, 1.4 assists, 1.1 steals, 2.4 blocks, 19.4 PER (with Los Angeles Lakers)
Throughout his first (and only) season with the Los Angeles Lakers, Dwight Howard fought through injuries and dealt with internal conflict. There were coaching changes, an extreme lack of chemistry, constant rotation switches and way too many negative remarks from the media.
Despite all those distractions, Howard still led the league in rebounding, played efficient offense and was a defensive force. Even when his back was keeping him from using his feet to play defense, D12 was still making a big impact.
In his limited state, he was the third best center in the NBA, trailing Tim Duncan and Marc Gasol. However, a full offseason and another fresh start should allow him to take up the positional title once more.
James Harden and Howard should thrive running pick-and-roll sets, and Houston's roster appears remarkably similar to the Orlando Magic squad that afforded him so much success. D12 will be surrounded with shooters once more, and the results will remind us why he was worth all the fuss.
Status: Who Knows? On the Rise?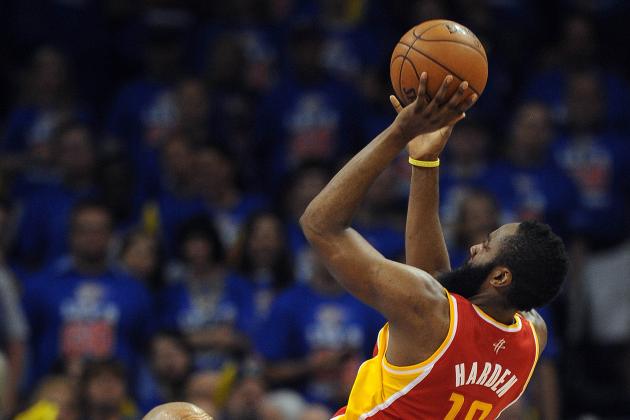 Mark D. Smith-USA TODAY Sports

Team: Houston Rockets
Position: SG
Age: 23
2012-13 Per-Game Stats: 25.9 points, 4.9 rebounds, 5.8 assists, 1.8 steals, 0.5 blocks, 23.0 PER
Offensively, James Harden is just unfairly good.
According to Synergy Sports (subscription required), when he was running pick-and-rolls as the ball-handler during his first season with the Houston Rockets, he scored a point per possession, good enough for him to rank fifth in the NBA. And that was with Omer Asik serving as the primary screener.
What happens now that defenses have to worry about Dwight Howard rolling to the basket?
The bearded shooting guard could emerge as the single best offensive guard in the Association before turning 25, but it won't matter if his defense doesn't improve dramatically.
Harden suffered the same thing that happens to most offensive stars stepping up their role rather significantly: he forgot that he even needed to try preventing points. In fact, Harden allowed 0.92 points per possession, which placed him at No. 322 in the NBA.
He was competent guarding hand-offs and isolation sets, but he struggled when the plays got any more complicated.
This must improve.
Status: On the Rise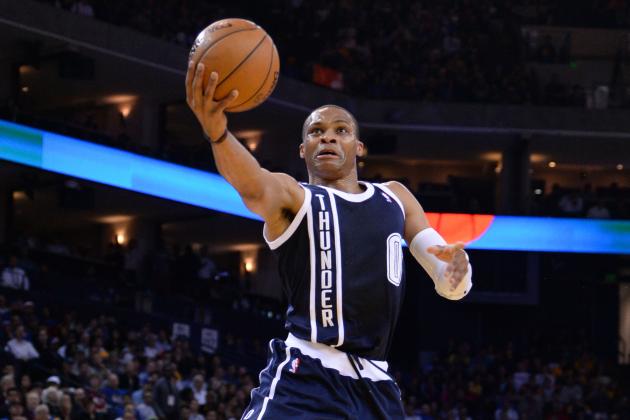 Kyle Terada-USA TODAY Sports

Team: Oklahoma City Thunder
Position: PG
Age: 24
2012-13 Per-Game Stats: 23.2 points, 5.2 rebounds, 7.4 assists, 1.8 steals, 0.3 blocks, 23.9 PER
Sometimes it's easiest to show a player's value when they aren't doing anything.
Such was the case for Russell Westbrook, as the Oklahoma City Thunder got significantly worse as soon as his torn meniscus forced him out of the lineup for the remainder of the postseason.
During the 68 playoff minutes in which Westbrook was on the court, the Thunder scored 112.2 points per 100 possessions and allowed 89.4. In the 465 he didn't play, OKC scored 104.5 and allowed 107.2.
That is an absolutely monstrous difference, and despite the small sample size, it should show just how valuable Westbrook is to the Thunder cause. You can gripe about his shot selection and enigmatic play all you'd like, but he makes things go in Oklahoma City.
Westbrook's attacking nature eases Durant's workload, and he's become a surprisingly adept defender now that he can finally navigate screens more efficiently.
Even though Westbrook seems to be one of those players who's fun to complain about, the Thunder should do more griping when he isn't on the court. He's that good.
Status: On the Rise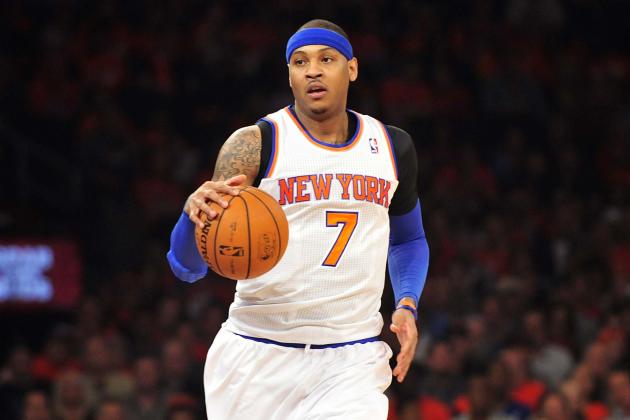 Joe Camporeale-USA TODAY Sports

Team: New York Knicks
Position: SF/PF
Age: 29
2012-13 Per-Game Stats: 28.7 points, 6.9 rebounds, 2.6 assists, 0.8 steals, 0.5 blocks, 24.8 PER
Let's forget about Carmelo Anthony's scoring for a second, seeing as we all know that he's pretty elite in that regard. He did, you know, lead the league in points per game.
What was truly impressive about 'Melo's 2012-13 campaign was that he took the time to improve the rest of his game. Despite handling the ball more than ever, he turnover rate declined. He grew as a rebounder—though only marginally.
Most importantly, he made a concerted effort on defense.
According to Synergy Sports (subscription required), Anthony allowed 0.86 points per possession in 2011-12. That left him 240th among qualified players. He was a fantastic post defender (No. 2, in fact), but he really struggled guarding pick-and-rolls and spot-up shooters.
Other than the PnR's, that remained true last season.
He took major strides when guarding the PnR ball-handler, and his overall defense left him ranked No. 195. There's still a lot of work left on that end, but Anthony was actually caught trying on defense.
Status: Holding Steady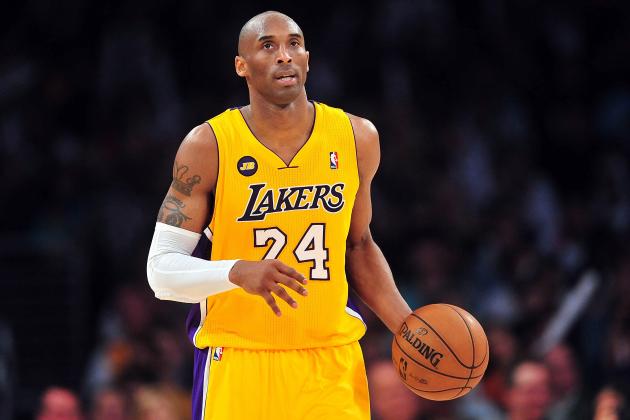 Gary A. Vasquez-USA TODAY Sports

Team: Los Angeles Lakers
Position: SG
Age: 34
2012-13 Per-Game Stats: 27.3 points, 5.6 rebounds, 6.0 assists, 1.4 steals, 0.3 blocks, 23.0 PER
Even if Kobe Bryant isn't ready for the first game of the season as he attempts to recover from his Achilles injury, something tells me we have a date that he'll absolutely return for. Let's turn to Yahoo! Sports' Adrian Wojnarowski:
As Kobe Bryant rehabilitates his torn Achilles tendon, there will undoubtedly be a date circled on his and the Los Angeles Lakers' schedule: A Nov. 7 trip to Houston to meet the Rockets and center Dwight Howard.

The NBA is expected to release the schedule in the next several days, but Yahoo! Sports has learned the Lakers and Rockets will meet for the first time within the season's first full week at Houston's Toyota Center.

There's belief that Bryant could be ready to start the season, but he still has hurdles to complete in his rehabilitation process from the injury he suffered in mid-April against the Golden State Warriors.
As soon as the Mamba returns, he'll start playing at a high level again. There's no reason to expect anything less from Kobe.
Although his off-ball defense is worse than ever, his man-to-man stopping skills and offensive game are both still there. The uncertainty surrounding his return from a grueling injury knocks him back a bit, but Bryant is still one of the NBA's truly elite players.
Status: Holding Steady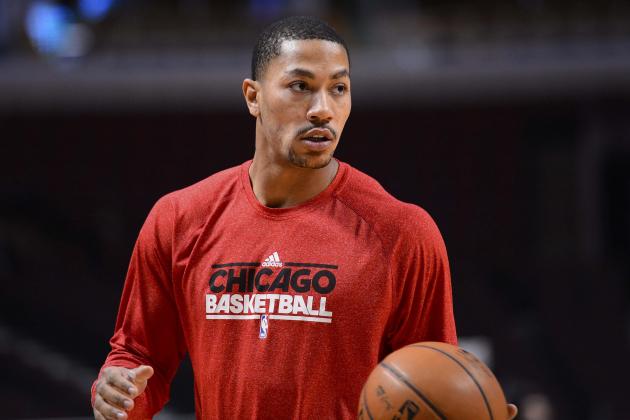 Mike DiNovo-USA TODAY Sports

Team: Chicago Bulls
Position: PG
Age: 24
2012-13 Per-Game Stats: N/A
Now comes the single toughest decision in the entire Top 20.
Where in the world does Derrick Rose go?
There's no way he should be put at No. 1, despite his claims to the contrary. Last time I checked, there was still this guy named LeBron James in the NBA.
At the same time, he was an MVP during his last full season, and in 2011-12, he averaged 21.8 points, 3.4 rebounds and 7.9 assists per game with a 23.0 PER while partially healthy.
We should have no doubt that Rose is one of the five best basketball players in the world, but it's okay to have questions about whether his newly recovered ACL will allow him to play like it. If it weren't for the similar uncertainty about Kobe's Achilles', Rose would be checking in at No. 6 in this article.
This is the best place I could find for the 24-year-old floor general. Where would you have him?
Status: No Idea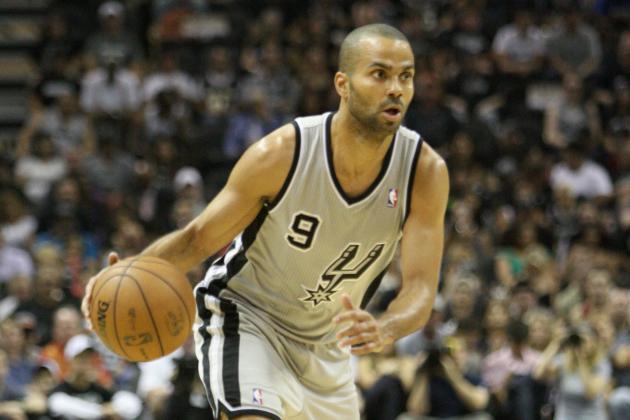 Troy Taormina-USA TODAY Sports

Team: San Antonio Spurs
Position: PG
Age: 31
2012-13 Per-Game Stats: 20.3 points, 3.0 rebounds, 7.6 assists, 0.8 steals, 0.1 blocks, 23.0 PER
It's pretty rare for a superstar to have the best season of his career at 30, but that's exactly what Tony Parker just did.
In addition to the numbers you can see up above, Parker shot 52.2 percent from the field, 35.3 percent from downtown and a career-high 84.5 percent at the charity stripe. He also recorded one of the lowest turnover percentages of his illustrious career.
There simply aren't many holes to poke in Parker's game anymore.
He'll rarely blow you away with any one play, but the total impact is quite impressive. The stats pile up, and Parker just wins games.
During the 2012-13 campaign, the French floor general's team scored 4.9 more points and allowed 3.1 fewer per 100 possessions when he was on the court. Given the fact that the San Antonio Spurs' system is designed to allow the backups to thrive as well, those are insanely impressive numbers.
Parker is closer than ever before to taking over the "best point guard alive" crown from our No. 3 player.
Status: On the Rise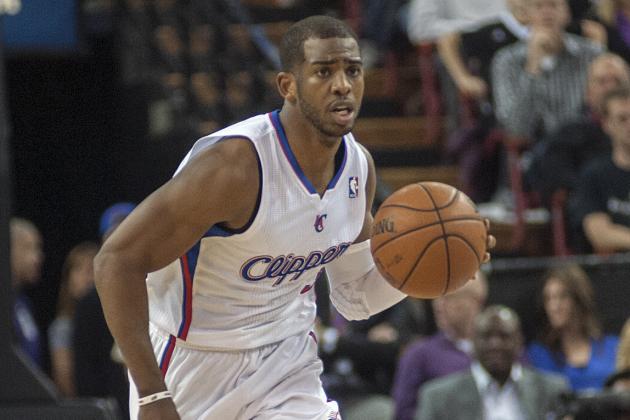 Ed Szczepanski-USA TODAY Sports

Team: Los Angeles Clippers
Position: PG
Age: 28
2012-13 Per-Game Stats: 16.9 points, 3.7 rebounds, 9.7 assists, 2.4 steals, 0.1 blocks, 26.4 PER
The only flaw in Chris Paul's resume is the lack of playoff success. However, it's tough to pin that on him.
CP3 was incredibly impressive during the extracurricular activity in 2013, averaging 22.8 points, 4.0 rebounds and 6.3 assists per game while shooting 53.3 percent from the field. His PER was a staggering 29.2—the highest mark of any postseason player—and he coughed up the rock just 1.5 times per contest.
Is it really his fault that the Clippers weren't able to advance through the most important part of the season? Let's blame his teammates—Blake Griffin in particular—before we go asking Paul to do even more than that.
Whether we're talking about defense, scoring or facilitating, Paul is an elite floor general. In fact, he's the player who best embodies that moniker, given his ability to control the proceedings and get to any spot on the court.
For another year, CP3 has held onto the top spot at his position. It's getting closer, and there's a chance Tony Parker, Derrick Rose, Rajon Rondo, Stephen Curry or Kyrie Irving could take over in 2013-14, but the title is still his for the time being.
Status: Holding Steady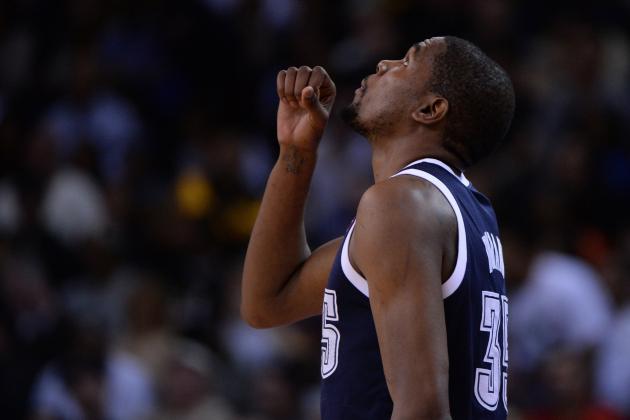 Kyle Terada-USA TODAY Sports

Team: Oklahoma City Thunder
Position: SF
Age: 24
2012-13 Per-Game Stats: 28.1 points, 7.9 rebounds, 4.6 assists, 1.4 steals, 1.3 blocks, 28.3 PER
When Russell Westbrook went down, Kevin Durant learned just how tough LeBron James had it with the Cleveland Cavaliers. No matter how good one player is, it's hard to carry the rest of the roster when no one else seems willing to step up.
He averaged an NBA-high 30.8 points per game to go along with his 9.0 rebounds and 6.3 assists each postseason outing, but it wasn't enough to carry the Thunder. Still, Durant showed just how individually dominant he could be when the situation demanded it.
The small forward's most impressive improvement, though, came when he was passing the ball. He upped his assist percentage from 17.5 to 21.7 during the regular season, then forced it to grow to 29.2 in the postseason. All the while, his turnover percentage declined.
Durant the stellar scorer was frightening enough for the NBA, but he's now more of an all-around player than ever before.
And he's still just 24 years old.
Status: On the Rise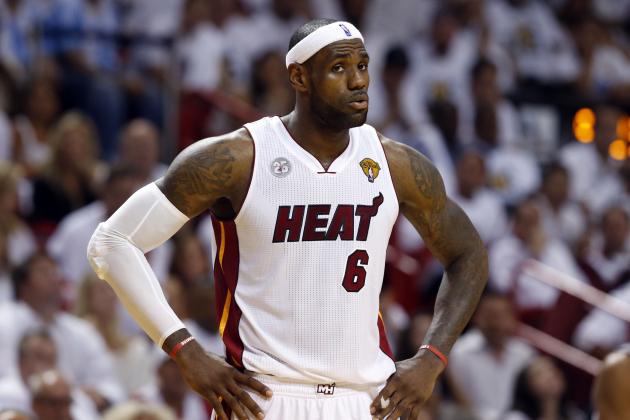 Derick E. Hingle-USA TODAY Sport

Team: Miami Heat
Position: SF/PF
Age: 28
2012-13 Per-Game Stats: 26.8 points, 8.0 rebounds, 7.3 assists, 1.7 steals, 0.9 blocks, 31.6 PER
Unless you're Derrick Rose, this probably doesn't need much of an explanation.
LeBron James is quite clearly the best player in the world, and no one else is even in the same realm as him. Only small jerseys can hold him back now that he's proven the loss of his headband has no ill effects.
In the last two years, LeBron has won two NBA titles, held up a gold medal at the Olympics, claimed both NBA MVP awards and had the privilege of shaking Bill Russell's hand and holding up the Finals MVP trophy twice.
If you're still denying the greatness of LeBron, it's probably time to do something productive and get that hatred out of your system.
Status: On the Rise