Both on and off the field, the uptempo craze that has swept the nation is a major positive for college football. Off the field, it has yielded enough discussion to keep both sides sparring in the headlines, from the SEC and ACC to the Pac-12 and Big 12. On the field, it has created a lot of excitement for fans and, more importantly, given teams and players chances to compete at the next level.
Even with the totally inconclusive, and likely inaccurate, safety argument that Nick Saban and Bret Bielema are attempting to make, plenty of discussion has been generated. What started as two coaches complaining has turned into coaches from all over chiming in on the tempo battle.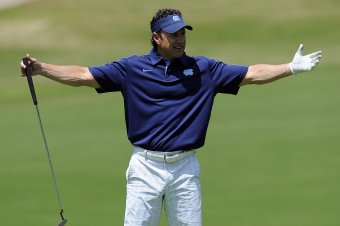 USA TODAY Sports
On WRAL in North Carolina, UNC's Larry Fedora addressed Saban's claims, echoing Gus Malzahn's comments in the Atlanta Journal-Constitution. Which, of course, is similar to what new Texas Tech head coach, and last year's Saban-beater, Kliff Kingsbury said to The Dallas Morning News. More recently, Ralph D. Russo of the Associated Press pointed out that Pac-12 and crosstown rivals UCLA and USC are split on the tempo debate.
Both sides have their thoughts as to what validates their argument. The tempo-friendly crowd just thinks guys like Saban and Bielema are whining about something they do not want to play. The slow-down groups are looking at how more plays mean more opportunity for injuries.
As Stewart Mandel at Sports Illustrated pointed out, that might not be entirely true, and researchers are split on what it all means. The anti-tempo camp is arguing against more plays because more collisions by linemen and players playing more fatigued can create problems.
The other side claims that there are more head collisions for traditional running teams, while the spread-out teams produce more high-magnitude hits but fewer total collisions. They also point to linemen who are in better shape, helping prevent long-term injuries to players' joints.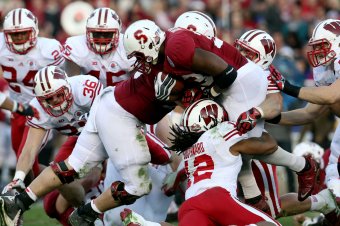 Stephen Dunn/Getty Images
There are a plethora of variables that distort any true conclusion from being drawn on the injuries front, but plenty of discussion has been had. Without being able to account for the type of injury, fatigue level of a player at time of injury or cause of injury, it is tough to draw a line in the sand.
However, one point, made by Georgia's Mark Richt and echoed by Jim Mora and others, is quite valid and it deals with officials. In the Dothan Eagle, Richt is quoted at media days as pointing out that teams should slow down "just a tad" in an effort to give officials, and every other player, a chance to get into position.
To rectify this situation, an eighth official might be in play in college football soon. This is something that the SEC is experimenting with, as AL.com reported back in May, and something the Big 12 is moving towards this year, as the The Oklahoman points out.
For the fans, tempo has been a blessing. For schools like Ohio State, long beholden to the smash-mouth concept, it has opened up the game and revitalized what they can do. For Oregon, it has become a way of life. In the Big 12, it is the norm, not a change of pace. Meanwhile, at places like Arizona, Arizona State, North Carolina and Cal, fans see an uptempo style as the way their favorite team can push to the upper echelon of the conference.
But, most importantly, the tempo game and the new offenses have helped teams change their fortunes. Oregon has pushed into the top of the collegiate landscape because of its offense's ability to put pressure on defenses. Northern Illinois worked the tempo game in the MAC to help get to a BCS bowl. Oklahoma State, Clemson and West Virginia have ridden speed of action to BCS spots as well.
And, of course, Auburn rode the tempo-based attack all the way to a BCS National Championship.
The uptempo approach has pushed teams like Louisiana-Monroe and Louisiana Tech into the spotlight and made for matchups like Baylor-Washington that, while defensive abominations, put their offenses in the spotlight.
Do you think uptempo offense is good for college football?
From the macro level of the team to the micro level of the player, the tempo-based systems of the Air Raid, option and such have been tremendously beneficial. Guys like Pat White, who would likely have ended up at wide receiver or defensive back, instead have become legendary quarterbacks at their respective institutions. Offensive linemen who are deemed undersized to play at the biggest institutions go on to play solid, quality careers at schools that like their athleticism and use tempo to help the offensive lines.
The offenses and the advantages given to the athletes through the tempo system have been a plus for college football in the last decade. More kids getting an opportunity, more teams seeing success and more fans being brought to the game.
Until defensive minds find a way to crush the advantages of the tempo-based offense, and the wrinkles that come with each of these systems, the uptempo push is here to stay.
And that's certainly a plus for the collegiate landscape.