Diving World Championships 2013: Countries to Watch in Final Events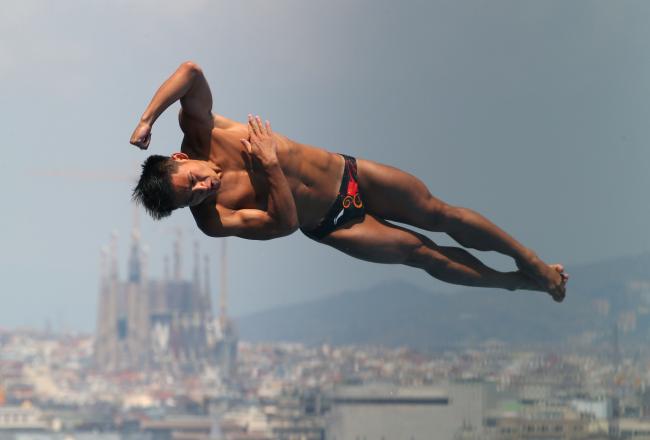 Clive Rose/Getty Images
There are just three more gold medals to win at the Diving World Championships in Barcelona, and they're sure to be highly contested.
China has been absolutely destroying its competition over the last few days, and it's expected the country will add to its championship-leading medal total. The Chinese have won six gold medals, one silver medal and two bronze medals. Here's a look at the current medal table after Thursday's events:
Diving Medal Count

| | | | | |
| --- | --- | --- | --- | --- |
| Country | Gold | Silver | Bronze | Total |
| China | 6 | 1 | 2 | 9 |
| Germany | 1 | - | - | 1 |
| Italy | - | 2 | - | 2 |
| Russia | - | 2 | - | 2 |
| Canada | - | 1 | 1 | 2 |
| Ukraine | - | 1 | 1 | 2 |
| Mexico | - | - | 2 | 2 |
| Malaysia | - | - | 1 | 1 |
Medal count via FINA.org
Li Shixin has arguably been China's most dominant competitor, even though he's only participated in one of the events. He didn't get off to the best start at the one-meter springboard, as he was 5.65 points behind the leader after four dives. He was awarded 86.7 points for his fifth, and that gave him an 11.2-point lead.
Shixin was outstanding in his sixth and final dive of the day, as he was awarded 87.45 points for his performance. That gave him 460.95 points in the event, which was 26.65 points more than any of the other competitors. His late spurt was very impressive, and his country is definitely appreciative of the gold-medal victory.
Qin Kai and He Chong took home the gold in the synchronized three-meter springboard, and, through four events, the Chinese women have yet to be defeated. It wouldn't be surprising if China won the final three events of the Diving World Championships to finish the week with nine gold medals.
While China is running away with gold medal after gold medal, here's a look at two other countries to watch in the final three events in Barcelona.
Finals Schedule

| | | |
| --- | --- | --- |
| Event | Date | Time |
| Men's 3m Springboard | Friday, July 26 | 5:30 p.m. CEST (11:30 a.m. ET) |
| Women's 3m Springboard | Saturday, July 27 | 5:30 p.m. CEST (11:30 a.m. ET) |
| Men's 10m Platform | Sunday, July 28 | 2:00 p.m. CEST (8:00 a.m. ET) |
Schedule via FINA.org
Russia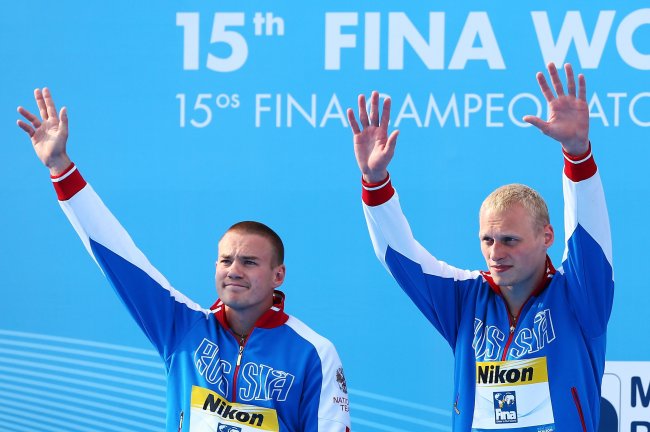 Quinn Rooney/Getty Images
The Russians have yet to capture a gold medal at the Diving World Championships, but the country has two prime opportunities in the final men's events. The three-meter springboard and the 10-meter platform are both events in which Russia should bring the heat and give China a run for its money.
In the three-meter springboard, Ilya Zakharov is the contender to look out for. He has already won one medal in Barcelona, as he and Evgeny Kuznetsov finished in second place in the synchronized three-meter springboard. Zakharov won the gold medal in the three-meter springboard at the 2012 Summer Olympics.
Victor Minibaev is another Russian you need to keep an eye on, as he tries to win the gold in the 10-meter platform. He also has a medal already, and, just like Zakharov's, it's silver. He and Artem Chesakov finished in second place in the synchronized 10-meter platform. By himself, he may have what it takes to get Russia a gold medal.
Germany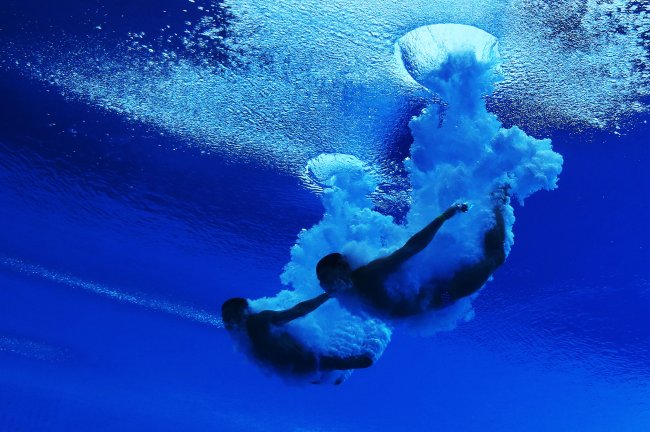 Al Bello/Getty Images
Germany is the only country through the first seven events to take down the Chinese. The Germans took the gold in the synchronized 10-meter platform with a strong performance from Sascha Klein and Patrick Hausding. That's the only medal the Germans have to this point in Barcelona, though.
It might not be the last. Germany has a good shot at winning another gold in the 10-meter platform. Both Klein and Hausding are on the starting list for the event, and since they already took the competition by storm once earlier at the Diving World Championship, they are definitely two contenders to watch.
The men's three-meter springboard is going to be tough for the Germans to win, but expect to see some magic in the final women's event. Tina Punzel is the lone German on the three-meter springboard starting list, and she could turn some heads with a strong performance. She may not win, but she could certainly medal in the event.
All statistics were obtained via FINA.org unless otherwise noted.
This article is
What is the duplicate article?
Why is this article offensive?
Where is this article plagiarized from?
Why is this article poorly edited?