Tim Hudson Injury: Updates on Braves Pitcher's Leg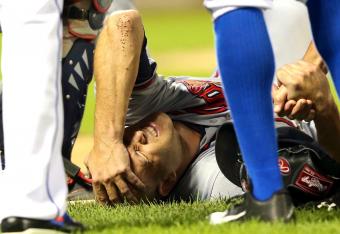 Updates from Friday, Nov. 7
David O'Brien of the Atlanta Journal-Constitution provides an update on Hudson's recovery:
#Braves Hudson got surgical screw removed from ankle yesterday, should be cleared to run in couple of weeks. Recovery going as planned.

— David O'Brien (@ajcbraves) November 8, 2013
UPDATE: Friday, July 26, at 11:25 p.m. ET by Kyle Vassalo
Kevin McAlpin of Atlanta Braves Radio Network provides an update on Hudson's surgery:
Tim Hudson underwent successful surgery today and is expected to begin baseball activities in four months. #Braves

— Kevin McAlpin (@KevinMcAlpin) July 27, 2013
UPDATE: Friday, July 26 by Ian Hanford
Hudson's wife Kim provides an update on the Braves pitcher's status:
Tim is out of surgery. Dr. Royster did an amazing job, and everything went well. He'll be back and better than ever! #thankful

— Kim Hudson (@kimberlybhudson) July 26, 2013
UPDATE: Thursday, July 25, by Brandon Galvin
The Atlanta Journal Constitution's David O'Brien and Tim Hudson's wife, Kim, have the latest on the Braves pitcher:
#Braves put Hudson on DL to open spot for Wood today. Maholm likely to be DL'd Monday to open spot for Beachy to replace Hudson.

— David O'Brien (@ajcbraves) July 25, 2013
We are humbled and thankful for the amazing support. Tim is amazingly tough, and he is handling this as well as possible. God has a plan.

— Kim Hudson (@kimberlybhudson) July 25, 2013
Can't say enough great things about the @Mets organization and the way they handled Tim's injury: players, medical team, security #grateful

— Kim Hudson (@kimberlybhudson) July 25, 2013
So thankful to the @Braves trainers, doctors, players, coaches & staff for their hard work & compassion with Tim's injury. #family

— Kim Hudson (@kimberlybhudson) July 25, 2013
UPDATE: Wednesday, July 24, by Eric Ball
The Atlanta Braves official Twitter feed confirmed what fans had feared regarding Hudson's gruesome injury:
Braves pitcher Tim Hudson suffered a right ankle fracture in Wednesday's win at New York.

— Atlanta Braves (@Braves) July 25, 2013
Hudson will have surgery in Atlanta when swelling to the ankle goes down.

— Atlanta Braves (@Braves) July 25, 2013
Atlanta Braves starting pitcher Tim Hudson left his start against the New York Mets Wednesday night after suffering a gruesome injury (WARNING: video is graphic) to his right leg while covering first base.
ESPN's Buster Olney first reported the injury, which left Hudson writhing on the ground in pain before he left on a stretcher:
It looks like Tim Hudson may have suffered a major leg injury in the Braves' game: They're bringing out the cart for him.

— Buster Olney (@Buster_ESPN) July 25, 2013
The Braves' Twitter feed sent out their thoughts and prayers after the play:
Thoughts and prayers with Huddy

— Atlanta Braves (@Braves) July 25, 2013
Hudson's injury happened on a routine ground ball by Mets outfielder Eric Young Jr. in the bottom of the eighth inning.
Young, looking to move the runners over to second and third, hit a slow dribbler down the first-base line, causing Hudson to rush over and cover the bag as Freddie Freeman made a play on the ball.
As Hudson was rushing over to cover the play, he planted his foot in the middle of the front side of the bag. Young was unable to stop his momentum and came down hard on Hudson's leg/ankle, causing it to bend in a 90-degree angle in the opposite direction.
Young was visibly shaken up by Hudson's injury as he was carted off the field, with Olney reporting the New York outfielder was in tears while apologizing:
Eric Young, Jr., who clipped Hudson and injured him, goes over to apologize to the pitcher as he's taken off; EY, Jr. appears to be crying.

— Buster Olney (@Buster_ESPN) July 25, 2013
Assuming Hudson's prognosis is as dire as expected, the Braves will have been dealt a critical blow. Hudson came into Tuesday night's action with a 7-7 record and 4.08 ERA, providing steadiness to the back half of Atlanta's rotation.
The 38-year-old righty had gone the first seven innings without giving up a run against New York, striking out nine batters in one of his strongest performances of the year. Atlanta's bullpen allowed the two baserunners to score after Hudson's exit, finishing his line at 7.2 innings pitched with four hits and two earned runs allowed.
Hudson was going for his fourth win in as many starts, recovering from a terrible May to return to form.
Hudson's recent ascent has helped Atlanta push its lead to seven games in the NL East prior to Tuesday night's action. The Braves are seven games in the loss column behind the St. Louis Cardinals for home-field advantage throughout the NL playoffs.
With the trade deadline a week away, Hudson's injury may force the Braves out on the open market to close that gap.
Follow Tyler Conway on Twitter:
This article is
What is the duplicate article?
Why is this article offensive?
Where is this article plagiarized from?
Why is this article poorly edited?