5 New Jersey Devils We Could See at the 2014 Sochi Winter Olympics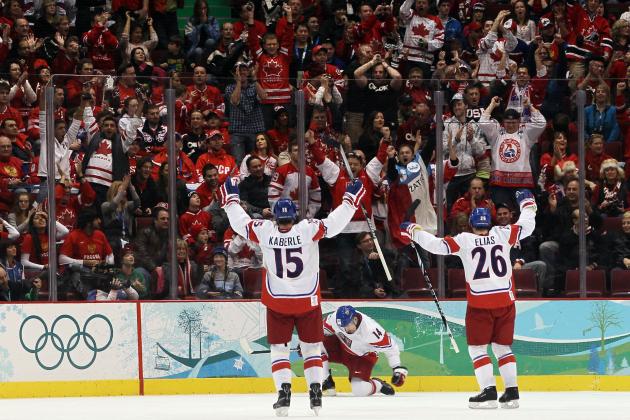 Bruce Bennett/Getty Images

This past weekend the NHL / NHLPA and International Olympic Committee agreed on a deal to send NHL players to the 2014 Winter Olympics in Sochi, Russia
It took months, but fans can finally count on seeing their favorite NHL stars represent their respective countries when the NHL takes a break for Sochi in February. It also means we will see Olympic teams come together.
The United States and Russia have already released their preliminary rosters for the 2014 games with other countries likely to release theirs soon. Notable New Jersey Devils on the camp rosters include defensemen Anton Volchenkov (Russia) and newly acquired goaltender Cory Schneider (USA).
Based on NHL.com's projected rosters and the 2010 Olympic rosters, it is likely that the Devils will have (at least) five players heading to Sochi. Let's take a look at how they will make an impact in 2014.
Begin Slideshow

»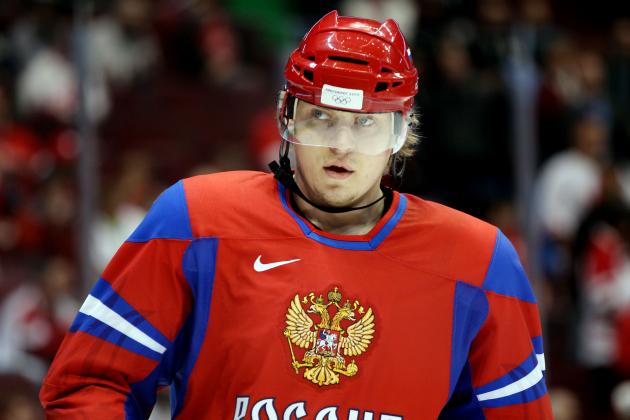 Jamie Squire/Getty Images

Anton Volchekov was one of 35 players invited to Russia's preliminary Olympic camp that begins on August 23rd.
If selected for the team, he will be the only New Jersey Devil representing Russia at the 2014 games. It would be his third Olympic games after finishing fourth in 2006 and sixth in 2010.
Volchenkov has never been a points machine both internationally and in the NHL, posting just one point in 12 career Olympic match-ups. However, he does bring a physical force to team Russia with his size and hitting ability.
Despite appearing in two Olympic games, Volchenkov is not a lock to make the Olympic team in 2014. While NHL.com's Corey Masisak and Brian Compton have him making the team come February, Slava Malamud has him off the final roster.
If the 31-year-old d-man is selected to the final roster, it will be because of his strength. The Russian squad is loaded with veterans like Sergei Gonchar and Andrei Markov, so they won't be adding Volchenkov based on his mentor ability.
Despite having an off year in New Jersey in 2013, I expect Volchenkov to make the final Russian roster and contribute as one of Russia's top enforcers.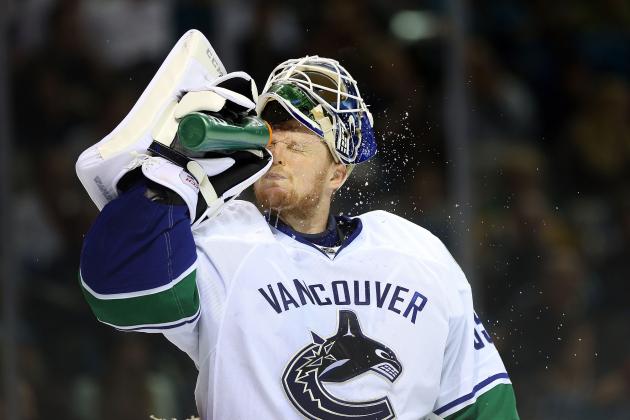 Christian Petersen/Getty Images

Newly acquired goaltender Cory Schneider is one of six goaltenders that were invited to Team USA's preliminary camp and is the only Devil representing New Jersey at this year's games.
Schneider will be going up against some heavy competition in net with the likes of former Conn Smythe winner Jonathan Quick and 2010 silver medalist Ryan Miller. Other NHL starting goaltenders invited to camp include Craig Anderson and Jimmy Howard.
Each country is allowed three goaltenders on their roster, meaning Schneider will have a lot to prove if he wants to break into the lineup in February.
Despite a recent decline in his game in Buffalo, Miller is the reining tournament MVP and was received the Directorate Award for best goaltender in 2010. However, his last few seasons in the NHL may open the door for Quick to take the starting job when February comes around.
The final roster spot will be between Anderson, Howard, and Schneider, but as Brian Cazeneuve of SI. com points out, Schneider might not get enough playing time in New Jersey to break this year's roster.
If he does make the final roster, Schneider will likely sit the pine at least behind Quick when Feb. 2014 comes around. There is a chance that Miller struggles again in 2013-14, which could open up a spot for Schneider to make the team.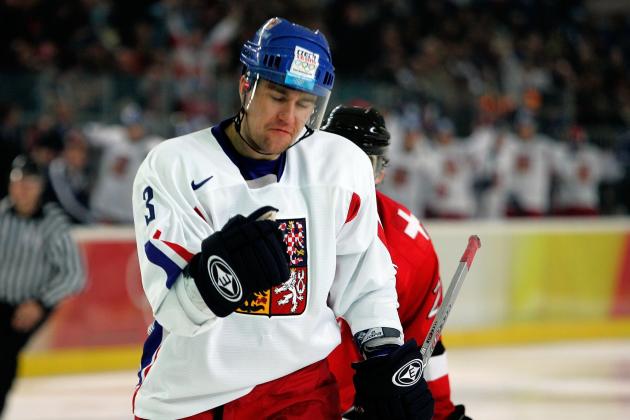 Brian Bahr/Getty Images

The Devils will be heavily represented in Russia by the Czech Republic as four New Jersey players were invited to camp this week.
One of those players will be defensemen Marek Zidlicky, who will be potentially making his third appearance at the Olympic games dating back to 2006. In 12 Olympic match-ups, Zidlicky has recorded four goals and five assists.
Despite his experience, there are rumors that the Czech team may be going in a younger direction. NHL.com's Adam Kimelman and Brian Hunter have the 36-year-old forward making the final roster, but Corey Masisak has the Czech Republic taking 23-year-old Radko Gudas instead.
If Zidlicky is named to the roster, he will provide an immediate impact to the team's power-play with his offensive skill on the blue line. The 2010 Olympics showed that he can still provide offensive help (five assists in five games), but he will have to battle in camp to get a spot on the team.
Based on his puck handling ability, I believe Zidlicky will make the roster for what will likely be his final Olympic games. The Czech's are loaded with young talent offensively, so it will be nice to have another veteran defensemen to help on the blue line.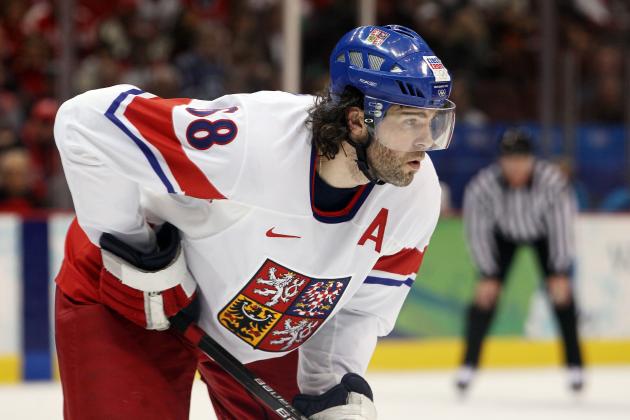 Bruce Bennett/Getty Images

Another newly acquired Devil could have a huge impact for the Czech Republic.
Despite turning 42 during the next games, Jaromir Jagr is expected to provide veteran leadership to a Czech team that has won two medals in his tenure at the Olympics.
Jagr has appeared in four Olympic games since 1998, winning Gold at Nagano in 1998 and bronze at Turin in 2006. In total, Jagr has seven goals and 13 assists in 23 games.
If there is one thing Jagr is known for, it's his ability to make players better around him. Putting him on a roster with talented forwards like Jakub Voracek, David Krejci, and Martin Erat gives the Czech Republic a very good chance to at least medal at this year's games.
The argument made with Zidlicky was that he was a bit older and there were younger options that could take his place on the final roster. Jagr is someone that is actually getting better with age, recording more points in the past two games than he did in his first two.
The Czechs will be much better than the team that lost in the quarterfinals in 2010, and that success will be mainly because of veterans like Jagr.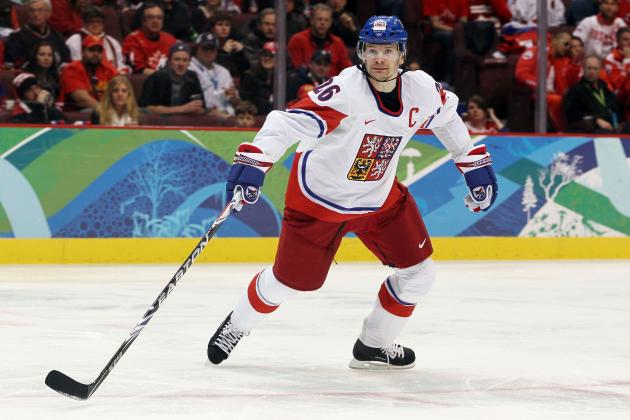 Bruce Bennett/Getty Images

The best New Jersey Devil heading to the Olympics is Patrik Elias, and he will likely once again serve as the Czech Republic's captain when the games begin in February.
This will be Elias' fourth Olympic games of his career, scoring three goals and three assists in 10 games. However, the 37-year old forward was at his best internationally in 2011, scoring four goals in nine games at the World Championships.
Elias is another example of a player who gets better with age and there is no reason to believe that this team will slow down with Jagr and Elias at the helm.
I also believe Jagr and Elias playing together for the Devils in 2013-14 will help the Czech's on-ice chemistry. Having four months of playing time together before teams break for Sochi gives the Czech Republic a very good chance to win the medal this year.
Of the five Devils that have a chance to make a final roster in Sochi, there is no player that will make more of an impact than Patrik Elias. He has been there before, he is the captain of the Czech team, and I believe his on-ice abilities makes him (surprise, surprise) one of the most underrated players going into this year's games.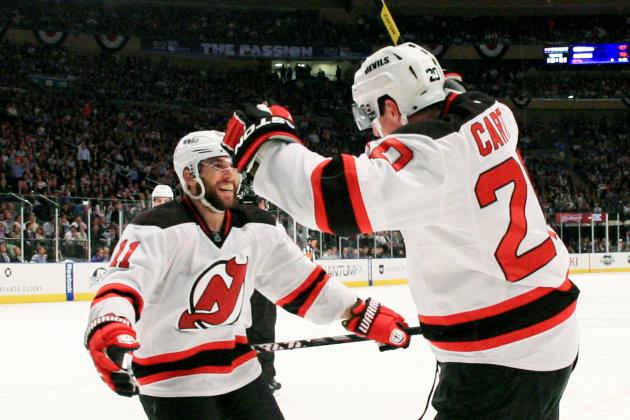 Bruce Bennett/Getty Images

Not exactly a shocker, but two-thirds of the CBGB line won't be heading to the Olympics despite their success at the World Championships.
Stephen Gionta and Ryan Carter were both left off USA's preliminary camp roster despite appearing in 10 games during the World Championships, scoring a combined four goals for the bronze medal team.
With the talent team USA has on offense for the 2014 games, it didn't seem likely that the Devils skilled third line would have a chance to make the final roster. However, it would have been nice to see them get at least an invite considering their success at World Championships.
Another notable name not heading to the Olympics is Martin Brodeur, who will miss his first Olympic Games since 1998. Team Canada has invited Corey Crawford, Braden Holtby, Roberto Luongo, Carey Price, and Mike Smith to preliminary camp, a move that proves Team Canada is looking towards the future of Olympic goaltending.
New Devil Rostislav Olesz was also invited to the Czech camp this week, but he is not expected to make the final roster in February.