The Oklahoma City Thunder floundered in the playoffs without superstar point guard Russell Westbrook, and in an attempt to shore up the position and maintain some veteran leadership, they decided to bring back Derek Fisher on a one-year deal on Wednesday.
UPDATE: Wednesday, July 24, at 9:08 p.m. ET by Kyle Vassalo
Derek Fisher released a statement on his Instagram:
---End of Update---
Ken Berger of CBS Sports first reported the deal is expected to be for one year and $1.4 million:
Derek Fisher is expected to finalize an agreement to return to the Oklahoma City Thunder today, league source tells @CBSSports.

— Ken Berger (@KBergCBS) July 24, 2013
Fisher and the Thunder are finalizing an agreement on a one-year, $1.4M deal, source says. The Oklahoman also reported the deal is close.

— Ken Berger (@KBergCBS) July 24, 2013
The Thunder's official Twitter confirmed the news and included quotes from GM Sam Presti:
News: #Thunder signs guard Derek Fisher. pic.twitter.com/HrzzxYQ1CO

— OKC THUNDER (@okcthunder) July 24, 2013
GM Sam Presti: "Derek has proven to be a valuable member of our team and we are excited to have him back."

— OKC THUNDER (@okcthunder) July 24, 2013
Presti with more on Fisher: "He has such a positive impact on his teammates and the organization." pic.twitter.com/wAktdm3Xue

— OKC THUNDER (@okcthunder) July 24, 2013
Fisher played 43 games with the Los Angeles Lakers in 2010-11 before joining the Thunder for 20 games that season. He then started last season with the Dallas Mavericks before rejoining the Thunder for 24 games.
Fisher, 38, played a huge role filling in last postseason following Westbrook's season-ending knee injury, and should Westbrook experience issues upon his return, Fisher will be there to play a similar role in 2013-14.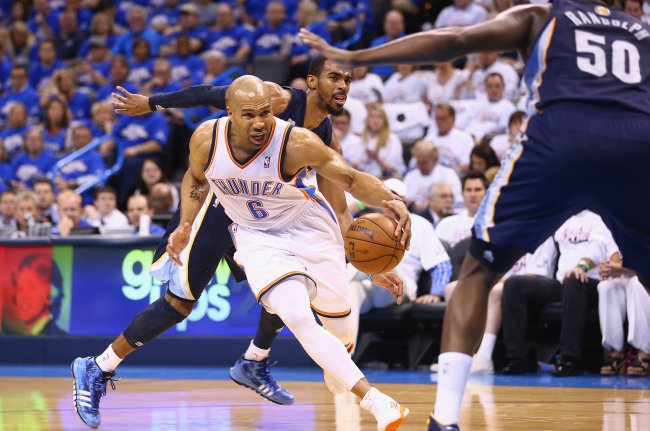 Ronald Martinez/Getty Images
Per Royce Young of CBS Sports, Fisher has "been committed to the Thunder for about a month now," long expected to re-sign as the team attempted to acquire former Miami Heat guard Mike Miller. It comes as no surprise, then, that OKC would pull the trigger on officially signing Fisher now that Miller has agreed to sign with the Memphis Grizzlies, per Marc Stein of ESPN:
Just confirmed: Mike Miller has indeed notified Grizzlies that he's Memphis-bound

— Marc Stein (@ESPNSteinLine) July 24, 2013
Reggie Jackson is still likely to fill the backup point guard role, but the re-signing of Fisher gives the Thunder some additional options. Along with his leadership and experience, Fisher could also see some time at shooting guard.
The 17-year vet has averaged 8.5 points and 3.1 assists for his career, including a 37.3 percent mark from behind the arc.