Chelsea Offseason Review: Winners and Losers of Chelsea's Offseason Thus Far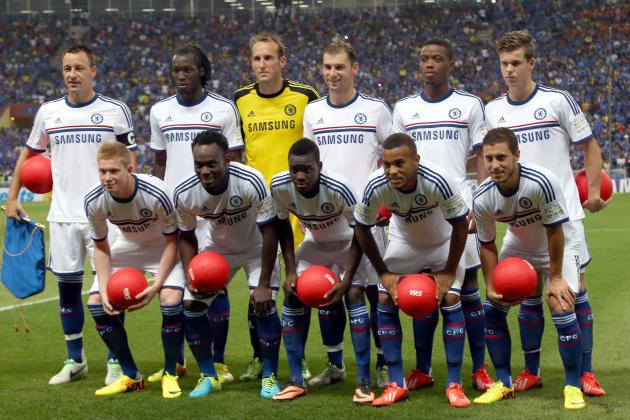 Stanley Chou/Getty Images

Yes, while Chelsea and new boss Jose Mourinho have only played two games thus far during their offseason tour in Asia, it's not too early to label members of the Blues as winners or losers.
Thus far, Chelsea have looked in good form to begin their 2013-14 season.
Their preseason tour got off to a winning start in Bangkok, with Chelsea defeating the Singha All-Stars by a score of 1-0. Chelsea then went off to Malaysia to take on the Malaysia XI, where the Blues earned an easy 4-1 victory.
While the preseason is all about getting back to full fitness, finding chemistry with teammates and preparing for the grind of an English Premier League schedule, there is no doubting that each and every player uses the preseason to fight for their place in the first team.
While some have relished the opportunity to find minutes in Chelsea's lineup, others have seemed to back down while in the spotlight.
With that said, here are my winners and losers of Chelsea's offseason tour thus far.
Begin Slideshow

»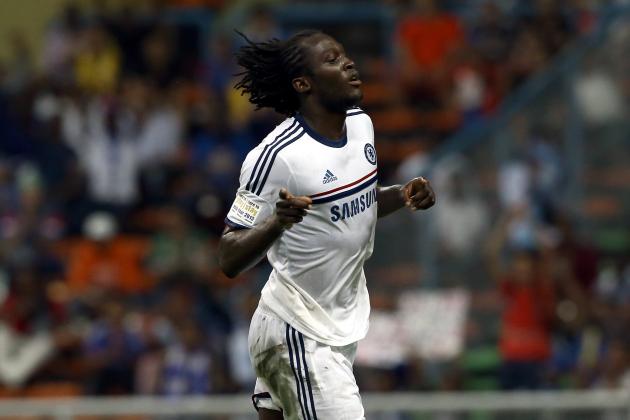 Stanley Chou/Getty Images

After spending his first full season in the EPL last year on loan with West Bromwich Albion, Romelu Lukaku has started off his Chelsea career in wonderful fashion.
Not only has Lukaku scored two goals in the Blues' first two games of the preseason, he's also looked like the most capable striker on Chelsea's roster.
Against the Singha All-Stars, Lukaku buried a penalty confidently for Chelsea's only goal of the game. He created plenty more scoring opportunities for the team while being Mourinho's first-choice striker.
However, Lukaku's second game of the preseason may have been even more impressive.
After Chelsea found the net early via a Bertrand Traore finish, Lukaku flicked on a long ball from Mark Schwarzer that eventually found the net off a Kevin de Bruyne volley.
However, the night didn't end there for Lukaku. He put his side up 3-0 when he calmly finished a Traore through ball to end his night on a high note.
With Demba Ba struggling, which I will talk about shortly, and Fernando Torres still on holiday due to his participation in the Confederations Cup, Lukaku has clearly put himself in the driver's seat to be Mourinho's first-choice striker come August.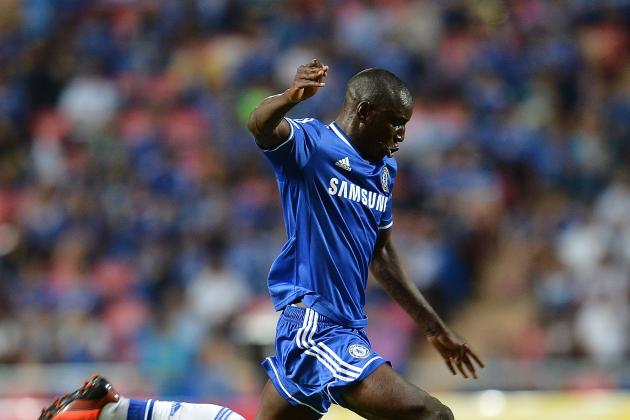 Thananuwat Srirasant/Getty Images

Time may be running out for the striker from Senegal.
Since joining Chelsea from Newcastle in the January transfer window, Demba Ba has simply not been the same player.
After enduring a dip in form in the spring, Ba's preseason has not gone much better.
Failing to impress Jose Mourinho, Ba came off the bench in both of the Blues' games and has looked lackluster, to say the least. The 28-year-old has looked extremely out of form and has even lacked the work rate needed to create quality scoring chances for himself.
With all that said, Ba will have the chance to start in Jakarta when Chelsea takes on the Indonesia All-Stars. If Ba wants to prove himself worthy of a place in the first team come August, it is an opportunity that he cannot afford to let slip out of his hands.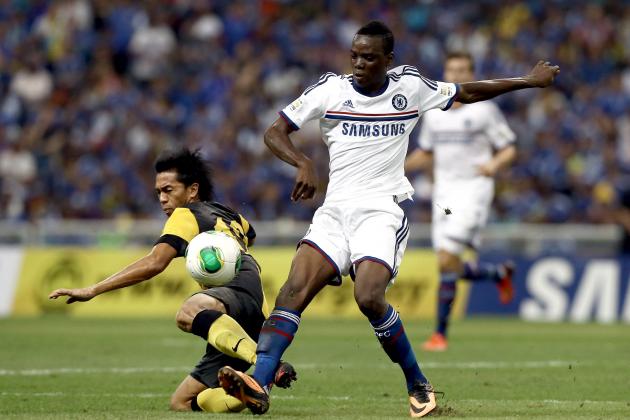 Stanley Chou/Getty Images

Arguably one of Chelsea's best players thus far this offseason is someone who will not even be on the team in a month.
That's right, Bertrand Traore, a 17-year-old trialist, had one of the performances of the summer when the Blues took on the Malaysia XI.
Traore started off his night by opening up the scoring with a cool, early finish off a Kevin de Bruyne cross. With the finish, Traore looked extremely composed and calm, something that is incredibly impressive for a teenager.
However, Traore only got better as the night went along.
Traore constantly gave the Malaysian defenders fits, beating them up and down the wing and creating scoring opportunities for Romelu Lukaku and company to pounce on. Traore's hard work paid off when, just before the halftime whistle, he sent Lukaku in on goal with a wonderful through ball, which Lukaku finished neatly.
According to AfrikanSoccer.com, even Mourinho was greatly impressed with Traore's work: "[He's] a 17-year-old kid and he had some movement and some touch on the ball, so you can imagine he is a good kid for the youth team."
Despite him possibly not even being featured in Chelsea's first team for several years, if at all, Bertrand Traore has done excellently to set himself up to have a fantastic future in West London.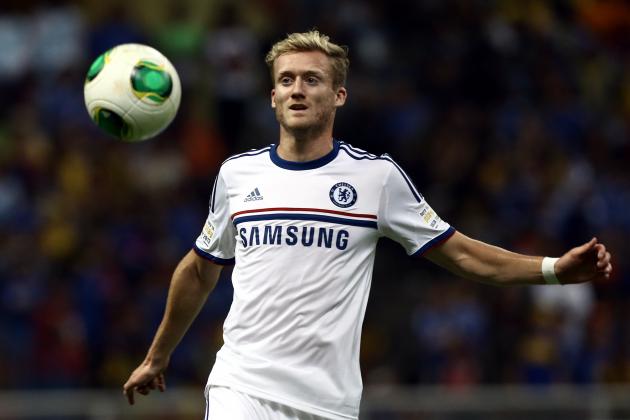 Stanley Chou/Getty Images

After Andre Schurrle came to West London after an approximate £20 million transfer from Bayer Leverkusen, there were great expectations of what he could bring to Chelsea.
So far, it can be said that Schurrle has disappointed some Chelsea fans.
While the German international has clearly not been the Blues' worst player of the offseason thus far, he hasn't been one of the best either. And after a £20 million transfer, you need to be one of the best on the pitch.
However, in Schurrle's first two games, he has failed to look impressive.
Despite giving some problems to outside defenders, Schurrle hasn't looked all that comfortable in his first couple of games with Chelsea.
Granted, Schurrle is a new player to Chelsea and will surely take time to adjust to Jose Mourinho's playing style, as well as the style of an English team. And of course, Schurrle will be one of Chelsea's top wingers this season.
However, it's safe to say that it hasn't been as great of a start to Schurrle's Chelsea career as anybody would have hoped.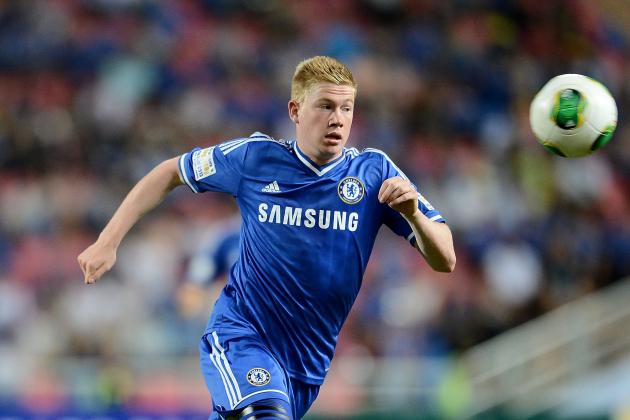 Thananuwat Srirasant/Getty Images

In my opinion, Kevin de Bruyne has been Chelsea's best player of the preseason by a long mile.
After being the subject of many transfer rumors over the summer, de Bruyne has put all doubters of his game to rest with sublime performances thus far in Chelsea's first two games. The Belgian international has proved he has the ability to play both outside and in the central role behind the striker. That versatility will prove to be crucial for Chelsea in this upcoming season.
De Bruyne also scored the goal of the preseason thus far with a tremendous, powerful volley off a knockdown by Romelu Lukaku.
He has also shown the ability to set up his teammates and play the role of a No. 10, and that was on display with an assist on Bertrand Traore's opener against the Malaysia XI.
The 22-year-old has suddenly become one of Chelsea's most lethal attacking threats, and it's only two games into his Chelsea career.
However, due to unfortunate circumstances, de Bruyne also features in my "losers" section, due to reasons that I will give next.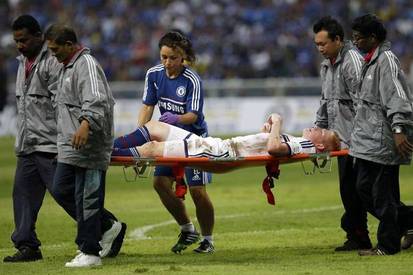 As I mentioned in the previous slide, de Bruyne also must be considered a loser so far this preseason, but for reasons that are not his fault.
While scoring one of the goals of the preseason so far, and his first goal in a Chelsea shirt, de Bruyne at the same time put his immediate future for the club in doubt.
After powering home a thunderous volley in the first half of Chelsea's 4-1 victory of the Malaysia XI, de Bruyne landed extremely awkwardly on his right leg, causing his knee to hyperextend and give him serious problems.
De Bruyne was immediately carried off, and his night was done. It was truly a shame for the Belgian, as he was easily Chelsea's brightest star on the night.
However, Chelsea put to rest any questions of whether the injury was serious. According to David Kent of the Daily Mail, the club is optimistic that de Bruyne will be ready for the club's trip to the United States on August 1.
Although Chelsea maintain that it is not a serious injury, De Bruyne will not be fit for Thursday's game against Indonesia XI and now returns to London for an MRI scan.

The club are hopeful, though, that he will be fit for the start of the US tour on August 1.
While de Bruyne will most likely not need to miss an extended amount of time for the Blues, this injury will surely halt his offseason progress. Clearly in good form in preseason, this injury was probably the last thing de Bruyne wanted or needed.
He will now need to make sure he is healthy and fit in time for the start of Chelsea's EPL season in mid-August.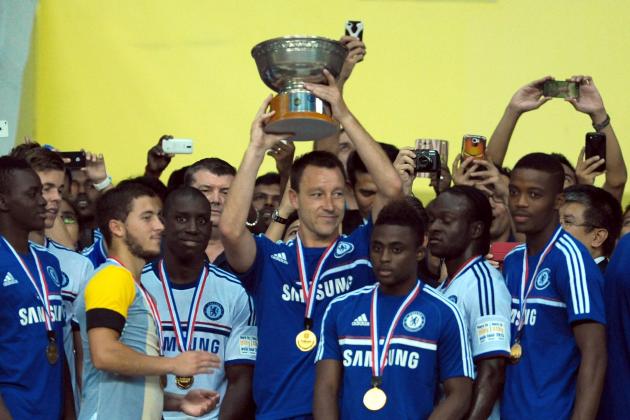 Stanley Chou/Getty Images

Thus far, Chelsea's preseason tour in Asia has gone mostly according to plan.
Players are regaining their fitness, finding chemistry with their teammates and, for the most part, have avoided serious injury.
And, while results don't matter one bit in preseason, Chelsea is two for two so far. As we all know, it's always nice to win.
While players like Romelu Lukaku, Bertrand Traore and Kevin de Bruyne have cemented their future as a part of Chelsea Football Club, others such as Demba Ba and Andre Schurrle will have something to prove in the next couple of weeks.
Chelsea wrap up their tour of Asia on Thursday in Jakarta when the Blues take on the Indonesia All-Stars and then head to the United States to take part of the International Champions Cup in early August.
All in all, it is an extremely important couple of weeks for Chelsea to make their final preparations as they look to capture their first English Premier League title since 2010.
Now, have YOUR say! Who do you feel have been the winners and losers of Chelsea's offseason thus far?