NFL Training Camp Battles Destined to Last the Entire Preseason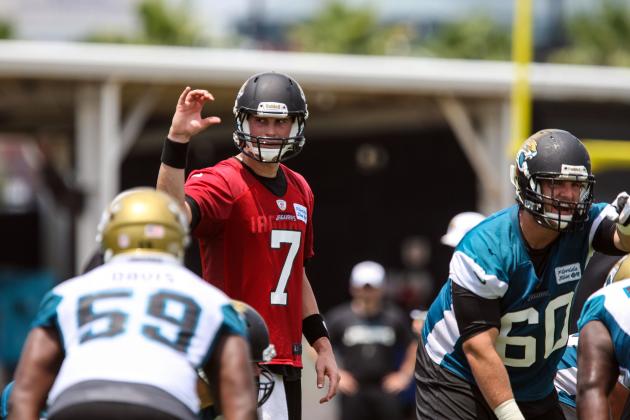 Rob Foldy-USA TODAY Sports

In recent years, the NFL offseason has taken on a life of its own.
Between the draft, free agency, trades and other forms of coach and player movement, the offseason provides diehard football fans with plenty of entertainment with which to pass the time between the Super Bowl and the start of the new season.
Fortunately, fans do not have much time left to pass, as the 2013 regular season is virtually right around the corner.
However, the offseason still has one round of excitement left to offer.
We're talking about training camp, where teams are forged, future stars emerge and players battle it out in the heat of summer for the right to represent their respective teams on the field of play.
Training camp battles can be one of the most exciting aspects of the entire offseason, and this year has plenty of them to offer.
Some battles are sure to be short-lived. Others, however, are likely to drag on until the start of the regular season.
Begin Slideshow

»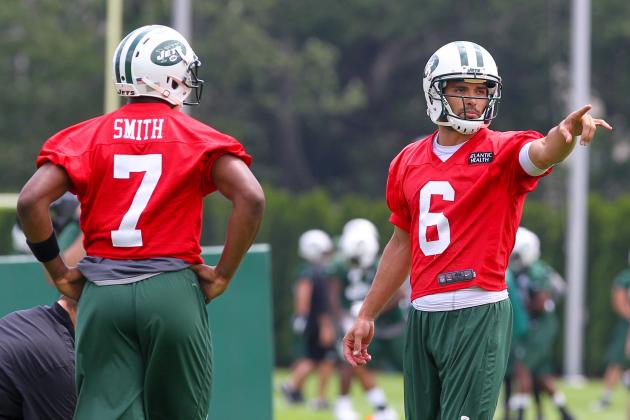 Ed Mulholland-USA TODAY Sports
Which quarterback will emerge as the starter for the Jets this summer?
On the surface, it would appear that fifth-year quarterback Mark Sanchez has the inside track on the starting quarterback job for the New York Jets.
The former USC star has already led the Jets to two AFC Championship Game appearances and has four total years' worth of starting experience under the bright lights of New York, though he has played under two different coordinators.
However, the addition of former West Virginia signal-caller Geno Smith has certainly clouded the picture.
Selected in the second round of April's draft, Smith enters the NFL on the heels of a very impressive collegiate season. In 2012, Smith completed 71.2 percent of his passes for 4,205 yards and 42 touchdowns with just six interceptions.
By comparison, Sanchez had arguably the worst season of his pro career last year, throwing for just 2,883 yards and 13 touchdowns while committing 26 total turnovers.
The Jets have already made it clear that there will be an open competition for the starting job, and a lot could be determined during preseason play.
Head coach Rex Ryan and new general manager John Idzik are likely to put more stock in the quarterbacks' ability to run Marty Mornhinweg's offense—during training camp and in the preseason—then in anything either player has accomplished in the past.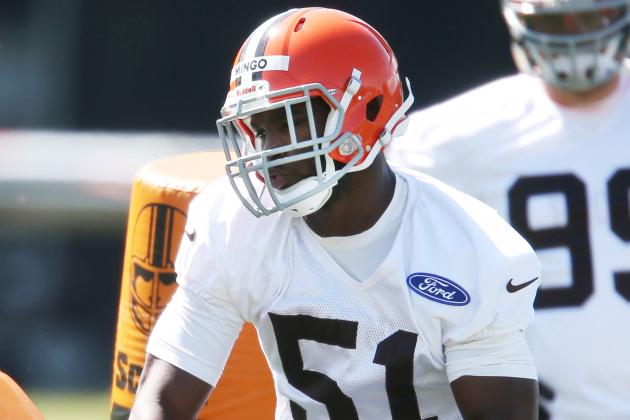 Ron Schwane-USA TODAY Sports
How quickly can Barkevious Mingo adapt to life as an NFL linebacker?
The Cleveland Browns are looking to utilize bookend pass-rushers to bring pressure on opposing quarterbacks this season.
In new defensive coordinator Ray Horton's 3-4 scheme, these pass-rushers will most likely come from the outside linebacker position.
The Browns locked down one of these linebackers during free agency when they inked former Ravens linebacker Paul Kruger to a five-year, $41 million deal.
The battle for the other outside spot will likely be a two-man fight between rookie first-round pick Barkevious Mingo and third-year player Jabaal Sheard.
Mingo entered April's draft as one of the top pass-rushing prospects available, as his upside and freakish athletic ability appear even more enticing than the 15 total sacks he produced in three seasons at LSU. However, it could take some time for the rookie to fully meet his potential.
Sheard, on the other hand, has already established himself as a capable NFL defender, having amassed 110 total tackles, 15.5 sacks and six forced fumbles in his two seasons as a Brown.
The interesting thing here is that both Mingo and Sheard will be adjusting to a new position this offseason, which could put the duo on more even footing than would initially appear.
Considering that both players are moving from defensive end to the linebacker position, it would not be all too surprising if Horton decided to use both as a large part of his pass-rushing rotation.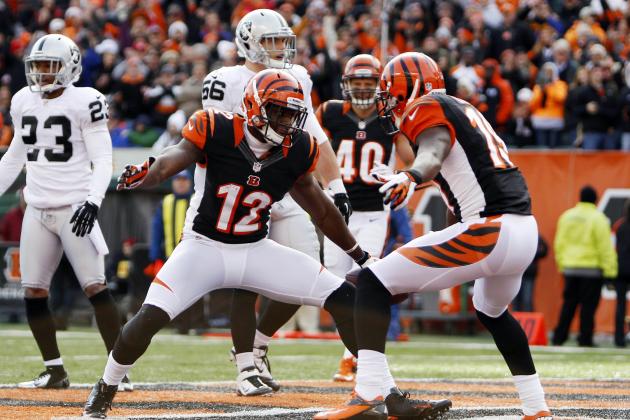 Frank Victores-USA TODAY Sports
The Bengals are still searching for a reliable No. 2 to pair with A.J. Green.
The Cincinnati Bengals already have one of the league's hottest young receivers in third-year pro A.J. Green. In just two seasons, Green has already hauled in 162 passes for 2,407 yards and 18 touchdowns.
What the Bengals do not have is a reliable second option to pair with the young phenom.
Last season, Cincinnati's second-leading receiver was tight end Jermaine Gresham (64 receptions), followed by wideout Andrew Hawkins (51), who is best suited for the slot.
The next-best wide receiver for the Bengals was then-rookie Marvin Jones, who logged just 18 receptions on the year.
The battle to be Cincinnati's other outside receiver will likely be between Jones, fellow second-year wideout Mohamed Sanu and fifth-year pro Brandon Tate, who has made more noise as a punt returner in the NFL than he has as a pass-catcher.
Sanu is widely considered the favorite to win the job. Though he logged just 16 receptions on the season, Sanu managed to haul in four touchdowns over a three-game stretch before being lost for the season with a stress fracture.
If any of these three men proves he can take advantage of the attention drawn by Green during the preseason, he should be able to lock down Cincinnati's No. 2 job by the time the regular season rolls around.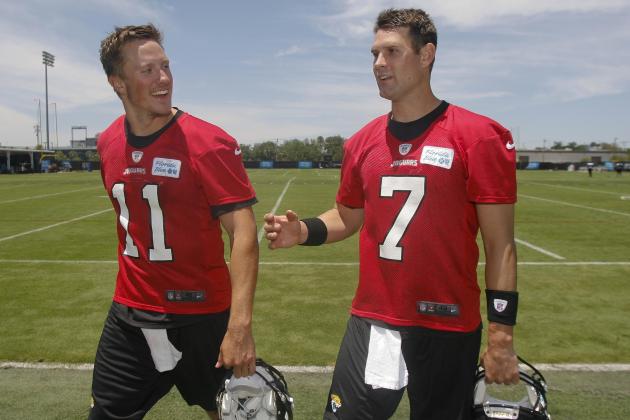 Phil Sears-USA TODAY Sports
Gabbert and Henne will battle for the right to lead the Jaguars in 2013.
The battle to be the starting quarterback for the Jacksonville Jaguars may have actually begun last season.
Former first-round pick Blaine Gabbert (10 starts) and journeyman signal-caller Chad Henne (six) each took turns leading the Jaguars offense with mixed results.
Gabbert, the 10th overall pick in the 2011 draft, passed for just 1,662 yards and nine touchdowns, though he did complete a respectable 58.3 percent of his passes.
Henne, on the other hand, managed to pass for 2,084 yards and 11 scores, though his completion percentage was a bit lower at 53.9 percent.
Perhaps more telling is the fact that standout wide receiver Justin Blackmon appeared to have a better rapport with Henne. Of course, Blackmon will be absent during the Jaguars' first four games thanks to a suspension for violating the league's substance abuse policy.
While Gabbert was a first-round pick just a couple of short years ago, new head coach Gus Bradley has no real ties to either quarterback, making this a truly open competition that could come down to the wire.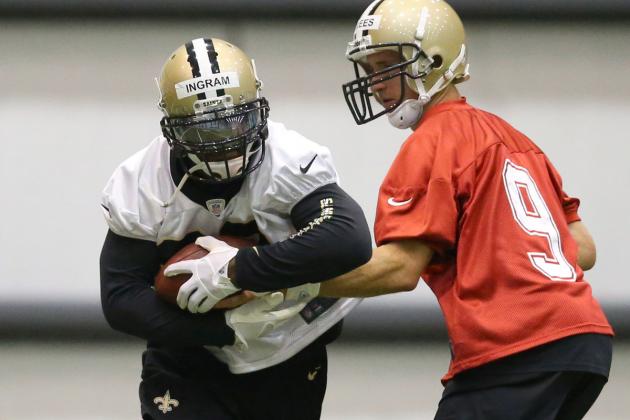 Crystal LoGiudice-USA TODAY Spor
How will the RB committee look now that Sean Payton has returned?
If former Alabama star Mark Ingram is ever going to emerge as an every-down back for the New Orleans Saints, he is going to have to make his move soon.
The Saints spent a first-round pick (28th overall) on Ingram back in 2011; they did so believing that he could solidify the starting running back spot for the foreseeable future.
However, Ingram hasn't been the dominating force in New Orleans that he was at Alabama, and this could be his last chance to emerge as the Saints' starting back.
His main competition for the job is seventh-year pro Pierre Thomas, who has filled the traditional role of starter this offseason, according to NFL.com's Gregg Rosenthal.
Ingram did lead the team in carries last season with 156. However, Thomas often appeared more effective, posting a 4.5 yards-per-carry average compared to Ingram's 3.9 (which is also his career average).
Whoever fails to win the starting job is likely to wind up as the Saints' No. 3 running back, as utility man Darren Sproles is sure to get his fair share of touches at the position.
While Thomas appears to be the safer choice to head the Saints' running back committee, Ingram will likely be given every opportunity to step up and take the job during training camp and in preseason.
Ron Chenoy-USA TODAY Sports
Will Denver find the right RB to take pressure off Peyton Manning this season?
With quarterback Peyton Manning at the helm, virtually everyone expects the Denver Broncos to boast one of the league's top passing offenses in 2013.
The ground game could be a different story.
The Broncos did manage a respectable 114.5 yards per game on the ground last season (16th in the league). However, the team's best rusher from a year ago, Willis McGahee, was released during the offseason.
Denver's next best runner was former first-round pick Knowshon Moreno, who carried the ball 138 times for 525 yards. He was followed by then-rookie Ronnie Hillman (85 carries for 330 yards) and Lance Ball (42 carries for 158 yards).
Moreno is coming off knee surgery and may not be a factor early in the season.
Denver drafted former Wisconsin star Montee Ball in the second round of April's draft, and the 5'10", 214-pounder may prove to be the best overall fit for the Broncos offense.
However, Hillman is expected to open training camp as the starter, according to Jeff Legwold of the Denver Post.
While Montee Ball possesses the size and running style of an every-down NFL back, Hillman has experience on his side and has flashed a fair amount of big-play ability.
This could end up being a running back by committee at the beginning of the season, but a lot will depend on the rookie's ability to adjust to the NFL over the next few weeks.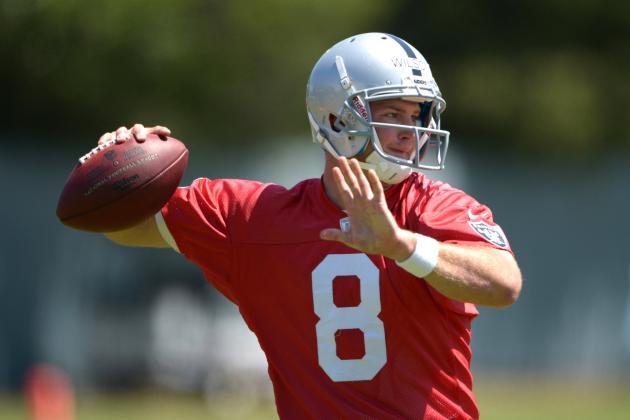 USA TODAY Sports
The Raiders may have found a gem in rookie Tyler Wilson.
For the second consecutive year, former Green Bay Packers backup Matt Flynn has found himself with a new team and battling a rookie for the starting quarterback job.
Things didn't work out so well for Flynn in Seattle, where then-rookie Russell Wilson took hold of the Seahawks' starting job and never looked back. Now with the Oakland Raiders, Flynn will go up against another mid-round pick named Wilson.
Former Arkansas quarterback Tyler Wilson was once projected as a potential first-round pick before a disappointing 4-8 senior campaign caused his stock to slide. The Raiders scooped him up in the fourth round of April's draft.
Flynn, acquired from the Seahawks this offseason, is expected to have the inside track for the starting job based on his experience in the league.
However, early reports indicate that Wilson has been very impressive thus far this offseason.
According to Steve Corkran of the Contra Costa Times, Wilson is on track to push Flynn for the starting job before training camp even begins.
Wilson did pass for 7,765 yards and 52 touchdowns during his five-year collegiate career, and Flynn has just two NFL starts under his belt. Therefore, it wouldn't be all too surprising if Flynn really does miss out again.
Last season, Flynn entered camp as the Seahawks starter but lost the job by the end of preseason. In a few short weeks, we will know if history has repeated itself.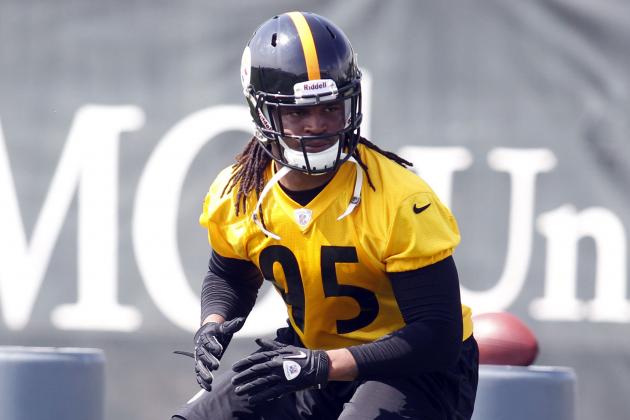 Charles LeClaire-USA TODAY Sport
Jarvis Jones could be the next great Steelers linebacker.
The Pittsburgh Steelers are not particularly keen on starting rookie defenders. In fact, they haven't done so since 2001.
However, former Georgia linebacker Jarvis Jones could change that trend.
In just two seasons with the Bulldogs, Jones racked up an impressive 91 solo tackles and 28 sacks. As one of the top-rated pass-rushers in April's draft, he could immediately push for playing time at outside linebacker in coordinator Dick LeBeau's 3-4 scheme.
Thanks to the uninspiring play of fourth-year pro Jason Worilds, Jones could even push for the starting job vacated when Pittsburgh released James Harrison this offseason.
Worilds, a second-round selection back in 2010, has not developed quite like the Steelers had hoped. In three seasons, he has posted 82 tackles and 10 sacks, but he has yet to emerge as a true impact player.
Jones has the potential to be the impact player Pittsburgh needs to replace Harrison, but Worilds' experience could keep him at bay, at least early in the season.
However, Jones will be given every opportunity to become the first rookie linebacker to start for the Steelers since Jack Ham.
Both Jones and Worilds will need to prove that they can adapt to a starting NFL role in training camp and during the preseason.
While recent history would suggest that Worilds will open the season in the starting lineup, both players appear to be on equal footing, and a few big plays during preseason could swing Pittsburgh's decision in either direction.