Before digging into the nitty-gritty of what Minnesota Vikings fans can expect from rookie defensive tackle Sharrif Floyd, let's just go ahead and say that he has the greatest football name ever.
Short of Johnny Football, which last I checked was not his actual surname, there is nothing more "football" than the name Sharrif Floyd. Jonathan Paul "Dehydration" Manziel may have been born with a Heisman in one hand and a mug of beer in the other, but Floyd most likely was born with a cowboy hat and duel pistols.
Floyd brings to mind the infamous line from Pink Floyd's album Meddle, "One of these days, I'm going to tear you into little pieces," something Floyd the player could probably do with his swim move.
If you want a less esoteric reference, go no further than Floyd Mayweather. Once Sharrif Floyd figures out how to get through an NFL offensive line, Money May is not going to be the only guy that is going to be knocking people out.
The best part of Sharrif Floyd's given name, however, is actually his first name: "There's a new Sheriff Sharrif in town" or something to that effect. He sounds like a boss and given all the accolades he accrued out in Eastern Pennsylvania and down in Gainesville, Florida, he absolutely is one.
In my mind, the only proper way to welcome him to Minneapolis after the team concludes camp down in Mankato is to reenact the scene where the sheriff comes to town in Blazing Saddles. Sid Hartman can be the old man on the roof, Zygi Wilf, Leslie Frazier and Rangar the Viking can all sit behind the podium…[Watches scene from Blazing Saddles again]…okay on second thought that's a terrible idea. Let's not do that.
In all seriousness, Floyd is a guy that is worth pulling for. He had a man pose as his father and punish him ruthlessly as a child (Dan Wiederer's profile on Floyd in the Star Tribune is definitely worth a read) and he has the potential to be a great story in the NFL.
With all his talent, it was a surprise that he dropped to No. 23 in the draft. Perhaps he was everybody's No. 2 when they were choosing, perhaps they just forgot he was there. Whatever the reason was, both player and team are happy it went down that way.
Do not expect Floyd to be rushed into action. He can learn behind Kevin Williams, will be smart to become versatile and will likely show flashes of what's to come this season. But with a team built for the playoffs, don't expect the Vikings to hamper his development by forcing him into action too soon.
Learning from Kevin Williams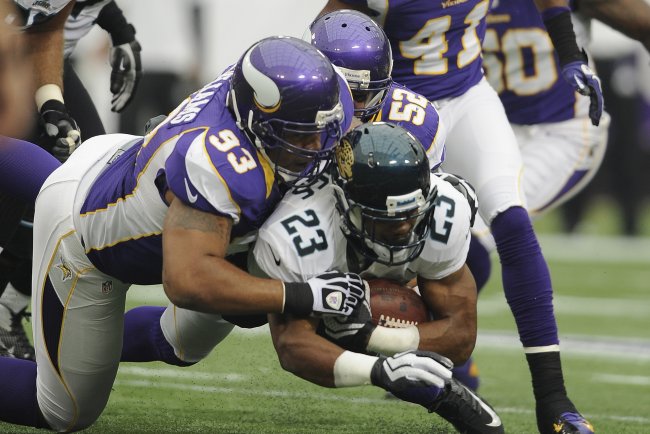 Hannah Foslien/Getty Images
Floyd, a Philadelphia boy, can learn from Williams, a player that hails from Arkadelphia. Yes, that's right, Williams is actually from a town named Arkadelphia. I think it was formed when Charlie from It's Always Sunny got drunk and found himself 1,200 miles west of Paddy's Pub. When he asked the first person he saw where Paddy's was, they told him he was in Arkansas. Confused, Charlie named the place he wandered off to Arkadelphia.
That story is completely false.
What is true is that Kevin Williams learned his game from a man named Pat "I'm not your brother" Williams when he was a rookie and Pat was a veteran. Kevin then went on to become a six-time Pro Bowler and now is in the latter part of his career.
The Vikings have already indicated that Floyd will play behind Williams and will not begin the year as a starter. "I don't foresee such a dropoff with Letroy or Fred for that to happen," Frazier told Ben Goessling of the Pioneer Press. "That would be optimal if [Floyd's] able to get in the rotation, have success, and we can gradually add more to his plate as the season goes on."
It's a smart move. Williams' legacy can be that he mentored the next great defensive tackle in Minnesota. As a rookie, Floyd can focus on learning as well as playing the game and because he dropped to a playoff contender in the draft, he will not be forced into action.
Unfortunately, watching a player learn is not very fun for fans, but it will definitely pay off in seasons to come.
Becoming versatile
In his NFL.com draft analysis, Floyd was compared to Muhammad Wilkerson of the New York Jets.
Wilkerson is an interesting player. As reported by Grantland's Robert Mays, Wilkerson plays nine alignments for the Jets.
"Success in the NFL can often be as simple as being very good at one thing," writes Mays. "Wilkerson is very good at about a dozen, and it could soon make him one of the league's most indispensable defenders. He isn't there yet. But after this season, Wilkerson's name may belong right alongside [Von] Miller, [Aldon] Smith, and [J.J.] Watt."
Asking Floyd to play on both sides of the ball, as Wilkerson does, it an awfully tall order. But having him learn each position while in shorts and a t-shirt is not a terrible idea.
Floyd has shown a willingness to learn from the sidelines.
"We're going to hit no matter what," Floyd told Andrew Krammer and Tom Pelissero of ESPN1500, indicating that he does not need to be wearing pads all practice.
"That's the name of the game in the trenches. It's not frustrating—it's about learning good techniques."
Floyd has a lot of great teammates to learn from, including Williams, Jared Allen and Brian Robison. He will not play all of their positions, but he should be soaking up as much knowledge as he can so he will be able to be versatile on the field like Wilkerson.
A glimpse into the future
Make no mistake though, Floyd will be in pads on Sunday and will be ready to knock people's lights out.
He needs to work on penetrating the offensive line, especially against tougher competition in the NFL, and in order to take the next step he will have to keep his pads low and the motor running. If he shows the strength and stamina to play a full NFL season, he should have plenty of opportunity to make a couple highlight-reel plays.
He has a quick first step, a nice swim move and is adept at shooting through gaps—three skills that should transfer nicely once he is wearing purple. Expect him to get the Metrodome buzzing with a few big plays this season.
By catching Vikings games on Sundays this year, fans will be able to see Floyd grow before their very eyes.
Conclusion
I'm still not sure how Floyd dropped to No. 23, but he is certainly going to be welcome in Minnesota.
Floyd can learn from one of the game's greats in Williams and can be eased into NFL play throughout the course of the year. The Vikings have a player that has been compared to one of the most versatile linemen in the game and possesses incredible strength and quickness.
In short, expect this to be a great rookie season for Floyd.
Tom Schreier covers Minnesota sports for Bleacher Report and is a contributor to Yahoo! Sports.