The Big Ten's media days—and each conference's similar event—are a strange (though understandable) phenomenon.
With players and coaches readying themselves for camp and the beginning of the 2013 season, notable names parade themselves in front of reporters, get asked variations of the same questions over and over, and move on about their days. Even smaller-budget publications will send their football experts to the event, as this is one of a select few opportunities to have every coach in the same area.
That said, it's not like anyone walked away from Wednesday's series of pressers refreshed, as though he just took a week-long cleanse.
The biggest takeaway from these sessions is always that college football coaches could have had second careers in politics. There is the occasional piece of news, and sometimes coaches address controversy, but most answers given in these pressers come down to two words: We'll see. Position battles? We'll see. Player gets suspended? We'll see.
And that's fine, because that's how these things operate. You go and sit through the platitudes in order to find one or two notable pieces of information that make the whole thing worthwhile.
With that in mind, let's take a look at the most notable takeaways from Wednesday's pressers.
Ohio State Rules the Day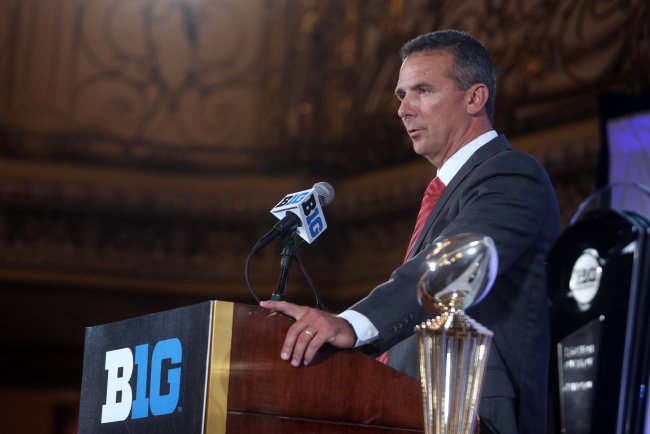 Jerry Lai-USA TODAY Sports
There was one undefeated college football team last season. It wasn't the national-champion Alabama Crimson Tide. Nor was it the team led by Heisman Trophy winner Johnny Manziel. No, that distinction went to the Ohio State Buckeyes, whose 12-0 regular-season record will go down as a nice accomplishment but one with empty implications. Urban Meyer's squad was ineligible for the Big Ten and NCAA championship games due to transgressions under Jim Tressel.
The team brings back quarterback Braxton Miller and at least seven other starters offensively (defense is a bit of a question mark), leading to even greater expectations in 2013. Ohio State is a near lock for a top-five ranking heading into this season, likely the only one of those given out to a Big Ten team this fall.
As such, the Buckeyes were always expected to take center stage Wednesday afternoon. But legal problems for running back Carlos Hyde and defensive back Bradley Roby have led to the former being suspended indefinitely and the latter's career in Columbus looking just as up in the air. Freshmen Marcus Baugh and Tim Gardner also faced disciplinary issues this week, leaving Meyer with plenty of questions to answer in the coming days.
Well, Meyer and his Big Ten cohorts.
One of the prevailing storylines coming out of Wednesday's media sessions was the preponderance of questions directed at opposing coaches about Meyer's program. Tom Fornelli of CBS Sports was one of many to note the massive line of Buckeyes-related questioning:
Welcome to Big Ten Media Days where we ask Big Ten coaches about Ohio State.

— Tom Fornelli (@TomFornelli) July 24, 2013
As one would expect, opposing coaches weren't what you would call thrilled about talking about other teams. Football coaches are, after all, single-minded cyborgs who place winning above all else. Bleacher Report's Adam Kramer had a theory on what Nebraska coach Bo Pelini would look like when asked about the Meyer-Ohio State situation:
http://t.co/XZIoGHfYo2 RT @helloerinmarie: The death stare Pelini will give when asked about Ohio State and Urban Meyer will be tremendous.

— Adam Kramer (@KegsnEggs) July 24, 2013
I can confirm that, unfortunately, nothing was harmed as the result of spontaneous laser-beaming. It was quite the disappointment.
In fact, it was probably Meyer himself who got closest to eruption. Doing his very best evangelical impersonation, Meyer seemed incensed about his players' recent run-ins with the law, per ESPN's Matt Fortuna:
Disruption is the biggest thing that bothers me. I think the head coach needs to set a standard: Direct, guide, mentor, push and direct these guys. Ultimately, though, every person is ultimately held accountable for their decisions they make. So we've just got to continue to evaluate all the things we do.
But, alas, again I can report there were no laser beams. Hell there wasn't even laser tag. Feel free to be sad now.
Northwestern QB Kain Colter Speaks Out on NCAA Lawsuit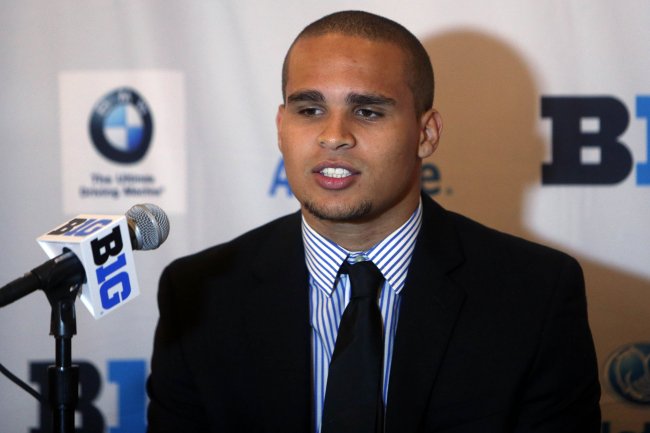 Jerry Lai-USA TODAY Sports
Last season, Northwestern's Kain Colter burst onto the scene as one of the Big Ten's most notable big-play threats. Moving from receiver to quarterback to running back on any number of possessions, the rising senior gave the Wildcats offense a level of dynamism that had been missing for plenty of years.
Colter finished the 2012 campaign with 1,932 yards of total offense (passing, rushing and receiving) and 20 touchdowns. Expected to see more responsibility in 2013 for a Northwestern team hoping to improve on its 10-3 record, Colter was one of the few players at the media day garnering major attention.
And he did. Just not for the reasons anyone expected. While players usually take a series of banal questioning that lends itself to platitudes, Colter was asked about the current lawsuit Ed O'Bannon and other collegiate athletes (mostly past, but six present) have filed against the NCAA over the use of their likenesses.
Let's just say Colter is firmly on the side of his brethren, per Matt Daniels of The News-Gazette:
Kain Colter of Northwestern with some strong opinions on players getting paid: "We can't really promote ourselves with our names."

— Matt Daniels (@mdaniels_NG) July 24, 2013
More from Colter, who supports lawsuit six current players have against NCA: "It's time for the players to have a voice."

— Matt Daniels (@mdaniels_NG) July 24, 2013
As everyone with a working pulse knows, the NCAA prevents players from profiting off their likenesses and just about anything else involving their athletic endeavors. The NCAA's rulebook is so thick it makes a phonebook look like Green Eggs and Ham. The organization's rulings are often arbitrary and dependent on context, leaving players unsure about what they can and cannot do.

Whose side are you on in the O'Bannon v. NCAA lawsuit?
All the while, the NCAA allows schools to sell jerseys and has lent its name to things like EA Sports' NCAA Football franchise, which uses current rosters as a base. O'Bannon's case, filed in 2009, alleges that the NCAA knowingly allows the use of players' names and likenesses without consent, and that players are illegally being held from profits the NCAA makes.
The case is still in court, but it has picked up numerous plaintiffs since its original filing. Six current college football players added their names to the plaintiff list just last week.
As for my opinion, well, let's just say there's a reason Northwestern is regarded as the Big Ten's finest academic institution.
Penn State Mum on NCAA Reduction Talk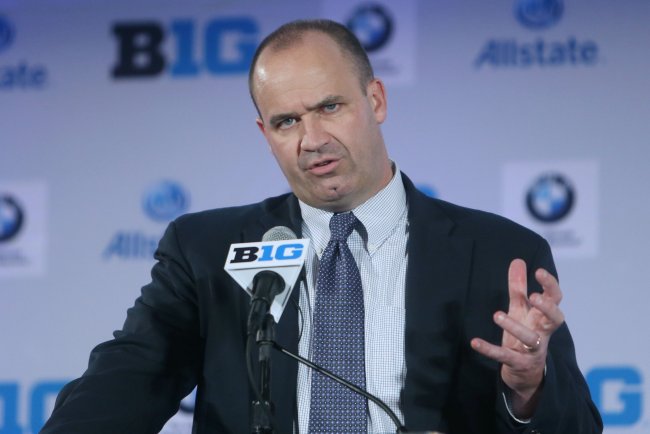 Jerry Lai-USA TODAY Sports
Speaking last week in a conference call after the announcement of Penn State's game in Ireland next season versus Central Florida, Bill O'Brien opened up about his desire for the NCAA to shorten Penn State's punishment from the Jerry Sandusky sex-abuse scandal.
While he understood the original intention of the sanctions, O'Brien said he hopes that the governing body will look at how he's handled the program and find an amendable middle ground. Here is the full transcript of his statement, per Mark Wogenrich of The Morning Call:
I believe that this football program is being run the right way. I believe we have great kids here. I think we work very, very diligently to stay in compliance, just like every program around the country...I think we're in compliance, and hopefully at some point in time the NCAA, the governing body of college athletics, will look at that and they can meet us half way.
Using the Penn State-funded Freeh report as their guide, the NCAA announced one of the harshest penalties in history last July. Under the agreement, the Nittany Lions are forbidden from postseason play until the 2016 season and were fined $60 million. They are also unable to carry more than 65 scholarship players and can only hand out 15 per season, both numbers that put them at a distinct disadvantage.
Announced a day before his first Big Ten media days as Penn State head coach, O'Brien was in a far more chipper mood this time around. He spoke on the team's quarterback battle and tried to keep the discussion about football as much as possible.
But, much like it did a year prior, the NCAA sanctions played a large part in the line of questioning. As noted by ESPN's Nittany Nation Twitter feed, neither O'Brien nor athletics director Dave Joyner would take the bait:
Neither Bill O'Brien nor Dave Joyner would address the sanctions or how PSU might confront the NCAA about a possible reduction.

— ESPN NittanyNation (@ESPNPennState) July 24, 2013
That should come as little surprise. Any potential reductions—if ones are even possible—begin with Penn State president Rodney Erickson's office. Should the NCAA even consider a reduction, Mark Emmert and Co. would want to do so behind closed doors and without sweeping proclamations from a football coach.
Joyner and O'Brien played it smart. It'll just be interesting to see whether this plan or any other will work down the line.
Follow Tyler Conway on Twitter: