2013 Stat Projections for Key Tennessee Titans Players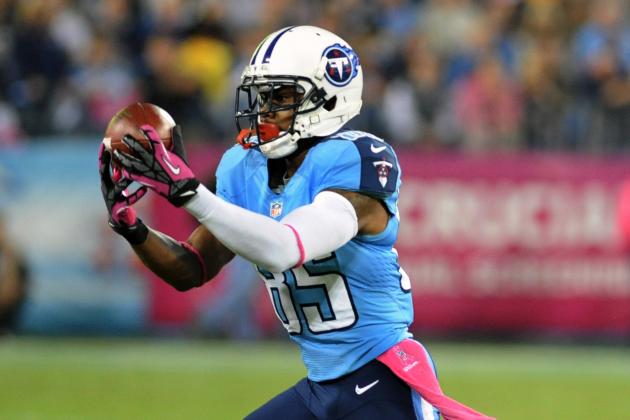 Al Messerschmidt/Getty Images

Individual stats usually never jump off the page when looking over the roster of the Tennessee Titans, but 2013 could end up being a lot different.
The Titans made a ton of offseason moves that will offer a much different look than the teams we've seen in recent years.
Key additions on offense should mean a more balanced attack, and the defense added some big names as well.
With the regular-season opener against the Pittsburgh Steelers about a month and a half away, here are your stat projections for key Titans players in 2013.
Begin Slideshow

»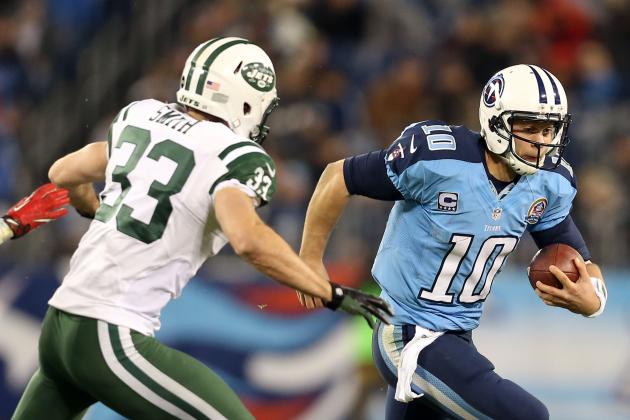 Andy Lyons/Getty Images

2012 Stats: 11 games, 2,176 pass yards, 10 pass TDs, 11 INT, 56.4 completion %, 291 rushing yards
2013 Projection: 14 games, 3,000 pass yards, 15 pass TDs, 12 INT, 60 completion %, 350 rush yards
Analysis: Some people tend to think that Jake Locker is on a short leash heading into the regular season, but it's being overblown a bit.
Locker had a lot of things working against him in what was seemingly a rookie season. His real rookie season in 2011 saw him appear in a handful of games and put up modest numbers.
This revamped offense that includes a much more balanced rushing attack, and some added weapons for Locker to throw to, will help him improve from last season. How much he improves is the question.
Don't forget that he's probably playing with a chip on his shoulder after ESPN's Ron Jaworski ranked him 31st out of 32 NFL starting quarterbacks.
The Titans still want to be a team that primarily runs the ball, so Locker's numbers aren't going to be eye-popping no matter how much he actually improves.
His completion percentage is a number that you really want to see improvement in, and having Justin Hunter and a focused Kenny Britt will help with that number.
Locker's numbers will improve, but it's probably far-fetched to think that Locker will play the full 16-game slate. He's still going to run the ball often, and that could sideline him a week or two for a more-than-capable Ryan Fitzpatrick backing him up.
Look for a moderate improvement in Locker's number from 2012, which will be enough for the Titans to stick with him for the future. A drastic setback from last season will have to happen for the Titans to jump ship on their eighth overall draft pick from 2011.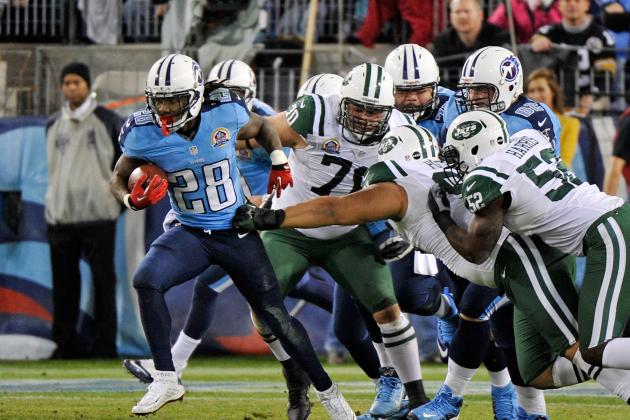 Frederick Breedon/Getty Images

2012 Stats: 16 games, 1,243 rush. yards, 4.5 yards per attempt, 6 rush. TDs, 36 rec., 232 rec. yards
2013 Projection: 16 games, 1,500 rush yards, 4.8 yards per attempt, 7 rush TDs, 45 rec., 330 rec. yards
Analysis: Chris Johnson has seemed to have adopted a new attitude this offseason, and maybe that has to do with Shonn Greene breathing down his neck on the depth chart.
Whether that has any truth to it or not, it should mean that Johnson will come into the regular season ready to prove the doubters wrong.
That's good news for the Titans and their chances to making the playoffs.
Johnson's touches might go down, but the quality of his looks will go up from last season. He has a much better offensive line to run behind, and the passing game will be respected much more by opposing defenses.
With that said, Johnson will most likely never come close to shattering the 2,000-yard mark again. It's a good personal goal to have, but helping the Titans move the chains and convert touchdowns inside the red zone should be more important.
Johnson will easily move past 1,000 yards for the sixth time in his six-year career, and he should be among the league leaders in rushing yards once again. He's just too talented to not move up that list with this offensive line.
Look for Johnson to have his fingerprints on the offense as a receiver as well. Johnson is a strong receiver and could change the scoreboard instantly if you get him into open space.
As long as Johnson focuses more on football than he does his upcoming race against a cheetah, he'll have a respectable season statistically.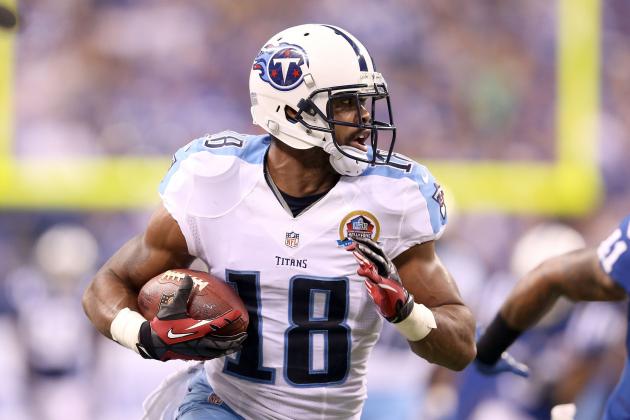 Andy Lyons/Getty Images

2012 Stats: 14 games, 45 receptions, 589 yards, 4 TDs, 13.1 yards per catch
2013 Projection: 16 games, 52 receptions, 850 yards, 5 TDs, 16.3 yards per catch
Analysis: The Titans' passing attack can become a force to be reckoned with if Kenny Britt shows up and plays up to his capabilities in 2013.
Britt hasn't made it through a full season since his rookie year in 2009. If he makes it through a full season in 2013, then his talent alone will produce respectable numbers.
However, there are a few factors that will keep Britt from surpassing the 1,000-yard mark for the first time in his roller-coaster career.
First off, the Titans have a large number of receivers who will all get their fair share of targets from Jake Locker. Britt will not be the main focal point of this passing attack, and neither will any of the other Titans receivers.
Secondly, the Titans are still going to be the run-first team that we've all known them to be over the years. That will keep Britt's numbers from being on any top-10 lists.
Britt will have a couple of big games that will remind all of us how good he can be. Will it be enough to keep him in a Titans uniforms for years to come? That's up for debate.
His numbers will be good enough to help the Titans have a healthy season throwing the ball.
Jim Brown-USA TODAY Sports

2013 Projection: 30 receptions, 525 yards, 4 TDs, 17.5 yards per catch
Analysis: Justin Hunter has all of the skills to have a great NFL career ahead of him, but it's going to take some time. He's not going to roll in and put up crazy number with Jake Locker at quarterback.
However, he is going to play well enough to justify the Titans moving up to draft him. He'll make his fair share of great plays that will give him some strong numbers for a rookie.
The fact that Hunter missed a good chunk of OTAs also hurts his chances of quickly transitioning to the NFL. He'll probably start off slow and finish the season a strong note.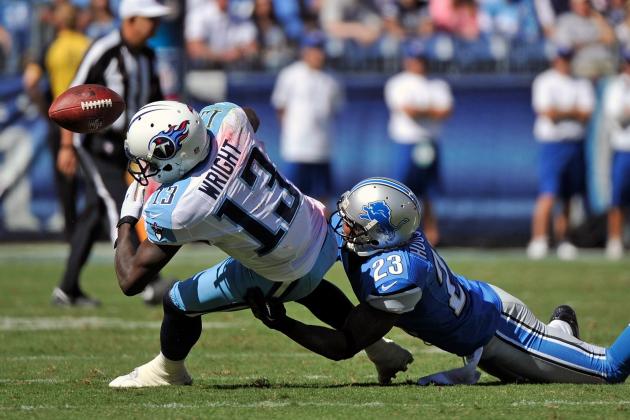 Frederick Breedon/Getty Images

2012 Stats: 15 games, 626 yards, 64 receptions, 4 TDs, 9.8 yards per catch
2013 Projection: 16 games, 600 yards, 47 receptions, 3 TDs, 12.7 yards per catch
Analysis: It's hard to knock what Kendall Wright did in his rookie season on a primarily inept offense. He led the team in receptions by 18 over Nate Washington.
That's pretty impressive as a rookie no matter how it comes.
You still have to hope that the drops decrease and the yards per catch increases. Wright had a lot of receptions that went for minimal gains.
A better offensive system led by Dowell Loggains should help Wright's cause of having a higher quality of receptions, but don't expect Wright's yardage to necessarily go up.
The Titans' passing attack should be pretty balanced when you look over how deep the position is going to be. There's just not enough opportunities to go around for everyone to have breakout seasons.
Wright will have a strong role on this team, but his numbers will be around what they were last season.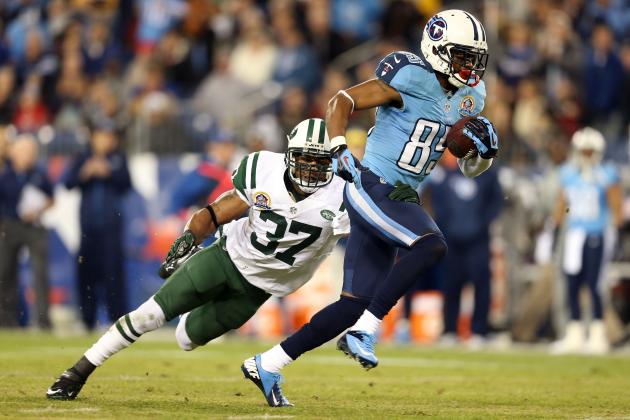 Andy Lyons/Getty Images

2012 Stats: 16 games, 46 receptions, 746 yards, 4 TDs, 16.2 yards per catch
2013 Projection: 36 receptions, 430 yards, 3 TDs, 11.9 yards per catch
Analysis: The aging Nate Washington almost slipped away from the Titans this offseason, but wisely enough, the Titans are going to hold onto him.
The Titans need veteran leadership somewhere on this offense, and Washington is a safe bet to be that leader on offense. His numbers are probably going to steadily decline as he approaches age 30, but his value to the team won't drop a bit.
A strong minicamp showing should also remind everyone that he still has a few productive seasons left in him. He'll help the other Titans receivers get opportunities to make plays.
Washington is just one year removed from career-high numbers in yards, receptions and touchdowns.
However, things have changed a lot on this Titans team since 2011. There are a lot more options at wide receiver than 2011, when Damian Williams was the best option outside of a mostly absent Kenny Britt.
Last season was a sign of things to come for Washington as far as production is concerned. That's not to say that he won't make his mark on a few games and be a reliable target for Jake Locker.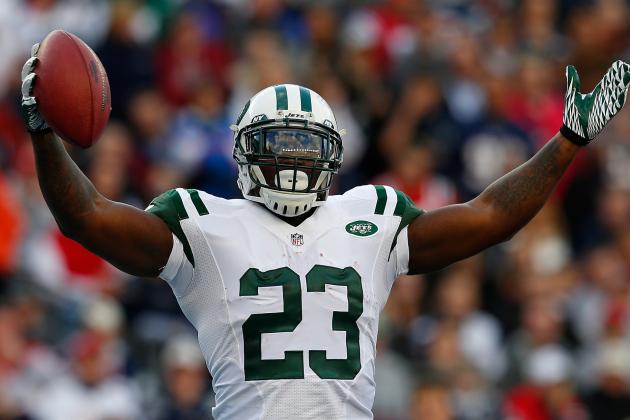 Jim Rogash/Getty Images

2012 Stats (w/Jets): 16 games, 1,063 yards, 8 TDs, 3.9 yards per attempt
2013 Projection: 105 rushing attempts, 515 rushing yards, 6 TD's, 4.9 yards per attempt
Analysis: The addition of Shonn Greene hasn't gotten nearly as much praise as some of the other free-agency additions, but it should be. He is going to make Chris Johnson's life a little easier, and also provide a more reliable option in short-yardage situations.
Greene has ran for over 1,000 yards his past two seasons, respectively. He also has just two fumbles in four seasons. That's something you love to see in a running back who is essentially a backup to a guy who once ran for over 2,000 yards.
Barring a catastrophic injury to Johnson, Greene isn't going to make it three years in a row to top 1,000 yards. He will have a great chance at adding on another seven or eight touchdowns to his career total of 18.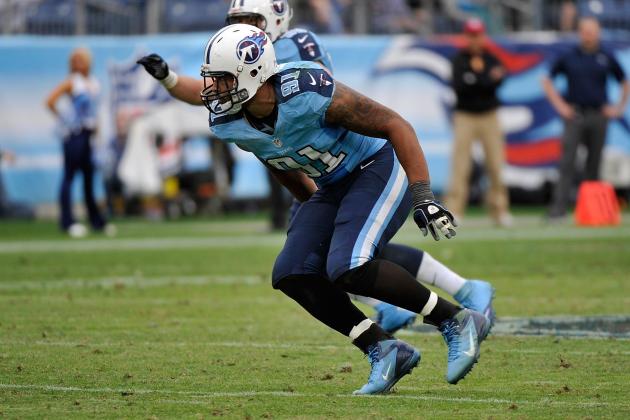 Frederick Breedon/Getty Images

2012 Stats: 16 games, 59 tackles, 6.5 sacks, 1 forced fumble, 6 pass deflections
2013 Projection: 65 tackles, 9 sacks, 2 forced fumbles, 6 pass deflections
Analysis: The fact that Derrick Morgan played every game last season was reason enough to be happy if you were a Titans fan.
The fact that he finished the second half of last season on such a high note gives a lot of hope that Morgan could have a bright future after a slow start to his career.
Now Morgan just needs to build off of that by getting his sack total up a little bit. He could end up having a breakout year in 2013 with an improved secondary to work with.
Look for Morgan to post career highs in tackles and sacks next season.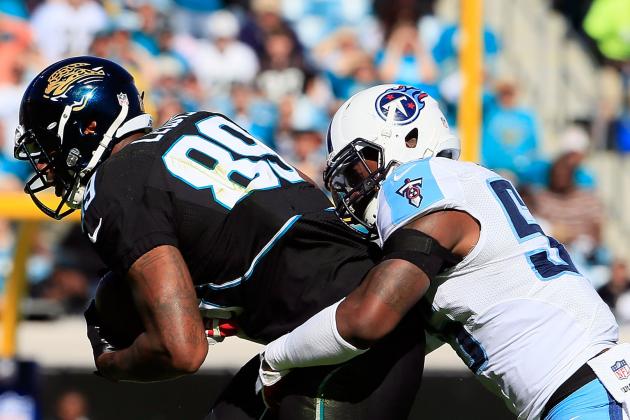 Sam Greenwood/Getty Images

2012 Stats: 16 games, 93 tackles, 5.5 sacks, 1 forced fumble, 2 fumble recoveries, 3 INT
2013 Projection: 115 tackles, 4 sacks, 2 forced fumbles, 2 INT
Analysis: Zach Brown quietly had a stellar rookie season, and the NFL could end up taking notice in 2013 if he improves even more.
Brown's versatility makes him so valuable to this Titans defense. He can cover tight ends, but he can also get into the backfield.
Those three interceptions definitely weren't a fluke. Brown has the speed to drop back into coverage on plays that it seems like he might be blitzing. It makes him a great weapon for the Titans defense, and Gregg Rosenthal of NFL.com sees him as a guy who can "make the leap" in 2013.
Obviously, speed is Brown's main weapon of choice, and that's a luxury considering the Titans can leave him in to defend many different types of offenses.
Everyone was excited about Colin McCarthy during his rookie season, but people should be equally excited about Brown. Look for him to eclipse the 100-tackle mark and maybe even sniff out some Pro Bowl consideration.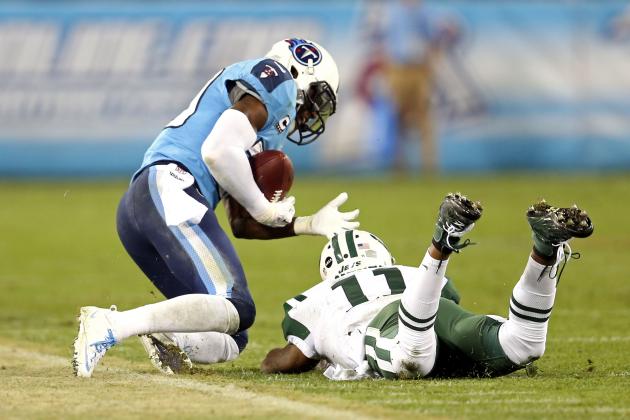 Andy Lyons/Getty Images

2012 Stats: 92 tackles, 4 INT, 1 forced fumble, 15 pass deflections
2013 Projection: 80 tackles, 5 INT, 18 pass defections
Analysis: The Titans defense has gotten a ton of criticism over the past couple of seasons, and rightfully so.
You can't really put too much of the recent struggles on Jason McCourty. The guy is a talented cornerback who just needs to be in the right defensive system.
The Titans certainly have faith in him considering they signed him to a $43 million extension prior to last season.
McCourty actually posted career highs in interceptions and pass deflections in 2012.
There's no doubt that McCourty is the Titans' No. 1 guy at cornerback, and he'll play a major part in the plan of playing more press coverage in 2013.
Expect McCourty to have many more opportunities to snag interceptions than he did in 2012 and get a lot more praise than he did with the Titans defense that was on pace to shatter the franchise record for most points allowed in a season.