The last time we saw Barcelona take on Bayern Munich, it was the Bundesliga side that walked away with a 7-0 aggregate victory and a spot in the Champions League final against Borussia Dortmund.
On Wednesday, the two sides met in an international club friendly at Allianz Arena for the Uli Hoeness Cup. It's a new season, but the outcome had to feel like anything but for Barcelona at the end of the match.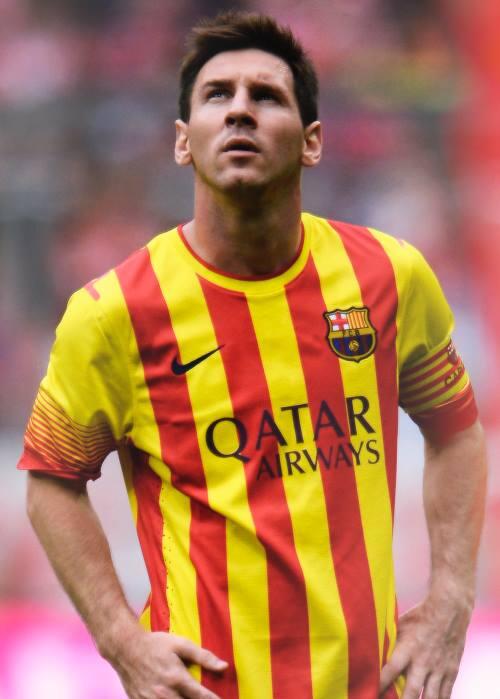 Bayern Munich scored an early goal off the head of Philipp Lahm and added another when Mario Mandzukic found the net in the 87th minute, leading to a 2-0 Bayern win.
Barcelona's official Twitter account had the post as the score became final:
Final at the Allianz Arena. Goals from Lahm and Mandzukic give Bayern a 2-0 victory over Barça. #FCBLive

— FC Barcelona (@FCBarcelona) July 24, 2013
Get Football News also weighed in on the outcome between the two football giants:
FT: Bayern 2-0 Barca. Bayern were better overall but Barca improved in the 2nd half, impressed with Barca's youngsters, especially Espinoza.

— Get Football News (@GetFootballNews) July 24, 2013
FC Bayern Maniacs had this picture of the Uli Hoeness Cup on Twitter long before the match kicked off. After Wednesday's outcome, the Bavarians were assured of keeping it in Germany for another year:
PIC: This is the trophy we're playing for this evening - Uli Hoeness Cup http://t.co/gIQkXLr7JX

— FC Bayern Maniacs (@FCBayernManiacs) July 24, 2013
It wasn't quite the scoring onslaught we saw from Munich the last time they were on the pitch in pursuit of the Champions League crown, but Wednesday's outcome did show us that Bayern should once again be one of the favorites when European competition begins later this year.
As the match got underway, it was clear that Barcelona would have a hard time sustaining consistent chances at the Munich net.
Lionel Messi had an early chance for Barca in the attacking half, but his shot went wide and woke up Bayern enough to where the home side would quickly take control of the pace.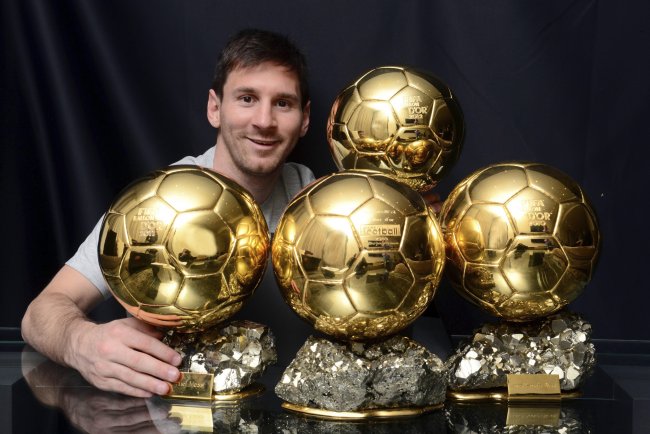 Presse Sports-USA TODAY Sports
Messi, though, wasn't much of a factor. Sporting his squad's new away kit, the Argentinian star used the game as a chance for some fitness and nothing more. Bayern Online wondered if he was there at all:
Only pictures can prove Messi was on the field. Who knew. pic.twitter.com/DJarsx4dlN

— Bayern Online (@BayernM_online) July 24, 2013
Franck Ribery, who gave Martin Montoya fits during the first half, faced little challenge from the Barca defense as he created chances for his teammates during the opening minutes of the game.
The match's first goal came from a Ribery cross just outside the left flank. Virtually unopposed by Montoya or any other Barca defender, Ribery lobbed a pass to Lahm for a header that found the net over the head of Jose Pinto.
As noted by FC Bayern Maniacs, Lahm might need a new goal-scoring celebration if he's given chances like this to score in new Munich manager Pep Guardiola's lineup this season:
PIC: Lahm wasn't really sure what to do when he scored so he stuck his tongue out lmao. http://t.co/PbQ1GwM5F6

— FC Bayern Maniacs (@FCBayernManiacs) July 24, 2013
101 Great Goals had this tweet as Lahm got Munich on the board:
1-0 Bayern Munich: Phillip Lahm v Barcelona http://t.co/gNggm8kl5E

— 101 Great Goals (@101greatgoals) July 24, 2013
Missing several of their regulars and inserting an entirely new lineup at the start of the second half, it was clear Barcelona were outmatched in this friendly early on. Bayern had a fuller complement of players and decimated the Spanish defense for most of the first half.
Lahm looked particularly strong in the midfield for Guardiola, and Bayern stalwarts Ribery, Arjen Robben and new star Thiago Alcantara all had solid first halves of action as Munich took a 1-0 lead to the locker room.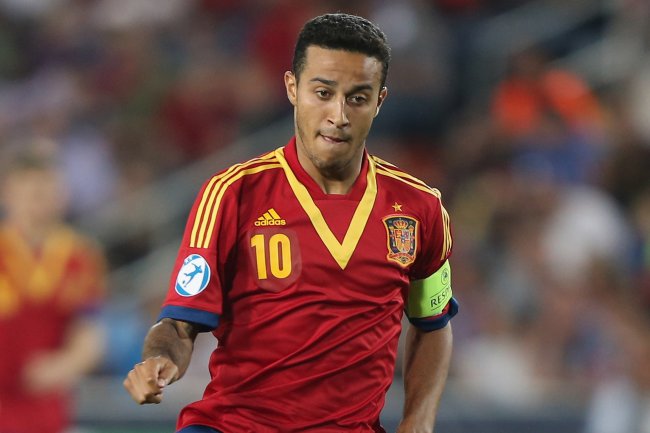 Ian Walton/Getty Images
Guardiola tinkered with his lineup and was able to leave most of his regulars on the pitch for the majority of the match.
That strategy was in stark contrast to Barcelona's complement of players. As noted by the side's official website prior to the match, Barca had just 12 first-team players available for their trip to Germany on Wednesday.
As noted by Barcastuff on Twitter, the visitors opted for a hockey-style line change as the second half began. Of those players, only one will likely compete for playing time with the La Liga champions this year:
Barcelona have made 11 changes at half-time. Except for goalkeeper Oier, promoted this summer, the team consists of B-team players. #fcblive

— barcastuff (@barcastuff) July 24, 2013
That being said, it wasn't all bad for the first-team players who hit the pitch or the youngsters who filled in for the ones that were missing. As Goal.com's Ben Hayward reported on Twitter, Barca had to feel good about only dropping behind Bayern by one at halftime:
Barcelona actually did pretty well in that first half. No disgrace in being goal down to this Bayern side - especially with so many missing.

— Ben Hayward (@bghayward) July 24, 2013
Even with the mass substitutions and rough afternoon for most of the Barcelona lineup, chance were there. Bayern largely coasted through the match until the late second goal, and Barcelona's youngsters had chances to impact the outcome of the match.
As reported by Fox Sports on Tuesday, Gerardo Martino has agreed to take over at Barcelona. If he was watching on Wednesday, he likely cared less about the absence of Xavi and Andres Iniesta and more about how some of his younger players performed on a big stage against the European champions.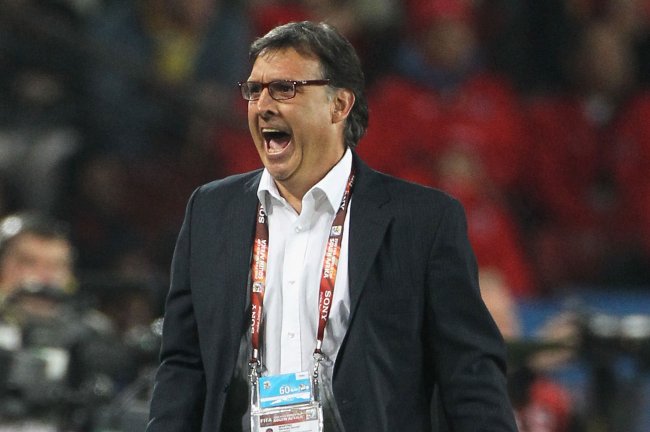 Doug Pensinger/Getty Images
All in all, Martino and Barcelona won't have many complaints about the outcome, especially given the players and strategy that was used in this friendly.
Who was the man of the match?
They call them friendlies for a reason—you don't get maximum effort from footballers when there's nothing on the line. Bayern had a better complement of players, better fitness and the home-pitch advantage on Wednesday, and it showed in the outcome.
Although Munich have now outscored Barcelona 9-0 the last three times these clubs have met, none of that will matter if they meet again in the Champions League this year. Each are the best that Bundesliga and La Liga can offer, and it was nice to see flashes of that dominance on the pitch on Wednesday.
Past that, it's hard to read into anything other than the continued success of Ribery and the potential that a few of the Barcelona youngsters showed in the match.
Grades
Bayern Munich vs. Barcelona Grades

| | | | |
| --- | --- | --- | --- |
| MUNICH PLAYER | GRADE | BARCA PLAYER | GRADE |
| Manuel Neuer | B | Jose Pinto | C |
| Rafinha | B- | Martin Montoya | D |
| Dante | B | Marc Bartra | C+ |
| Jerome Boateng | C | Javier Mascherano | C |
| Phillipp Lahm | A | Adriano | C+ |
| Thiago Alcantara | B- | Alexandre Song | D |
| Franck Ribery | A+ | Jonathan dos Santos | D |
| Arjen Robben | B+ | Sergi Roberto | B- |
| David Alaba | B | Alexis | C |
| Toni Kroos | C | Lionel Messi | C |
| Thomas Muller | B | Cristian Tello | A- |
What's Next?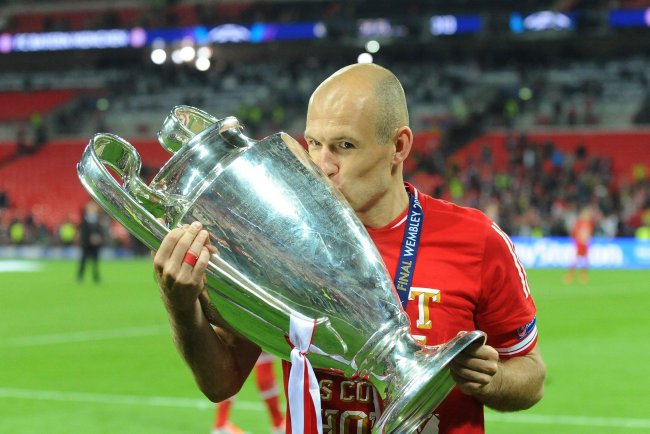 Witters Sport-USA TODAY Sports
Barcelona have two more friendlies in July. The first will come on July 27 against Valerenga, while the next will come on just two days of rest on July 30 against Lechia Gdansk. Friendlies against Malaysia and Thailand XI will cap Barca's preseason schedule before La Liga play begins.
Bayern Munich will have a friendly against Sao Paolo FC on July 31.
Follow B/R's Ethan Grant (@DowntownEG) on Twitter.