Playing Boom or Bust with Every Major 2013 NBA Free-Agent Signing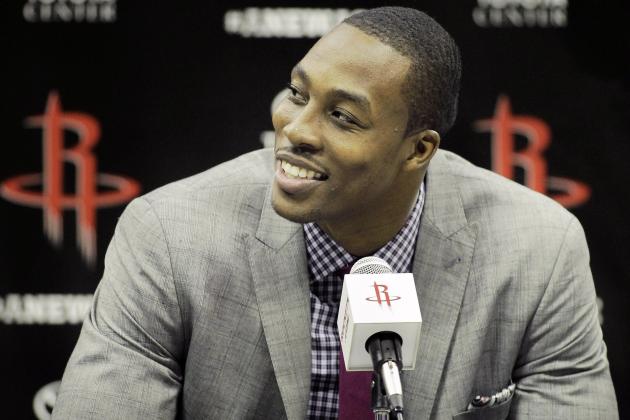 Bob Levey/Getty Images
Will Howard bring immediate success in Houston?
You can give an athlete all the money in the world, but you can never guarantee his production.
Every season, teams around the league gamble on the biggest names on the market. Some live up to their billing, while others fall flat on their faces.
Such is the nature of NBA free agency.
This summer was no different. Plenty of big-name talents found new homes complete with a big fat paycheck to their name.
But will these players succeed in their new surroundings? Or will they be used as just another cautionary tale for future free-agent splurgers?
Begin Slideshow

»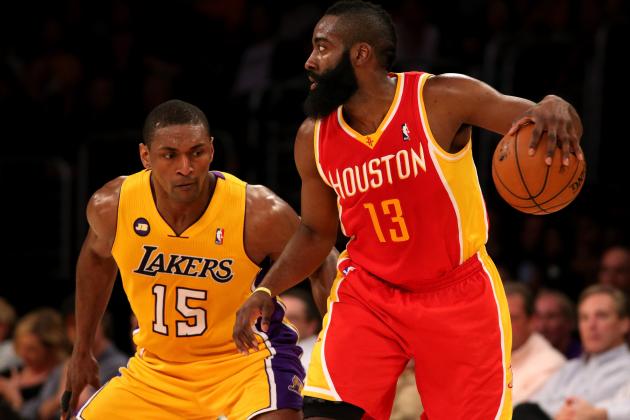 Stephen Dunn/Getty Images
World Peace's defense will be a huge contribution to New York.
2012-13 Per-Game Stats: 33.7 minutes, 12.4 points, 5.0 rebounds, 1.6 steals, 40.3 FG%, 34.2 3FG%, 12.6 PER (w/Los Angeles Lakers)
Contract: Two years, $3.3 million
The Lowdown
Metta World Peace had arguably his best season as a Los Angeles Laker last season. However, it wasn't enough to prevent him from being the latest casualty of the Lakers' salary-shedding strategy. The 14-year veteran was amnestied on July 11.
After he cleared waivers, the New York Knicks wasted no time scooping up the Queens, N.Y. native. According to ESPN, the Knicks used the remainder of their mini-midlevel exception on World Peace.
That's an absolute bargain price for a player who still has a lot to offer in this league.
Last season, New York struggled in several defensive categories. The team ranked in the bottom half of the league in opponent field-goal percentage (19th), opponent three-point field-goal percentage (14th) and opponent points-per-shot (25th).
Defense is an area where World Peace can offer the Knicks immediate relief.
Per 82games.com, opposing small forwards who averaged at least 30 minutes per game only registered a 15.0 PER against the 33-year-old last season. In comparison, the league average was 16.34.
Furthermore, World Peace helped Los Angeles on both ends of the floor when he was on the court.
The team posted an offensive rating of 103 and a defensive rating of 106.2 when he was on the bench. Those numbers improved to 107.1 and 102.2 respectively when he was on the floor.
Sure, it may be a risk to bring in World Peace during the twilight of his career. But for just a little over $1.6 million a year, it's a risk worth taking.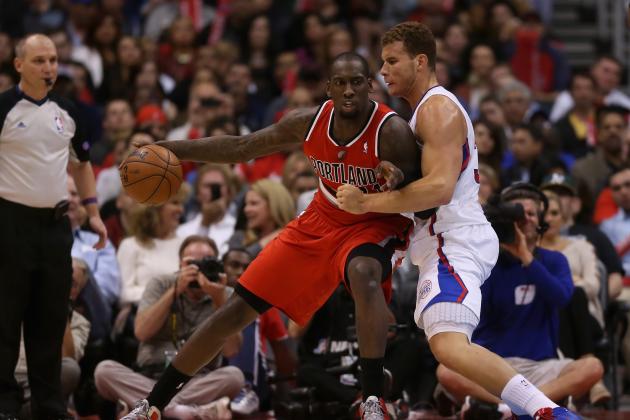 Jeff Gross/Getty Images
A change of scenery might not be enough for Hickson (left).
2012-13 Per-Game Stats: 29 minutes, 12.7 points, 10.4 rebounds, 56.2 FG%, 19.7 PER (w/Portland Trail Blazers)
Contract: Three years, $15 million
The Lowdown
J.J. Hickson is a beast on the boards, an efficient inside scorer and still relatively young. That makes the Denver Nuggets' pickup of the 24-year-old for just $15 million over three years a pretty good bargain.
Except for the fact that the Nuggets aren't getting anything new.
With Hickson, the team is practically receiving a clone of forwards Kenneth Faried and JaVale McGee. But while Hickson shares the same strengths of these two, he also shares the same weaknesses.
Those weaknesses come primarily on the defensive end.
For starters, the five-year veteran struggles with boxing out—so much so that the Portland Trail Blazers grabbed a higher percentage of available defensive rebounds when Hickson was on the bench (75.1 percent) compared to when he was on the court (72.1 percent).
His defense is lacking in other areas as well, so it comes as no surprise that the Trail Blazers were outscored by 5.4 points per 100 possessions when Hickson was in the game.
Sure, Hickson gives the team one heck of a rebounder. However, Denver ranked second in the league in the category, bringing down 45 boards a night last season.
The Nuggets would have been better off pursuing a replacement for Andre Iguodala, who was arguably their best perimeter defender.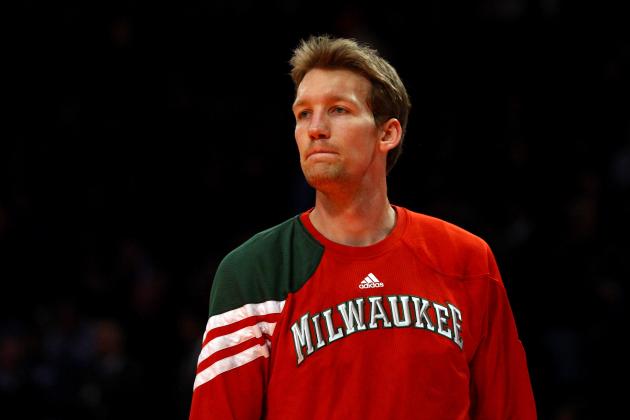 Chris Chambers/Getty Images
Dunleavy's outside shooting will provide a huge boost to Chicago.
2012-13 Per-Game Stats: 25.9 minutes, 10.5 points, 3.9 rebounds, 44.2 FG%, 42.8 3FG%, 13.6 PER (w/Milwaukee Bucks)
Contract: Two years, $6.5 million
The Lowdown
Mike Dunleavy is sick of losing.
Through 11 seasons in the league, the 32-year-old has only made two postseason appearances and played in nine playoff games. Adding insult to injury, his teams have gone just 1-8 in those contests.
Dunleavy believes the Chicago Bulls are the team that can turn his luck around.
According to ESPN Chicago's Nick Friedell, the former Duke standout admitted to turning down more money and security from other teams in order to sign with the Bulls. Alongside Derrick Rose, he believes this is the team that can get him that elusive championship ring.
Chicago should feel the same way about Dunleavy.
Last season, the team finished 21st in the league in three-point shooting, only converting 35.3 percent of its chances. Conversely, Dunleavy averaged 42.8 percent from downtown, ranking eighth in the league.
Defensively, Dunleavy shouldn't be expected to lock down the top talent in the league. However, he does some of the little things that pay dividends.
For example, with Dunleavy on the bench, the Milwaukee Bucks allowed opponents 18.3 fast-break points per 48 minutes during the 2012-13 season. With him on the floor, the team limited opponents to just 11.6.
Dunleavy may not have been the biggest name on the market, but he might just prove to be the best fit for the Bulls.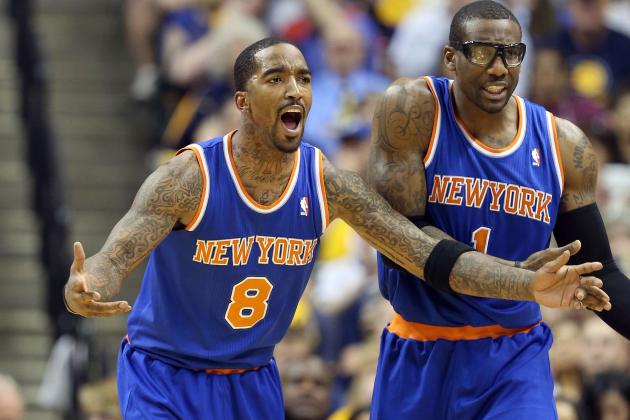 Andy Lyons/Getty Images
Smith is far too inconsistent to be deserving of a pay raise.
2012-13 Per-Game Stats: 33.5 minutes, 18.1 points, 5.3 rebounds, 2.7 assists, 1.3 steals, 42.2 FG%, 35.6 3FG%, 17.7 PER (w/New York Knicks)
Contract: Three years, $17.9 million
The Lowdown
J.R. Smith is coming off a career year. It was a campaign that saw him crowned the NBA's Sixth Man of the Year.
With all that said, re-signing Smith could prove to be the New York Knicks' biggest mistake of the season.
Earlier in the month, Smith underwent surgery on his left knee. It's a procedure that normally requires three to four months to recover, setting the timetable for a mid-October return at the earliest.
According to ESPN New York's Ian Begley, this is all information the Knicks were well aware of before they offered the 27-year-old a three-year pay bump.
Another knock against Smith is his reputation as a streaky shooter. It's what makes his 18.1 points per game last year seem like a flash in the pan instead of a sign of what's to come—Smith has averaged 13 or fewer points per game in six of his nine seasons.
To make matters worse, Smith capped off a tremendous regular season with a postseason to forget. Over 11 contests, he averaged 14.3 points while shooting 33.1 percent from the field and 27.3 percent from beyond the arc.
It all leaves the Knicks to wonder which Smith they will get in 2013-14.
Will it be the one who posted the fifth-highest PER among shooting guards who averaged at least 25 minutes per game? Or will it be the one who hobbled his way throughout the playoffs, costing his team valuable possessions with ill-advised decisions?
Steve Mitchell-USA TODAY Sports
Denver is getting Robinson at a bargain.
2012-13 Per-Game Stats: 25.4 minutes, 13.1 points, 4.4 assists, 43.3 FG%, 40.5 3FG%, 17.4 PER (w/Chicago Bulls)
Contract: Two years, $4.1 million
The Lowdown
Last year, Nate Robinson not only put together his best season since 2008-09, but he also single-handedly helped the Chicago Bulls push past the Brooklyn Nets during the first round of the playoffs.
So why are league executives so hesitant to give the 29-year-old anything more than $2 million a year? Your guess is as good as mine.
The Denver Nuggets picked up Robinson for just $4.1 million over two years. USA Today's Sam Amick believes it's the best value pickup of the summer.
Given the numbers, it's tough to disagree.
Aside from providing the Bulls with a boost off the bench, Robinson has also thrived in the starting lineup. In 23 starts, he averaged 14.8 points and 6.1 assists over 33.4 minutes per game. Robinson also shot 41.7 percent from the field.
Then there's the aforementioned playoff performance.
Over seven contests against the Nets, Robinson averaged 17 points on 50.5 percent shooting. But he'll be remembered most for his heroic performance during the Bulls' 142-134 triple-overtime Game 4 victory in which he scored 34 points—all but five came after the third quarter.
However, expecting Robinson to accomplish Sixth Man of the Year honors with the Nuggets might be a little bit of a reach, especially with Ty Lawson and Andre Miller both ahead of him on the depth chart.
Regardless, having a player with the potential to explode at any moment—and at such a steep discount—can only be a positive for Denver.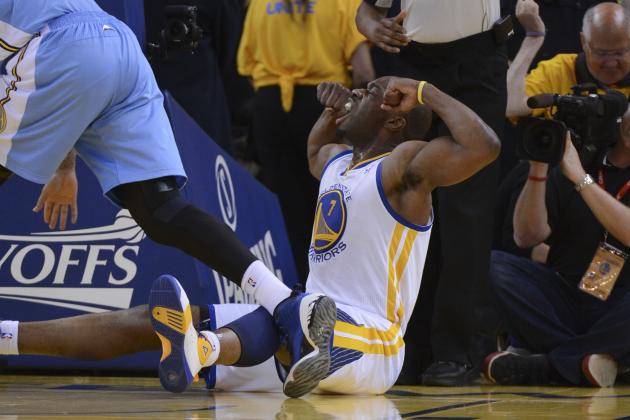 Kyle Terada-USA TODAY Sports
Landry's porous defending could make him a liability in Sacramento.
2012-13 Per-Game Stats: 23.2 minutes, 10.8 points, 6.0 rebounds, 54 FG%, 81.7 FT%, 17.6 PER (w/Golden State Warriors)
Contract: Four years, $26 million
The Lowdown
Carl Landry is hoping the second time's the charm with the Sacramento Kings.
After spending parts of the 2009-10 season with the team, the 29-year-old was shipped off to the New Orleans Hornets (now the Pelicans) midway through the following season. He just didn't fit well with the Kings' roster at the time.
Not much has changed since then.
With the addition of Landry, Sacramento now has something of a logjam in the frontcourt. The team already had DeMarcus Cousins, Jason Thompson, Patrick Patterson and Chuck Hayes on the depth chart.
Divvying up playing time among all five players should pose difficulties for new head coach Mike Malone. Not to mention, the Kings just don't have the right personnel for Landry to succeed.
With the Golden State Warriors last year, Landry thrived playing alongside efficient shooters and a shooting big man in David Lee. It allowed him to play close to the basket, where he can do the most damage. Now, unless he is primarily paired alongside Patterson, Landry will have to slide outside of his comfort zone and play further on the perimeter to make space for everyone else.
But if that's not enough to lower expectations, take a look at his performance during last season's playoffs.
With Landry on the court, the Warriors shot 49.1 percent from the field while allowing opponents to hit 50.9 percent of their opportunities. They also posted an offensive rating of 104.5 and a defensive rating of 113.5.
On the other hand, with Landry off the court, Golden State shot 53 percent from the floor while limiting the opposition to just 46.4 percent shooting. The team also posted an offensive rating of 107.4 and a defensive rating of just 100.6.
For a team that already had issues, bringing in an overpriced problem wasn't the best move to make.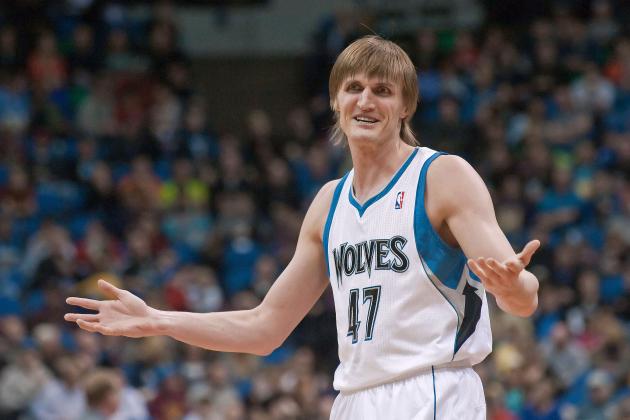 Greg Smith-USA TODAY Sports
Brooklyn shocked the league by getting Kirilenko to accept a significant pay cut.
2012-13 Per-Game Stats: 31.8 minutes, 12.4 points, 5.7 rebounds, 2.8 assists, 1.5 steals, 50.7 FG%, 17.7 PER (w/Minnesota Timberwolves)
Contract: Two years, $6.4 million
The Lowdown
Andrei Kirilenko surprised just about everyone last year by putting together a phenomenal campaign. It was so good that it ranked as his best statistical season since 2005-06. Kirilenko even recorded the highest field-goal percentage of his career.
All of this from a guy who just turned 32 back in February.
After opting out of the final year of his contract with the Minnesota Timberwolves, the consensus was that Kirilenko was searching for a deal a lot more lucrative than the $10 million he was slated to make. Instead, he signed with the Brooklyn Nets for the taxpayer's midlevel exception.
Talk about one surprise after another.
With Kirilenko, the Nets are getting a player who practically single-handedly prevented the Timberwolves from completely falling apart last season. He can cut, initiate an offense, defend and fill in the gaps.
Most importantly, he will provide much-needed relief for aging veterans Paul Pierce and Kevin Garnett off the bench.
It's quite the luxury to have a third starting-caliber forward on the roster—especially when that player comes at a thrift-shop price.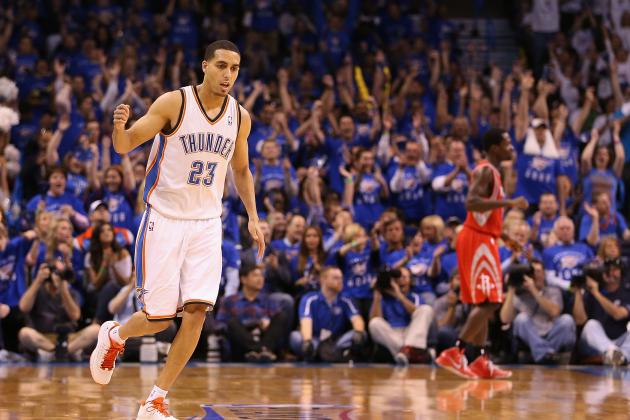 Christian Petersen/Getty Images
Minnesota has taken a huge leap of faith with Martin.
2012-13 Per-Game Stats: 27.7 minutes, 14.0 points, 2.3 rebounds, 45 FG%, 42.6 3FG%, 16.1 PER (w/Oklahoma City Thunder)
Contract: Four years, $28 million
The Lowdown
It wasn't too long ago when Kevin Martin was considered one of the top young leaders in the game. These days, the 30-year-old has been demoted to a contributing role player.
The Minnesota Timberwolves hope reuniting with head coach Rick Adelman for the third time will do the trick. Not to mention, the team is in dire need of some outside shooters.
Last season, the Timberwolves shot a measly 30.5 percent from beyond the arc. It was a mark that ranked last in the league by a healthy margin.
Coming off arguably the best shooting season of his career, Martin offers the perfect solution. He recorded his best field-goal percentage since 2008 while setting a career high in three-point percentage.
On the flip side, Martin also finished with his lowest total in both field-goal attempts and points per game since his second season in the league.
Declining dribble penetration could be a possible cause.
Between 2007 and 2011, Martin never averaged fewer than 7.3 free-throw attempts per 36 minutes. Over the last two seasons, he's averaged just 5.1 and 4.1 respectively.
For somebody who is turning into a spot-up shooter, $28 million over four years seems like a hefty price tag, especially when similarly skilled players such as J.R. Smith and Nate Robinson made far less.
It gets worse when you consider that Martin's contract pretty much guaranteed Andrei Kirilenko's departure from Minnesota.
Something tells me that's a move the team will be kicking itself over by the end of the year.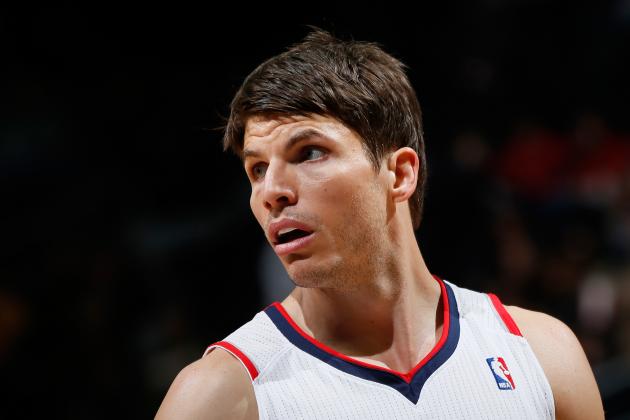 Kevin C. Cox/Getty Images
Atlanta was wise to keep Korver around.
2012-13 Per-Game Stats: 30.5 minutes, 10.9 points, 4.0 rebounds, 46.1 FG%, 45.7 3FG%, 13.9 PER (w/Atlanta Hawks)
Contract: Four years, $24 million
The Lowdown
After spending much of his career coming off the bench, Kyle Korver proved his chops as a starter with the Atlanta Hawks last season. In doing so, he put together his most productive season since 2006-07.
Given the circumstances, the Hawks just weren't ready to cut ties with the 32-year-old. Even if it meant slightly overpaying for his services.
There's really only one aspect to Korver's game: three-point shooting.
Luckily, that's an area that he thrives in. Korver shot 45.7 percent from beyond the arc last season and holds a career average of 41.9 percent.
As seen by the likes of Danny Green, Stephen Curry and Ray Allen, spot-up three-point shooters are one of the most coveted commodities in the league. Not only do they create spacing on the floor, but they're always a threat to score.
Korver's presence alone is enough to benefit Atlanta's offense.
With the 10-year veteran on the court, the team posts an offensive rating of 98.6. When he's on the bench, the Hawks post an offensive rating of just 93.7.
Say no more.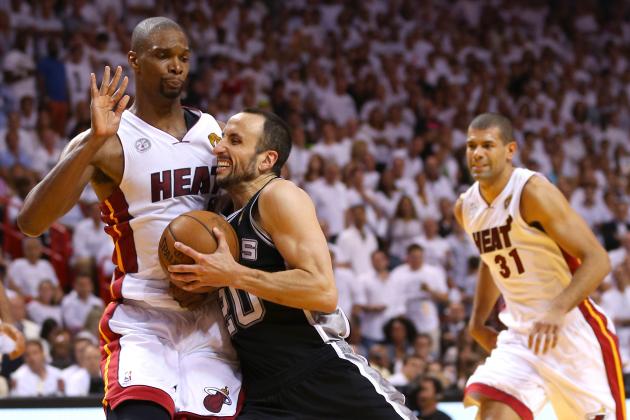 Mike Ehrmann/Getty Images
Ginobili (center) is near the end of the line.
2012-13 Per-Game Stats: 23.2 minutes, 11.8 points, 3.4 rebounds, 4.6 assists, 1.3 steals, 42.5 FG%, 35.3 3FG%, 19.1 PER (w/San Antonio Spurs)
Contract: Two years, $14.5 million
The Lowdown
Many will put the blame on Manu Ginobili for the San Antonio Spurs' collapse during last season's NBA Finals.
It's not too far-fetched of an accusation, as the 35-year-old put together one lousy postseason—11.5 points per game on 39.9 percent shooting. That includes recording 12 costly turnovers in Games 6 and 7 of the NBA Finals.
All that and the Spurs still doled out $7.25 million a year to bring Ginobili back for another two years.
It's obvious overpaying the 11-year veteran was the team's way of letting a team legend age gracefully. However, by trying to avoid embarrassment for Ginobili, San Antonio risks putting the embarrassment on itself.
It's no secret that the explosiveness that once had Ginobili among the ranks of the most dangerous guards in the league is gone. Then again, what else would you expect from a player on the wrong side of 30?
Furthermore, after having his worst statistical season since his rookie year, what makes the Spurs so confident that Ginobili can turn it around in 2013-14?
If you recall, the team was practically better off without him in the NBA Finals series against the Miami Heat.
San Antonio posted an offensive rating of 106.1 and a defensive rating of 95.7 when Ginobili was on the bench. Conversely, the team posted ratings of 103.3 and 113.4 respectively when he was on the court.
There's a big difference between loyalty and foolishness. The Spurs would be doing themselves a favor in learning it.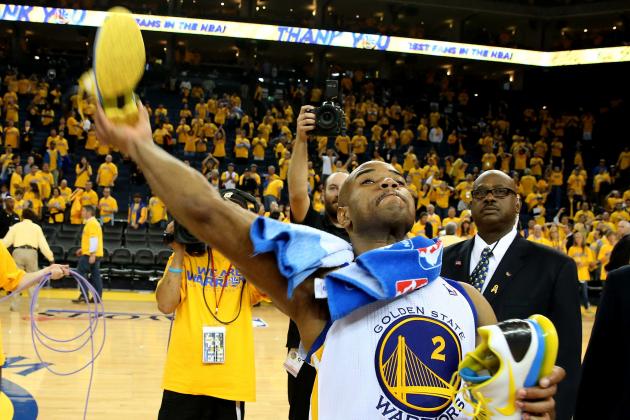 Stephen Dunn/Getty Images
Jack is the spark plug the Cleveland bench is lacking.
2012-13 Per-Game Stats: 29.7 minutes, 12.9 points, 5.6 assists, 3.1 rebounds, 45.2 FG%, 40.4 3FG%, 15.9 PER (w/Golden State Warriors)
Contract: Four years, $25.2 million
The Lowdown
The Cleveland Cavaliers currently only have three players on the roster that are over the age of 27. One of those players is Jarrett Jack.
For a young team that requires leadership, Jack provides that and so much more.
Just listen to what former head coach Mark Jackson told The Plain Dealer's Mary Schmitt Boyer about Jack:
He's going to help the culture. He's going to help Mike Brown just as much as he helps Kyrie Irving. The things that he does to protect the locker room, to protect the team, to make sure that you're doing things the right way...he's just incredible. It was the best money that the Cavs could have ever spent. ...

He made me better not just as a basketball coach but as a man.
Jack has certainly proven he's worthy of such praise.
During 12 playoff contests with the Golden State Warriors last season, the 29-year-old averaged 17.2 points, 4.7 assists and 4.4 rebounds over 35.5 minutes per game. He also shot 50.6 percent from the floor.
Whether it's shooting, passing or rebounding, Jack can do it all. Not to mention, under his tutelage, Kyrie Irving and Dion Waiters can take their respective games to the next level.
More importantly, Jack's arrival sends a message to future free agents that the Cavaliers aren't that bad of a landing spot. If an experienced guard chooses Cleveland over other teams, why shouldn't they?
It's the old "girls only become attracted to a guy once he has a girlfriend" phenomena.
Needless to say, with Jack in tow, the Cavaliers should be seeing improvement for years to come.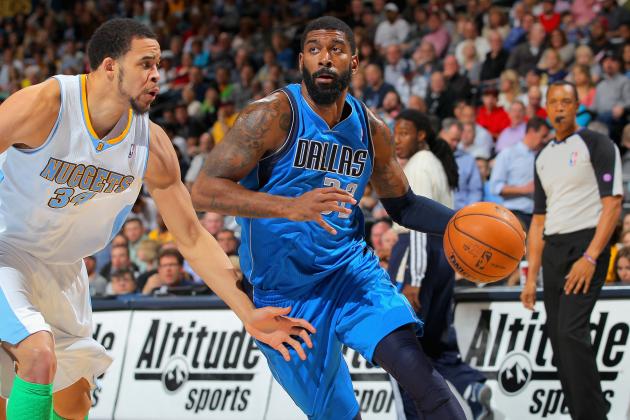 Doug Pensinger/Getty Images
Mayo is not the solution in Milwaukee.
2012-13 Per-Game Stats: 35.5 minutes, 15.3 points, 4.4 assists, 3.5 rebounds, 44.9 FG%, 40.7 3FG%, 14 PER (w/Dallas Mavericks)
Contract: Three years, $24 million
The Lowdown
After averaging 18.5 and 17.5 points per game respectively over his first two seasons, O.J. Mayo was expected to become one of the premier guards in the league. Unfortunately, he never quite lived up to those expectations.
The Milwaukee Bucks hope a move up north can help restore some of that potential.
A brief look at Mayo's numbers last season with the Dallas Mavericks might mislead you into believing that he was on his way to doing just that. However, a closer look tells a different story.
Over the final 21 games, the 25-year-old averaged just 9.3 points in 35 minutes per game. He shot 39.9 percent from the floor and 33.3 percent from three-point range.
Furthermore, Mayo's PER of 14 is below the league average of 15—a mark the five-year veteran is yet to surpass.
A lot of that has to do with Mayo's lackadaisical ball control. He averaged 2.6 turnovers per game last year, the second-worst number of his career. In fact, the Mavericks' turnover rate was nearly two percentage points higher with Mayo on the court.
Add in his poor defending, and Mayo doesn't seem like a player who should be earning $24 million over three years.
It also shouldn't be ignored that the Memphis Grizzlies put together the best season in franchise history the first year after his departure, or that Dallas seemingly made no effort to bring back Mayo this offseason.
You've officially been warned, Milwaukee.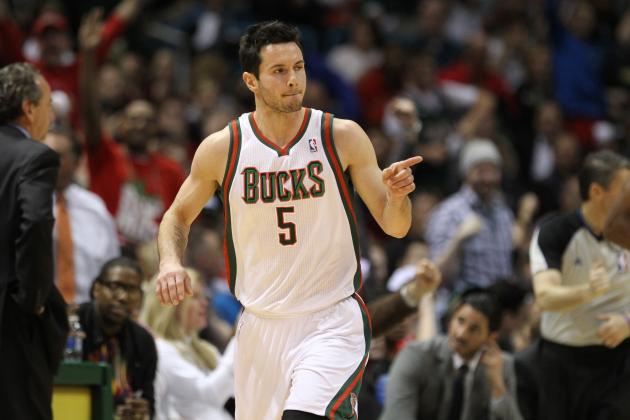 Mike McGinnis/Getty Images
Redick should thrive under Doc Rivers in Los Angeles.
2012-13 Per-Game Stats: 30.5 minutes, 14.1 points, 3.8 assists, 2.2 rebounds, 43.4 FG%, 36.6 3FG%, 14.7 PER (w/Milwaukee Bucks and Orlando Magic)
Contract: Four years, $27 million
The Lowdown
After six decent years in the league, J.J. Redick finally exploded onto the scene last year.
Splitting time between the Orlando Magic and Milwaukee Bucks, the 29-year-old had his best season, recording career highs in points and assists per game.
Under new Los Angeles Clippers head coach Doc Rivers, expect Redick to progress even further.
In years past, Rivers has put a special emphasis on three-point shooters in his offense. Ray Allen, Eddie House and Jason Terry are all sharpshooters who experienced success under the former Boston Celtics head coach.
Redick, the NCAA's all-time career leader in three-pointers made, fits the mold perfectly.
Other than a knack for hitting the outside shot—he's a career 39 percent three-point shooter—Redick can also drive to the hoop and distribute the basketball with ease. Just his presence on the court alone can make a team's offense all the better.
Last season, the Magic averaged 107.4 points per 100 possessions with Redick on the floor compared to 99.2 without him. Likewise, the Bucks averaged 109.2 points per 100 possessions with Redick on the floor compared to 103.3 without him.
He may have been a slow starter, but Redick seems to be turning the corner fast.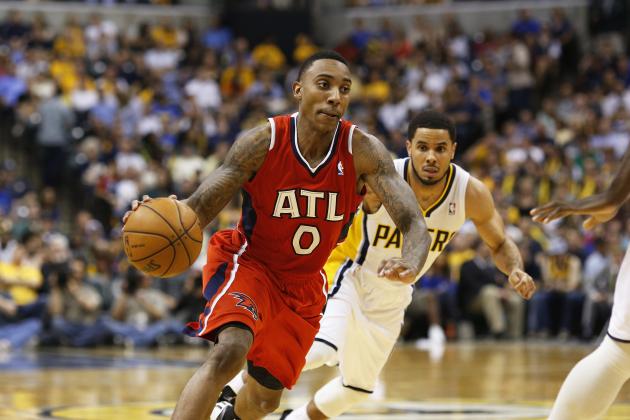 Joe Robbins/Getty Images
Forcing a player to play somewhere he doesn't want to never ends well.
2012-13 Per-Game Stats: 32.9 minutes, 14.6 points, 7.2 assists, 2.3 rebounds, 1.5 steals, 45.1 FG%, 35.9 3FG%, 16.8 PER (w/Atlanta Hawks)
Contract: Four years, $32 million
The Lowdown
Jeff Teague is one of the brightest young players in the league.
Not only can he distribute the basketball—Teague's 579 assists ranked sixth in the league—but he can also score. Teague ranked 12th among point guards in points per game.
So what exactly is the issue here?
Well, according to the Milwaukee Journal Sentinel's Charles F. Gardner, Teague asked the Atlanta Hawks to pass on matching the Milwaukee Bucks' four-year, $32 million offer sheet. However, it was a plea that fell on deaf ears, as the Hawks matched the offer and secured Teague's services for four more years.
To make matters worse, Atlanta initially showed no desire to work with Teague on an extension. It was a source of much frustration for the 25-year-old, per Yahoo! Sports' Marc J. Spears.
Sure, the Hawks locked up a talented point guard for a couple more seasons. But what's the point in keeping a player who has no desire to stay?
Furthermore, with draft pick Dennis Schroeder showing progress, it's looking more and more likely that Teague isn't even the future for Atlanta at the point guard position.
It's a situation that looks like it'll get nasty, and fast.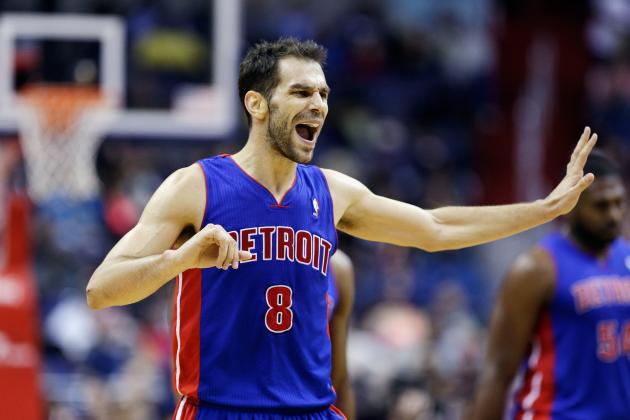 Rob Carr/Getty Images
Calderon's talents will play well in Dallas.
2012-13 Per-Game Stats: 29.6 minutes, 11.3 points, 7.1 assists, 2.4 rebounds, 49.1 FG%, 46.1 3FG%, 18.8 PER (w/Detroit Pistons and Toronto Raptors)
Contract: Four years, $29 million
The Lowdown
The Dallas Mavericks may have lost out in the Dwight Howard sweepstakes, but that didn't keep the team down for long. Instead, the Mavericks went out and addressed a serious need at point guard by bringing in Jose Calderon.
Although the 31-year-old may be significantly overpaid, that's a risk the team is willing to take.
Throughout his career, Calderon has gained a reputation as a player who can run an offense smoothly, knock down perimeter shots and distribute the basketball, all while limiting his turnovers. He's shown a keen understanding of how to get teammates involved and runs the pick-and-roll with relative ease.
The absence of such qualities from the backcourt hurt Dallas significantly last season.
Between Darren Collison and O.J. Mayo, there was a lack of quality passing. The execution of entry passes was downright awful as well. It made getting into a rhythm rather difficult for Dirk Nowitzki.
With Calderon, the 35-year-old now has an experienced partner to run the pick-and-roll effectively. That can only mean bad news for the rest of the league (think Steve Nash and Jason Kidd).
But distributing isn't Calderon's only talent.
During 28 contests with the Detroit Pistons, the eight-year veteran averaged 11.6 points over 31.7 minutes per game. He also shot 52.7 percent from the field and 52 percent from three-point range.
Finally on a team with a talented roster around him, expect Calderon to host his coming-out party.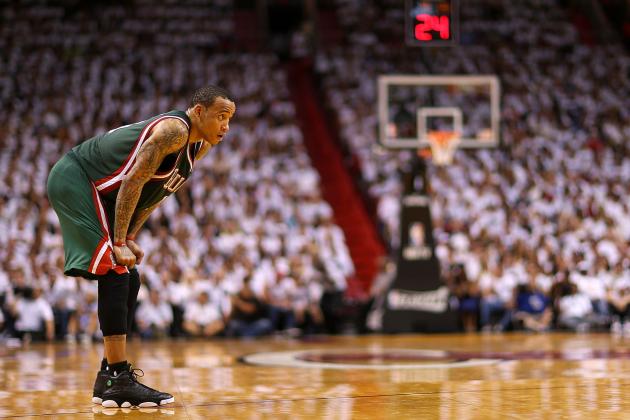 Mike Ehrmann/Getty Images
Unfortunately for Ellis, the team with the most field-goal attempts doesn't always win.
2012-13 Per-Game Stats: 37.5 minutes, 19.2 points, 6.0 assists, 3.9 rebounds, 41.6 FG%, 28.7 3FG%, 16.3 PER (w/Milwaukee Bucks)
Contract: Three years, $30 million
The Lowdown
It's a rare occasion that a guard coming off the worst shooting season of his career can be such a hot commodity on the free-agency market—especially one who has a reputation for making bad decisions with the basketball.
Yet that's exactly the position Monta Ellis was in over the summer.
There's no doubt Ellis can score—he's averaged at least 16 points per game in seven straight seasons—but other than that, he's a liability on the court.
The 27-year-old's 6.1 assists per game may look impressive for a guard who hoists up 17.5 shots a night. However, his 3.1 turnovers per game are another story. Among guards, Ellis ranked in the bottom five in both turnovers and assist-to-turnover ratio (1.94).
Saying Ellis likes to have the ball in his hands is an understatement. He needs it. Ellis' 26.3 percent usage rate since 2009 tells as much.
However, with Dirk Nowitzki and Jose Calderon in the lineup, that could prove to be a problem.
Calderon's proficiency running the pick-and-roll will likely see the ball spend a lot of time in the hands of him and Nowitzki. That would leave Ellis to become more of a spot-up shooter.
For a player who likes to create his own shots, it's a role that doesn't suit him too well.
It's common knowledge that the Dallas Mavericks wanted to bring in a superstar alongside Nowitzki to make another run at the NBA title. But there's a good chance they brought in Ellis out of desperation for a big-name addition.
It could very well be a move that comes back to bite them.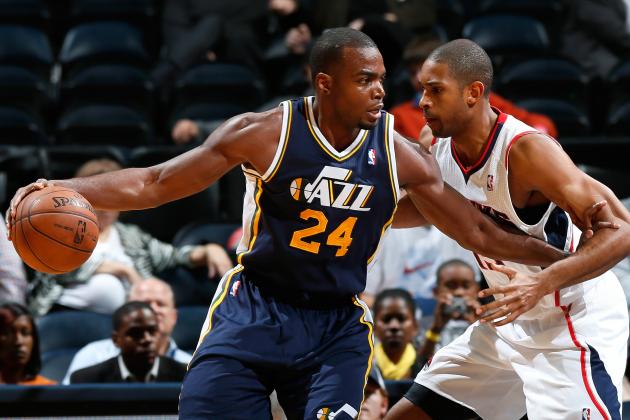 Kevin C. Cox/Getty Images
Millsap will make Atlanta forget all about Josh Smith.
2012-13 Per-Game Stats: 30.4 minutes, 14.6 points, 7.1 rebounds, 2.6 assists, 1.3 steals, 49 FG%, 19.9 PER (w/Utah Jazz)
Contract: Two years, $19 million
The Lowdown
The Atlanta Hawks didn't waste much time mourning over the loss of Josh Smith. In fact, the team made quick work in picking up a viable replacement.
Enter Paul Millsap.
Millsap gives the Hawks a lot of the same qualities as Smith but without the $14 million price tag. Instead, the 28-year-old will only cost the team $19 million over two seasons.
Furthermore, Millsap offers up a couple other advantages.
Last year, Smith used up 26.7 percent of Atlanta's possessions, posting a true shooting percentage of 50.1. That's relatively low for a power forward. Conversely, Millsap used only 22.4 percent of the Utah Jazz's possessions while posting a true shooting percentage of 55.
Not only does Millsap demand the ball a lot less than Smith, he's also a far more efficient scorer.
But one of the biggest advantages to Millsap's game is his ability to hit the mid-range jumper. He converted on 42.4 percent of his shots from 16-24 feet.
That can help the Hawks in multiple ways.
For starters, it opens up more space on the floor for a three-point shooter such as Korver. Secondly, it allows Al Horford the freedom to bang down low.
He may not bring the same dynamic to the game as Smith, but Millsap certainly has all the tools to succeed in Atlanta.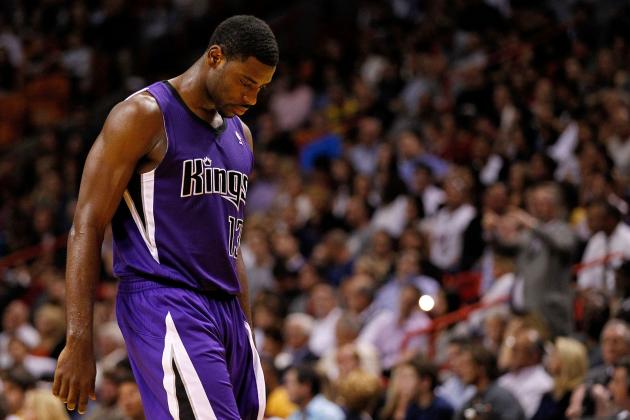 Mike Ehrmann/Getty Images
Evans has struggled to prove that he can lead a team.
2012-13 Per-Game Stats: 31 minutes, 15.2 points, 4.4 rebounds, 3.5 assists, 1.4 steals, 47.8 FG%, 33.8 3FG%, 18.1 PER (w/Sacramento Kings)
Contract: Four years, $44 million
The Lowdown
How many ball-hogging guards does it take to put together a winning season?
The answer is three. Well, at least according to the New Orleans Pelicans it is.
With the signing of Tyreke Evans, the team now adds another guard to a backcourt that already includes Jrue Holiday and Eric Gordon. All together, it just might be the most selfish guard combination in the league—all three combine for a usage percentage of 78.3.
Holiday and Gordon are just about locks to start in the backcourt. So where does that leave Evans?
One possibility is at small forward.
Per the Associated Press' Brett Martel, Evans has no problem playing the position. However, at 6'6", he's likely to run into several mismatches on the defensive end. This could lead to complete rotational breakdowns.
The only other option is to play Evans off the bench in a sixth-man role.
While the 23-year-old would provide a great boost to the Pelicans bench, one has to wonder whether Evans would be OK with such a demotion. Not to mention, paying $11 million a year for a bench contributor is simply outrageous.
Unless Gordon is traded, this scenario is one that will likely combust sooner rather than later.
Mike Ehrmann/Getty Images
West (right) could be the key to leading Indiana back to the Eastern Conference Finals.
2012-13 Per-Game Stats: 33.4 minutes, 17.7 points, 7.7 rebounds, 2.9 assists, 49.8 FG%, 20.2 PER (w/Indiana Pacers)
Contract: Three years, $36 million
The Lowdown
No one in their right mind believed that David West would be anywhere else but with the Indiana Pacers in 2013-14.
After all, the 32-year-old played an instrumental part in leading the team to within one game of the NBA Finals last season. With pretty much the entire core returning, it would be foolish for the Pacers not to give it another go.
Who better than West to lead the team on its quest to bring the franchise its first-ever NBA title?
Sure, offering a three-year contract to a player on the wrong side of 30 is a risky move. However, Dirk Nowitzki (35) and Tim Duncan (37) have proven that age is just a number.
Over the years, West has proven to be a reliable low-post scorer, proficient jump shooter, excellent passer and a locker-room leader. He's come through time and time again for Indiana, and he's shown no signs of slowing down.
That became especially evident during the team's 19 postseason games last year.
With West on the court, the Pacers shot 49.9 percent while limiting the opposition to just 45.9 percent shooting. The team also posted an offensive rating of 106.4 and a defensive rating of 102.7.
On the other hand, with West on the bench, Indiana only managed to shoot 41 percent while opponents converted at a 51.6 percent clip. The team also posted an offensive rating of 97.8 and a defensive rating of 107.2.
The move may create future financial implications for the team. However, when you have an opportunity to accomplish something that has never been done before, you go for it.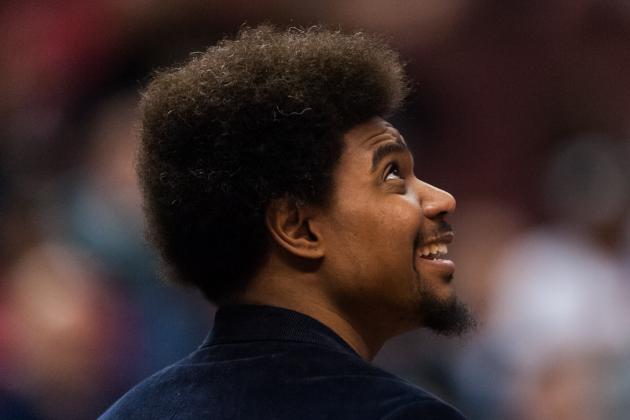 USA TODAY Sports
Cleveland took a gigantic risk by bringing in Bynum.
2012-13 Per-Game Stats: N/A
Contract: Two years, $24 million
The Lowdown
Andrew Bynum's hairstyle might be the only thing worse off than his knees.
That didn't stop the Cleveland Cavaliers from gambling on the 25-year-old. However, it did lead to the team taking several extra precautions to ensure it didn't go through any of the same hardships the Philadelphia 76ers endured last season.
According to ShamSports.com (via NBC Sports' Dan Feldman), only $6 million of the contract is guaranteed if Bynum is waived before 5 p.m. on Jan. 7. The Cavaliers also have a team option for the second year.
At such a low price tag, why didn't other teams in need of a center jump at the chance to top it?
It can only mean one thing: Bynum's knees are in such bad shape that no team wanted to risk it, even if the asking price was as little as $6 million guaranteed.
This marks quite the fall from grace for a player who was considered a top-three center in the league just two seasons ago, when he averaged 18.7 points and 11.8 rebounds per game with the Los Angeles Lakers. However, with Bynum appearing in more than 65 games just once in his eight-year career, you can understand where the skepticism is coming from.
Essentially, Cleveland is going off blind faith and the potential Bynum has.
Just ask the 76ers how that one turned out.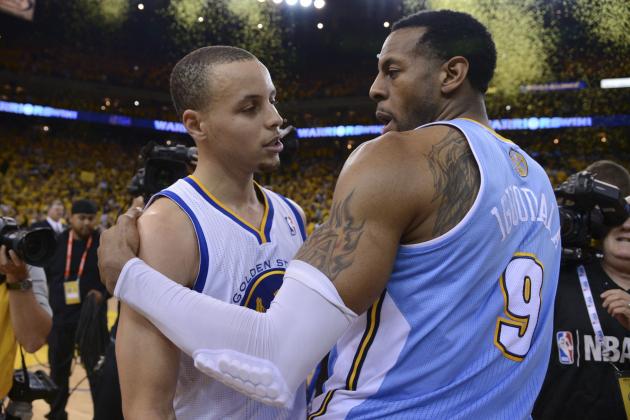 Kyle Terada-USA TODAY Sports
Curry and Iguodala will make one heck of a pair for Golden State next season.
2012-13 Per-Game Stats: 34.7 minutes, 13.0 points, 5.4 assists, 5.3 rebounds, 1.7 steals, 45.1 FG%, 31.7 3FG%, 15.3 PER (w/Denver Nuggets)
Contract: Four years, $48 million
The Lowdown
Although the Golden State Warriors had some key departures—Jarrett Jack and Carl Landry—the addition of Andre Iguodala makes the team a whole lot more dangerous.
Iguodala gives the Warriors a one-of-a-kind talent. He's an offensive weapon that can hurt you in several different ways. Whether it's slashing by defenders to the hoop or pulling up with the jumper, Iguodala will get his buckets.
He also has one nasty crossover.
Due to Iguodala's versatility, defenders have no choice but to cheat. This usually results in wide-open teammates on the wings.
But the 29-year-old's biggest contribution comes on the defensive end.
According to Synergy Sports Data (subscription required), Iguodala ranked in the top-three percentile of all NBA defenders in isolation situations last year. That takes a lot of pressure off the other players on the team while adding a significant boost to a Golden State defense that ranked 13th in efficiency.
It's rare to find a player who can be so dominant on both ends of the floor. With Iguodala, the Warriors find themselves with just that.
Tremendous pickup.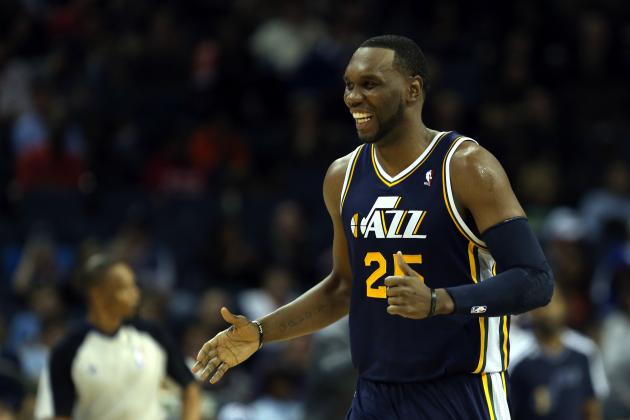 Streeter Lecka/Getty Images
Jefferson's defense has left him vulnerable on the court time and time again.
2012-13 Per-Game Stats: 33.1 minutes, 17.8 points, 9.2 rebounds, 2.1 assists, 49.4 FG%, 20.99 PER (w/Utah Jazz)
Contract: Three years, $40.5 million
The Lowdown
The Charlotte Bobcats just can't seem to do anything right.
Their latest misadventure comes from jumping the gun to sign Al Jefferson, a player the team could honestly have done without.
If scoring is the measuring stick, then yeah, Jefferson is a catch. The 28-year-old has averaged 16 or more points per game in seven straight seasons. He's done so while also shooting 50 percent from the field over his career.
However, when it comes to other aspects that make up a productive center in the NBA, Jefferson doesn't fare as well.
At 6'10" and 289 pounds, Jefferson certainly has the frame to be an intimidating figure inside the paint. Instead, the nine-year veteran is as soft as Snuggles the Bear on the defensive end.
Last season, opponents shot 51.7 percent while averaging 110.5 points per 100 possessions with Jefferson on the floor. Conversely, opponents only managed to convert on 47.1 percent of their shots while averaging just 100.7 points per 100 possessions when Jefferson was on the bench.
Coincidence? Think again.
Then there's the fact that Jefferson requires a large amount of the offense to go through him. He took up a staggering 25.5 percent of the Utah Jazz's possessions in 2012-13.
For a young Bobcats team, restructuring an offense around a one-trick pony just doesn't make sense.
There's a reason Jefferson's teams have never won more than 45 games in a season.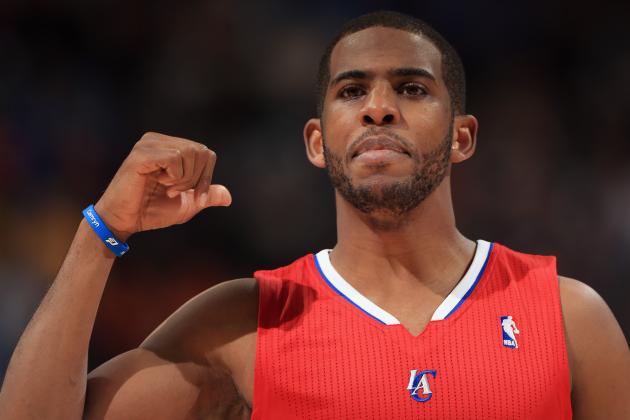 Doug Pensinger/Getty Images
Paul made the entire city of Los Angeles breathe a collective sigh of relief by re-signing with the Clippers.
2012-13 Per-Game Stats: 33.4 minutes, 16.9 points, 9.7 assists, 3.7 rebounds, 2.4 steals, 48.1 FG%, 32.8 3FG%, 26.4 PER (w/Los Angeles Clippers)
Contract: Five years, $107 million
The Lowdown
Chris Paul is arguably the best point guard in the NBA.
At 28, Paul still has a lot of basketball left to play. Fortunately for the Los Angeles Clippers, his next five seasons now belong to them.
Fresh off leading the team to its most wins in a season (56), Paul returns with a hunger for more. Advancing past the second round of the playoffs for the first time in his career would be a great place to start.
The arrival of head coach Doc Rivers, who led the Boston Celtics to glory in 2008, should go a long way in helping Paul accomplish that goal and more.
Although ESPN's Chris Broussard hinted at the possibility of trouble in paradise, Paul's future with the Clippers never really looked in jeopardy. Thankfully so, as the team would have suffered quite a bit without the eight-year veteran.
With Paul on the court, Los Angeles averaged 116.7 points per 100 possessions while shooting 54.1 percent. Without him, those numbers drop to 104.3 and 50.2 respectively.
It shouldn't come as a surprise.
After all, what is Lob City without its primary lobber?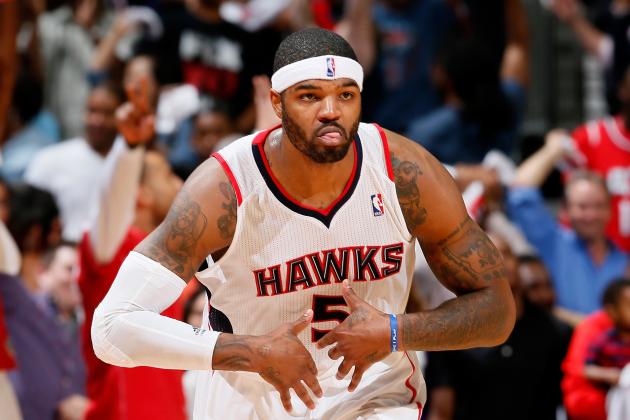 Kevin C. Cox/Getty Images
No matter how much he tries, Smith is not a small forward.
2012-13 Per-Game Stats: 35.3 minutes, 17.5 points, 8.4 rebounds, 4.2 assists, 1.8 blocks, 1.2 steals, 46.5 FG%, 30.3 3FG%, 17.8 PER (w/Atlanta Hawks)
Contract: Four years, $54 million
The Lowdown
Out of all the possible landing spots for Josh Smith, the Detroit Pistons may have been the absolute worst option.
That's because the Pistons have a roster built around a young frontcourt of Greg Monroe and Andre Drummond. The team would be foolish to sacrifice the growth of either of these two in favor of Smith.
Given Drummond's inability to create space, it's almost necessary for Detroit to surround the frontcourt duo with solid shooters. That would come especially handy at the small forward position.
Unfortunately, Smith is just not that guy.
But don't tell him that.
Although he has never shot better than 33.1 percent from beyond the arc, Smith keeps chucking them up. Last season, he totaled a career high of 201 attempts, only converting 30.3 percent of them. That's nearly double Smith's total from 2011-12 (109).
Given his size and skill set, Smith would be best utilized primarily around the basket. However, the 27-year-old tends to slide out to the perimeter more often than he should.
The last thing the Pistons need to do is give Smith an excuse to position himself on the perimeter. That will only further encourage him to give in to his apparent three-point obsession.
Then again, that's basically the only scenario that will work in Detroit.
While there's no doubt that Smith is certainly worth the $54 million he will be receiving over the next four years, the Pistons are just not the right fit for his style of play.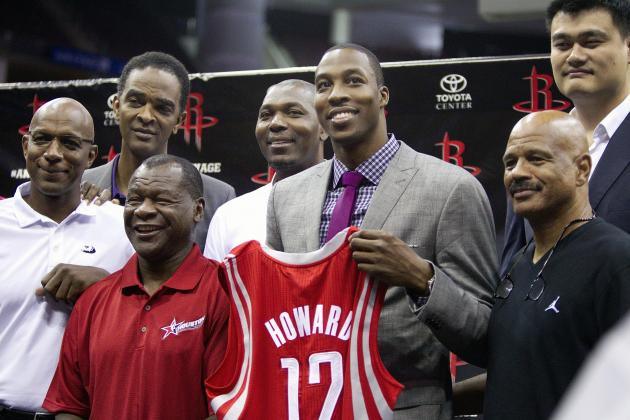 Bob Levey/Getty Images
Rocket Man to the rescue.
2012-13 Per-Game Stats: 35.8 minutes, 17.1 points, 12.4 rebounds, 2.4 blocks, 1.1 steals, 57.8 FG%, 19.5 PER (w/Los Angeles Lakers)
Contract: Four years, $88 million
The Lowdown
Dwight Howard was the most sought-after free agent on the market this summer.
From rap songs to TV shows and restaurant deals, possible suitors pulled out all the stops in trying to woo the 27-year-old center. In the end, the Houston Rockets emerged as the lucky winners.
It's a move that immediately transforms the team into NBA title contenders.
With the Rockets, Howard goes into an environment similarly built to the Orlando Magic team he took to the NBA Finals in 2009. He would have space to draw attention down low while having the option of several sharpshooting perimeter players on the outside.
Hey, if the formula worked once before, why change it?
Sure, Houston doesn't have the best defense around—the team ranked 28th last season, allowing 102.5 points per game. However, that's where Howard comes in.
With his 6'11", 265-pound frame in the way, opponents will have to think twice before entering the paint. Either that or risk becoming another victim of one of Howard's demoralizing blocks—he has a career average of 2.2 per game.
Finally, there's the fact that the Rockets have a roster full of youth. Only one player—31-year-old Francisco Garcia—is older than 28.
With Howard, James Harden and Chandler Parsons all 27 or younger, Houston will be in the title mix for many years to come.
Unless otherwise stated, all stats are courtesy of NBA.com's Media Central (subscription required).
For complete coverage and everything NBA, follow Sebastian on Facebook and on Twitter.