Rob Van Dam's 7 Greatest ECW and WWE Moments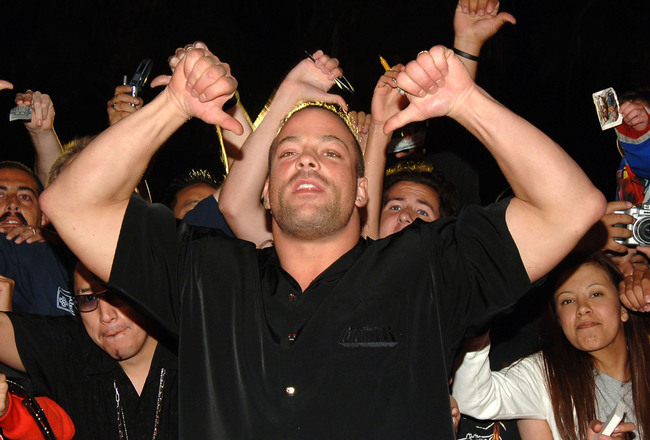 John Sciulli/Getty Images
With Rob Van Dam returning in fine form last week at Money in the Bank, he's become one of the hottest wrestlers in WWE. In spite of being 42 years old, he doesn't show it, doing all of his trademark flying moves like they're nothing.
To celebrate his return, let's take a look at what got him here in the form of his greatest matches, angles and other moments throughout his ECW and WWE runs. In lieu of ranking them, let's go in chronological order...
A Matter of Respect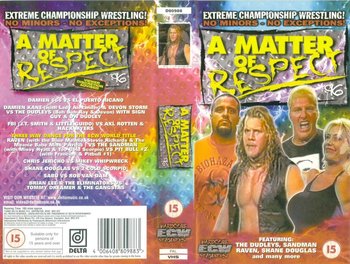 The match isn't on YouTube or DailyMotion, so, uh, take this.
After arriving in ECW, Rob Van Dam quickly started feuding with his old friend Sabu. The idea was that psychopathic Sabu actually respected Van Dam and offered handshakes, which RVD refused because he's mean. That all led to a match where the loser had to shake the winner's hand and say "I respect you," which Van Dam won.
If you weren't around back then, it's hard to get across the gravity of this. Possibly thanks to the influence of his uncle, The Original Sheik (who was the unbeatable top heel of his Detroit territory), Sabu never lost and often refused to do jobs.
Not only did RVD beat him, but he won cleanly (with a top rope Fisherman Buster, targeting Sabu's previously broken neck) and pretty much out of nowhere, shocking the crowd.
Sabu may have been a psychopath, but he was a respectful one. He lived up to the stipulation, offering a handshake and muttering the word "respect."
RVD still didn't care. The win and angle were basically his character-establishing moment in ECW.
Mr. Monday Night
After weeks of rumors and promos on ECW TV where the heel Rob Van Dam said he would be wrestling on TV on Monday nights, he was expected to show up on WCW Monday Nitro.
WCW was the bigger heel to ECW fans (partially because they had signed away more wrestlers from ECW than WWE did at the time), so it turned out to just be part of an angle when he showed up on Monday Night Raw during a period where WWE and ECW were obviously working together.
Introduced by ECW-hated Jerry Lawler as a man who saw the light and was abandoning "Extremely Crappy Wrestling," Van Dam made short work of a young jobber named Jeff Hardy.
Oh, and this is the moment where he's dubbed "Mr. Monday Night." Lawler gives him the nickname during his promo.
While RVD's run on WWE was short due to political issues (WWE didn't want any roster talent losing to him, no matter how low on the card they were), it was a very memorable moment that led to a long "WWF vs. ECW" feud where he led the "WWF" side.
Random geeky trivia note: Even though RVD was an ECW turncoat, this match was the first appearance of the Harry Slash-produced ECW theme song. It hadn't even been used in ECW yet, where White Zombie's "Thunderkiss '66" still opened the weekly TV show.
ECW TV Champion
Later in 1996, Sabu and Rob Van Dam became tag team partners and stuck together.
That brings us to 1998: At the Wrestlepalooza '98 pay-per-view event, Sabu was scheduled for a ECW TV Title shot against new champion Bam Bam Bigelow. A few weeks before the show, RVD was given a shot at Bigelow with the idea that he would "soften up" Bigelow for Sabu.
This turned into one of the greatest matches of RVD's career.
Bigelow was an ideal opponent for him, a great pro wrestler who happened to be a huge dude that could easily catch his dives. At one point, Van Dam did a top-rope somersault dive three rows deep into the crowd, which is possibly the most replayed moment in highlight packages of Van Dam and the original ECW in general.
Of course, Van Dam won, so he faced Sabu at Wrestlepalooza. That ended up being one of the worst matches of his career, so the less said about that, the better.
RVD went on to hold the title for 23 months and never lost it in the ring, only being stripped of it when he broke his leg. Thanks in part to the ECW World Heavyweight Title being dormant for months after WrestlePalooza so Shane Douglas could heal nagging injuries, the TV Title was often the top title in the promotion during RVD's reign.
The Invasion
In theory, after WWE bought the assets of WCW, Booker T defending his WCW Title against Buff Bagwell was supposed to be the moment that really got the "interpromotional" invasion angle going.
There were a few months of teases and WCW wrestlers interfering in matches, but this was different. It was a WCW match with WCW announcers, a WCW referee and WCW-style lighting to get fans ready for the angle where Raw became the WCW brand show.
Instead, the match was bad, the crowd turned on it, and the plan for a separate full-time WCW brand was immediately dropped.
The new plan was unveiled a week later in Atlanta, which had been the home of WCW. During a Kane and Chris Jericho (WWE) vs. Lance Storm and Mike Awesome (WCW), the recently unemployed (thanks to ECW folding and going bankrupt) Rob Van Dam and Tommy Dreamer emerged from the crowd in a chaotic scene.
It wasn't long before a group of WWE stars (the Dudley Boyz, Rhyno, Tazz, and Justin Credible) emerged from the locker room. They stared down the two groups of invaders and...wait a second...that's a weird group of guys to make the save...
Dudleys...Rhyno...Tazz...Credible...uh oh.
They turned towards Kane and Jericho, who were soon attacked by everyone else in the ring. Heyman left the announcers' desk to announce that ECW was back.
it was a very chaotic episode of Raw that seemingly burned through months of storylines: Shane McMahon turned heel to start the show, ECW was reborn in the middle, and the show closed with both ECW and WCW joining forces as the Alliance and the announcement that Stephanie McMahon bought ECW. On top of that, the invasion quickly went downhill.
Still, the ECW reformation happily exists in a vacuum, a great segment that, thanks to brilliant execution, can somehow stand on its own in our memories in spite of being a tipping point in what should have been the greatest feud of all time fizzling out.
One Night Stand
The first ECW One Night Stand pay-per-view event in June of 2005 was green lit by Vince McMahon at the suggestion of Rob Van Dam. Since fate is cruel, Van Dam tore up his knee and was unable to wrestle for a year, taking the reunion show out of the equation for him.
There was no way he was missing it, though, and he got time to cut a promo during the show. He spoke about how missing this reunion show was the worst thing about the injury, even worse than missing WrestleMania and Booker T's wedding.
This was very different from the usual Rob Van Dam promo. Instead of the goofy stoner, he was serious, emotional and open about how much ECW meant to him and how much not wrestling on the show was tearing him up.
It wasn't as amusing or entertaining as his usual in-character promos, but it stuck out as a rare glimpse on WWE programming into the real person behind Rob Van Dam.
Besides, now we know he got to have his moment a year later...
WWE Champion
Van Dam returned in early 2006 and entered the second annual Money in the Bank match at WrestleMania 22. He won the title shot contract and eventually announced he was cashing the contract in at ECW One Night Stand in a main event with WWE Champion John Cena.
In between the planning stages of the storyline and the actual PPV event, Vince McMahon suddenly decided to relaunch ECW as WWE's third full-time touring brand. Instead of being an ECW reunion show, One Night Stand was now the dawn of the new era. Both the PPV and the main event itself were suddenly a much bigger deal than they were when they were initially conceived.
It was the perfect time and place: Rejection of Cena among some of the fans had only recently picked up, so you can imagine how ECW's 2,000 biggest fans reacted to him in this specific match.
Most memorably, the "IF CENA WINS, WE RIOT" sign made its debut, ECW superfan Tony Lewis wiped his butt with Cena's shirt before cursing him out and throwing it back at him, and there were a variety of obscene insults chanted by the fans who came to see RVD win the title.
And win the title he did.
After a fairly basic WWE main event-style match with ECW flourishes like lax rules and multiple ref bumps that was elevated by the insanely passionate crowd, Cena was speared by arch-rival Edge, RVD pounced with a frog splash, and Paul Heyman counted the pin in lieu of the seemingly dead referees.
RVD may have had better matches, but he never had a better moment than winning the WWE Title, bolting into the crowd to celebrate with fans and his wife, and returning to be carried around on the other ECW stars' shoulders.
WWE Return
It was only a week-and-a-half ago (and I covered it then), but it was pretty awesome: After an unmotivated stint in TNA, RVD made his WWE return in the WWE Title shot ladder match that main-evented Money in the Bank 2013 in ECW's home base of Philadelphia.
Not only was the crowd pulling for him above everyone else, but he looked great.
That's no small task: RVD is 42 years old and hasn't really worked a full schedule since leaving WWE in 2007, plus a lot of fans had questions after his TNA run disappointed. He proved the doubters wrong, showing up slimmer than he was in TNA and wrestling the same he way he did 15 years ago in ECW.
He didn't win the match, but it was an appropriately epic return full of all of the wacky violence you want out of Rob Van Dam using ladders. You have to love him climbing a ladder in the corner and teasing that he would try to long jump over to the belt before hitting a splash.
The next night on Raw, back in New York, the city where he won the WWE Title, he got his big singles win over Chris Jericho in one of the longest matches on Raw in recent memory, with over 20 minutes of them working the same type of match they did a decade ago.
It's a huge credit to both men that the near-fall that had the fans mostly convinced was RVD hitting a somersault body block he never used especially often in the past, much less as a finisher. That's a special kind of magic.
Keep Reading