The July 31 trade deadline for Major League Baseball is less than a week away, and the rumor mill is buzzing with reports from those in the know about notable players who may be preparing for new teams.
Prominently involved is the city of Chicago, with White Sox starting pitcher Jake Peavy and Cubs left fielder Alfonso Soriano being focal points of the latest chatter.
Meanwhile, a rising American League club in the Seattle Mariners could be tempted to make something happen, but a recent eight-game winning streak seems to be quieting down action on the trade front.
Let's take a closer look and analyze the developments regarding Peavy, Soriano and the Mariners' potential scenarios.
Multiple Contenders Coveting Jake Peavy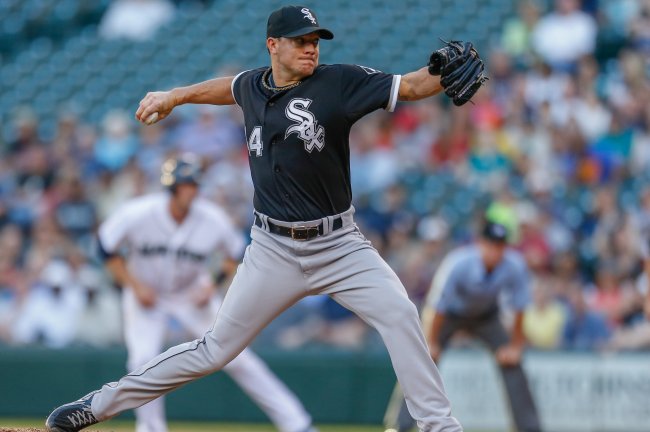 Otto Greule Jr/Getty Images
The 2007 National League Cy Young Award winner hasn't quite replicated the success that won him 19 games in that magical season with the San Diego Padres, but the right-handed hurler is still a hot commodity.
Which team is the best fit for Jake Peavy?
According to MassLive.com's Evan Drellich, the Boston Red Sox will have a scout in place to watch Peavy's next start, Thursday against the Detroit Tigers.
Jon Heyman of CBS Sports cites sources who state that the St. Louis Cardinals and Arizona Diamondbacks are also interested in acquiring Peavy's services.
There really isn't a bad situation for Peavy to land in amongst those three teams. Both the Cardinals and Red Sox lead their respective divisions, while the Diamondbacks are just a half-game behind the Los Angeles Dodgers in a subpar National League West race.
An important aspect that Heyman highlights is that Peavy has a close relationship with Arizona GM Kevin Towers, which may ultimately be enough to push the trade through.
Peavy is coming off of the disabled list from a fractured rib and improved to 7-4 this year with a 4.19 ERA in his last start against the Atlanta Braves, yielding two earned runs in six innings.
Alfonso Soriano to Reunite with the Pinstripes?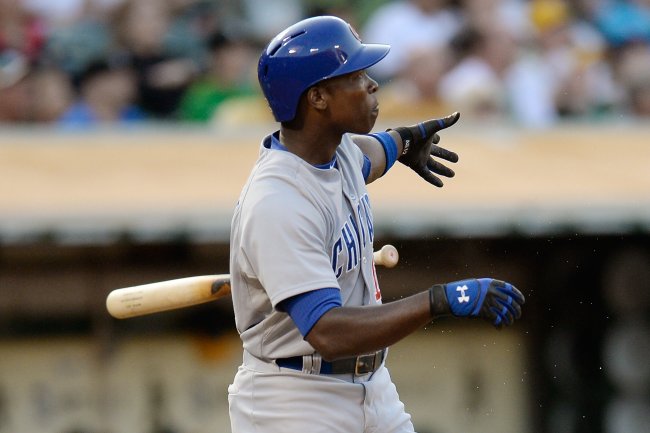 Thearon W. Henderson/Getty Images
According to the Chicago Sun-Times' Gordon Wittenmyer, the 37-year-old Soriano may be returning to the team that brought him into the league for what might be the end of his career.
Soriano is a premier power hitter who has unfortunately seen his average dip over the past four-plus seasons. Perhaps a change of scenery and a homecoming of sorts could get him back on track and allow him to finish days on the diamond on a high note.
The potential hangup occurs in that Soriano has a no-trade clause in his contract, which runs out after next season, per Spotrac.com.
MLB.com's Carrie Muskat reports Soriano has yet to decide on waiving the clause:
#Cubs Soriano says he talked to his agent re: rumors of possible deal. Not thinking yet about waiving no trade clause

— Carrie Muskat (@CarrieMuskat) July 23, 2013
Although Soriano must be enjoying the lucrative deal he's locked in with the Cubs, a return to the Bronx would give the Yankees necessary pop in a lineup that is 22nd in the league in runs scored. Plus, Chicago could get promising New York pitching prospect Matt Whitley in return.
Whitley was watched closely this past weekend by the Cubs, according to Joel Sherman of the New York Post:
#Cubs scout watched Chase Whitley over weekend, #Yankees deep in yng/inexpensive setup Kelly/Claiborne in MLB Burawa/Betances/Kahnle close

— Joel Sherman (@Joelsherman1) July 23, 2013
ESPNNewYork.com's Andrew Marchand points out how the Cubs would pick up most of Soriano's exorbitant salary, which gives the Yankees all the more incentive pursue him, given that they're seven games back in the American League East entering Wednesday.
Seattle Mariners Staying Pat Amidst Hot Streak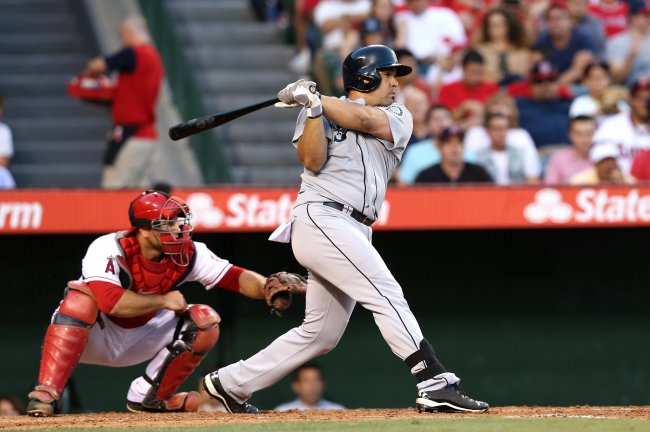 Stephen Dunn/Getty Images
Heyman notes that the Mariners will not budge at the deadline with regard to designated hitter and first baseman Kendrys Morales—or anyone else, for that matter:
little belief #mariners would trade kendrys morales now. theyve won 8 straight. plus, they can extend qualifying offer.

— Jon Heyman (@JonHeymanCBS) July 24, 2013
teams that have checked with #mariners lately say they're not selling at all right now. cant really blame 'em.

— Jon Heyman (@JonHeymanCBS) July 24, 2013
It's been an up-and-down season for Morales, who hit .250 in April, .343 in May, .235 in June and is at .304 for July with two multi-homer games this month.
Unfortunately for the Mariners, the past several years have been miserable, and the team hasn't made the playoffs since 2002.
With the Los Angeles Angels having a surprisingly down campaign and a wild-card spot within reasonable reach at 8.5 games away, there's no reason for Seattle to disband the team now.
The Mariners have two great starters in their rotation in ace Felix Hernandez and Hisashi Iwakuna. Neither has experienced the thrill of the playoff chase in the MLB, and King Felix especially deserves that after years of toiling away and being brilliant for a perpetual cellar dweller.