Bayern Munich vs. Barcelona: Live Score, Highlights, Recap
Bayern Munich continued their winning ways this summer with a comprehensive 2-0 win over the current Spanish champions and Pep Guardiola's old side, Barcelona.
In a friendly titled as the Uli Hoeness Cup, Bayern picked up yet another trophy to add to their bulging collection this year in a performance that should have Guardiola feeling rather confident about the coming season.
The German and European champions began things with a typical 4-3-3 formation with an atypical selection as captain Philipp Lahm began the game as a central midfielder alongside Toni Kroos and Thiago Alcantara in the midfield three, with Franck Ribery and Thomas Muller flanking Arjen Robben up front.
Barcelona followed suit with their own 4-3-3 formation, yet the side did lack a lot of obvious first team players with Lionel Messi, Mascherano, Song, Adriano and Sanchez offering the only reference to the past sides.
As such the first half kicked off with an early flutter of chances from Barcelona, but before too long Bayern were set in their ways and in cruise control as the Catalonians did their best to keep up in their first proper friendly of the pre-season.
Franck Ribery was the focal point of everything leading to a Bayern attack, and expectedly he was responsible for the opening goal on the 14th minute as young Montoya - the Barcelona left back charged with marking the Frenchman - allowed the winger far too much space and an open invitation to swing a comfortable cross on to the top of Philipp Lahm's head. 1-0 to Bayern and Barcelona were sunk.
As the second half went on, Bayern drew ever closer to extending their lead, through the imagination of Thiago or the sheer pace of Thomas Muller and Arjen Robben, yet fate seemed destined to ensure that the sides went in at half time with just one goal separating them, despite the obvious gulf in fitness and quality.
Jordi Roura, the interim coach in charge until Gerardo Martino arrives, had obviously seen enough of his jaded first team stars at the break when he made the decision to replace all eleven with the replacement youngsters on the bench. As Guardiola tinkered with his system pulling off one or two for clever replacements, Barcelona returned to the pitch a team full of youths.
Oddly enough, such a Barcelona C team performed in a fashion almost identical to the jaded first team - in true Barcelona fashion - and found themselves in the similar situation of chasing Franck Ribery & Co's shadows whilst the Bavarian hosts continued to poke and prod at the vulnerable Spanish back-line.
Yet as the second half went on, and Bayern either tired or stopped caring, Barcelona did begin to shape some form of influence on the game through the particularly lively forward Poan Roman, however each attack, as honest as they seemed, often ended in no more than a whimper as the experienced Bayern defence soaked up each attack with relative ease.
In an afternoon that had failed to offer a game Barcelona had any real intention of committing to, it was late substitute Mario Mandzukic who would put the Catalan's out of their misery just three minutes from time, when a low cross from fellow sub Diego Contento found the Croatian on the six yard line and allowed the striker to casually convert in to a goal.
A few moments after kick off, via a minor head injury to the aforementioned goal-scorer, Felix Brych called time and allowed the game to finally end. Barcelona had had enough.
Full-time: Bayern Munich 2-0 Barcelona
GOAL: 2-0 Bayern Munich
Just when things looked as though they were getting interesting, Contento found himself with space on the left and drove a low cross across the Barcelona bench in to the space of Mario Mandzukic who calmly finished to ensure the victory for Bayern.
Barcelona making honest attempts to move forward, usually down the left with Joan Roman, yet nothing has popped up to force Bayern's back line out of first gear as of yet.
Guardiola attempts to liven things up with a flurry of substitutes but Bayern seem quite happy to now allow Barcelona's C team the ball and play in front of the German champions.
Bayern substitutes: Emre Can comes on for Rafinha, while Claudio Pizarro replaces Thiago Alcantara.
The youngsters of Barcelona are slowly finding their feet in this game after a shaky opening fifteen minutes to the second half.
Meanwhile more substitutions for Bayern Munich: Ribery comes off for Diego Contento, Boateng comes off for Jan Kirchhoff and Kroos comes off for Bastian Schweinsteiger.
A couple of substitutions for Bayern Munich as Daniel Van Buyten comes on for Dante, and Luiz Gustavo replaces Philipp Lahm. Like for like replacements in both cases, with Bayern keeping the same shape.
Barcelona still paying second best to Bayern's attack with Xheridan Shaqiri getting adequate time and space to run at the Barcelona left back.
Substitutions at half-time:
Bayern Munich: Mario Mandzukic on for Arjen Robben, Xheridan Shaqiri on for Thomas Muller
Barcelona: Oier, Kiko Femenia, Sergio Gomez, Planas, Patric - Espinosa, Ilie, Quintilla - Joan Roman, Dongou, Dani Nieto all replace the first half XI.

Half Time: Bayern Munich 1-0 Barcelona
A rather pedestrian lead for Bayern Munich, with little coming from Barcelona to suggest that they have any intention of matching Philipp Lahm's opening goal. There's an obvious gulf between both sides' fitness levels but the manner in which Bayern's forward line have attacked with pace, particularly through Franck Ribery, and continued to close down Barcelona when they don't have the ball has been the real difference between the two sides.
Marc Batra and Javier Mascherano both booked in the space of two minutes for attempting to get in the way of Franck Ribery on individual occasions. The Frenchman continues to be a thorn in Barcelona's side and has now led to their two central defenders sitting on yellow cards.
Cristian Tello with a rare Barcelona chance as he skipped past Rafinha inside the pitch and hit a long curled shot just wide of Manuel Neuer's left post.
The match fitness between both sides is all too apparent with the manner in which Bayern are happily closing every ball down and regularly benefiting from the bounce of the ball. They simply look sharper than Barcelona.
Confirmation that the game will revert back to the original plans of 45 minutes per half.
Bayern continue their dominance half way through the first half with a number of peppered chances around the Barcelona box. Robben has been useful whilst playing as the sole striker, while Ribery continues to play at the heart of every move.
A moment of hesitation from Bayern as Sergi Roberto skips past Boateng in the Bayern box and almost pops a shot past Neuer in to the back of the net, only for the goal to roll slightly wide.
GOAL! Bayern Munch 1-0 Barcelona
And not too long after suggesting it, Franck Ribery cracks Barcelona's defence with an excellent cross to the head of Philipp Lahm who calmly knocks it past Jose Pinto in the Barca goals.
Alaba with a thunderous shot on the 10th minute after a lovely lay off from Franck Ribery. The French winger has been continuously troublesome for Barcelona left back Martin Montoya in the opening stages of the match.
No signs of a simple friendly with both Lionel Messi and Toni Kroos providing early shots for their sides, while both teams continuously close down their opposition.
Bayern are indeed playing in the 4-3-3 formation with Lahm sitting in the midfield three alongside Kroos and Thiago.
The substitutes for both sides moments before kick off:
Bayern Munich: Tom Starke, Daniel Van Buyten, Mario Mandzukic, Xherdan Shaqiri, Claudio Pizarro, Jan Kirchhoff, Mitchel Weiser, Diego Contento, Luiz Gustavo, Bastian Schweinsteiger, Pierre Holjberg, Emre Can
Barcelona: Oier Olazabal, Sergi Gomez, Llie, Jordie Quintilla, Kiko Femenia, Javier Espinosa, Joan Roman, Dani Nieto, Carles Planas, Patric, Sergi Samper
Barcelona clearly set up in a 4-3-3 system, but still unsure as to how Bayern Munich will line up.
With effectively three fullbacks in the starting team, Guardiola will probably play with a back four, but could either chose to play Lahm as a defensive midfielder with four midifelders in front or Thiago as the holding midfielder and Alaba out wide on the left hand side. Plenty of choices for Bayern Munich!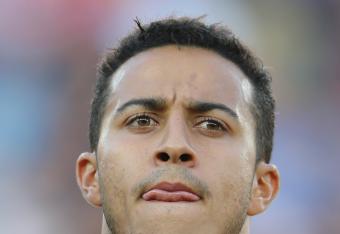 Despite rumours that the Barcelona bus has been held up in Munich and that the game will now start five minutes after the proposed kick off time, the line ups for both sides are in.
Bayern XI to face Barcelona: Neuer - Rafinha, Dante, Boateng, Lahm - Thiago, Ribery, Robben, Alaba, Kroos - Müller
Barcelona XI to face Bayern: Pinto - Montoya, Bartra, Mascherano, Adriano - Song - dos Santos, Sergi Roberto - Alexis, Messi, Tello
This article is
What is the duplicate article?
Why is this article offensive?
Where is this article plagiarized from?
Why is this article poorly edited?