Biggest NBA Free-Agent Bargains Remaining During 2013 Offseason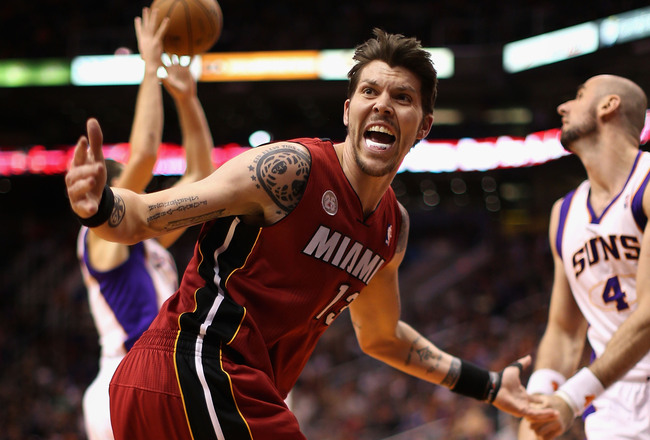 Christian Petersen/Getty Images
There's never a bad time for a bargain, but NBA life after 2011's collective bargaining agreement has been especially frugal.
Unless you're Mikhail Prokhorov. He may be under the impression spending obscene amounts of money entitles you to luxury taxis. For the rest of the league, however, stretching dollars is no longer just the purview of crafty, money-balling front offices. It's a necessity.
Whether building rotations, surrounding stars with role players or just stocking up on emergency depth, some of the league's best free-agent decisions haven't happened yet. Once the big spending subsides, it's time for bargain hunters to pick through the remains.
Some of which aren't too shabby.
Kenyon Martin's agreement with the New York Knicks, per Yahoo! Sports' Adrian Wojnarowski, takes one of those targets off the market, but there's certainly more where he came from.
8. Ivan Johnson, PF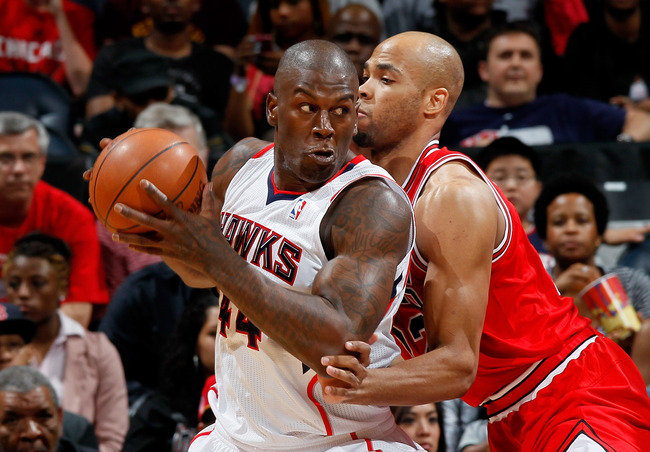 Kevin C. Cox/Getty Images
If you still aren't sure who Ivan Johnson is, welcome to the anonymity that is the Atlanta Hawks' bench. Johnson had one of those circuitous routes to the NBA, including a lifetime ban from the Korean Basketball League—which is awesome.
Unfortunately, Johnson's journey means he has just two seasons under his belt at age 29. That's not an extensive enough body of professional work to intrigue every team. That said, it would be surprising for him end up in the D-League again.
Though Johnson won't blow you away with tremendous upside, size or athleticism, you could do a lot worse trying to land a reliable role player for the bench. He's averaged 6.5 points and 3.9 rebounds in 15.8 minutes per game for his career, and that probably won't change much. He makes up for being 6'8" with a nice mid-range jumper, and he'll occasionally get the crowd going with a strong finish.
Johnson could easily settle into a Reggie Evans-type role, but it's that Brandon Bass high-post game that should keep him in the league.
The Hawks didn't extend Johnson a qualifying offer, per the Atlanta Journal-Constitution's Chris Vivlamore, but that alone doesn't necessarily mean he won't return. Atlanta's decision to sign Elton Brand, however, means there won't be much playing time behind presumptive starter Paul Millsap.
Ultimately, Johnson might be wise to lay low and wait for rosters to take shape. As early injuries start piling up around the league, interest in Johnson could grow significantly.
7. Tyrus Thomas, F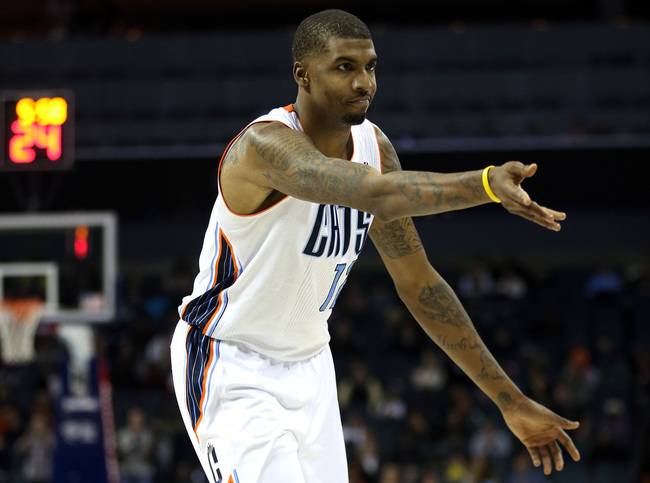 Streeter Lecka/Getty Images
Bargain? How could a guy the Charlotte Bobcats just amnestied be worth signing, much less a bargain?
A closer look at the trajectory of Tyrus Thomas' career creates even more questions. His minutes and production have plummeted in his last two seasons with the Bobcats, bottoming out last season with 4.8 points and 2.3 rebounds in just 13.8 minutes a game. Production aside, it's never a good sign when you're playing those kind of minutes for the Bobcats.
The other warning sign is health. Thomas has missed an eye-popping 153 games in his last four seasons.
Nevertheless, the 26-year-old forward isn't washed up. And it's hard to believe the sub-40 percent shooting we've seen the last two seasons is Thomas' new normal. He was a 47 percent shooter as recently as 2010-11. Between ongoing injury struggles and having to play for Charlotte, there's reason to believe we've already seen the worst of Tyrus Thomas.
A change of scenery could do him wonders. He still has the length and athletic ability to impact games on the defensive end, and in theory he should be versatile enough to guard a range of frontcourt threats. With some motivation and a clean slate, the right team could groom Thomas into a legitimate defensive specialist.
Thanks to Thomas' previous contract (which still owes him a combined $18 million), they could do so on the cheap, too, with a low-risk, one- or two-year deal.
There's a precedent for that kind of risk being rewarded, too.
His name is Andray Blatche. Like Thomas, Blatche seemed all but washed up in his last days with the Washington Wizards, but the opportunity to play for a playoff team like the Brooklyn Nets seems to have done the trick.
6. DeJuan Blair, PF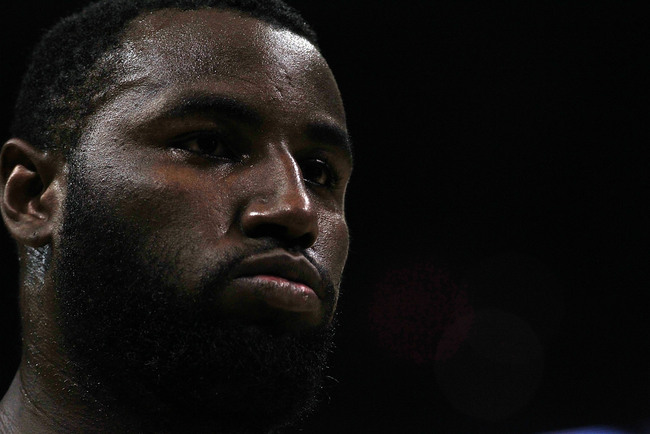 Ronald Martinez/Getty Images
If anyone knew quite what to make of DeJuan Blair's first four seasons, he'd be signed by now. Maybe even by the San Antonio Spurs, who were certainly willing to give the undersized big man some chances.
Blair started 166 games for San Antonio, but he'd become the odd man out last season. Tiago Splitter's size and development earned him the starting job alongside Tim Duncan, and Boris Diaw's arrival in 2011-12 added a savvy passer to the mix. In turn, Blair averaged a career-low 14 minutes last season.
If it's box scores you're interested in, Blair rarely disappoints. He rebounds well (especially under his own basket), and he's got weapons in the post or rolling after picks. Chief among them is one of the softest floaters you'll ever see from a guy standing 6'7".
He still might be better suited for bench duty, though. Without rim-protecting size or a demonstrably consistent mid-range game (he's shown brief flashes), Blair won't find starter's minutes or money.
He could find his way to the Washington Wizards, according to Yahoo! Sports' Adrian Wojnarowksi. They're not exactly a contender but not a bad opportunity for Blair to show what we can do either.
5. Ronnie Brewer, G/F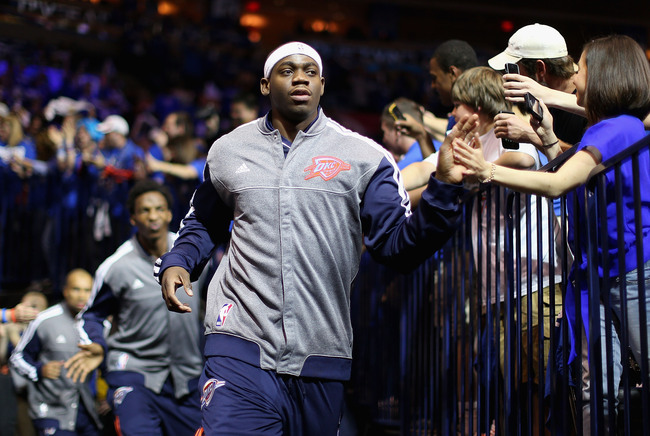 Christian Petersen/Getty Images
Ronnie Brewer may have disappeared from the Oklahoma City Thunder's playoff rotation last season, but we shouldn't read too much into that. Having played in just 14 regular-season games with OKC after a midseason trade from the New York Knicks, Brewer hadn't spent much time in Scott Brooks' system. He was in no position to hit the ground running come playoff time.
The better indicators of Brewer's value were his 46 games with New York, 34 of which he started. His three-point accuracy improved to a career-best 31 percent, which is still pretty bad. It's an encouraging sign all the same given that Brewer was also averaging a career-high 1.5 attempts. That's really not his game. In truth, scoring from any distance really isn't his game. If Brewer isn't cutting to the basket off the ball or turning hustle into easy points, he isn't getting buckets.
He'll still serve a crucial function on the defensive end, though.
No Tony Allen to be sure, but Brewer has become a fine defender since his two seasons with Tom Thibodeau's Chicago Bulls. His length makes him an ideal candidate to check wing scorers, allowing coaches to take defensive pressure off their own scorers (who'd otherwise get stuck with those taxing defensive assignments).
For a deal anywhere south of $3 million, Brewer isn't a bad find, especially for a team that already has plenty of scorers.
4. Mike Miller, G/F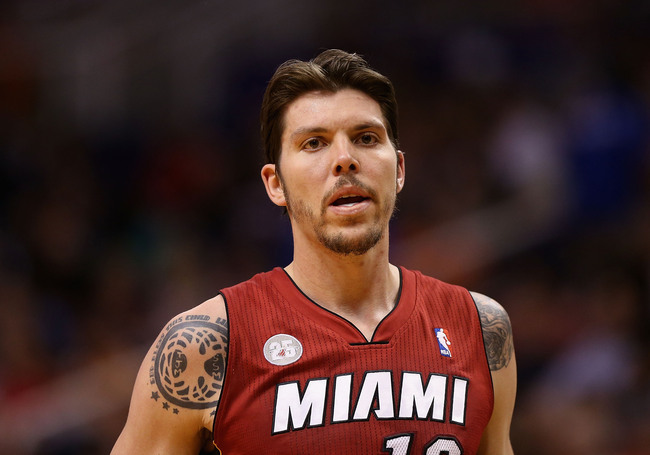 Christian Petersen/Getty Images
Mike Miller is a nice find for the right team, but the 33-year-old swingman is probably about to make his last stop. The 59 games Miller played for the Miami Heat last season were his most since the 2008-09 season, his only season with the Minnesota Timberwolves. Injuries have been a problem.
And even if healthy, it's hard to say just how much Miller has left in the tank. He continued to make important—albeit spotty—contributions for Miami last season, even starting five games in the playoffs. But he also looked more and more like a spot-up specialist in the process, averaging just 13.6 minutes during the postseason.
All the same, Miller can still shoot (nearly 42 percent behind the arc last season), and his 6'8" frame remains useful to teams looking to play some small ball. He'll rebound, pass and do all the little things you'd expect from a veteran with championship experience.
ESPN's Marc Stein reports that the Denver Nuggets have joined the Oklahoma City Thunder and Memphis Grizzlies in pursuit of Miller, which says all you need to know about the market for his services: playoff teams who need perimeter shooting—especially for the playoffs.
Mike Miller should know a thing or two about that.
3. Gary Neal, G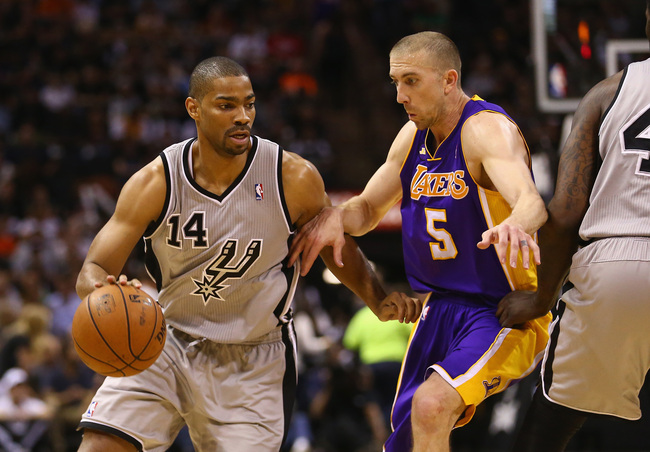 Ronald Martinez/Getty Images
The San Antonio Spurs are reportedly withdrawing their qualifying offer to Gary Neal, so he might not remain on the market for much longer, via CBS Sports' Royce Young. After signing Marco Belinelli, San Antonio appears content to let Neal test his potential elsewhere. Without the threat of San Antonio matching offer sheets, bidders will view Neal as a more headache-free proposition.
How much they value his contributions on the court is another question.
The Spurs—as they so often do—have turned the undrafted guard out of Towson into a more than serviceable spark plug off the bench. He's an exceptional three-point shooter with limitless range, and he does a nice job of creating space for his shots. Neal also demonstrated an improved in-between game last season, routinely looking for mid-range jumpers or floaters in the paint.
Nevertheless, some slumping during Neal's third season contributed to a declining field-goal percentage that could make him pretty affordable. Should his stroke return to full strength, an up-and-coming squad could rely pretty heavily on the 28-year-old as a sixth man.
2. Gerald Henderson, SG (Restricted)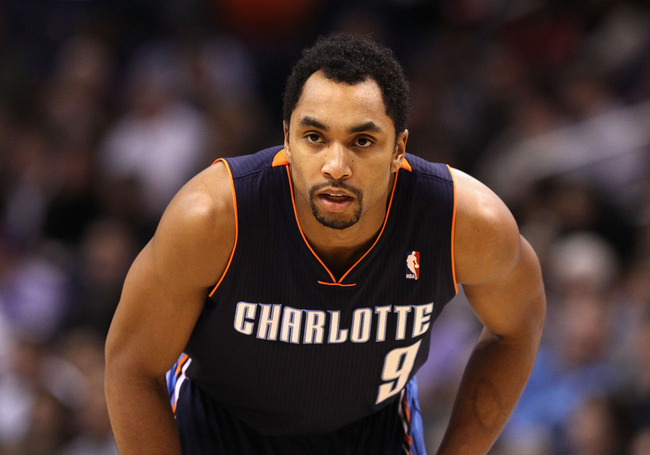 Christian Petersen/Getty Images
Imagine that—a halfway-decent starting shooting guard still up for grabs after the initial run on free agents. Of course, when you're the Charlotte Bobcats' starting shooting guard, potential suitors can be forgiven for taking their time.
The bigger impediment has been the fact that Charlotte extended Henderson a qualifying offer in June, enabling them to match any offer he receives on the open market. Though he'd reason to be an affordable solution all else being equal, all else isn't equal. In an attempt to dissuade the Bobcats from matching, a team could theoretically get suckered into overpaying.
Additionally, most teams probably don't see Henderson as a starter, which might deter him from signing their offer sheets in the first place.
Henderson is quintessentially average in almost every respect. He's a solid scorer and defender, but he's doesn't have elite size or a reliable outside shot. Still just 25, there's time to improve that perimeter game, but there are also plenty of guys out there who already have one.
Putting a price on Henderson isn't easy, especially without the luxury of seeing him in action with a good team. But despite the obstacles to acquiring him, Henderson could justify an offer that makes Charlotte think twice about matching.
He just might not be much of a bargain at that point.
1. Mo Williams, PG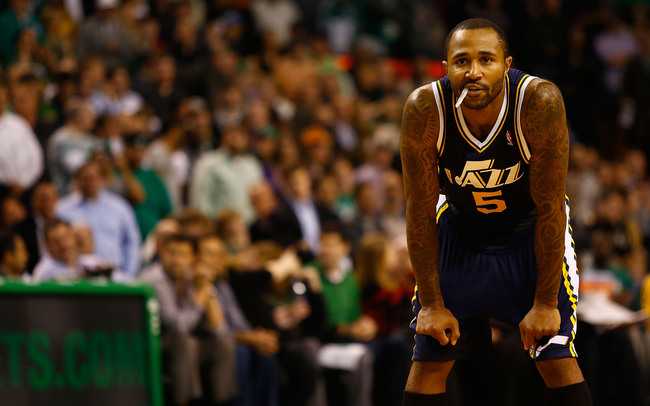 Jared Wickerham/Getty Images
If it's a little backcourt scoring or playmaking you're looking for, look no further than Mo Williams.
Hopefully you aren't looking for much else.
The 6'1" point guard's best days are behind him, but he still brings good value to the table. Though the Utah Jazz made Williams a starter again last season, he may now be better-suited for the kind of sixth-man role he played behind Chris Paul during his 2011-12 campaign with the LA Clippers. He doesn't have the defensive chops to be a top-shelf starter, and there aren't many teams looking to feature a 30-year-old floor general.
That said, Williams is probably still better than you think. Last season's 38-percent three-point clip put him at his career mark, and his overall shooting percentage has steadily stayed above 42 percent ever since his rough start to the 2010-11 season (when still playing for the Cleveland Cavaliers).
His production as a distributor picked up during last season's return to the starting lineup, and his assist ratio ranked him No. 26 among qualifying point guards according to ESPN, ahead of Tony Parker, Deron Williams, Ty Lawson, John Wall and Jrue Holiday.
That doesn't mean he's a better passer, but it does dispel any notion that he's really just a shooting guard in a point guard's body.
It's unclear exactly how much Williams will cost, but two factors suggest less than market value.
First, demand for free agents has subsided in general. It isn't that teams are no longer interested in acquiring talent, but that—by and large—they just can't afford to do so. The Dallas Mavericks, for example, have already spent most of their available cap space (and satisfied their backcourt needs in the process). Otherwise, they might have been a nice fit.
Second, HOOPSWORLD's Alex Kennedy reported that Williams has entertained the idea of "taking less to join a contender" like the San Antonio Spurs or Miami Heat. Given the extremely limited funds both of those teams have at their disposal, he might be willing to take a lot less.
Keep Reading