San Diego Chargers Positional Grades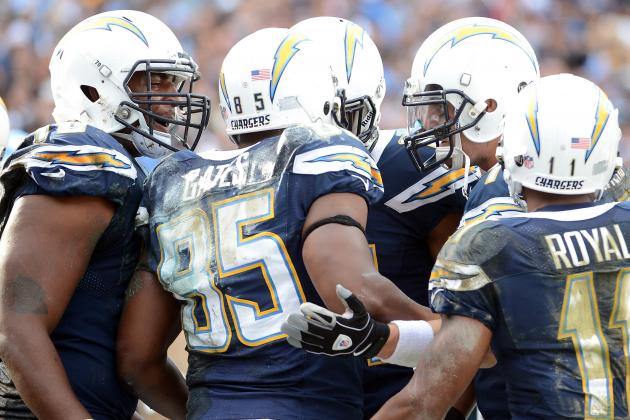 Harry How/Getty Images

San Diego Chargers training camp begins July 25 and the Bolts have a complete 90-man roster that will need to be trimmed to 53 by the start of the regular season.
Before the cuts begin to happen, though, and on the eve of training camp, it's good to take a hard look at the positional units of the team at this very moment, overflowing with potential.
The positional units will be graded as a whole—not just on the projected/assumed starters. Grading a unit is largely subjective, but the criteria used is a pretty basic one that most fans should be able to determine without a whole lot of debate: Would a fan be OK with this player starting? Would this player be a hot commodity to the rest of the NFL if released by the Chargers?
While not necessarily the same questions, they are related.
Begin Slideshow

»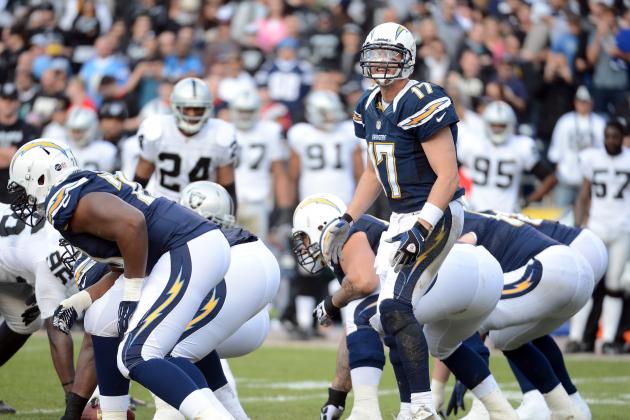 Harry How/Getty Images

Starter: Philip Rivers
Backups: Charlie Whitehurst, Brad Sorensen, Mike Hermann
The great debate swirling around NFL circles is if new head coach Mike McCoy and new offensive coordinator Ken Whisenhunt can turnaround Rivers' recent troubles. Rivers was once a bonafide star in the NFL, but most analysts have him slipping after back-to-back turnover-filled seasons (49 turnovers in two years).
McCoy does not think Rivers needs fixing at all. In fact, McCoy thinks Rivers could complete 70 percent of his passes this year.
One thing can be said about Rivers, he is durable. He is one of two quarterbacks to take every snap for his team last season. Andrew Luck of the Colts is the other.
If Whitehurst, Sorensen or Hermann step onto the field for any action whatsoever during the regular season, that means something drastically wrong happened to Rivers. And while one wants to stay positive and have faith that the team could rally around another signal-caller, the truth is San Diego's season would be over if No. 17 is injured.
GRADE: C
Seattle liked Whitehurst so much, the team traded two picks for the backup. Whitehurst helped the Seahawks win a couple games, but Seattle let his contract expire. Sorensen and Hermann are intriguing developmental players, but they are probably destined for practice squads for the foreseeable future.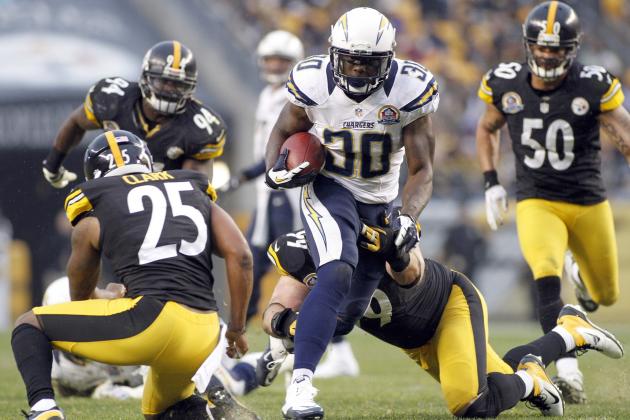 Justin K. Aller/Getty Images

Starters: Ryan Mathews, FB Le'Ron McClain
Backups: Ronnie Brown, Danny Woodhead, FB Chris Gronkowski, Edwin Baker, Michael Hill, Fozzy Whittaker
Time may be running out on Ryan Mathews. The former Fresno State star has almost as many fumbles (12) as rushing touchdowns (14) in his three-year career. Mathews also has a problem staying on the field. He has missed multiple games due to injuries in each year he has been in the NFL.
Ronnie Brown is entering his ninth season in the NFL and was decent last year with the Chargers, but he just turned 32 years old.
Danny Woodhead was added via free agency during the offseason as insurance against Mathews getting hurt and Brown showing his age. Woodhead could be the energetic spark the offense has seemed to lack the past few seasons.
GRADE: C+
It is risky pinning the running game hopes on a player who has never played an entire season of collegiate or professional football due to injuries, but that is what the Chargers are doing with Mathews. Brown continues to play well despite his age, and Woodhead can be an electrifying player. Baker, Hill and Whittaker just need a chance to play. The fullbacks are good and could make most teams.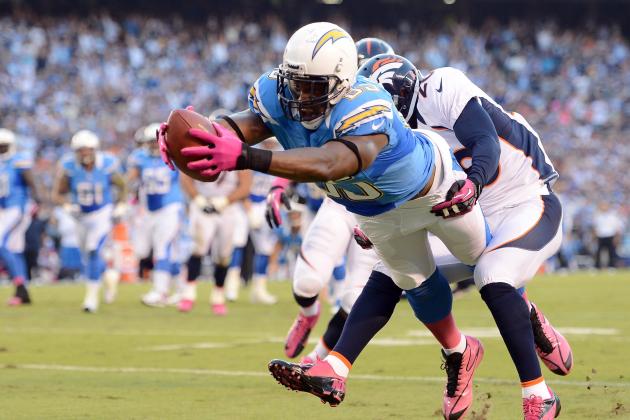 Harry How/Getty Images

Starter: Antonio Gates
Backups: Ladarius Green, Ben Cotton, John Phillips, David Rolf, Dallas Walker
Gates is entering his 11th season with the Chargers. He has been slowed by foot injuries, but he is still one of the best in the NFL and a future Hall of Fame inductee. There is no doubt Rivers is a better quarterback when Gates is healthy.
The players behind Gates are intriguing. Phillips was brought in as a proven veteran who could be counted on to work hard in the run and passing game, but he lacks the explosiveness and dynamic playmaking ability San Diego has become accustomed to with No. 85 in the huddle.
Green and Walker might have that playmaking ability that Phillips lacks, but neither could be counted on to seal the edge in the run game. Cotton and Rolf are the opposite. They are nasty blockers, but unproven pass catchers.
GRADE: B-
It is an interesting mix of a proven Hall of Famer, all-around hard workers and potential youngsters in this unit. Green could become the next big-time tight end in San Diego.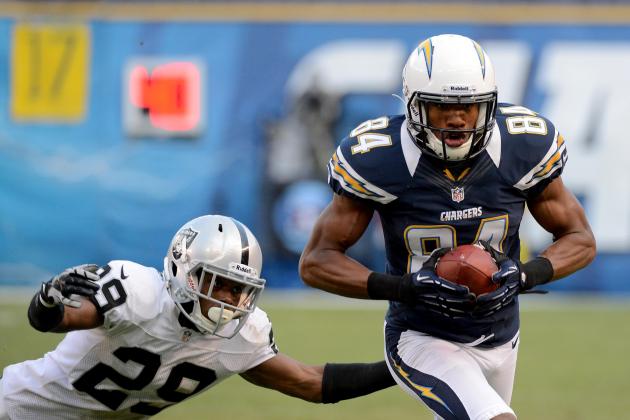 Donald Miralle/Getty Images

Starters: Danario Alexander, Malcom Floyd
Backups: Vincent Brown, Keenan Allen, Deon Butler, Dan DePalma, Richard Goodman, Robert Meachem, Eddie Royal, Luke Tasker, Mike Willie
The Chargers have a lot of talent at wide receiver, but no superstar.
Danario Alexander always had potential, but he also had a history of knee injuries. DX was able to put those concerns to rest (at least for one season) and contributed to the passing game right away for San Diego. It is still uncertain if his knees can hold up, but the former Missouri standout should have confidence from last year.
Floyd is a solid receiver and, despite missing two games due to an ankle injury, had more receptions in 2012 (56) than any other season in his nine-year career.
Brown and Allen should see plenty of playing time and maybe even push DX and/or Floyd for a starting spot.
The rest of the players are all adequate and opposing teams will likely swoop up anyone cut from the team.
The problem with San Diego's receiving corps is the absence of a true No. 1 target. Alexander could be that guy eventually, if he can stay healthy. Floyd has proven he is a good-to-great No. 2 receiver, but nothing more. Brown, Allen, Meachem, Royal and Butler need to show they are more than slot receivers.
GRADE: B+
Again, this is a deep and solid group. It is missing a true No. 1, though.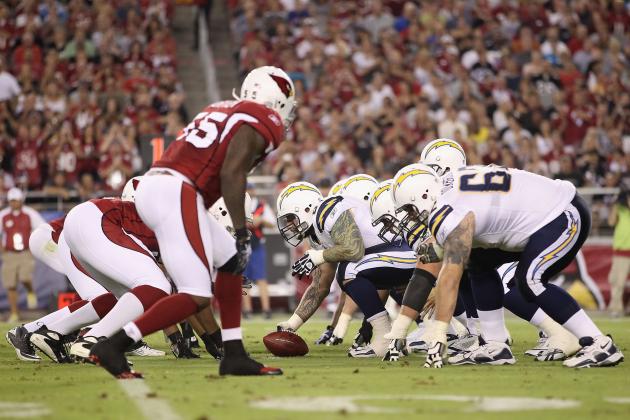 Christian Petersen/Getty Images

Starters: LT Max Starks, LG Chad Rinehart, C Nick Hardwick, RG Jeromey Clary and RT D.J. Fluker
Backups: T Mike Harris, T King Dunlap, C Colin Baxter, T Nick Becton, G/T Brandyn Dombrowski, C David Molk, G Rich Ohrnberger, T Randy Richards, T Steve Schilling and G Johnnie Troutman
The offensive line took a lot of criticism last year, and deservedly so.
Philip Rivers seemed to be under constant duress and holes failed to materialize in the running game. Several services ranked the San Diego offensive line as one of the worst in the NFL last year.
A complete overhaul came in the offseason. Nick Hardwick is the only player starting in the same spot from last year.
This offensive line has a mix of old and new, with Starks and Fluker at the tackles. Even Rinehart and Clary are a mix of old and new. Rinehart played in Buffalo under Joe D'Alessandris, the Chargers' new offensive line coach. Clary is playing a new position, having started at right tackle in San Diego the past six years.
King Dunlap was brought in as a valuable backup, having experience at four offensive line spots.
GRADE: C -
While this year's unit should be better than last year's linemen, that's faint praise considering how horrible the line actually was last year. The line got better with additions of Starks as a starter and Dunlap as a reserve, but it is unclear how Fluker or Clary will play. A lot of the backups this year gained valuable experience last season, but this unit still needs pieces.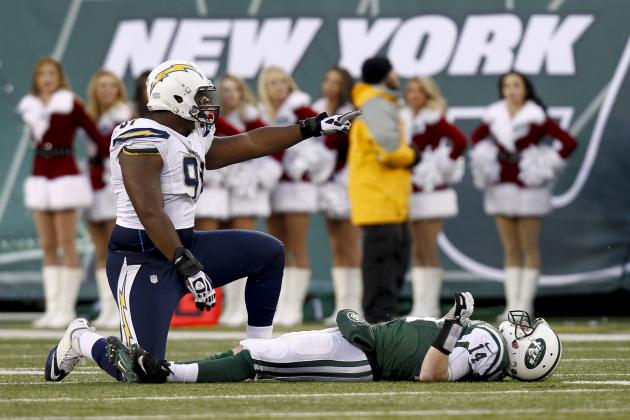 Jeff Zelevansky/Getty Images

Starters: DE Kendall Reyes, NT Cam Thomas, DE Corey Liuget
Backups: NT Kwame Geathers, NT Byron Jerideau, DE Jamarkus McFarland, DE Brandon Moore, DE Damik Scafe, DE Jarius Wynn
With Reyes and Liuget, San Diego has a great future for years to come along the defensive line. The two combine for 12.5 sacks last year. But as good as the two bookends are on defense, the rest of unit is unknown.
Thomas is getting a chance to start at nose tackle after Antonio Garay was allowed to sign with the New York Jets in free agency. No matter who is kept for the final 53-man roster, his backups will be undrafted rookie free agents, unless new general manager Tom Telesco signs a veteran sometime soon, which seems unlikely.
Wynn is the only other player in this unit with NFL experience. He had four starts in four years with Green Bay and Tennessee, collecting 34 total tackles and 6.5 sacks.
GRADE: C -
Reyes and Liuget are stars on the rise, but everyone else is young and unproven. Thomas and Geathers could become stars, and Jerideau could be productive, but the rest of the players are better off on the practice squad.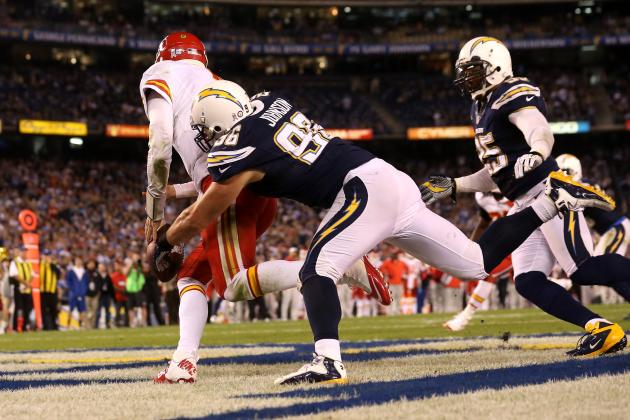 Stephen Dunn/Getty Images

Starters: OLB Jarret Johnson, ILB Donald Butler, ILB Manti Te'o, OLB Dwight Freeney
Backups: OLB Larry English, OLB Melvin Ingram, ILB Bront Bird, ILB Phillip Dillard, OLB Thomas Keiser, ILB D.J. Smith, OLB Devan Walker, ILB Daniel Molls, ILB Jonas Mouton, OLB Tourek Williams, OLB Frank Beltre
Butler and Johnson can start for almost any team in the NFL. Johnson is a bull against the run, and Butler is one of the better all-around inside linebackers in the league. The other two starters—Te'o and Freeney—are full of questions.
Te'o could be an immediate star and play like he did for most of his Notre Dame career. Or his performance against Alabama in the BCS Championship game exposed him as slow and overmatched. His poor showing at the NFL combine only added to the concerns. But the reports are Te'o has done exceptionally well during OTAs and Chargers fans can expect great things from "Hawaiian 5-0."
Freeney spent 10 years as a defensive end and one year as an outside linebacker for the Colts. During his 11 years in Indianapolis, Freeney had two seasons with five or less sacks, once was when he had three sacks in 2007 when he missed half of the season with a foot injury. The other was last year when he collected five sacks in his first season at OLB. Can Freeney regain his pass-rushing ability, or is he just not able to be a 3-4 OLB?
GRADE: A-
San Diego has talent and experience behind the starters. The only question would be if they get a pass-rushing specialist if Freeney does not work out. D.J. Smith could become the steal of free agency.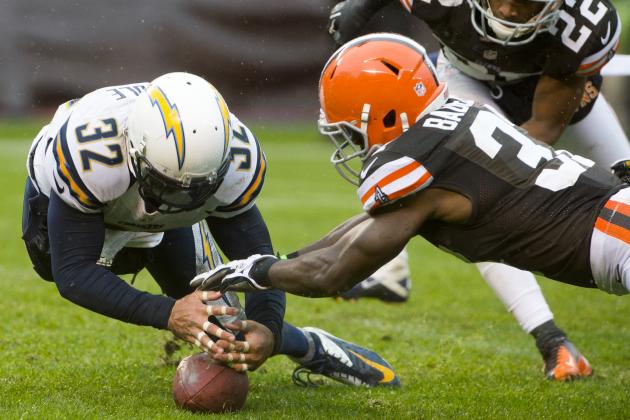 Jason Miller/Getty Images

Starters: LCB Derek Cox, RCB Shareece Wright, FS Eric Weddle, SS Marcus Gilchrist
Backups: CB Johnny Patrick, SS Brandon Taylor, CB Steve Williams, FS Sean Cattouse, CB Greg Brown, S Jahleel Addae, CB Cornelius Brown, CB Greg Brown, CB Marcus Cromartie, CB Greg Gatson, CB Josh Johnson, CB Kenny Okoro
The defensive backfield is in transition. Three of the four starters from last season are gone, and the replacements are trying out new positions.
The return of Eric Weddle solves a lot of problems. Pro Football Focus has been grading players since 2008, and last year Weddle recorded the highest grade for a safety they have ever handed out.
Cox could be a great corner for San Diego, but Wright and Gilchrist are works in progress. Johnny Patrick and Steve Williams should see plenty of playing time at corner and nickel and could possibly supplant Wright as a starter.
Once Brandon Taylor is fully healed from his knee injury, he could pry Gilchrist out of the safety role.
GRADE: D
Besides Weddle and Cox, there are no definite starters. There is potential, especially with Taylor and the horde of undrafted rookie free agents, but that potential could be for naught.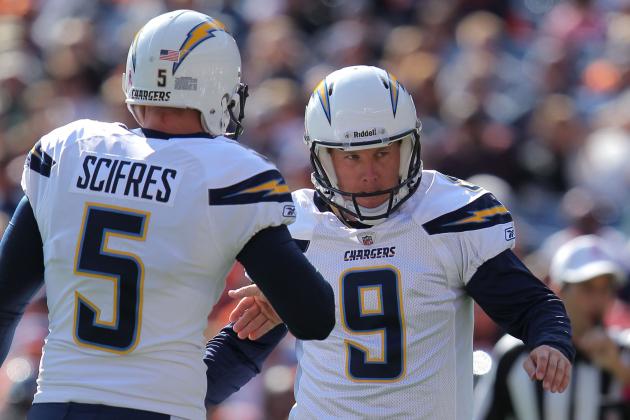 Doug Pensinger/Getty Images

K Nick Novak, P Mike Scifres, LS Mike Windt, K Richard Kent
It is a shame Scifres has only been a first alternate for the Pro Bowl. He has proven to be a weapon in the punting game. He set a team record with 48.3 yards per punt average in 2012.
Novak missed two field goals last year, but both were beyond 50 yards.
GRADE: A
Novak and Scifres are two of the best, and Windt has filled in the gap at long snapper since the departure of long-time specialist David Binn.