Chris Weidman and Jon Jones: Head-to-Toe Breakdown of New York's Two UFC Champs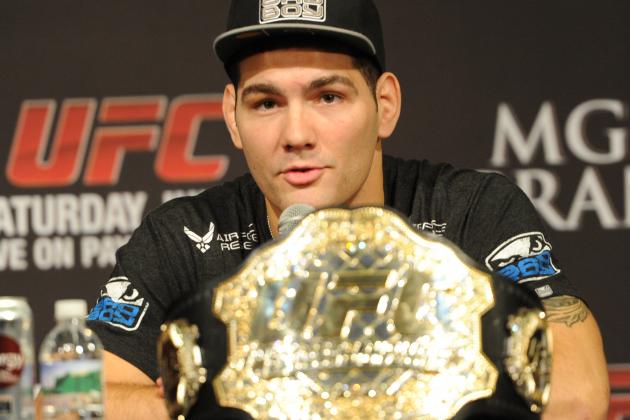 Jayne Kamin-Oncea-USA TODAY Spor
Chris Weidman at the UFC 162 Post-Fight Conference
After Chris Weidman's dismantling of long-time middleweight champion Anderson Silva at UFC 162, an immediate rematch was set in place. Silva, who many believe to be the greatest mixed martial artist of all-time, will have the opportunity to prove that his loss to Weidman was a fluke on December 28, 2013, at UFC 168.
If the New York native defeats Silva once more, many questions, undoubtedly, will arise. One of them will more than likely revolve around Weidman facing the light heavyweight champion, Jon Jones. In an interview with ESPN, regarding a potential Jones/Weidman match-up, the new middleweight champion stated:
I've got Anderson Silva on my mind, but if the fans wanted to see that fight [against Jones] and the UFC wanted it to happen, I'm 1000 percent in. I asked to fight Jon Jones on ten days notice back when Dan Henderson got hurt. But I wasn't a big enough name at that point, so they were like, 'no'.
A fight between Weidman and the man whom everyone desired to see Silva face (Jones) would make sense. Leading up to UFC 162, there was talk in the world of MMA regarding a super fight between Silva and Jones. In his comments to UFC president Dana White, Weidman stated, "I talked to Chris Weidman myself. Guy looks me right in the eye and says, 'I'm telling you, I apologize that I'm going to (expletive) up all your super fights.'"
Another triumph over Silva would, indeed, lead to the deterioration of any super fight between Silva and Jones. Weidman could seize the immense opportunity and face off against Silva's younger counterpart and future UFC Hall of Famer in Jones. Given that, the New Yorker may be just one win away from a bout with the pound-for-pound kingpin, and two wins away from making history.
Begin Slideshow

»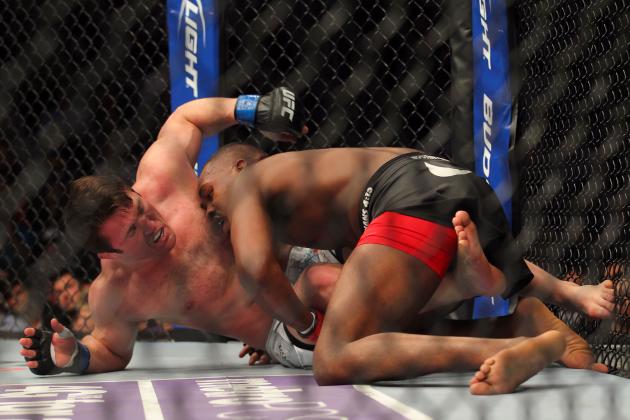 Brad Penner-USA TODAY Sports
Jon Jones Takes Down Chael Sonnen at UFC 159
Weidman is a NCAA Division I All-American wrestler who utilizes his skills in this area to stifle his opponents. The New York native's wrestling base was key in controlling Silva on the ground during the opening moments of the first round at UFC 162. He is undefeated (10-0), and his greatest and most significant win is over the Brazilian MMA legend in Silva.
Jones (18-1), on the other hand, is renowned for his ability to take down and control his opponent, which normally leads to their demise. Many of Jones' wins stem from his superior grappling. Whether he ties up his foes in the clinch or takes them down, Jones tends to finish his opponents. His 83 percent finish rate speaks volumes and can be directly related to his elite grappling skills.
Advantage: Jon Jones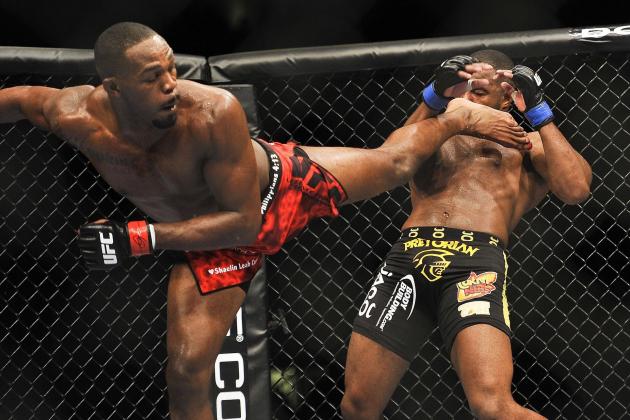 Paul Abell-USA TODAY Sports
Jon Jones Attempts a Back Kick Against Rashad Evans at UFC 145
Before his shocking victory over Silva at UFC 162, Weidman hadn't recorded a single knockout win over a big-name opponent. On December 28, Weidman will attempt to prove that his triumph over Silva wasn't a fluke, with another knockout victory over his Brazilian counterpart.
Conversely, Jones' stand-up is unparalleled. He has utilized this aspect of his arsenal to gain knockouts over the likes of Chael Sonnen, two-time world champion Mauricio Rua and Brandon Vera. Jones' reach of 84.5 inches allows him to strike his opponents before they are presented with the opportunity to counter. The light heavyweight champion uses his reach advantage well, and often times stifles his opponents with devastating leg kicks.
Jones has left plenty of fighters battered and bloodied in the Octagon. His orthodox, stand-up style of fighting, accompanied by his reach advantage, demoralizes many of his opponents. Jones' intense stand-up game has led to his great success as an MMA fighter, and as champion.
Advantage: Jon Jones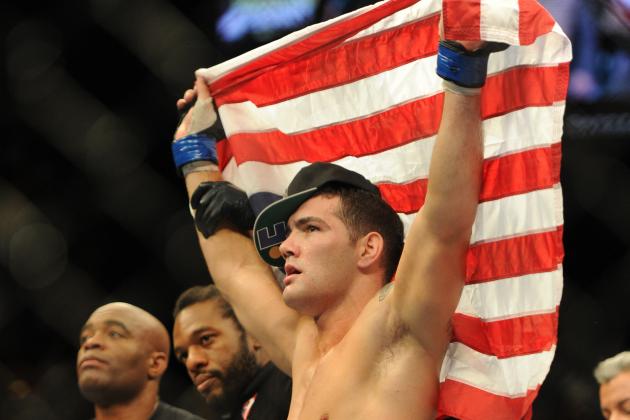 Jayne Kamin-Oncea-USA TODAY Spor
Chris Weidman Following His UFC 162 Win Over Anderson Silva
Jones' in-Octagon experience greatly separates him from the likes of Weidman. The light heavyweight champion has competed in almost twice as many fights as his fellow New Yorker. At 26-years-old, he makes great use of his strengths, while exploiting the weaknesses of others in the Octagon. He became the UFC's youngest champion at age 23, and has beaten five former world champions in the process.
Jones is currently in possession of the longest win streak in the light heavyweight division, and is tied (with Tito Ortiz) for most successful light heavyweight title defenses in UFC history (5). At the UFC 159 post-fight conference, when asked if one more win would make him the greatest light heavyweight champion in UFC history, Jones stated:
I owe it to myself to say, 'Yes.' Aspiring to be the greatest is something that I owe to myself, and that's what I want to be, is the greatest. And I believe that's what will happen eventually.
Jones is on the verge of becoming the greatest, most decorated light heavyweight champion in UFC history. His experience and ability to finish opponents creates problems for most, especially one with as little experience as the current middleweight champion.
However, Weidman is confident in his abilities, and has aspirations of leaving his mark on the world of MMA. In a recent interview, the champion stated:
My ultimate goal was always that I want to be known as one of the greatest of all-time. The first step was obviously to be UFC champion. I did that, and now it's time to take one fight at a time and really just set myself apart from the group. That's my goal.
At UFC 168, Weidman will be presented with the opportunity of being the only man to defeat Silva twice. If the champion reigns supreme on December 28, a Jones/Weidman match-up would spark an incredible amount of interest among the world of MMA, and more than likely produce one of the most profitable UFC events of all-time.
Advantage: Jon Jones