John Cena Will Bring out the Best in Daniel Bryan to Create Epic Feud
Use your ← → (arrow) keys to browse more stories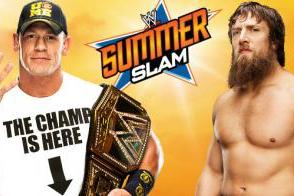 (photo courtesy of WWE.com)
With just under a month until SummerSlam, the WWE Championship match between John Cena and Daniel Bryan is poised to be one of the most spectacular main event matches in some time.
Since winning the WWE Championship from The Rock at WrestleMania 29, John Cena has defended it on pay-per-view against Ryback and Mark Henry. Cena has been facing larger opponents during his latest title reign, but he will have a different challenge in Daniel Bryan.
What to Expect from the Match
When John Cena selected Daniel Bryan as his opponent for SummerSlam, Cena gave the WWE Universe the match they wanted to see. This match has been in the making for quite some time, as Daniel Bryan is one of the few top WWE Superstars that Cena has not faced in a main event situation.
This is a far cry from the match between John Cena and Daniel Bryan on WWE Velocity nearly 10 years ago. Cena and Bryan were both in the formative years of their respective careers at the time with Cena just starting in WWE and Bryan slowly establishing himself on the independent circuit.
It was also one year ago that a much different John Cena and Daniel Bryan faced each other one-on-one on Monday Night Raw. This match, of course, would see both as top WWE Superstars with an audience attentive to their every move.
With signature moves and finishers known to the WWE Universe at their disposal, the match on Raw revealed how John Cena and Daniel Bryan could have an incredible main event match, as they countered each other's moves effortlessly.
It will be fascinating to see how Daniel Bryan counters the Attitude Adjustment and the STF, as well as it will be something to see John Cena counter the Yes Lock and Bryan's arsenal of kicks.
This feud will hopefully take many twists and turns. The overly sensitive Bryan may not take too kindly to John Cena's help when taking on other superstars. Even when Bryan had to take on three different opponents on this past Monday's Raw, one can only insinuate that Cena's help dealing with Ryback was not wanted.
A Closer Look at the Feud
Perpetuating the idea of being a nice guy by giving Daniel Bryan a chance might make John Cena overconfident as SummerSlam approaches. On the other hand, Bryan's hyper-awareness as a "weak link" in WWE could get the better of him causing a mistake in the weeks leading to SummerSlam or at the event itself.
John Cena's goodwill towards Daniel Bryan will most likely cause a rift between the two. At some point between now and SummerSlam, Cena and Bryan will have a confrontation resulting in physicality. When this occurs, the tension and excitement for this match will be even greater.
When John Cena is put into a position where he is extremely unpopular, he rises to the occasion. Cena is able to play along with the WWE Universe and take on any role that they give to him based on cheers and boos.
At ECW One Night Stand 2006, Rob Van Dam challenged John Cena for the WWE Championship. In front of a vocally partisan crowd, Cena was able to switch from the babyface to the heel for that one match because of the fans.
When taking on Daniel Bryan, John Cena will most likely not face a crowd quite as passionately against him as he did seven years ago taking on Rob Van Dam, although the WWE Universe is very hungry for a Bryan win.
How John Cena handles the reaction of the WWE Universe will help to define the feud before the match. An added spark of excitement between Cena and Daniel Bryan is still needed to give this main event match a harder edge.
Looking Ahead
Whatever happens between now and SummerSlam between Daniel Bryan and John Cena is sure to be exciting.
Their feud has many directions it can take. John Cena is the catalyst to help propel Daniel Bryan's popularity to another level. If Cena shows annoyance at the "Yes" chants, Bryan could be on his way to being a top WWE Superstar for a very long time. It can be that simple.
For better or worse, John Cena's reaction to the WWE Universe's embrace of Daniel Bryan is what is going to make this feud something special. Certainly, Cena knows this and will help Bryan rise to the top of WWE as Rob Van Dam did seven years ago.
Read more from Sean McCallon on the Double Axe Handle Blog

Follow Sean McCallon on Twitter @TheBlueMask246