UFC on Fox 8 Results: Full Winners and Analysis for Fight Card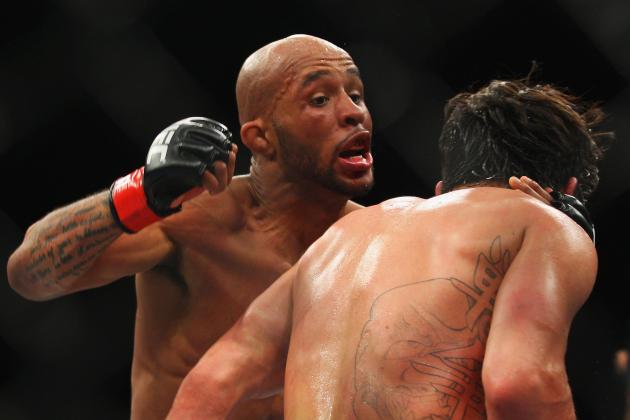 Mark Kolbe/Getty Images

Headlined by a flyweight title bout between reigning champion Demetrious Johnson (17-2-1) and challenger John Moraga (13-1), UFC on Fox 8 has invaded KeyArena in Seattle.
The free televised main card, which started on FOX at 8 p.m. ET, features four bouts and is co-headlined by a pivotal welterweight collision between rising contender Rory MacDonald (14-1) and proven veteran Jake Ellenberger (29-6).
In other welterweight action, Robbie Lawler (20-9) will take on Bobby Voelker (24-9). Rounding out the action is a women's bantamweight bout between Liz Carmouche (8-3) and Jessica Andrade (9-2) in Carmouche's first fight since her title-bout loss to Ronda Rousey.
Be sure to check back here throughout the night for the latest results and grades for each of the main card's combatants.
Begin Slideshow

»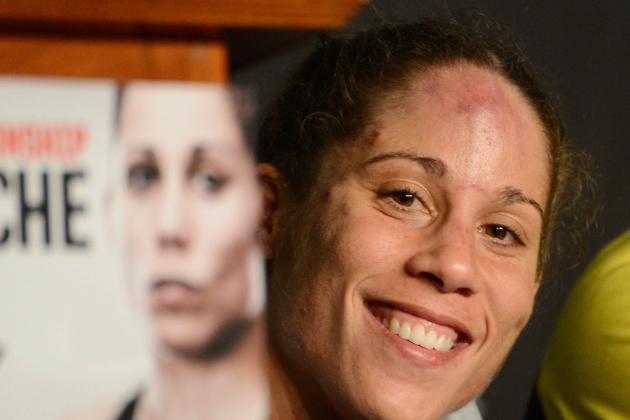 Jayne Kamin-Oncea-USA TODAY Sports

Liz Carmouche opened up the night by showing that she should still be considered one of the top fighters in the UFC's women's bantamweight division. She earned a second-round TKO victory over Jessica Andrade in her first fight since losing to Ronda Rousey via first-round armbar.
The win is huge for her as she automatically re-enters contention talks for the title. After headlining a pay-per-view and winning on a nationally televised broadcast, she is now one of few familiar faces in the division and would have a strong case for another crack at the title with one more win.
Andrade will now have to hope for another shot at impressing Dana White and Co. The loss in her UFC debut snaps a two-fight win streak that she brought into the organization. At just 21 years old, she has plenty of time left in her career, but she'll need a statement win the next time out if she wants a long-term future with the UFC.
Carmouche's Grade: B+
It's tough to criticize Carmouche when she earned the stoppage victory. She did what she had to do as a heavy favorite to win the fight. However, she was nearly caught in a guillotine in the first round and could have finished the fight earlier.
Andrade's Grade: C-
Andrade wasn't supposed to have a chance in this one. However, she proved that she has some skills to build upon as she put Carmouche in trouble with the guillotine attempt. Ultimately, the loss could be a learning experience as she still has plenty of time to figure things out.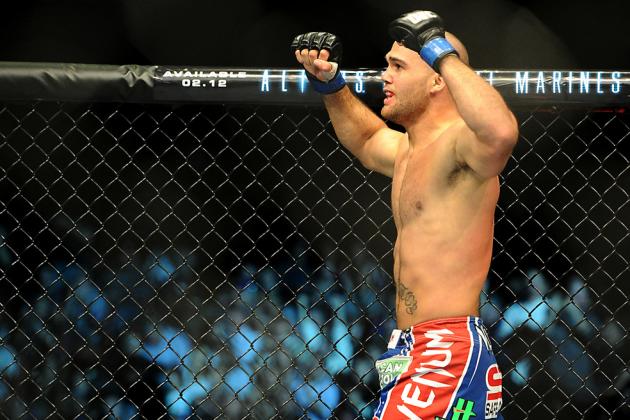 Jayne Kamin-Oncea-USA TODAY Sports

Robbie Lawler continued to show that he's a dangerous welterweight with a dominant headkick knockout win over Bobby Voelker.
Coming over from Strikeforce as a middleweight journeyman who was just 1-3 in his last four fights as a middleweight, it didn't appear that Lawler would be a serious threat in the UFC. Dropping down to welterweight, the weight that he fought at in the UFC from 2002-04, he's certainly put that notion to bed. He opened up his return to The Octagon with a knockout victory over Josh Koscheck.
Now he can add Voelker to his list of victims.
This loss shouldn't hurt Voelker's stock all that much, though. He took the fight on just two weeks' notice as an injury replacement for Siyar Bahadurzada who was originally an injury replacement for Tarec Saffiedeine. Dana White and Joe Silva usually reward those who come through for the company and that's exactly what Voelker did in this case.
Lawler Grade: A
It doesn't get much better than the performance Lawler put in. His striking was crisp and accurate throughout the first round as he battered the overmatched Voelker from the outset. He finished it off in highlight reel fashion to once again show that he's a great finisher.
Voelker Grade: D
Voelker came in on short notice and it showed. He had nothing to offer Lawler as he was clearly outclassed. He'll need to put this one behind him to get back on the winning track.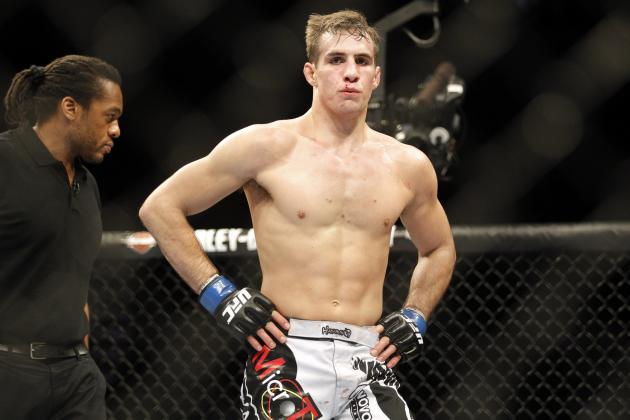 Joe Nicholson-USA TODAY Sports

Rory MacDonald's rapid ascent up the welterweight ranks continued with a decision win over Jake Ellenberger in the evening's co-main event.
For the 24-year-old MacDonald, it's just another impressive victory to add to his resume. With wins over Nate Diaz, B.J. Penn and his only loss coming from Carlos Condit when he was just 21, there's no denying that his future is extremely bright as his record now stands at 15-1.
Ellenberger will have to deal with defeat for just the second time in the last four years. Since losing his own fight to Condit, "The Juggernaut" had won eight of his last nine fights. Whether this turns out to be a commentary on Ellenberger's decline or just another display of MacDonald's skill is yet to be determined, but Ellenberger definitely lost the opportunity to be the next No. 1 contender in the division for now.
MacDonald Grade: B
There was nothing overly impressive about MacDonald in this fight. He was able to consistently put his jab on Ellenberger's chin, but didn't do much other than that. He did what he had to do against a dangerous opponent, but this wasn't a highlight of his career.
Ellenberger Grade: C
It wasn't like Ellenberger was ragdolled or out-classed in this one, he just couldn't figure out a way to close the distance between himself and his longer opponent. When he decided to throw caution to the wind and let his fists fly he actually set up a takedown in the third round. However, it was too late. When he looks back on this fight he'll be disappointed he didn't take risks sooner.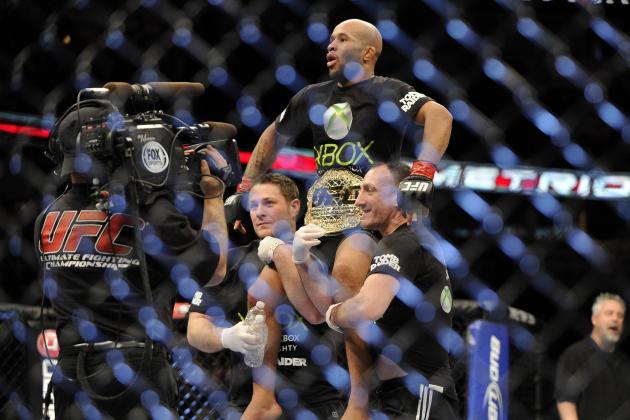 David Banks-USA TODAY Sports

In the card's main event Demetrious Johnson notched his second consecutive title defense defeating John Moraga via armbar in the fifth round.
It marks the second time that Johnson has defended his title on Fox, his first being a decision victory over John Dodson in Chicago. With the win Johnson now holds recent victories over the top four flyweights in the UFC's media rankings. He may not always get the credit he deserves, but he's nearly cleaned out the still developing weight class.
Moraga can't be too disappointed with the loss, though. It's just his second in his career. The 29-year-old was fighting for the title in just his third fight in the Octagon. Considering the general lack of depth in the division, a few wins should have him right back in contention.
Johnson Grade: A-
This was exactly the kind of performance that Johnson needed. He took Moraga down at will and constantly advanced position looking for the finish. It didn't appear that he would be able to do it, but his patience and persistence paid off as he got the finish.
For a champion that had yet to finish a fight it was a nice development to see him keep it out of the hands of the judges.
Moraga Grade: C
Despite a No. 4 ranking in the UFC's flyweight rankings Moraga wasn't prepared for this fight and it showed. He was able to land a clean shot that rocked Johnson in the fourth round, but overall, he was outclassed by Johnson from the start.