Miami Dolphins: Grading Every Position Unit Heading into Camp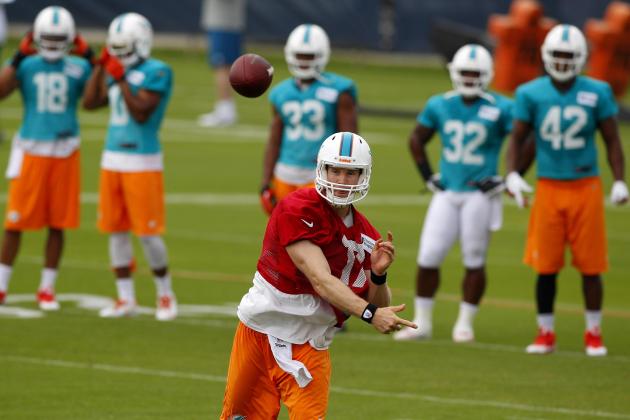 Robert Mayer-USA TODAY Sports

Training camp is underway and the first preseason game is right around the corner.
The Miami Dolphins have a lot of new faces that will help this team take a step to the next level and compete for a playoff spot and even a divisional title.
With first-year head coach Joe Philbin and first-year quarterback Ryan Tannehill, the Dolphins showed a lot of promise. Now, with both having a year of experience, they will be looking to guide Miami in the right direction.
Let's dive in to the excitement that is training camp by looking at how good each positional unit is.
Begin Slideshow

»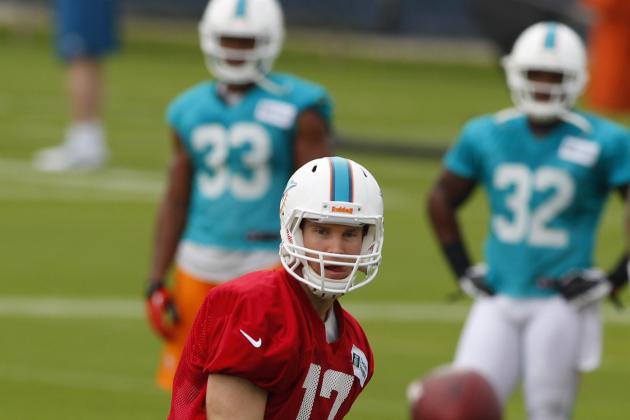 Robert Mayer-USA TODAY Sports

Jeff Ireland has given Ryan Tannehill the weapons he needs to be successful. Tannehill had a solid season last year considering he didn't have many players to throw the ball to.
With a year of experience under his belt and a much improved receiving group, Tannehill should be looking to take the next step this season. The offense will go as Tannehill goes. If he's able to keep developing, this will be a good season for the Dolphins offense.
The Dolphins also have one of the best backup quarterbacks in Matt Moore. He re-signed this offseason and will be ready to step in at any moment. Backup quarterbacks are oftentimes overlooked in the NFL, but having a good one will go a long way.
Rounding out the quarterback group is Pat Devlin. He has shown some ability in practice, but he hasn't shown enough to unseat Moore. He'll comfortably remain as the No. 3 quarterback on the roster.
Grade: B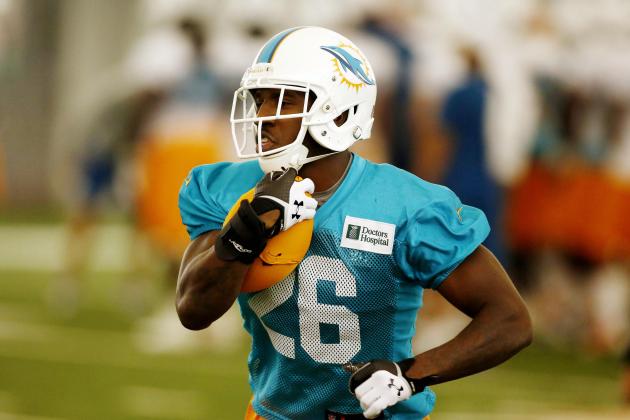 Robert Mayer-USA TODAY Sports

The Dolphins will be heading into the season with a very young group at running back and fullback. Reggie Bush left for Detroit and the starting job has now been passed down to Lamar Miller.
Miller has the talent and ability to carry the load for Miami, but has had limited playing action. He seems to be the perfect fit for Joe Philbin's offense, and Ryan Tannehill feels comfortable with him as the starter. He's able to carry the ball on the inside and bounce it to the outside. He also has good hands that allow him to catch the ball in space and showcase his speed. He was limited last season due to his inability to pass block, which it appears he has improved.
Behind Miller, Daniel Thomas and Mike Gillislee will be fighting for the No. 2 spot on the depth chart. This is Thomas' third year and he has yet to show he is capable of handling his duties. He has been injury-prone during his tenure and has lost Philbin's trust.
On the other hand, Gillislee has shown some ability early on. He has shown his ability to carry the ball and his ability to pass block. This will be one of the most intense training camp battles.
Jonas Gray will also be battling with Thomas and Gillislee, but he won't be in the conversation for the No. 2 spot. Gray, like Thomas, is a big, powerful back that can be used in short-yardage and goal-line situations. If Thomas shows that he hasn't improved, Gray may overtake him for the No. 3 spot.
At fullback, the Dolphins have been in the mix to sign Vonta Leach. For now, they'll go into camp with Jorvorskie Lane and Evan Rodriguez. This is Lane's job to lose, and I don't think he'll lose it.
Grade: C+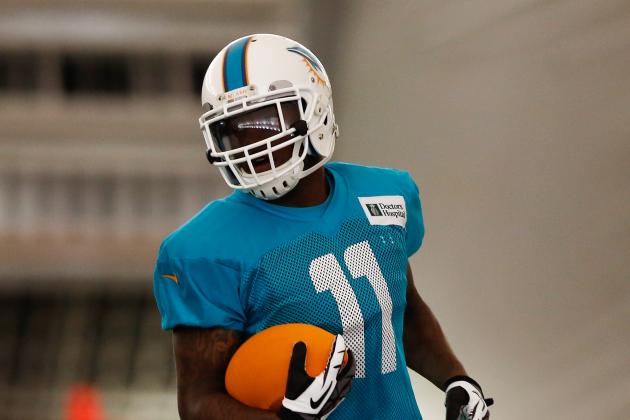 Robert Mayer-USA TODAY Sports

This may be the Dolphins' most improved unit.
They brought in Mike Wallace to become the No. 1 receiver and allow Brian Hartline to move down the depth chart to the No. 2 spot. With Wallace on the roster, Hartline won't be facing the opposing team's best cornerback and will be given more room to work with.
Miami also brought in Brandon Gibson to take over as the slot receiver. After signing Gibson, the Dolphins released longtime slot receiver Davone Bess, making Gibson role more obvious. He has been solid during camp and appears that he has had success learning the position. However, he also has the ability to move around the field.
Behind these three receivers, Miami will have plenty of battles. Rishard Matthews, Brian Tyms, Jeff Fuller, Armon Binns and Marvin McNutt will all be fighting for the final roster spots.
At tight end, the Dolphins also shifted some pieces. They lost Anthony Fasano, but brought in Dustin Keller. Keller gives Miami the receiving threat at tight end that they have been lacking. They also added Dion Sims through the draft to give them a blocking tight end.
Charles Clay and Michael Egnew remain on the roster and will also be fighting for a roster spot. Egnew was disappointing last season and will be looking to redeem himself this year. Clay has been decent during his first couple years, but will really need to step it up this season. Behind these four guys is Kyle Miller, who seems to be the odd man out.
Grade: A-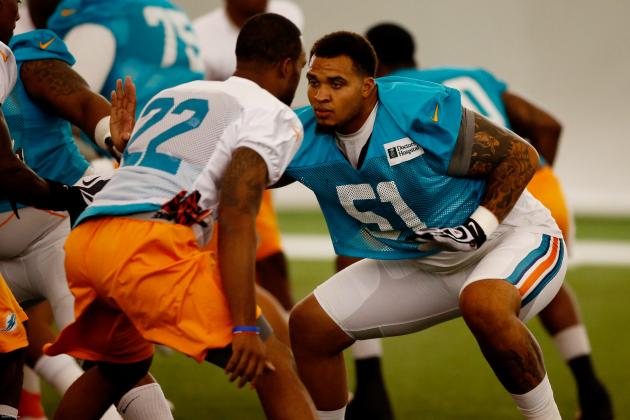 Robert Mayer-USA TODAY Sports

This group is one of the question marks for the Dolphins.
They lost Jake Long at left tackle and will be shifting Jonathan Martin to play the position he played at Stanford. Martin had a below average season at right tackle last season and fans hope the move to left tackle will help him play better. Martin will be responsible for protecting Tannehill's blind side, making him one of the most important players on the roster.
At left guard and center, Miami will have Richie Incognito and Mike Pouncey once again. This may be one of the best tandems in the NFL and will be looking to have another solid season. Incognito was a Pro Bowelr last season and Pouncey should have been a Pro Bowler.
John Jerry appears to be the guy at right guard once again, but this may be the last chance he gets. He showed improvement last season and will look to continue that path this season. Next to him, there will be an unfamiliar face in Tyson Clabo. The Dolphins were able to sign the veteran right tackle, and he will be able to add stability to the offensive line.
Grade: B-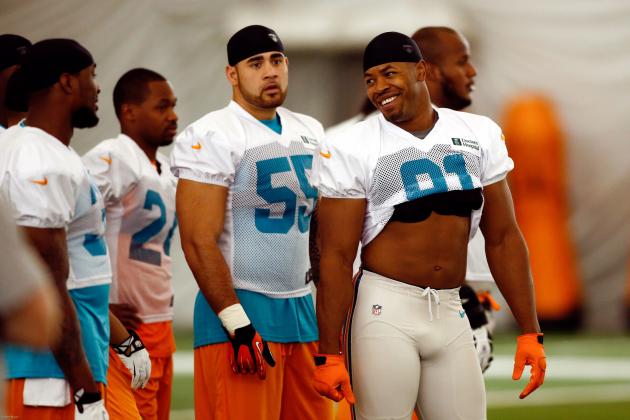 Robert Mayer-USA TODAY Sports

Once again, this will be Miami's strongest unit.
Cameron Wake returns as one of the league's best defensive ends. He will be looking to harass opposing quarterbacks like he has during his time in the NFL, but now he will have some help on the other end.
Miami drafted Dion Jordan to help Wake, and Kevin Coyle will have many different ways he can use him. He can stand up or put his hands on the ground, but either way, he's getting to the quarterback.
In the middle, Miami will have the big boys Randy Starks and Paul Soliai. They are the main reason Miami has been one of the league's best teams against the run in recent years. They eat up a lot of space and take away any running room for opposing running backs. They are both in contract years, so this may be the last time we see them together.
Jared Odrick and Olivier Vernon are also in the mix to get a lot of playing time. Both of these players are very flexible as well. Odrick can play inside or outside and Odrick is able to play defensive end or linebacker.
Grade: A+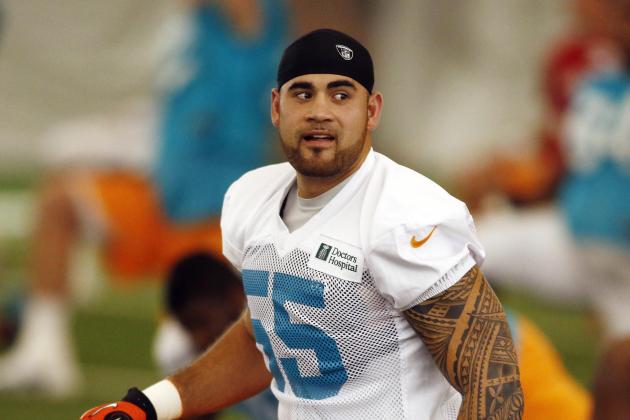 Robert Mayer-USA TODAY Sports

Jeff Ireland wanted to get younger and more athletic at linebacker. This offseason, he was able to do just that.
He got rid of Kevin Burnett and Karlos Dansby and added Dannell Ellerbe and Philip Wheeler. Both of these linebackers excel at rushing the quarterback and, along with the defensive line, will be generating a heavy pass rush. They are new to the system and it will take some time for them to gel, but once they feel comfortable it'll be fun to see them flying around the football field.
Along with Ellerbe and Wheeler, the Dolphins will have Koa Misi as their third linebacker. Misi is now Miami's longest tenured linebacker between the starters and it will be his job to get everyone to line up correctly, especially early in the season. Like Ellerbe and Wheeler, Misi also excels in pass rushing. This will allow Kevin Coyle to get really creative.
Grade: B-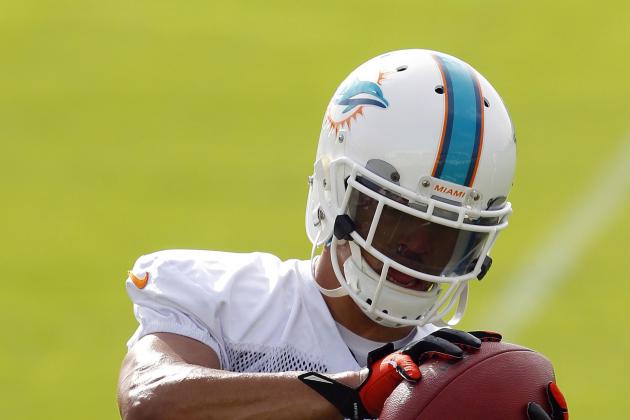 Robert Mayer-USA TODAY Sports

Along with wide receiver, the secondary is one of Miami's most improved units.
They replaced Sean Smith with Brent Grimes and it's already paying off. Grimes has been impressive during OTA's and during the first few days of training camp. He is a Pro Bowl cornerback that will give Miami a true No. 1 cornerback.
Behind Grimes is Richard Marshall, who, like Grimes, also suffered a season-ending injury last year. He is looking to redeem himself after a poor showing early in the season. He will be battling with rookie Jamar Taylor for the second cornerback spot.
Third-round pick Will Davis will also be fighting for the third and fourth spot on the depth chart. He is part of some of the new faces that will be flying around in the secondary this season. He will be battling with Dimitri Patterson and Nolan Carroll.
At safety, Miami hopes Reshad Jones can replicate the season he had last year. He was one of the best safeties in the league and will look to be even better this year, which is a contract year.
Along with Jones, Miami will have Chris Clemons. He's a solid safety that has formed a good relationship with Jones.
Grade: B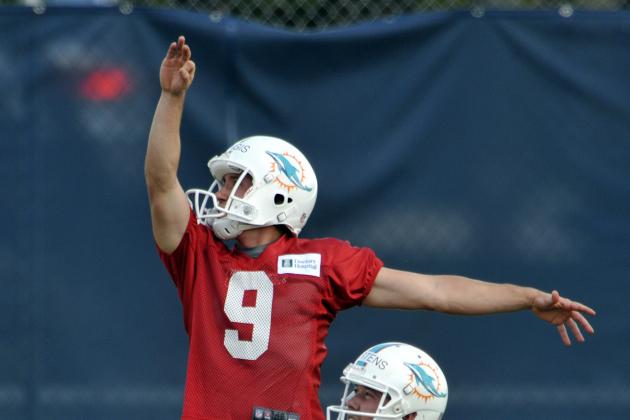 Steve Mitchell-USA TODAY Sports

Miami will have one of its most intense battles in special teams.
Dan Carpenter is coming off a disappointing season and will now be challenged by Caleb Sturgis. Neither kicker will be able to blink once during training camp. They will be feeling the pressure to make every field goal, whether it's a 50-yard field goal or a 20-yard field goal.
On the other hand, Brandon Fields has no worries. He was one of the best punters in the league last season, pinning opponents inside their own 20-yard line. Hopefully we wont see much of Fields this season, which means the offense is moving the ball and putting up points.
Marcus Thigpen will likely continue his duties as a returner. He had a solid season last year, returning a kickoff and a punt for a touchdown and constantly giving Miami's offense a short field to work with.
Grade: B-