Penn State Football: Position-by-Position Fall Practice Preview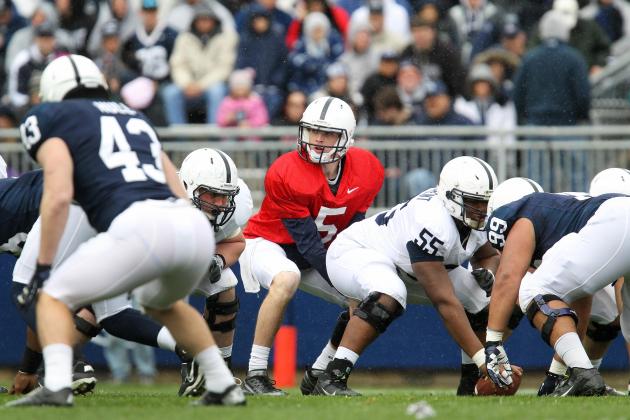 Matthew O'Haren-USA TODAY Sports

As the Penn State football program heads into the 2013 season, things are beginning to shape up both on and off the field.
The Nittany Lions will be playing in Ireland to begin the 2014 season in an attempt to simulate a bowl game atmosphere.
Head coach Bill O'Brien continues to land top prospects, and his current team is full of young talent.
Overall, the program as a whole has rebounded well since O'Brien has come aboard, and this fall, the rise continues.
With many young and new players, the team will look far different from that of one year ago.
Let's check out what the team is set to look like heading into the fall with a list of the starters at every position.
Begin Slideshow

»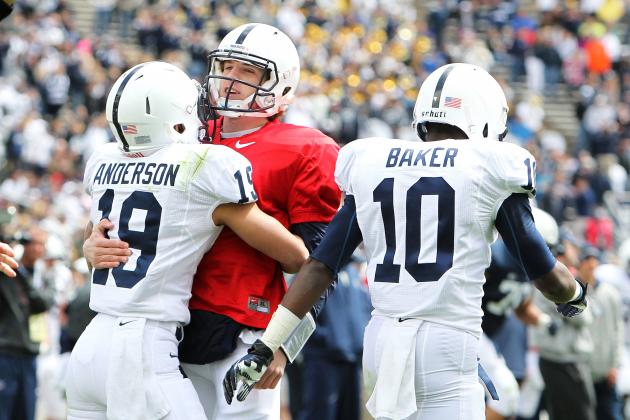 Matthew O'Haren-USA TODAY Sports

Starter: Tyler Ferguson OR Christian Hackenberg
The coaches in Happy Valley haven't yet made a decision on who will be the top signal-caller for the Lions in their first game.
The depth chart lists JUCO transfer Tyler Ferguson and incoming quarterback recruit Christian Hackenberg as co-starters.
It's a wise move by O'Brien to give Hackenberg a chance at starting, even though he is only coming into team workouts this summer.
This position is a bit of a wild card heading into the season because both of these young players are untested at the Division I college level.
As we saw last season, the play of the quarterback in O'Brien's offense is a key to its success, and how these two play in fall camp will determine who starts the opening game.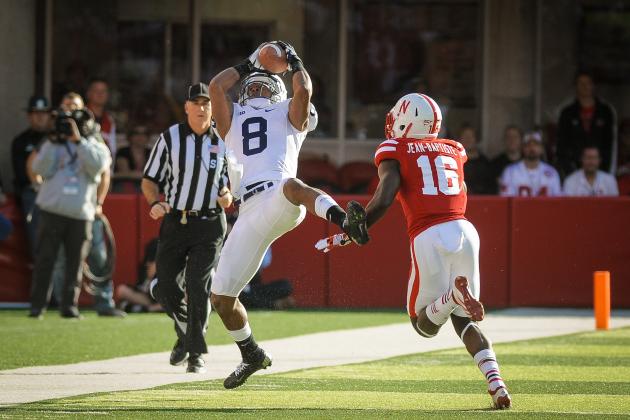 Eric Francis/Getty Images

Starter: Allen Robinson
The reigning Big Ten offensive player of the year is returning to his starting role at receiver.
Allen Robinson will start this fall as Penn State's go-to receiver on the outside.
After a breakout season last year, Robinson will need to avoid a slump in his second year of starting.
Behind Robinson is redshirt freshman Eugene Lewis, a top recruit in 2012.
Lewis has been exciting in practice and will most likely get his shot as the third receiver.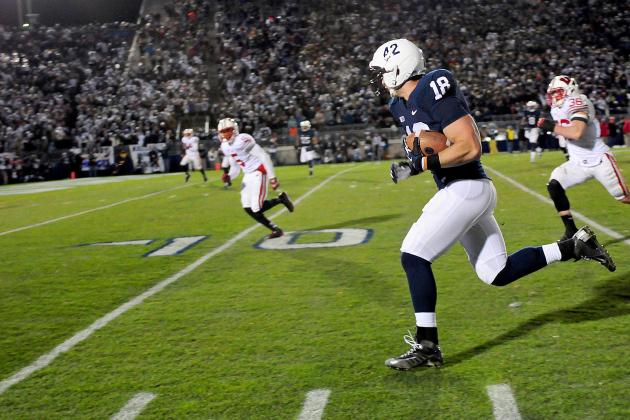 Evan Habeeb-USA TODAY Sports

Starter: Jesse James
It looks as though sophomore Jesse James has hopped over senior Matt Lehman on the depth chart at the "Y" tight end spot.
Lehman has been around for a few years and he possesses solid hands, but James emerged toward the end of last season as a solid threat.
It's more than likely both players will split time, but James may truly break out this year. He has the size and the hands to make some noise.
Still look to see Lehman out there as well.
Both James and Lehman are solid options at this spot.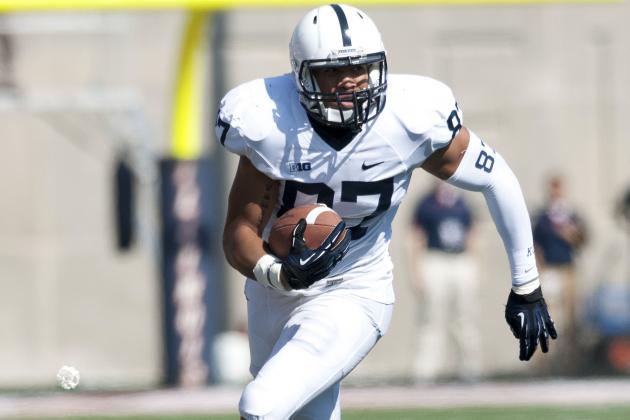 Bradley Leeb-USA TODAY Sports

Starter: Kyle Carter
Last season, freshman Kyle Carter emerged as a huge threat in the passing game of O'Brien's offense.
Carter wasn't able to finish a full season due to injuries, but he was still the second-leading receiver on the team.
As a returning sophomore, Carter was named to the Mackey Award watch list this July.
Behind Carter are freshmen Brent Wilkerson and Adam Breneman.
Breneman was the top tight end in the 2012 recruiting class, and it will be interesting to see what he can do this season.
The tight end position is very deep in State College, and it's exciting to wait and see how O'Brien will use these guys.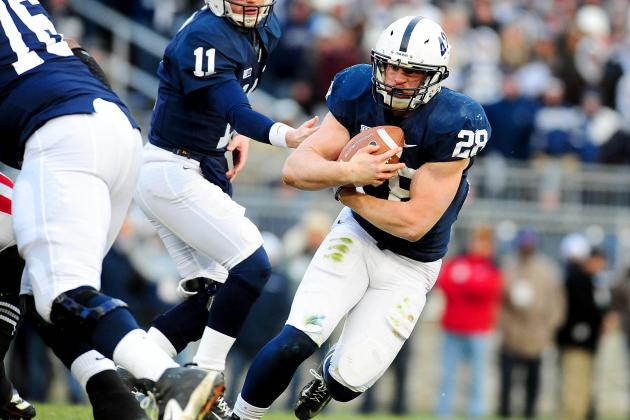 Evan Habeeb-USA TODAY Sports

Starter: Zach Zwinak
After rushing for 1,000 yards in 2012, Zach Zwinak will be the starter heading into this season.
Zwinak is a big, hard runner who has shown he can grind out yards and wear a team down.
The converted fullback has also shown glimpses of speed, breaking out a big run last season against Nebraska.
The Lions also have a bit of a change of pace behind Zwinak, with both Bill Belton and Akeel Lynch being a little more elusive and shifty with the ball.
Belton is listed as behind Zwinak and ahead of Lynch, but both of them will most likely split time.
A key to this group will be staying healthy. Health was a problem last season for Penn State's running backs, and they will need to keep themselves on the field.
If that can happen, this group will be able to help out whichever young quarterback starts.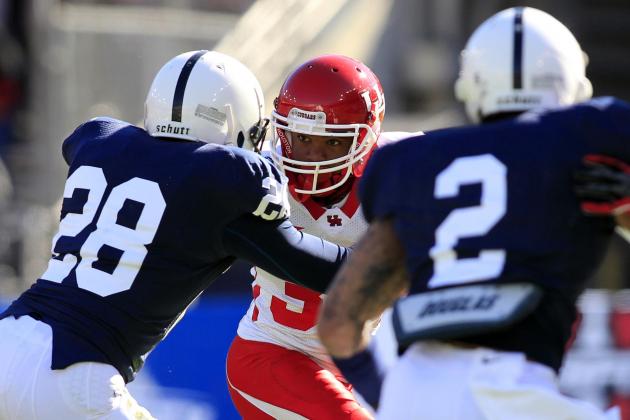 Tim Heitman-USA TODAY Sports

Starter: Pat Zerbe
Following in the footsteps of Joe Suhey and Michael Zordich, Pat Zerbe will have to step it up in his first year starting.
Zerbe is going into his senior season in Happy Valley.
Surprisingly, the fullback is actually smaller than the man he'll be blocking for. The starting running back, Zwinak, weighs nine more pounds than Zerbe.
With a young quarterback and three solid options at running back, the blocking of Zerbe will be an important part of the offense for the Nittany Lions.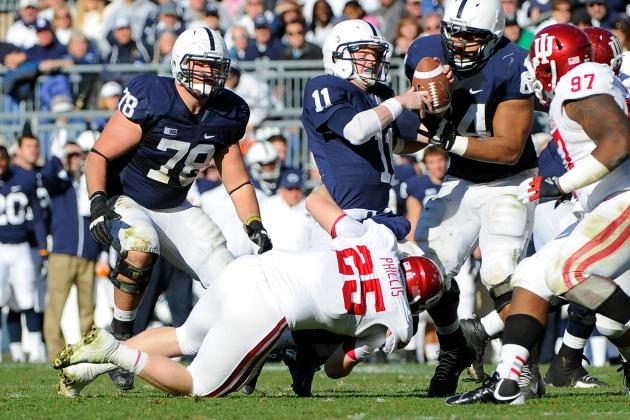 Rich Barnes-USA TODAY Sports

Starters: Right, Adam Gress/Left, Donovan Smith
The offensive line will need to be one of the strong points of the offense for the 2013 season.
Penn State is returning five starters across the line, with the team only losing Matt Stankiewitch from last year.
Both senior Adam Gress and sophomore Donovan Smith are massive bodies at the tackles. Each of them weigh more than 300 pounds.
Smith is one of the Nittany Lions' more talented linemen, and at 327 pounds, he is the heaviest.
Gress and Smith will need to be anchors on the outside of the line.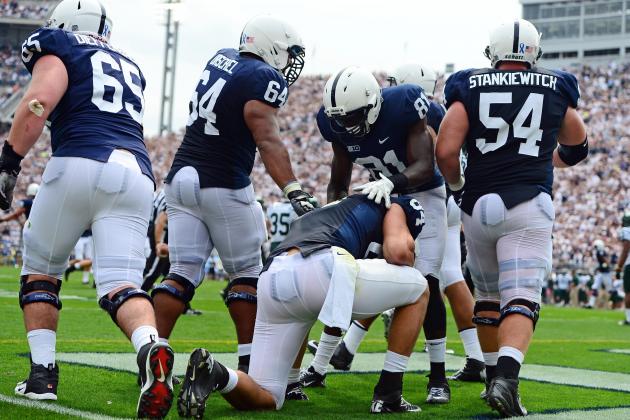 Andrew Weber-USA TODAY Sports

Starter: Right, John Urschel/Left, Miles Dieffenbach/Center, Ty Howle
Senior John Urschel and junior Miles Dieffenbach will return as starters again this season.
Both of these linemen started games last year, and they will need to be consistent this season protecting either Tyler Ferguson or Christian Hackenberg.
Ty Howle will also be back after getting starts last season.
Howle is faced with the tough task of following Matt Stankiewitch at center.
Stankiewitch was a nasty blocker last year for Penn State, and Howle will need to help protect the young quarterbacks.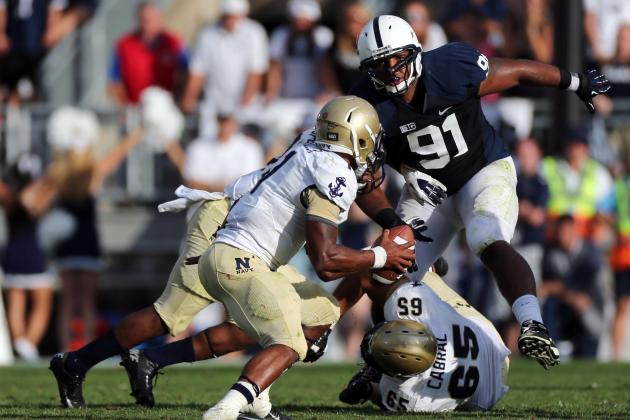 Rob Christy-USA TODAY Sports

Starter: DaQuan Jones/Kyle Baublitz
Following the graduation of Jordan Hill, Penn State was heading into the summer with only one definite at defensive tackler: DaQuan Jones.
Jones played in all 12 games in 2012, recording 22 tackles and a fumble recovery.
Junior Kyle Baublitz emerged this offseason as a bit of a dark horse and took over the job as the second starter on the defensive line.
Baublitz only played in six games last season and recorded only three tackles.
He is big at 6'5" and almost 300 pounds, but Baublitz is a little untested against the big linemen of the Big Ten.
It will need to be Jones who steps up to lead this defensive line.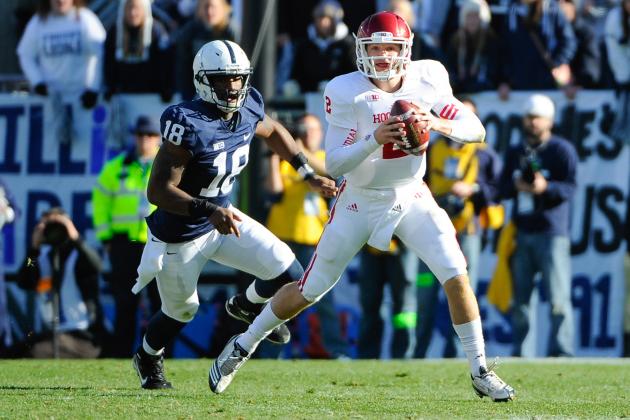 Rich Barnes-USA TODAY Sports

Starter: Deion Barnes/C.J. Olaniyan
As a freshman, Deion Barnes broke out as a dominant pass-rusher in 2012. Last season, Barnes had six sacks and 10 tackles for a loss in 12 games.
But this year, Barnes will need to avoid the sophomore slump.
Opposite Barnes, C.J. Olaniyan will be going in as the second starter at defensive end.
Olaniyan played in 10 games last year and recorded 15 tackles and one sack.
Without a dominant interior lineman such as Jordan Hill this season, Barnes will need to be a big part of the defense.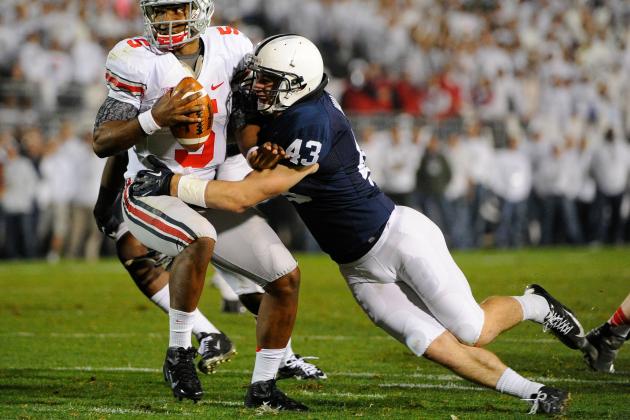 Rich Barnes-USA TODAY Sports

Starters: Mike Hull/Nyeem Wartman
It will be a year of transition for outside linebackers at Penn State.
For the past few years, Michael Mauti and Gerald Hodges were a part of a group of recent linebackers at Penn State that helped show why it has become known as "Linebacker U."
Mauti and Hodges led the team in tackles last season, accounting for 204 total tackles.
This year it will need to be junior Mike Hull and freshman Nyeem Wartman patrolling the outside linebacker spot.
Hull played in all 12 games last year and recorded 58 tackles, but Wartman only played in two before an injury sidelined him for the season.
Teams will be testing Wartman early to see if he can be successful at this level.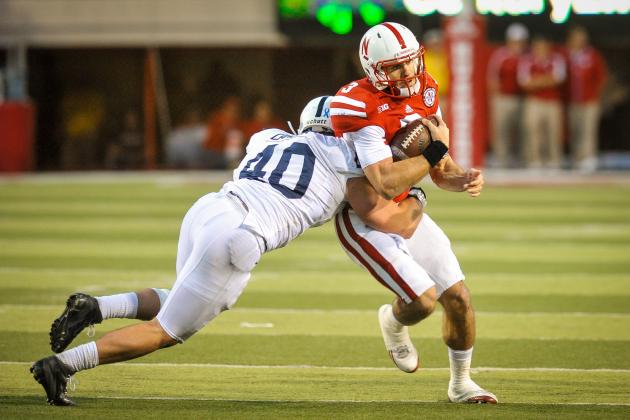 Eric Francis/Getty Images

Starter: Glenn Carson
It will be up to senior Glenn Carson to lead the Penn State defense in 2013.
Carson is a three-year starter and was the third leading tackler last season.
The New Jersey native will need to hold together a defensive unit that lost four of its five best tacklers last year.
Carson has the talent and leadership ability to be that guy this year.
Heading into the fall, Carson is looking to have a huge year for Penn State.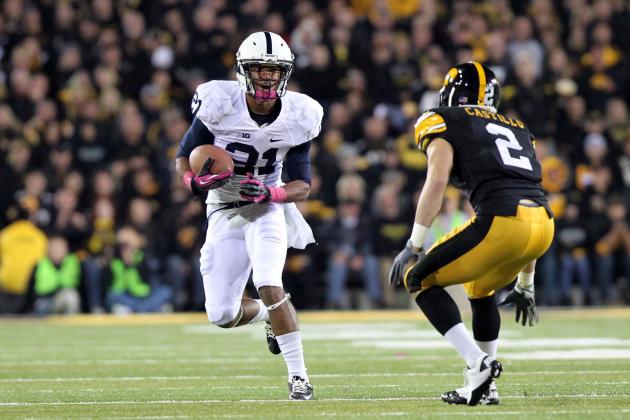 Reese Strickland-USA TODAY Sports

Starters: Trevor Williams/Jordan Lucas
The most questionable position on the team heading into the 2013 season is cornerback.
Both sophomores Trevor Williams and Jordan Lucas have never started a game at corner for Penn State.
Williams was a wide receiver last season, and Lucas played special teams only.
The Blue and White spring game showcased both players at corner, and both seemed to hold their own, but still this move doesn't sit comfortably.
O'Brien pushed Da'Quan Davis, the third corner last season, into the same role, while Adrian Amos moved to safety.
If this move placing two young inexperienced players at corner doesn't work early on, expect to see some shuffling in the defensive backfield.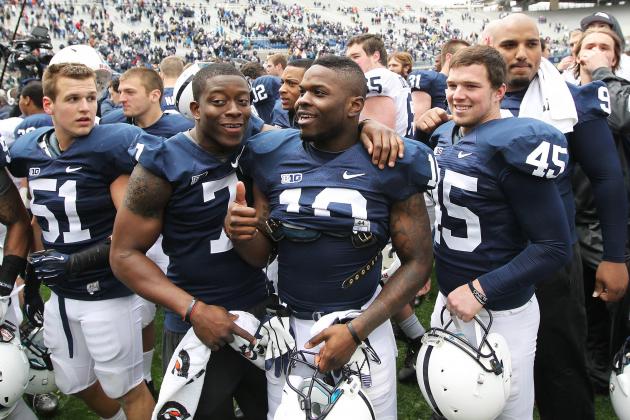 Matthew O'Haren-USA TODAY Sports

Starter: Malcolm Willis
Senior Malcolm Willis is returning as one of the most experienced starters on Penn State's defense.
Willis has started since 2011 and he will need to be the leader in the defensive secondary for Penn State.
The Lions have two new corners and a new free safety in Adrian Amos; Willis will need to be that experienced veteran helping the young players adjust.
Aside from Glenn Carson at linebacker, Willis will need to be one of the most vocal leaders on the field for this defense.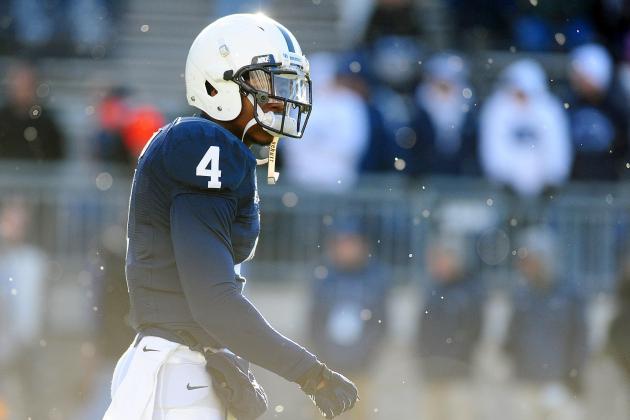 Evan Habeeb-USA TODAY Sports

Starter: Adrian Amos
The build and skill set of junior Adrian Amos all point toward safety.
Whether or not Amos will actually be a better safety than corner has yet to be seen.
Amos started at corner as a freshman and came back as a sophomore at corner last season.
This year the coaching staff made the move to place Amos at safety, a position he played in high school and looks to be more natural at.
Moving Amos to safety is a risky move.
On one hand it can reap big rewards and Amos can turn into a top safety in the Big Ten. Or Amos can turn out to be only slightly better at safety and the two young corners can struggle mightily in their first season starting at the position.
Either way, we will all have to see how this experiment turns out.
Amos is a top athlete, though, and no matter where he ends up playing, he will most likely find a way to help the Penn State defense.