Francisco Rodriguez, arguably the most sought-after reliever of the 2013 MLB trade deadline, is officially off the market.
According to the MLB Roster Moves Twitter feed, the Milwaukee Brewers have agreed on a deal that will send Rodriguez to the Baltimore Orioles in exchange for infield prospect Nick Delmonico:
#Orioles acquire RHP Francisco Rodriguez from #Brewers in exchange for Minor League INF Nick Delmonico.

— MLBRosterMoves (@MLBRosterMoves) July 24, 2013
Delmonico was the Orioles' sixth-round pick in 2011, quickly becoming one of the franchise's best young prospects. The 21-year-old has yet to reach the Double-A level, but he has shown massive improvements in both facets of his game in the minors.
Playing for the Frederick Keys, Baltimore's High-A club, he's hit 13 home runs with 30 RBI and a .244/.351./.471 slash line. It's unclear where he'll play in the field at the big-league level, as he's been bouncing between third, first and designated hitter with Frederick. He has also played some second base despite being drafted as a catcher.
As FOX Sports' Ken Rosenthal pointed out, the folks at Baseball America were mostly bullish on Delmonico's pro prospects going forward, ranking him fourth in the Orioles' system:
Delmonico was #Orioles' No. 4 prospect, according to Baseball America. BA said, "His ceiling is as a first-division corner infielder."

— Ken Rosenthal (@Ken_Rosenthal) July 24, 2013
While that's a steep price to pay for a setup man, the Orioles weren't alone in their chase for K-Rod.
CBS Sports' Danny Knobler reported earlier this week the Red Sox, Dodgers and Tigers had all made inquiries about Rodriguez, who has served as the Brewers' closer since the end of May. With the July 31 deadline just over a week away, it's likely the market for Rodriguez would have only heated up going forward.
The 31-year-old right-hander became expendable as Milwaukee fell out of the playoff race. The Brewers are 41-57 heading into Tuesday night's action, a full 19 games behind the St. Louis Cardinals in the National League Central. Their desire to move Rodriguez was likely heightened even further with news that star outfielder Ryan Braun would be suspended for the remainder of the season as part of the Biogenesis scandal.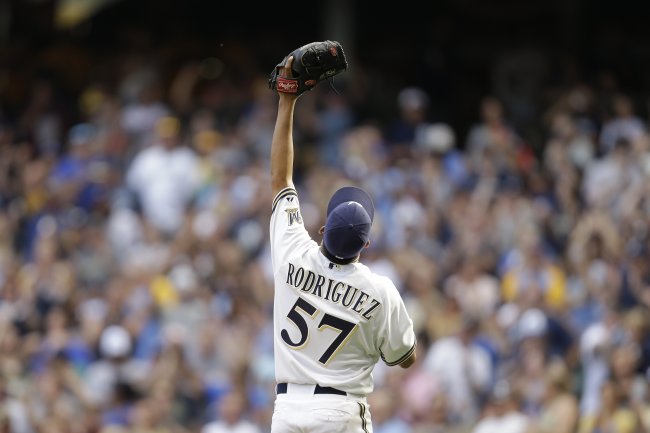 Mike McGinnis/Getty Images
The expedition of this process will only serve to help the Orioles' middling bullpen. Baltimore relievers have posted a 3.68 ERA thus far, ranking 17th in baseball and fourth in the American League East, ahead of only the first-place Boston Red Sox. FanGraphs' WAR formula paints a slightly rosier picture, ranking the O's bullpen 13th in MLB.
Did the Orioles pay too much for K-Rod?
Nevertheless, Rodriguez will provide some much-needed security. K-Rod, who owns the MLB record with 62 saves in a single season, is a proven closer. He's led baseball in saves three different times and made his bones as a world-beating setup guy for the 2002 Los Angeles Angels World Series team.
Though he had a down 2012, Rodriguez has rebounded in fine form this season. He's posted a 1.09 ERA and 1.05 WHIP across 25 appearances, saving 10 games while not blowing any. Orioles closer Jim Johnson leads MLB with 35 saves, but has struggled with erraticism, coughing up six leads and boasting a 2-7 record.
The expectation is that Rodriguez will be the setup guy, but if Johnson falters, the Orioles now have a built-in replacement. Baltimore is in third place in the AL East, 2.5 games behind the Red Sox. The Orioles currently hold a 1.5-game lead over the Texas Rangers for the final AL wild-card spot.
Follow Tyler Conway on Twitter: