Absolutely Ridiculous Fishing Stories That Went Viral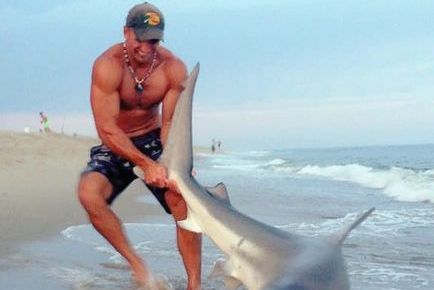 Photograph courtesy Elliot Sudal
From ancient times when mariners spun yarns of sea serpents, mermaids and leviathans, humankind has been fascinated by what lurks in the watery recesses of the planet. Our appetite for tales of epic struggles between humans and aquatic beasts is insatiable.
Every few months another piscine saga hits the net, setting mouses a'clicking and fingers a'swiping to the tune of one million hits. Or 10 million. Or 20 million.
Click on to see a collection of the ones that got away and the ones that didn't.
Begin Slideshow

»
This video of Russian men fishing with grenades went viral back in the summer of 2012. Major media outlets reported the story, taking delight in the apparent stupidity of the fishermen.
But a few things are suspect about the video. Why do the grenades blow up as soon as they hit the water? More importantly, wouldn't the guys at least have the common sense to lob the grenades away from the boat? And who is that shouting directions to them over a bullhorn?
A director, perhaps. A movie director.
Doh!
But as the old movie-writing rule goes, if you introduce a gun into the scene, it must go off.
So here is the real fishing-with-explosives video that you are now entitled to, reader.
Poor Blackie. One terrible fate—being speared, shellacked and mounted on a wall—was supplanted by another: being torn to pieces by a gaggle of hungry sharks.
Well, at least 25.5 million people have reaped some entertainment from this footage of his last roundup.
Recap: The boy dances, he "casts," he hooks a fish, he reels it in, he lands it, he flees in terror and then, from a safe vantage point, he admires his handiwork.
So much emotion, so much intrigue. So many highs and lows. All in 30 seconds.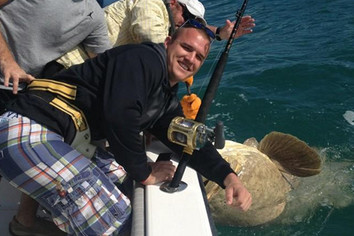 Source: sportsgrid.com
The whole Trout-catches-a-grouper notion gave the media the most fun it had since making Linsanity puns.
Trout, a centerfielder for the Angels, caught the reportedly 500+ pound grouper in Key West, Fla., back in January 2013.
Note: This video contains language that is NSFW.
The real entertainment value here is not the leaping bull shark but the sound bytes that come from the fisherwoman, Sarah Brame, and her camera-wielding pal.
Pal: Oh! Oh ****! Oh Jesus Christ!

Sarah: Is it on my pole?

Pal: It's all mine, it's all mine. Get it! Son of a *****, it's a shark.

Sarah: It's a shark! A SHARK! It's a big-ass shark.

Pal: It's on your pole, baby. Keep reeling. Keep reeling.
Ah, adrenaline, how you turn a brain to mush.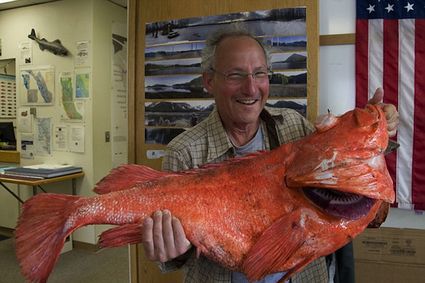 Source: AP
When Henry Liebman, an insurance adjuster from Seattle, yanked a record-breaking 39-pound, 42-inch rockfish from Alaskan waters, the news went viral, not for the fish's record size, but for the reported age estimate.
Experts believed the pink giant was about 200 years old. That would put old Rocky's birth back at a time when James Madison was the President of the U.S., King George III sat on the throne in England and the Qing Dynasty ruled China.
Then the story went viral again, this time for the gross miscalculation of age. Turns out, old Rocky was a ho-hum age of 64 (average for a rockfish) when he met his demise at the rod and reel of Liebman.
This was one of the weirder, more endearing but also more suspect fishing videos to go viral recently. Burly outdoorsman Doug Owens became international news after posting this video of his kersplash-and-grab fishing technique.
Were the fish corralled in an underwater net? Was the trout hidden in Doug's boxer briefs? Doug denies any trickery.
And even the skeptical viewers don't seem overly critical. The consensus is that rigged or not, the video is still cool, and Doug is the man.
Snatch a trout from a Vermont Lake with your bare hands and you may be "the man," but yank a 200-pound shark from the surf, and, well, you are BROCK LESNAR.
If you're in a small boat and hook a 230-pound ahi tuna, best make sure ol' Mr. T has given up the big fight before you bring him aboard.
Anthony Wickman learned this lesson the hard way.
The bald eagle. A noble and majestic creature. A fierce and beautiful raptor who makes the heart of nearly every American swell.
But, like most of us, Baldy isn't above indulging himself with an occasional fast and easy meal.
Listen to that line sizzle off the reel and fisherman Norman Dreger shriek as this eagle makes off with his Dolly Varden Char.
Good thing the Little Audrey Game Fishing Charters deck their boats out with lots and lots and lots of recording equipment. This hitchhiking marlin was filmed from more angles than little Georgie, the newborn Prince of Cambridge.
Isaac "Rocket" Brumaghim is the founder of Aquahunters, a kayak fishing club. No doubt he has many a good tale to tell of his adventures fishing off the coast of Oahu.
But his all-too-close encounter with the kawakawa-thieving Chompy, a reported 400-500 pound shark, needs no telling, thanks to a camera mounted on Rocket's kayak.
The underwater footage of this suctioned kraken quite possibly makes this the coolest viral fishing video of all times.
Does the tale have a happy ending? Well, that depends on how you feel about polpi in umido.

Source: www.flmnh.ufl.edu
If you have a strong stomach and box of tissues handy, check out this video of shark pups being delivered from their butchered mother aboard a ship. Warning, the video is NSFW.
We hate sharks. They lurk near our beaches. They haunt surfers. They gobble down cute baby seals. We kill them. And eat them. And mount their jaws in our man caves. And demonize them in horror flicks.
But the sanctity of motherhood trumps all hatred.