Predicting the Winner of New York Giants' Biggest Training Camp Battles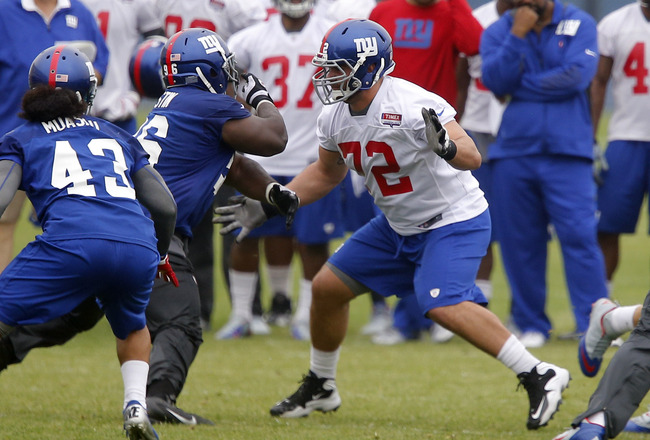 Jim O'Connor-USA TODAY Sports
As the New York Giants enter training camp, there are a few key position battles that will be won with hard work and mental toughness prior to the start of the preseason.
The Giants will host some new faces this season, some young and some with veteran presence, and those new faces are sure to be in the mix when discussing the biggest training camp battles for the 2013 NFL offseason.
Who am I talking about?
Let's find out.
Middle Linebacker
Patrick McDermott/Getty Images
Mark Herzlich vs. Dan Connor
With the Chase Blackburn era coming to a close, the Giants are looking to either Mark Herzlich or Dan Connor to take the reins of the defense as the starting middle linebacker in New York.
Connor comes to the Giants on a one-year deal and brings five years of experience with the Carolina Panthers and Dallas Cowboys with him. Herzlich, on the other hand, went as an undrafted free agent and was signed by the G-Men in 2011. He has since worked his way up to competing for a starting gig.
ESPN New York's Ohm Youngmisuk reports that the news out of Giants camp is that Herzlich is the front-runner to win the starting job, and I couldn't agree more.
The 25-year-old linebacker was a solid defender at Boston College and has carried that trend into the NFL, proving himself on New York's special teams and as a backup at MLB.
Winning the starting middle linebacker job in New York would be a great accomplishment for the 2008 ACC Defensive Player of the Year.
Winner: Mark Herzlich
Kicker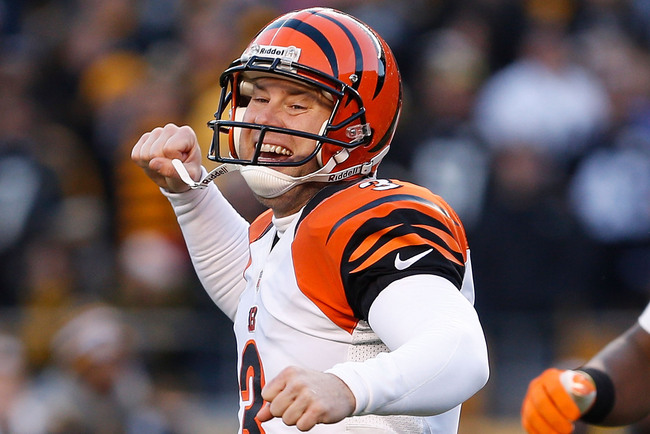 Gregory Shamus/Getty Images
Josh Brown vs. David Buehler
It's not a sexy position by any means, but NFL place-kickers are game-changers—it's as simple as that.
New York parted ways with Lawrence Tynes after six seasons and two Super Bowls with the Giants. The nine-year vet missed six kicks for Big Blue in 2012.
To replace him, the Giants signed veteran Josh Brown and 26-year-old David Buehler to duke it out for the starting job in training camp.
Given his 10 years of NFL service and countless number of clutch kicks for three different teams, I think Josh Brown wins the starting job for the Giants.
Brown boasts a career 81.3 kicking percentage and is known throughout the league for his ability to put 50-plus-yard kicks through the middle of the uprights.
Winner: Josh Brown
Right Tackle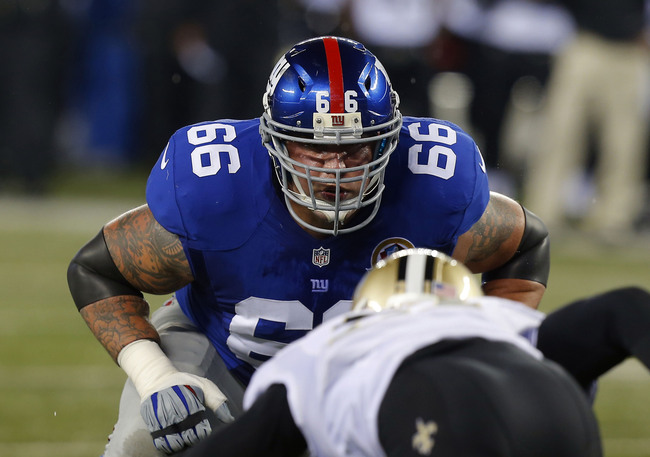 Jim O'Connor-USA TODAY Sports
David Diehl vs. Justin Pugh
Much has been made of the progressive decline of David Diehl, and the drafting of Justin Pugh in the first round of the 2013 NFL draft could signal the end of Diehl's time at right tackle in New York.
The Star Ledger's Dave Hutchinson tells us Pugh could very well replace Diehl at the right tackle spot along the Giants' offensive line, reporting that Pugh had been lining up at RT during rookie minicamp.
Diehl certainly isn't going to go down without a fight—he's been a starter on the offensive line since 2003—but the G-Men drafted Pugh for a reason.
And while that reason may be to start at right tackle for the future, I wouldn't be surprised to see Pugh emerge as the starter coming out of camp for the Giants.
Still, I think Diehl's veteran presence and experience helps him win the starting job out of camp, though I wouldn't be shocked to see Pugh starting by Week 17.
Winner: David Diehl
You can follow more of my NYG content at Yahoo! Sports and check out my NBA stuff at HoopsHabit.
Keep Reading

New York Giants: Like this team?